More than 80 flights brings home over 21,000 citizens from 50 countries, territories
More than 80 flights have been operated so far, bringing home safely more than 21,000 Vietnamese citizens with majority of them were people under 18, pregnant women, elderly people, the ill and those in challenging circumstances, from some 50 countries and territories, Foreign Ministry spokesperson Le Thi Thu Hang has said at the ministry's regular press conference on August 6.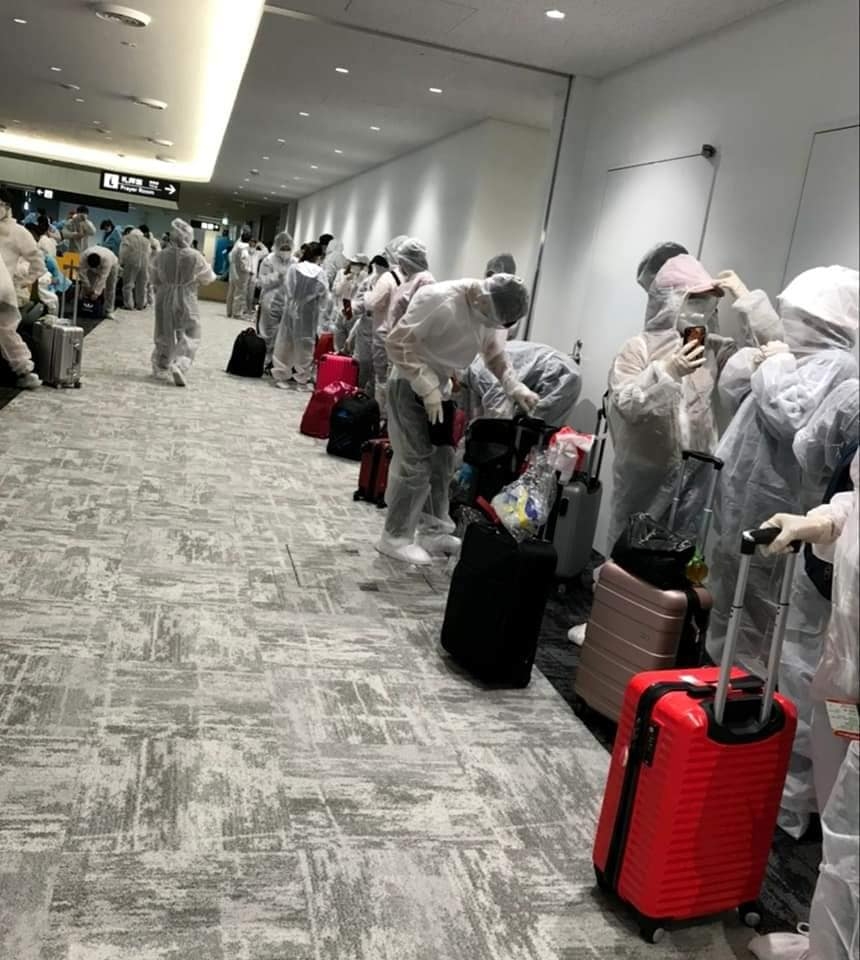 220 Vietnamese citizens were repatriated home safely from Japan on August 5. Source: Vietnamese Embassy
Answering questions regarding Vietnam's plan to fly home its citizens abroad in the context of new locally-transmitted COVID-19 cases in the country, the spokesperson said that the flights were arranged under the Prime Minister's instructions, and with the highest determination of competent agencies at home, as well as Vietnam's representative offices abroad.
Hang emphasised that the repatriation of Vietnamese citizens in extremely difficult circumstances will be conducted in accordance with their wish and quarantine capacity at home.
To prevent the spread of COVID-19, disease prevention measures will be carried out during these flights. Upon landing at airport, the flight crew and all passengers will be given heath examinations and quarantined in line with regulations.
By August 6 afternoon, Vietnam recorded 747 cases, including 34 fresh ones in a single day alongside 10th COVID-19 related fatality, and more than 295 locally-transmitted infections since July 25.
Among 30 more new cases confirmed on August 6 evening, 20 detected in Da Nang, 6 in nearby Quang Nam province, 1 in Bac Giang province linked to Da Nang hotspot, and 3 which were imported in Ba Ria - Vung Tau province.
A total of 11 patients were declared to have fully recovered from the deadly disease, taking the national tally of recoveries to 392 with a recovery rate of 52.5%.
There have been more than 173,450 having close contact with COVID-19 patients or returning from pandemic-hit areas are now under quarantine and health monitoring.
The current outbreak is expected to reach its peak in 10 days' time, Deputy Minister of Health Nguyen Truong Son warned on August 5.
People should not be complacent, but instead they should strictly and fully follow recommendations on COVID-19 prevention and control by the health sector, Son advised.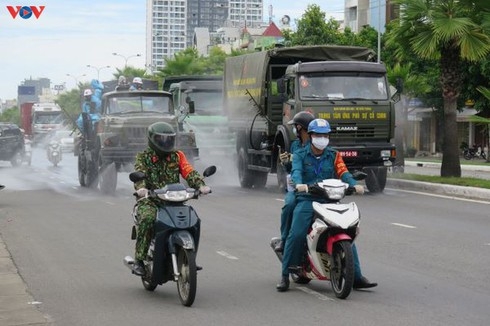 Soldiers from Military Region 5 High Command support Da Nang in disinfecting the entirety of high-risk areas. Source: VOV
Regarding 226 Vietnamese are working in Uzbekistan under a labour provision contract between a domestic company and the China Petroleum Jili Chemical Engineering and Construction Co. Ltd (JCC), Hang said, they have stopped working and are self-quarantined at their accommodations.
Local authorities confirmed some of them had tested positive for the coronavirus, she noted, citing sources of the Overseas Labour Management under the Ministry of Labour, Invalids and Social Affairs.
The Ministry of Foreign Affairs has instructed the Vietnamese Embassy in Russia, which also is in charge of Uzbekistan, to contact these workers to get updated on their conditions, and talk to companies and local authorities to ask for necessary measures to take care of the health of the workers.
Vietnamese competent agencies and the embassy are coordinating closely with local authorities to build a plan to bring home the citizens as soon as possible, scheduled for this month.
As for Vietnamese citizens in Beirut, Hang stressed that the Ministry of Foreign Affairs has instructed the Vietnamese Embassy in Egypt and Lebanon to stand ready to protect them if necessary.
There are very few Vietnamese in Lebanon, Hang noted, adding that there is no Vietnamese representative mission in Lebanon, and the Vietnamese Embassy in Egypt is in charge of Lebanon-related issues.
The embassy is trying to contact the Vietnamese community and Vietnam's honorary consular in Lebanon as well as local authorities to gain information on the situation of the incident.
The only information to come so far was that a Vietnamese citizen was slightly injured, who Hang said is being treated in hospital and in a stable condition.
Hang suggested individuals and organisations call a hotline for citizen protection established by the ministry's Consular Department or the hotline of the embassy if they need support./.