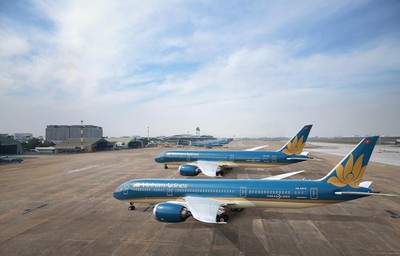 Aircraft of Vietnam Airlines. Illustrative image (Photo: VNA)
In its announcements, both carriers have decided to make some temporary and necessary adjustments in operating both regular and charter flights from March 28 to April 15.
In particular, Vietnam Airlines crewmembers on all of its flights will be equipped with specialised protective clothing and tested for SARS-CoV-2.
From March 28, the national flag carrier will cut 35 domestic routes to 8 with about 10 percent of the total seats compared to normal plans.
It will also help affected passengers change flights and itinerary or have tickets refunded in line with regulations.
Meanwhile, one-way flights carrying passengers out of Vietnam (the return ones are empty) may still be considered by Bamboo Airways, Vietnam's newest airline, if the management authorities agree.
Earlier on March 19, Vietnam Airlines suspended international flights till April 30.
Since the outbreak of COVID-19, the carrier has sprayed disinfectants on all international flights and flights with suspected cases following landing.
From 0:00 am on March 25, all domestics flights are also disinfected after landing in Hanoi, Ho Chi Minh City, and all aircraft are also sterilised once again at the end of each day.
All passengers are required to fill in health declarations, screened for body temperatures before boarding and wear face masks throughout flights.
On March 27, Prime Minister Nguyen Xuan Phuc issued a directive calling for "drastic implementation" of strong anti-pandemic measures as the country has entered the peak period of its COVID-19 prevention and control efforts.
The same day, the Ministry of Transport promugated a directive asking for restriction of flights and transport of passengers from Hanoi and Ho Chi Minh City to other places nationwide, as well as halt or re-organise public transport activities to limit travelling and crowded gatherings./.
VNA