Two Vietnamese volunteer to donate lung for critical  COVID-19 British pilot
A 40-year-old healthy woman and a 70-year-old veteran have registered to donate their lungs to the British pilot, known as "patient 91" in Vietnam, upon hearing his condition worsens. Both have no relationship with the patient in person.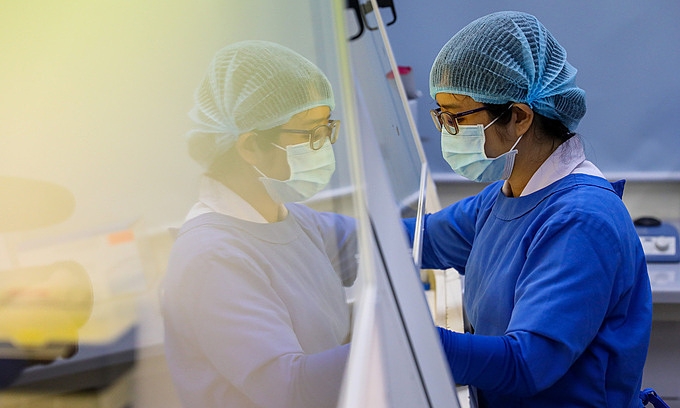 A doctor at HCMC Hospital for Tropical Diseases swap samples for Covid-19.
(Photo by VnExpress/Quynh Tran)
Accordingly, the National Co-ordination Centre for Human Organ Transplantation has, on May 13 afternoon, received two registrations to donate lung for the British pilot who is in critical condition due to the novel virus, Vu Hoang Phuc, Deputy Director of the center said.
The first donor is a married woman whose health is in a good state. "The woman told me she had received a lot of support from the community earlier, therefore, she wants to donate her organ to continue spreading the love to those in need", Phuc told Bao Giao Thong, adding that the 40-year-old woman just heard about the British's condition via the media and does not know him in person.
The second donor is an old man from Dak Nong, Tay Nguyen, Southern Vietnam. According to Vietnamnet, the veteran had called the center twice this afternoon to be listed as donor.
"I'm so proud of Vietnam's medical industry. The government has done a great job, no one is left behind in this pandemic. No death is reported across the country, while, you know, there are nearly 300,000 worldwide", Vietnamnet quoted the 70-year-old as saying.
"He was kind of disappointed knowing people at his age could not make organ donation", Phuc said. "Many of our fellow countrymen, including former soldiers, are ready whenever the country calls".
There is also a patient who suffers from brain dead and lung damage registers to donate lung to "patient 91", however, his lung is not qualified enough for the transplant.
"The transplant for Patient 91 will still depend on the doctors. If the patient has to undergo a lung transplant, the first choice will still be to seek donations from patients who have experienced cessation of brain activity. However, we will still take living donors into consideration," Phuc said.
"Their good deeds are precious encouragement for the health sector in such a straining time. We really appreciate their kindness and sacrifices", the deputy director was quoted as saying. "There are still many good things happening every day".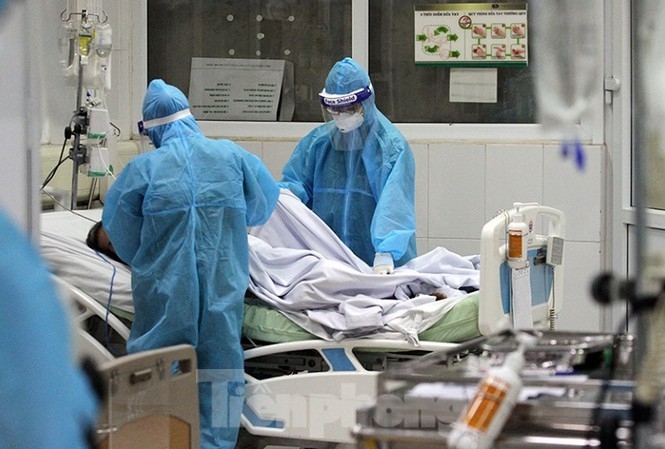 (Photo: Tien Phong)
The British pilot, who tested positive on March 18, is suffering 90 percent damage to his lungs, completely dependent on Extracorporeal Membrane Oxygenation (ECMO). His CT results on Wednesday showed severe solidification and fibrosis of the lungs, making it difficult for oxygen to get into the patient's blood.

Earlier on Tuesday afternoon, the Ministry of Health (MoH) hosted a consultation with health experts from the country's top-tier hospitals on the case, concluding that a lung transplant is the only solution to save the patient.

Vietnam Health Ministry in mid-April has ordered a rare coagulation drug from abroad, which was not available in Vietnam, to treat the nCoV-hit British pilot, whose condition was getting worse and the existing drugs are no longer effective for his blood clotting.

The patient is currently treated at Ho Chi Minh City's Hospital for Tropical Diseases., according to VNS.
Vietnam recorded no new coronavirus cases Wednesday morning, keeping its tally at 288, including 36 active cases. The country has gone through 27 days without any infection caused by community transmission.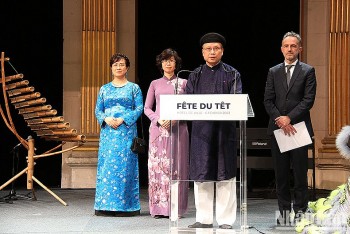 Friendship
Speaking at the celebration on the occasion of Lunar New Year for the overseas Vietnamese in France on February 6, Ambassador Extraordinary and Plenipotentiary of Vietnam in France Dinh Toan Thang emphasized that 2023 is an important milestone to promote the friendship and cooperation between Vietnam and France to the next level.