Vietnamese girl reunited with English pilot who saved her life 45 years ago
45 years ago, Vu Lieberman was born on a stalled ship and drifted in the middle of the sea. Two British Air Force helicopters set out to rescue the day-old little girl.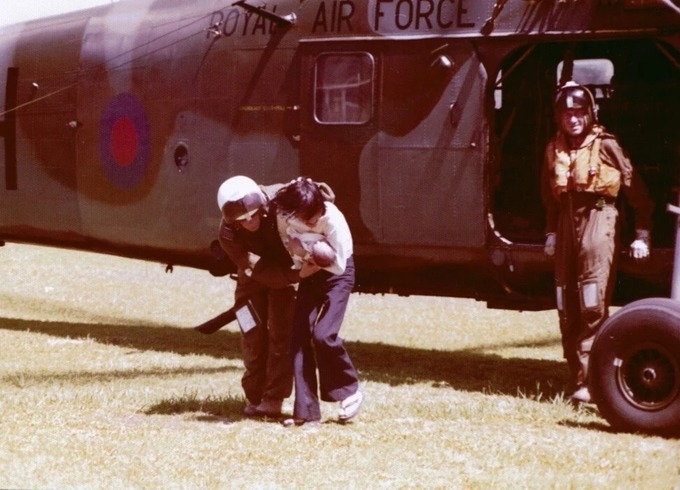 The Royal Air Force rescued the newborn baby (Photo: SCMP)
At 7.18am on May 2, 1975, Captain Anton Martin Olsen of the Clara Maersk received a distress signal from a Vietnamese merchant vessel adrift in the South China Sea:
"From Master Truongxuan/XVLX have about 3,000 from Saigon on-board they are hungry and thirsty stop engine broken down and leaking stop our position estimated 8.35 north 107 east at 21.00 GMT request assistance immediately Master."
Minutes after receiving the alert, Olsen changed the Danish cargo ship's course, and by midday began what was to become the largest ocean rescue of Vietnamese refugees at the time.
The Truong Xuan, captained by Pham Ngoc Luy, had fled Vietnam two days earlier with 3,628 refugees on board, just in time to avoid being captured by North Vietnamese forces during the "Fall of Saigon".
After transferring the passengers from the Truong Xuan, Olsen piloted the Clara Maersk onwards to Hong Kong. Two days later, the captain radioed for an urgent air pick up of four of the refugees: a sickly newborn, her two-year-old brother and mother, and a woman with a ruptured appendix. The call was answered and several members of the British Royal Air Force (RAF) came to the rescue in two Westland Wessex helicopters, according to SCMP.
The baby girl and her three compatriots were flown to the British Military Hospital in Ho Man Tin, on Hong Kong's Kowloon Peninsula.
According to VnExpress, that day Jones was a sergeant in the 28th squadron of the Royal Air Force, stationed at Kai Tak Hong Kong International Airport. Until now Jones still has a clear memory of the dangers and difficulties in this four-person airlift mission. "There is not enough time to assess what is around," Jones said.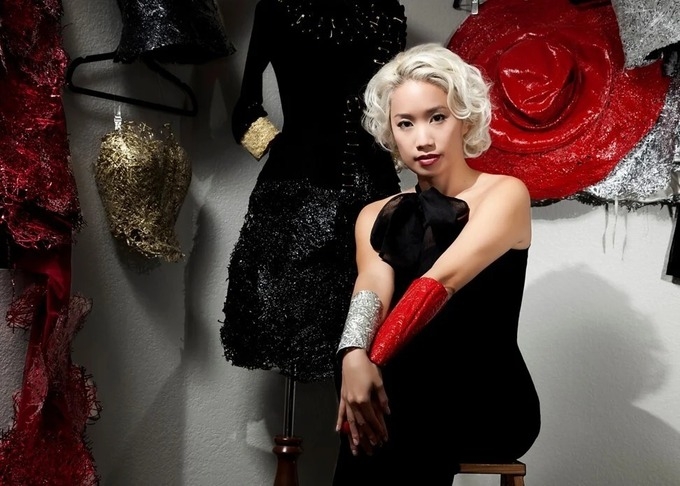 Vu-Lieberman - born 2am on 2/5 in the South China Sea on a refugee ship - is now a famous fashion designer. (Photo: SCMP)
Recently, Duc Nguyen, a Vietnamese-American documentary producer in California, organized an exhibition about refugee people. Jones contacted Duc Nguyen, through which he connected with the frail infant he assisted with the rescue, according to VnExpress.
On May 2, Chieu-Anh Vu-Lieberman's 45th birthday, she and Jones spoke for the first time over Zoom. The South China Morning Post also logged in to the conversation and saw the dawning fascination on each of their faces.
"I saw you 45 years ago; you didn't see me," Jones told Vu-Lieberman, "but here are photos of you being transferred out of hospital."
Jones and Vu-Lieberman were able to share pictures and fill in blanks that both had long wondered about. "It was the best birthday gift," Vu-Lieberman said. "I've got chills just running through me."
She later managed to win a scholarship to pursue a fashion creative degree at New York's top university. Now she has a brilliant career with famous fashion houses in Paris, New York and San Francisco, cited VnExpress.
As a successful fashion designer and executive, Vu-Lieberman lives in California's Orange County, home of the world's largest overseas Vietnamese community. Twice married, she was given Danish citizenship after it was confirmed she was born on board the Clara Maersk.
At the age of 18, when she had to choose, she became a citizen of Canada, where her family resettled after 23 days in a refugee camp in Hong Kong's Sai Kung district.
Her mother didn't tell her much about the traumatic days she experienced fleeing Vietnam as a heavily pregnant refugee.
Her mother gave birth on a crowded ship, when she was so malnourished that she was unable to produce breast milk. Her baby was fed on chewed up licorice as a substitute.
Vu-Lieberman also blogged Truong Xuan baby to forever remember being a child born on a refugee ship.
For Jones, the part he played in the helicopter rescue of the first few Vietnamese refugees to make it to safety in Hong Kong was one of the most important moments of his life.
"Now, at 68, you look back on your life and you say, 'well, on that day, you made a difference', reported by SCMP.