UK and Europe weather forecast latest, August 25: Storm Francis to battle UK with 70 mph gusts
Storm Francis is forecasted to sweep into Britain with 70mph winds and rain as summer ends and forecasters warned of further travel chaos and power cuts. Meanwhile, northern parts of Europe continue to see unsettled conditions.
UK's weather forecast
According to Express, the Met Office has upgraded the current weather warnings as "stronger gusts are expected with potential for medium impacts". Further warnings have also been issued for rain affecting parts of England, Scotland, Wales and Northern Ireland. The Met Office have also named the next UK storm, Storm Francis.
Met Office chief meteorologist Andy Page said: "The UK is in for another unseasonably wet and windy spell with Storm Francis arriving on Tuesday."
"There will be strong winds and heavy rain, especially in the west of the UK. A number of severe weather warnings have been issued and these warnings can be updated regularly so please keep up to date with the latest Met Office forecast."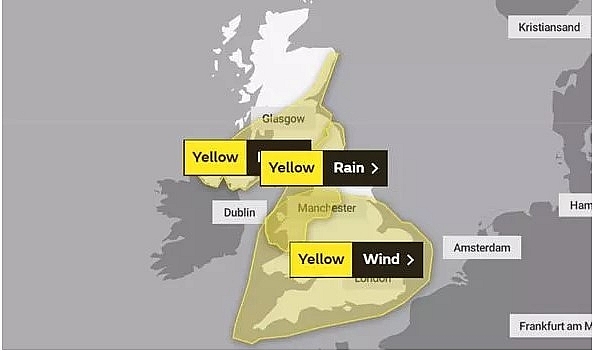 Storm Francis NAMED: Met Office weather warnings for Tuesday and Wednesday (Image: MET OFFICE)
Although yellow warnings for rain and wind have been issued presently, these could be upgraded to more severe warnings over the next few days.
Met Office spokesperson Nicola Maxey said: "As this low pressure system gets closer I certainly would keep an eye on those warnings. There may be adjustments in area or in colour".
The Met Office has placed most of England and Wales under a yellow wind warning on Tuesday and Wednesday.
The Met Office warn Storm Francis "will bring some very strong winds leading to disruption to travel and power supplies along with potential damage to trees".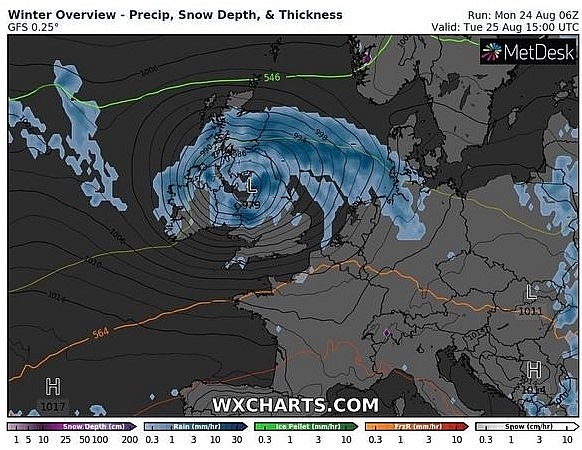 Storm Francis NAMED: Heavy rain is forecast for some areas of the UK (Image: WXCHARTS)
The warning reads: "A spell of very strong winds is likely to develop across the southwest of England and Wales later on Tuesday morning, before spreading east across other parts of England and Wales during the afternoon and evening, clearing into the North Sea on Wednesday morning."
"Gusts are likely to reach 55-60 mph for quite a few places, with exposed coasts and hills seeing gusts of around 70 mph."
"Whilst not exceptional, winds this strong are unusual for August and they will be accompanied by some heavy rain in places, with possible transport disruption and impacts on outdoor activities."
The yellow wind warning is in place from 9am on Tuesday until 9am on Wednesday. The Met Office warn injuries and "danger to life" from flying debris could be possible.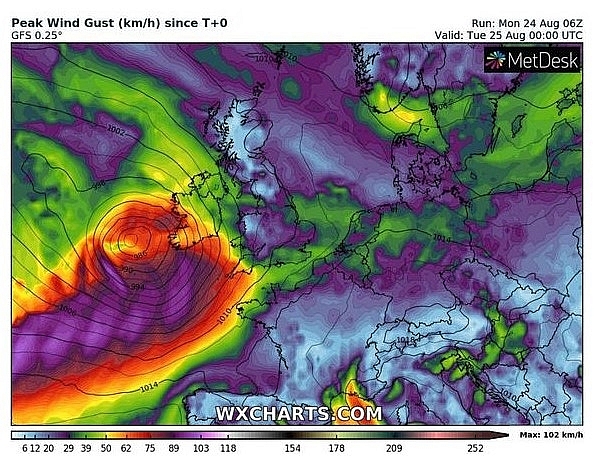 Storm Francis NAMED: Strong winds are on course for the UK (Image: WXCHARTS)
The Met Office also warn of travel disruption across all networks, power cuts and bridge and road closures.
Additionally the Met Office warn "injuries and danger to life could occur from large waves and beach material being thrown onto sea fronts, coastal roads and properties".
The Met Office has also issued a yellow rain warning across Northern Ireland and parts of southern and eastern Scotland, and another rain warning across parts of northern England and Wales.
The rain warnings are in place from midnight on Tuesday until 6am on Wednesday morning. The Met Office warn Northern Ireland could see as much as 90mm (3.5 inches) of rainfall.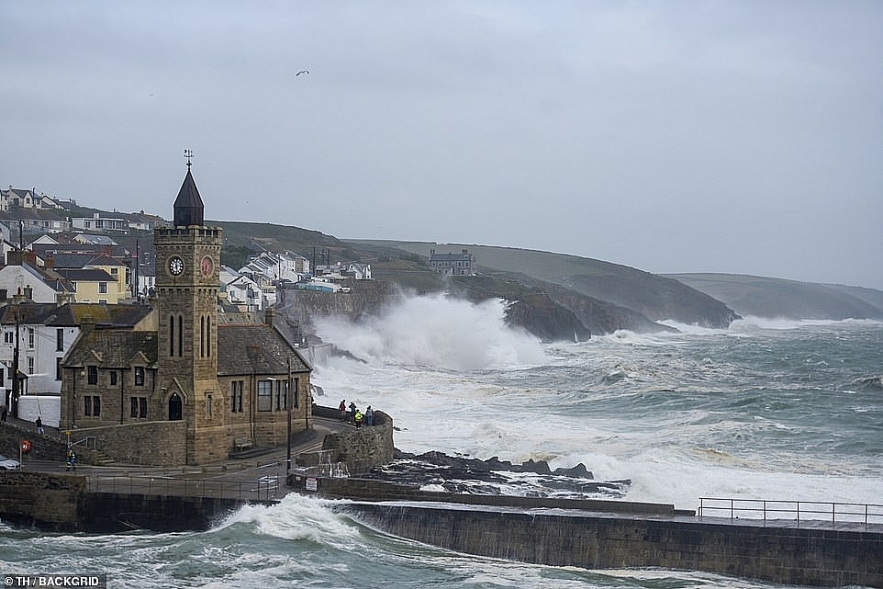 Huge waves strike into the Cornish port town of Porthleven this morning with more strong winds on the way tomorrow . Photo: Daily Mail.
The Met Office warning for parts of Scotland and Northern Ireland reads: "Storm Francis will bring another spell of very wet and windy weather during Tuesday and early Wednesday."
"Total rainfall accumulations are expected to reach 20 to 40 mm widely across the area with as much as 60-90 mm for parts of Northern Ireland and south-west Scotland, particularly over high ground."
"Strong east to north-easterly winds are also expected to develop, with gusts of 50 mph affecting exposed coasts and hills."
Storm Francis is the latest named storm of the 2019/2020 season. The storm names every year are compiled by the Met Office, Met Éireann and Dutch meteorological agency KNMI.
Prior to Storm Francis, Storm Ellen was the last storm to hit the UK. Storm Ellen was named by Met Éireann on August 18, and its impacts were felt in the UK/Ireland on August 19 to 20.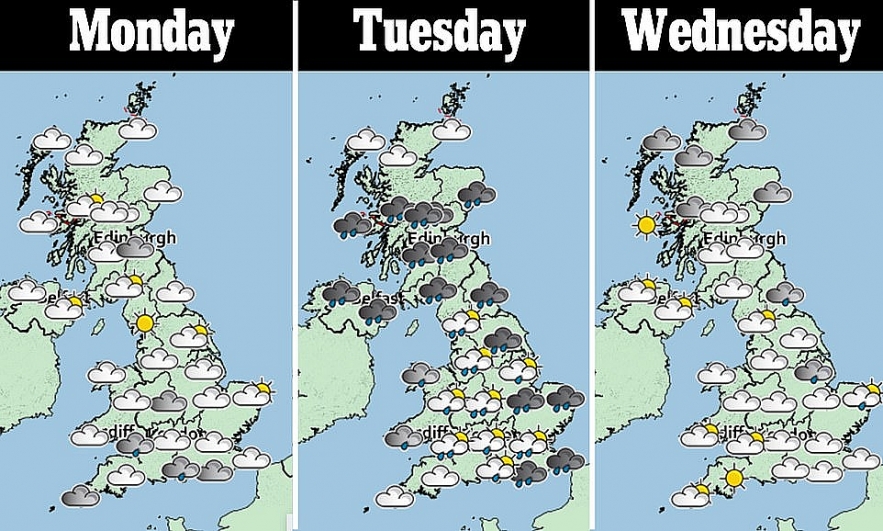 Photo: Daily Mail.
Europe's weather forecast
According to Weather Online, dry, warm and fine for much of Spain and Portugal again on Monday though northeastern regions of Spain could see isolated showers develop through the afternoon. A warm and fine start to the day for Italy though widespread showers develop later. These could be locally heavy. Hot, dry and sunny for much of Greece and Turkey.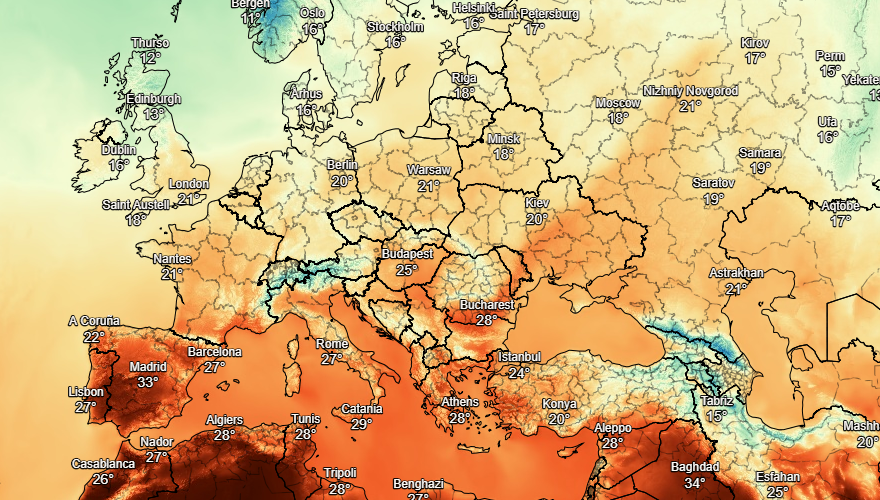 Photo: Stirimeteo.
Cloudy with isolated showers for northern France; drier and brighter further south. The Low Countries and northern Germany sees outbreaks of rain spread from the west while southern Germany is dry and fine. Dry and fine too for much of Poland and the Czech Republic though northern areas could see a scattering of showers. Showers also affect Switzerland and Austria.
Showers and outbreaks of rain tend to ease over Denmark, Sweden, Finland and the Baltic States on Monday though showers may linger longer along Baltic coasts. Western Norway sees persistent outbreaks of rain while eastern areas are drier and brighter.
Outlook for next 48h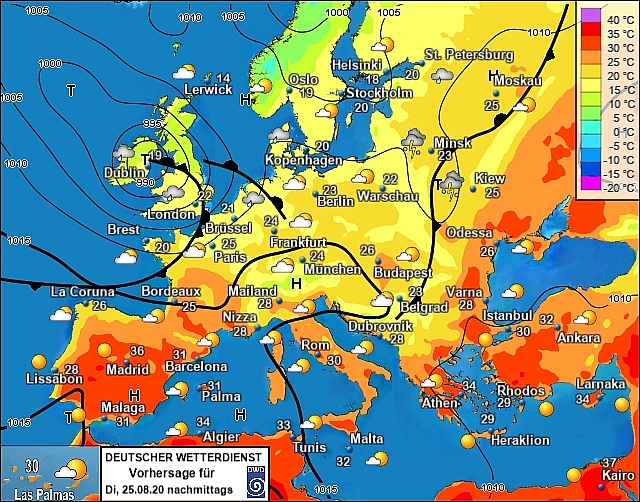 Photo: Stirimeteo.
On August 25
Dry, warm and sunny for Portugal, Spain and the Balearic Islands. Mostly warm and sunny too for Italy though isolated showers develop here and over Corsica. Hot and sunny for much of Greece though northern areas could see afternoon thunderstorms develop. Hot and sunny too for Turkey.
Windy with outbreaks of rain for northern parts of France and Germany as well as the Low Countries on Tuesday. Southern parts of France as well as Switzerland and Austria are mostly dry and fine.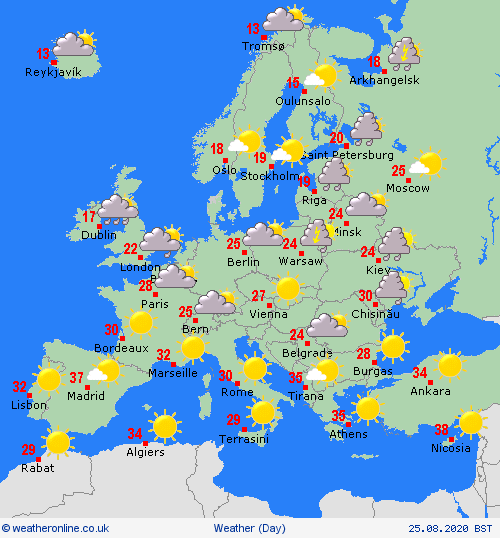 Photo: Weather Online.
Cloudier over southern Germany with a scattering of showers here. Early showers and rain clear east from Poland, Slovakia and Hungary to leave a dry and fine end to the day while cloud builds over the Czech Republic following a dry and bright start here.
After a dry and fine start cloud builds over Denmark with strong winds and heavy rain arriving here later in the day while a band of heavy, sometimes thundery, rain spreads from west to east over the Baltic States.
Largely dry and fine for southern parts of Sweden and Norway while outbreaks of rain affect northern areas. Patchy outbreaks of rain affect northern and southern portions of Finland while central areas stay dry and fine.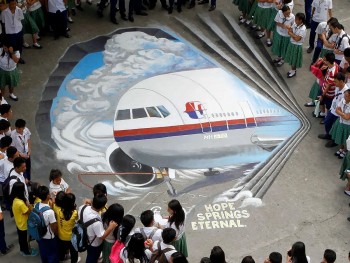 World
The world might never know what really happend when these planes went off the radar. Let's take a look at some of the unsolved mysteries of aircraft disappearances.