UK's weather forecast
According to Express, Met Office warnings for wind were previously in place as far north as Manchester as of Sunday. But today now sees fresh yellow warnings for rain in place for regions such as south-west Scotland and Newcastle, until 6am on Wednesday. A yellow warning for blustering winds has also been issued across a huge part of the UK, from the midlands to the South coast and all of Wales.
Chief Meteorologist Andy Page, said: "The UK is in for another unseasonably wet and windy spell with Storm Francis arriving on Tuesday."
"There will be strong winds and heavy rain, especially in the west of the UK."
Met Office updates: Met office weather warnings (Image: Met Office)
Nicola Maxey, also of the Met Office, added: "Since 2015 when we started naming storms, we have never had to name a storm in August - and now we've had two in a few days."
"There are a lot of people on holiday in the UK at the moment, going camping and on walking breaks, many in coastal locations where the winds are likely to be stronger, so it is worth checking on the Met Office website ahead of time."
Storm Francis is expected to make landfall today from the South West coast, bringing the second "unseasonable" storm in less than two weeks. The South East coast will suffer winds at speeds of 70mph throughout the day.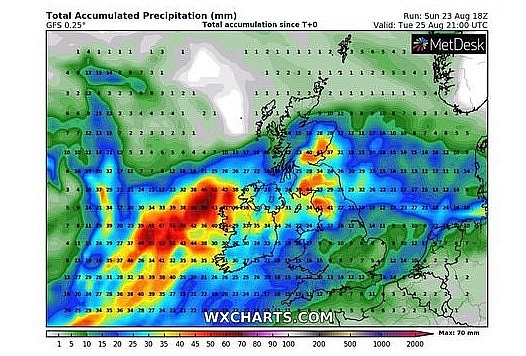 Met Office updates: Total rain for Tuesday by 9pm (Image: WXCHARTS)
Along with the horrendous wind speeds, it will be soaked by up to staggering 90mm of rain throughout the day and Wednesday,
Northern Ireland and South West Scotland is also set to see the worst of the rainfall, with between 60 to 90mm expected throughout today.
Most of England and Wales are also set for an unseasonable August day, with winds over 60mph seen by 3pm. But by the afternoon, relief will come with some drier and brighter weather being seen across Southern and Eastern England.
Unfortunately for the North of England however, today is set to remain filled with heavy showers and blustering winds overnight.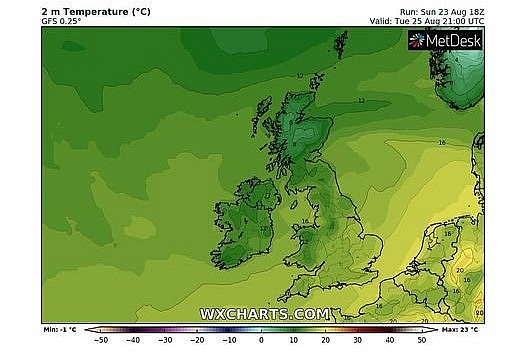 Met Office updates: Temperature for Tuesday by 9pm (Image: WXCHARTS)
Temperatures across the UK will stay cool, as Storm Francis brings a chill. London and the South East will again see the best of the temperatures, with 21C (69.8F) by 4pm.
In the areas hit worst by Storm Francis the thermometer will read 17C (62.6F) , but it will feel more brisk at 11C (51.8F). The same will be seen on Wednesday, but it will feel warmer for coastal regions as the storm moves through the UK.
The Met Office said Storm Francis is expected to clear by Wednesday lunchtime, after moving eastwards across the UK. After it moves away, the weather will see a brighter and more settled outlook for the remainder of the day.
At 7am, the North East will still see some of the worst rainfall, at near 1mm per hour, but that will clear by midday
The Met Office added the bank holiday weekend will likely see a mixture of sunshine and some scattered showers across the country.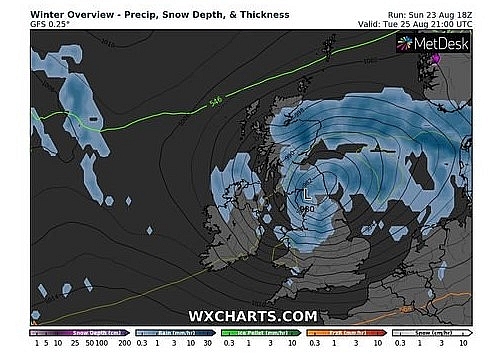 Met Office updates: Rain and cloud overnight for Wednesday (Image: WXCHARTS)
Europe's weather forecast
According to Weather Online, heavy rain across Northern Ireland, northern England, wales and parts of the Midlands early this morning may bring a risk of local flooding. Heavy showers following into the south.
Widespread and severe gales will be affecting much of southern Ireland, England and Wales, these pushing into southern Scotland as the morning progresses, along with the heavy rain.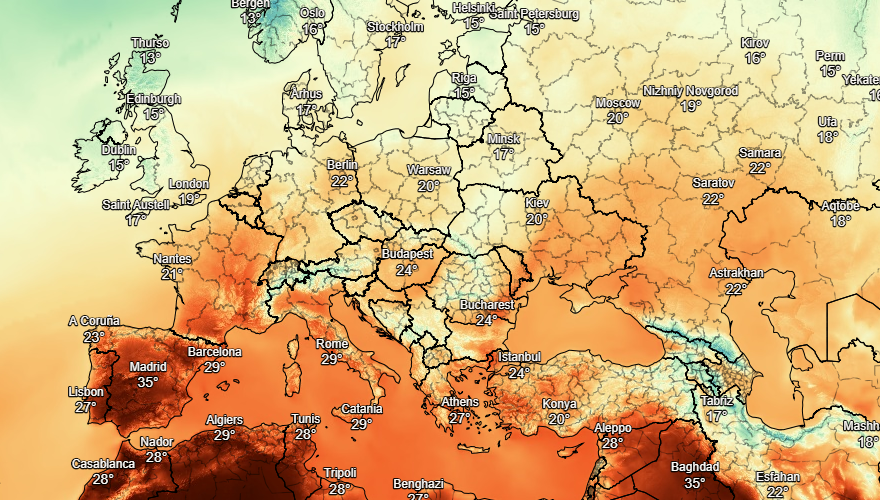 Photo: Stirimeteo.
Winds could gust in excess of 70mph on western and southern coasts, increasing to gusts of 50m to 60mph inland, although winds turning lighter in northern England. This afternoon sess the heaviest rain into central and eastern Scotland, with squally rain then moving into northwest England.
Widespread severe gales affecting areas away from northern England and Northern Ireland with showers in the south. Northern Scotland stays dry. Gusts again in excess of 70mph on western coasts and hills, perhaps to 60mph in parts of the Midlands and inland parts of Wales.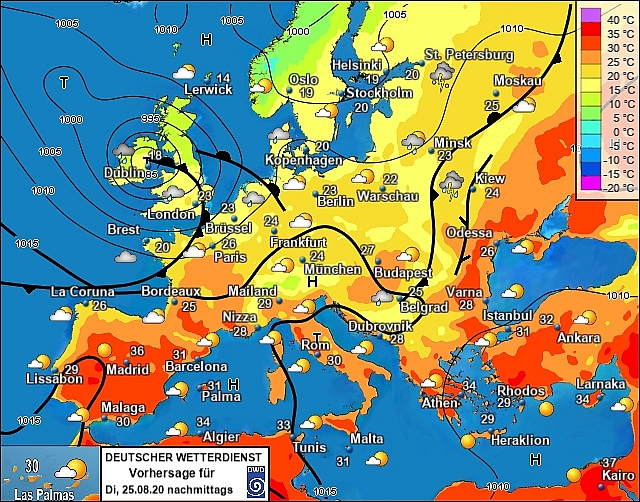 Photo: Stirimeteo.
The wind speeds could lead to some damage to trees and disruption to transport. Highs at 20C in southeast England, 13C in northern Scotland.
A windy night ahead with gales across much of England, Wales, Scotland and Northern Ireland. There will be further rain and blustery showers affecting many parts of northern England, Scotland, Northern Ireland and Wales although probably drier in more southern parts of England and Ireland. The wind is tending to ease from the west later in the night. Lows at 9 to 12C.
On August 26
Low-pressure moves into the North Sea on Wednesday, bringing a cooler north-west wind across all parts of the country. There will be cloud and further outbreaks of rain or showers affecting many northern and eastern areas, but a tendency for the weather to become drier and brighter from the west through the day.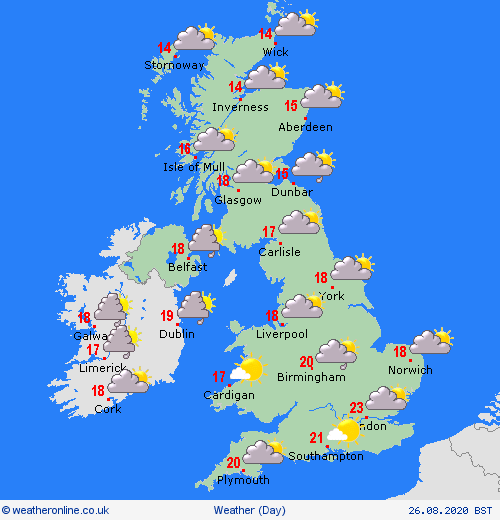 Photo: Weather Online.
Many areas should have a fair afternoon with some sunny spells although always a risk of a few showers affecting northern and eastern England. Further showers may affect Ireland. Highs at 21C in southern England, more widely 13 to 17C.
Outlook for next 48h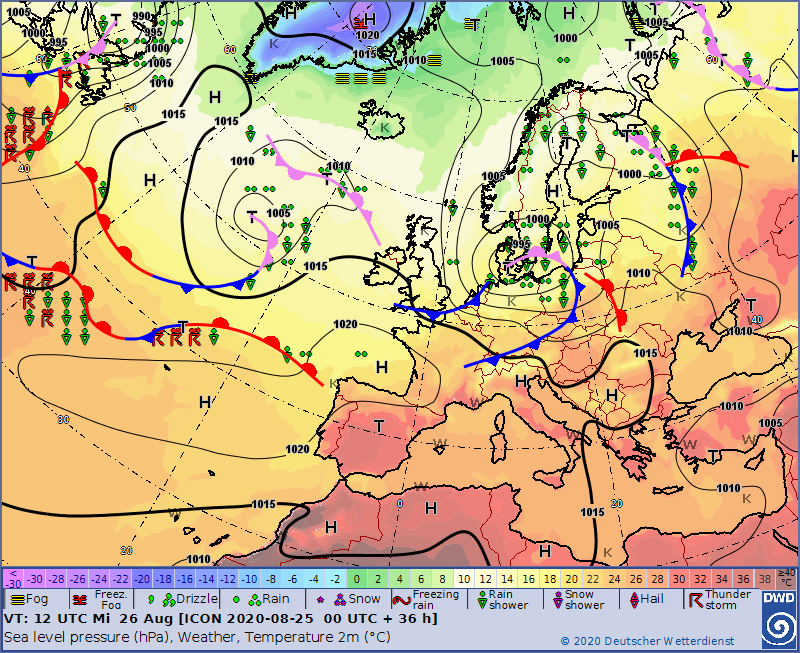 Photo: Stirimeteo.
Ruby Lee