UK and Europe weather forecast latest, December 2: Freezing temperatures, fog and snow start the Christmas season
The UK is forecasted to cope with icy temperatures with snow and fog in the next coming days. Meanwhile, a wintry week sets to batter Europe as snowfall covers parts of the continent.
UK's weather forecast
Snow is forecast for the coming days as a chilly spell takes over Britain for the start of December, Express reported.
Winter is coming, bringing freezing temperatures, fog, and snow with it for the start of the Christmas season. Today there will be a soggy start for most of the UK, expected to clear later to make way for some gales and slightly warmer weather in patches.
The Tuesday forecast reads: "Central and eastern areas will have spells of sunshine, although cloud will edge in from the west later. Further west and north, a lot of cloud. North-western areas will have some patchy drizzle."
A cold front from the Atlantic could deliver snow and sleet over higher ground in the UK just as the festive period arrives. The latest snow probability charts from WXCHARTS show an 80 to 90 percent chance of snow arriving as early as this Wednesday, as the charts turn red in central Scotland. A deep shade of blue and purple then remains until December 16, suggesting a 30 to 50 percent chance of snow in Scotland and north-western England during this time.
UK snow map: Temperatures could plunge to -6C (Image: WXCHARTS)
Temperatures are also expected to plunge to freezing sub-zero lows by mid-December. Western parts of Scotland including near Loch Lomond are forecast to be hit with lows of -6C on December 13, according to WXCHARTS.
The freezing lows could linger until December 16, with Liverpool likely to see -1C and London to be blasted by 0C. The BBC's long-range forecast between Monday, December 14 and Sunday, December 27, has suggested "heavy wet snow" could fall. Ladbrokes has also revealed their latest odds for the UK to experience a white Christmas this year.
The latest odds are stacked at 10/11 for snow to fall anywhere in the UK on Christmas Day. Edinburgh and Newcastle are both expected to be the most likely areas at 3/1.
Alex Apati of Ladbrokes said: "We're expecting to see the white stuff over the coming days but the latest odds suggest it might stick around until at least Christmas."
Netweather also predicted snow in its long-range forecast.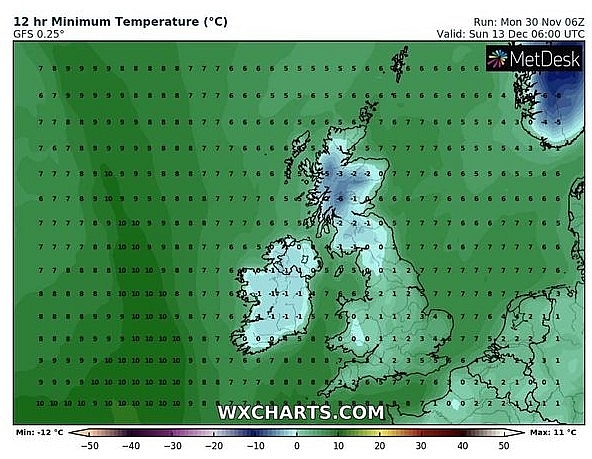 UK snow map: Sub-zero are forecast to strike mid-December (Image: WXCHARTS)
For the period December 14 to 22, it said: "Although the emphasis is expected to be mainly on cold dry weather, the chances of lowland snowfall increase during this period, most likely from wintry showers near north-facing coasts from short-lived northerlies or from frontal systems pushing eastwards against cold air masses."
The BBC's long-range forecast said: "The middle of December will continue to see a strong ridge of high pressure over the north Atlantic. This will steer areas of low pressure south-east across the UK, France and then down into southern Europe."
"Spells of rain and brisk winds, especially over southern parts of the UK. It should be cold enough for some of the rain to fall as sleet and snow, especially over higher elevations, but not exclusively so."
"Some heavy wet snow falling to low levels cannot be completely excluded - we've seen it before in recent Decembers with a similar weather pattern, such as 2011 and especially 2017."
"Once the low pressure areas track away to the south of the UK, there will tend to be two or three days with gentle winds, sunnier skies but also some cold air, with overnight frost."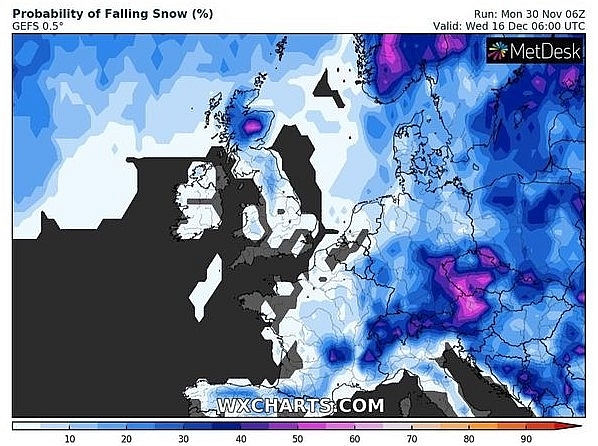 UK snow map: The week before Christmas is likely to see a 50 percent chance of snow (Image: WXCHARTS)
The forecast added low pressure could sweep wet and windy weather over north-western parts of the UK during the week of Christmas.
The forecast said: "It's too early to make a prediction of what the weather will be like over the UK on Christmas Day itself, but we can look at what the latest forecast guidance is suggesting for the week as whole. A consensus of the latest predictions suggest that high pressure will start to build over France, Germany and southern England. Meanwhile, low pressure track starts to shift further north than earlier in December."
"This would suggest a trend to less cold weather, as winds over the UK come in from the south-west more often. North-western have the greatest chance of wet and windy weather, while the southern and eastern half of the UK will become drier and more settled, but with some mist and fog."
The Met Office added colder conditions could arrive from the Atlantic between Monday, December 14 and Monday, December 28.
The forecast said: "Despite some mixed signals, typical early winter weather with periods of persistent rain and showery interludes seems slightly more likely, with winds and weather systems more likely to arrive from the Atlantic."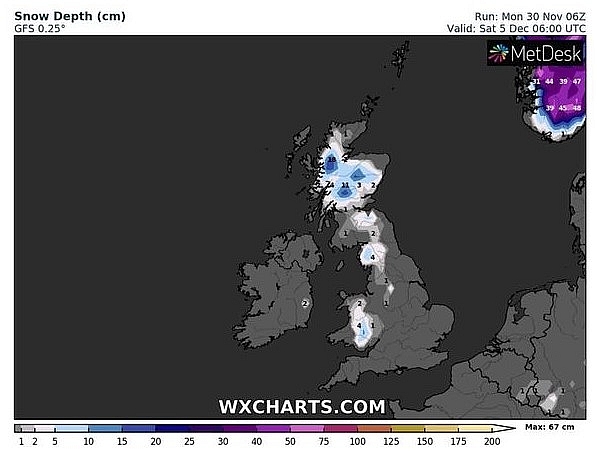 UK snow map: Higher ground in Scotland is most likely to see snow (Image: WXCHARTS)
"Although confidence is low, in this pattern the best of the driest and brightest weather will be in the south and east. Frost and fog patches are likely during any settled spells, and any wintry precipitation is most likely over high ground of the north and northwest."
"Conditions in the southwest could turn more settled through the month. There is a risk of gales at times, with the strongest winds being seen to the north and northwest. Temperatures overall likely to be near or slightly above average."
On December 2
According to Weather Online, a weak front will be bringing some light showers to northern England, the Midlands and Wales on Wednesday morning. Showers will merge into longer spells of rain and increasingly sleet and snow across western Scotland. Further showers in Ireland. Rather cloudy through southern and south eastern part of England with the risk of some morning mist and fog here. Windy in western Scotland and northern parts of Ireland. Staying cold for most at 4 to 7C, but a milder 9C in west Wales, southwest England and western Ireland.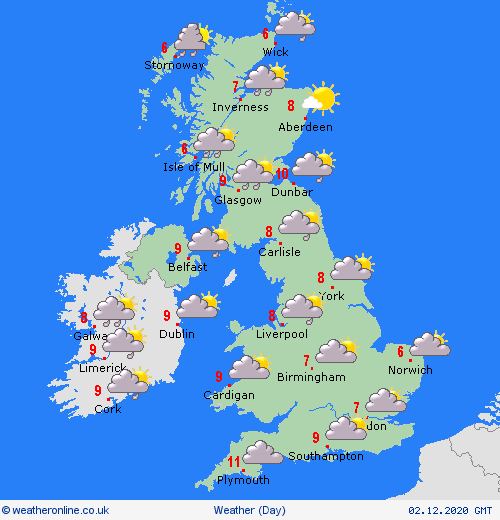 Photo: Weather Online
Europe's weather forecast
BBC weather forecast a wintry week for Europe as snowfall covers parts of the continent and freezing cold air blows into other parts, dropping temperatures to minus figures.
Early rain clears southeast from Iberia to leave a mostly dryand fine day for Portugal and Spain, Weather Online reported.
Cloud thickens over northern Spain later with rain for far northern areas. Starting dry and fine for the Balearic Islands, Corsica and Sardinia but cloud thickens from the north and rain arrives here later. A dry and fine start for Italy too but low pressure develops to the northwest bringing increasing cloud and outbreaks of rain later. Mainly cloudy for Greece and Turkey with scattered showers here.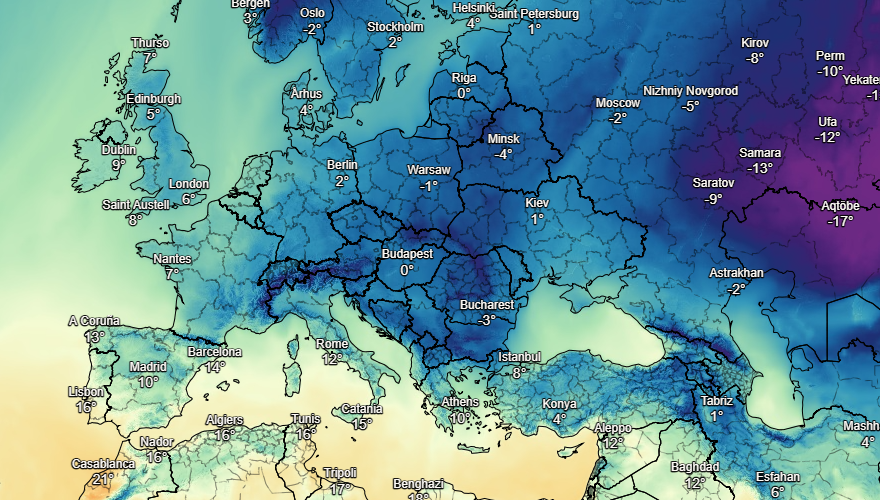 Photo: Stirimeteo
Photo: Stirimeteo
Rain eases over eastern France, the Low Countries and Germany to leave a fair day here. Some showers linger over eastern France. Snow fades over the Alps though may linger a little longer over the Swiss Alps. A dry day for eastern parts of Europe though mist and fog patches remain a risk in Poland, the Czech Republic, eastern Austria, Hungary and Slovakia.
Rain eases over Norway, Denmark and Sweden and cloud breaks too to leave a fine and dry end to the day here. Outbreaks of rain, sleet and snow spread east over Finland and Estonia to leave a dry and bright end to the day here. Staying rather cloudy but mostly dry for Latvia and Lithuania.
On December 2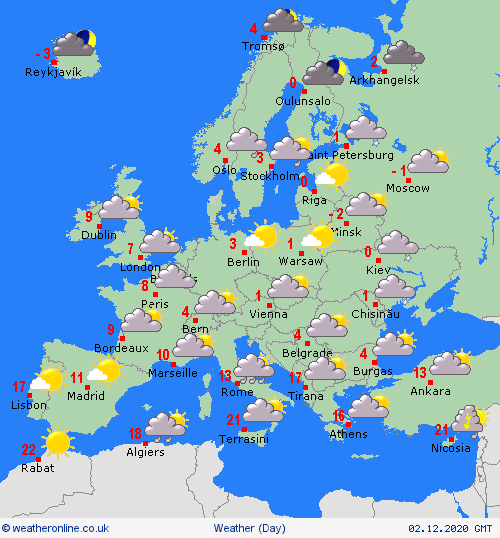 Photo: Weather Online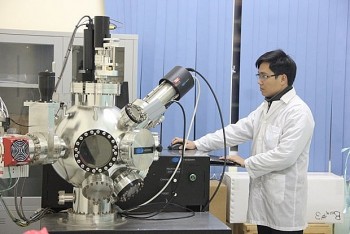 World
A new ranking by the Informatics Institute at the Middle East Technical University, in Turkey, lists the 17 top universities in Vietnam