UK and Europe weather forecast latest, December 6: Weather maps turn blue with freezing temperatures leading snow
Britain is forecasted to cope with icy weather with thick snow turning maps blue. Meanwhile, snow sets to fall across central Europe this weekend as an area of low pressure moves in from the Atlantic.
UK's weather forecast
According to Express, Britain is bracing for freezing temperatures and flurries of snow to hit next week as a polar blast sweeps across the country.
Britain has already seen temperatures plummet this week and snow blanket parts of the country as a cold front moved in, and the latest weather charts show similar conditions forecast next week. The mercury is set to plunge to -5C from Tuesday, with snow expected to hit Scotland and spread further south as the week progresses, weather charts suggest.
Netweather maps show the country turn any icy blue as temperatures plunge to -5C in the Scottish Highlands and the mercury dips just below freezing across most other parts of the UK by 9am on Monday December 7.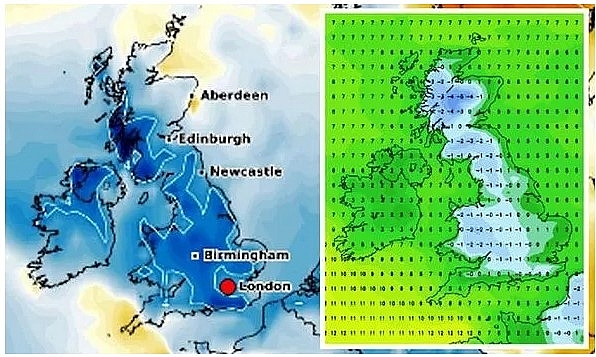 UK snow forecast: Forecasters suggest the cold temperatures to continue next week (Image: Netweather/WXCharts)
The chilly temperatures look set to continue overnight, with snow predicted to blanket Scotland and parts of north east England.
Netweather's snow risk chart shows there is up to an 85 percent chance of snow in these areas at 3am, which is indicated by the red areas on the map. The wintry conditions are expected to continue through Wednesday, with WXCharts forecasting up to 5.5 inches (14cm) of snow in Scotland by 12pm.
By Friday snow is forecast across Wales, with the snow risk chart indicating there is a high chance of snowfall from 3am. The snow risk continues throughout the day and also extends to parts of northern Scotland by the afternoon.
As the weekend moves in, temperatures are expected to remain chilly with -5C forecast in Scotland and lows of -2C expected in other parts of the UK. The cold spell is set to coincide with yet more snow in northern parts of the UK, as indicated by Netweather charts.
UK snow forecast: Temperatures plunge to -5C in the Scottish highlands at 9am on Monday (Image: Netweather)
BBC forecasters expect next week chilly temperatures to bring some snow. They said: "After a cold and bright start to December for many of us, the second half of this week will become wet and windy, as a large low pressure system arrives and then stalls over the UK."
"It will be cold enough for some snow, more likely over higher ground in the north and west but even southern regions could be at risk of some wet snow for a time."
"The middle two weeks in December will be very changeable but often on the cold side, with the prospect of some sleet and snow especially over the higher ground."
The Met Office also forecasts more unsettled conditions next week. They state: "There will be a steadily increasing chance of more widespread unsettled weather, bringing cloud, rain, and possibly some hill snow at first, arriving from the Atlantic. The rain, accompanied by strong winds and coastal gales at times, will likely be heaviest in the west, whilst areas further east should remain drier longer."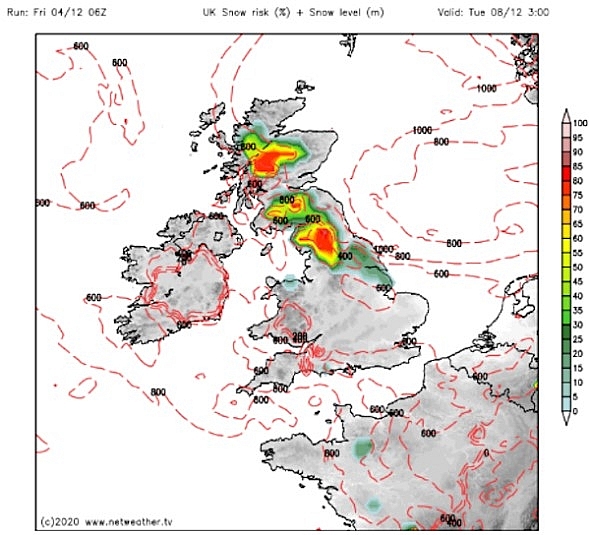 UK snow forecast: There is up to an 85 percent chance of snow in these areas at 3am (Image: Netweather)
Bookmakers Ladbrokes expect this winter to be the coldest on record. With temperatures continuing to tumble, the bookies have cut odds from 1/2 to just 1/3 on this being a record-breaking cold winter.
Elsewhere, odds have also been slashed to just 2/5 on snow falling anywhere in the UK on Christmas Day. Alex Apati of Ladbrokes said: "Things are only going to get colder and while a White Christmas seems inevitable, it's actually more likely that this winter goes down as a record-breaking cold one."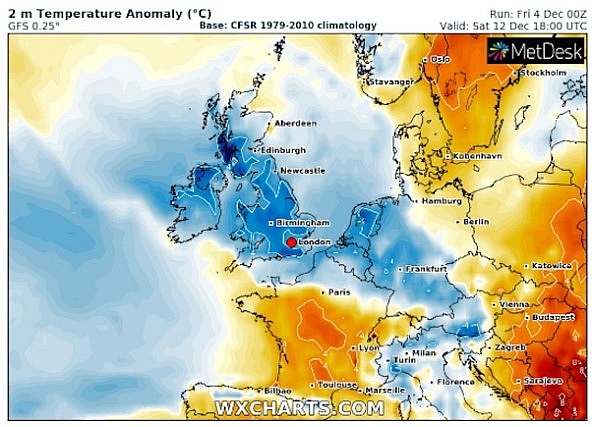 UK snow forecast: The UK turns blue as temperatures drop below freezing next weekend (Image: WXCHARTS)
On December 6
According to Weather Online, pressure is expected to be staying generally low through Sunday. This brings cloud and periods of patchy rain to eastern England, most of this fairly showery in nature. An area of more persistent rain affects northern Scotland, this perhaps heavy in the east.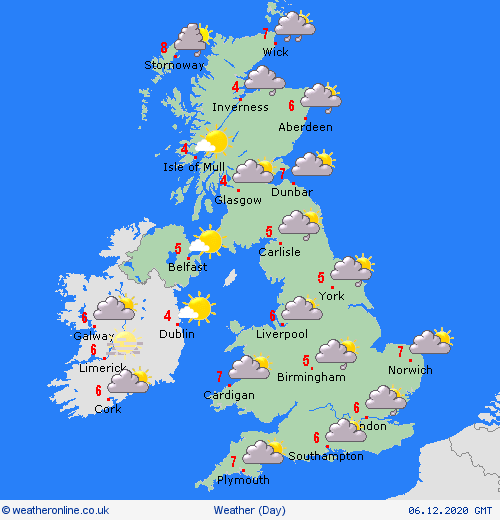 Photo: Weather Online
A foggy start for central and southern parts of England as well as over Northern Ireland and northwest Ireland. This slow to clear in places. Drier through southern England and Wales. Cloud thickens over Ireland with rain spreading in from the southwest through the late afternoon. Highs at 3 to 7C, mildest over southwestern parts of Ireland and the UK and in East Anglia.
Europe's weather forecast
BBC Weather's Chris Fawkes warned of torrential rainfall and heavy snow across central and west Europe this weekend. He forecast 150cm of snow will fall across mountains in Austria. Mr Fawkes said: "Low pressure is bringing cold air, mounting rain and heavy snow across much of central and western Europe at the moment."
"This cold outbreak is seeing some heavy snow moving into the north of Spain, particularly above 800m elevations. Heavy rain could bring some localised flooding. Some torrential rain in northern areas of Italy and southern Austria where we're looking at around 200mm of rain in places. That really is likely to lead to some flooding problems."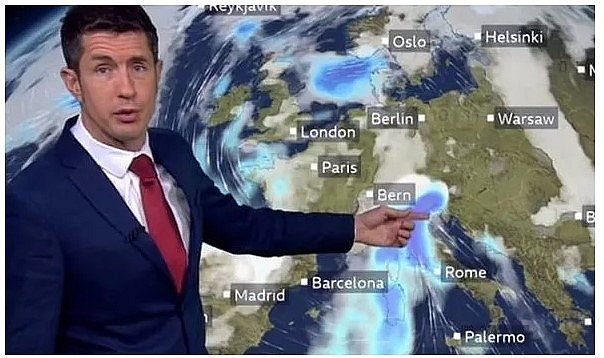 BBC weather has forecast 150cm (59 inches) of snow to fall (Image: BBC)
"On high ground we are expected to see heavy falls of snow with 50cm to 150cm in the mountains across Austria and into northern areas of Italy. Further north we've got some rain pushing into Scandinavia. The forecast for Sunday, we've still got more torrential rain in northern parts of Italy with that very heavy mountain snow as well."
It comes as Scotland and other parts of the UK have seen the first significant snowfall of the winter as a cold weather alert was issued for the days ahead.
Some Scottish residents got an unusual wake-up call overnight and alerted police to explosions but what they were actually hearing was a natural phenomenon known as "thundersnow".
This is the rare combination of thunderstorms formed in wintry conditions that bring heavy downpours of snow along with the usual thunder and lightning.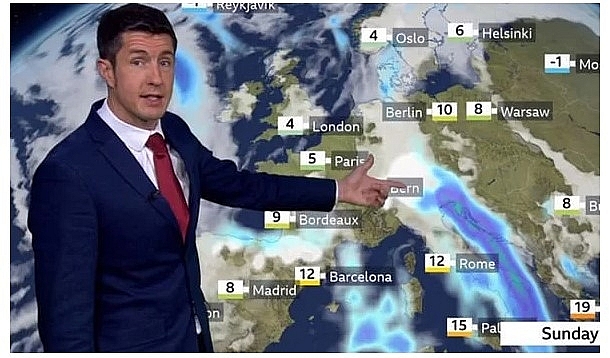 BBC Weather's Chris Fawkes warned of torrential rainfall and heavy snow across central Europe (Image: BBC)
People woke up to bright snowy scenes having heard sounds which would have been quieter than usual thunder and lightning strikes.
Police Scotland Control Rooms said they had received a number of calls from people who were concerned after they heard explosions and strange noises. They tweeted on Friday at about 5am: "Please do not be alarmed, we are currently experiencing thunder and lightning."
The snow caused disruption across many areas, including temporarily shutting the Queensferry Crossing. Traffic Scotland operator manager Douglas Cairns said the first severe weather warning of the winter for snow and ice had led to "some very challenging driving conditions".
It was the coldest night of autumn/winter so far, with -9.6C (14.72F) recorded at Altnaharra, Sutherland, in the Highlands, as rain, sleet and snow fell across a broad swathe of Scotland and northern England, according to the Met Office.
On December 6
Photo: Weather Online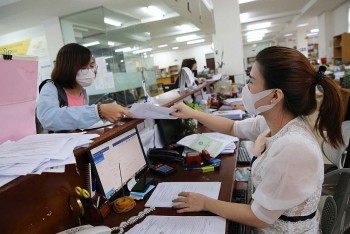 Economy
Vietnam Business & Weather Briefing (May 25): On the morning of May 25, SJC 9999 gold's price stayed at the same level as last week.