UK and Europe weather forecast latest, December 3: Freezing cold arrives with an alarming snow plume
Weather in the UK is forecasted to bear freezing cold with an alarming snow plume stretching across a huge swathe of England and Wales. Meanwhile, showers and rain set to cover central Europe, and there will be a few showers in the Mediterranean too.
UK's weather forecast
An alarming snow plume will stretch across a huge swathe of England and Wales on Friday, according to Netweather's snow risk charts. The latest maps show cold air sweeping across from the North Atlantic before heading south towards France over the next few days. The deep shades of orange on the snow-risk maps suggest there is a 50 - 60 percent chance of snow in regions including Cumbria, Birmingham and even Bournemouth on the south coast.
Temperatures are also forecast to plummet to -4C in western Scotland and -3 in Liverpool on Thursday evening, with more areas impacted the next day, WXCHARTS has said.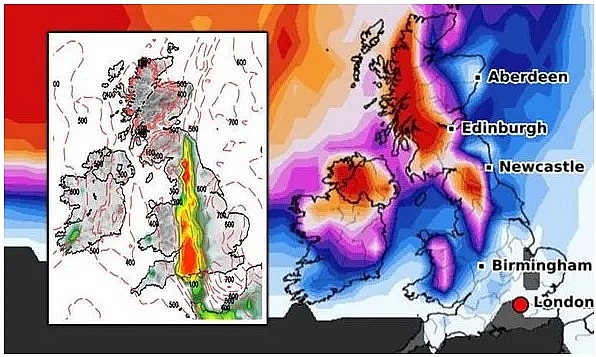 UK snow forecast: Britons are bracing for freezing air from the Atlantic (Image: WXCHARTS/NETWEATHER)
Netweather forecaster Terry Scholey said the new month could bring colder conditions and even the possibility of snow as early as tomorrow.
He said: "A band of mostly light rain crossing England and Wales tomorrow will eventually reach the South East. Following on will be sunny spells but a scattering of blustery showers that'll be most frequent over Scotland and Northern Ireland."
"These'll be heavy in places and as it becomes progressively colder will turn wintry, falling as snow on hills above about 300m. A West or South-West wind will be fresh or strong, with gales over North West Scotland giving gusts up to 50mph. It'll feel raw, with temperatures no higher than 4 to 6C in the North and 7 to 9C further South."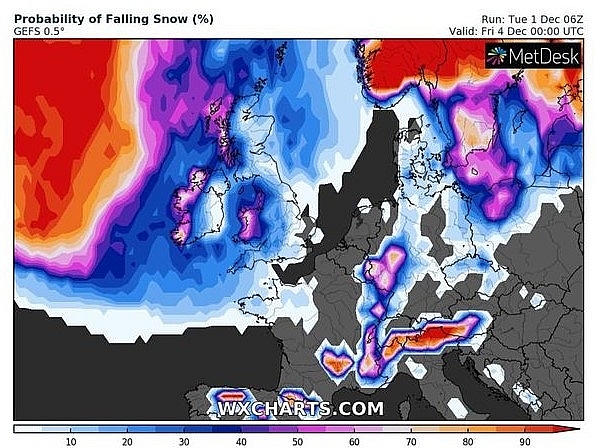 UK snow forecast: The charts turn deep orange as wintry weather edges nearer (Image: WXCHARTS)
The BBC's forecast for December warned of snow potentially arriving in northern parts of the UK by Friday. High pressure is likely to develop over the north Atlantic and weaker over Spain, Italy and Central Europe.
This could bring wintry weather as low pressure sweeps over the UK. The forecast said: "Central and southern areas will have a cold evening and night on Tuesday night, with frost and patchy fog. A more unsettled second half of next week, as low pressure deepens to the north-west of the UK and then tracks right overhead."
"At this stage, there is some uncertainty on the strength of the winds over southern areas on Wednesday night and Thursday. But there is good agreement that rain and then scattered showers will affect all parts."
"Cold enough for some snow over the hills and mountains in the north and west by Friday. A rather cold and showery end to the week."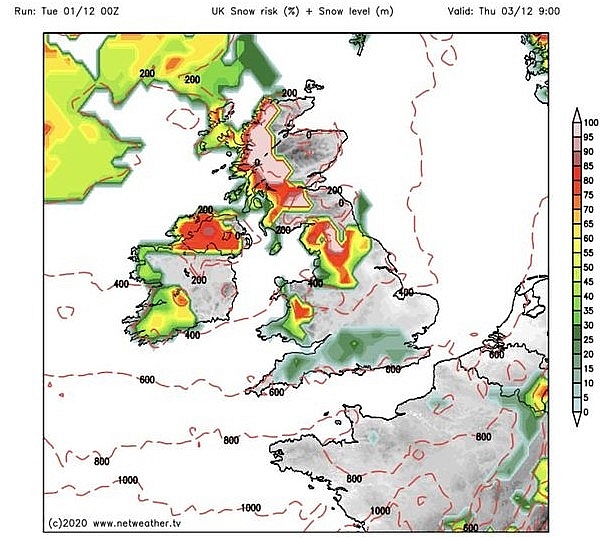 UK snow forecast: A cold front will sweep down towards the south (Image: NETWEATHER)
The Met Office also said snow could fall on lower ground, rather than just the hills between Sunday, December 6 and Tuesday, December 15.
It said: "Unsettled and rather cold conditions likely to continue into this period, with spells of rain and heavy showers for most. Any snow is most likely over the hills in the north but there is a chance of snow falling to lower levels at times."
"The heaviest and most frequent showers most likely affecting eastern and southern areas, with a possibility of more settled weather towards the northwest."
"Windy at times with a chance of coastal gales. There will still be some drier and brighter weather at times and should any more settled interludes develop, overnight frosts will be more widespread along with a greater chance of fog patches. Temperatures will likely be below average for this period."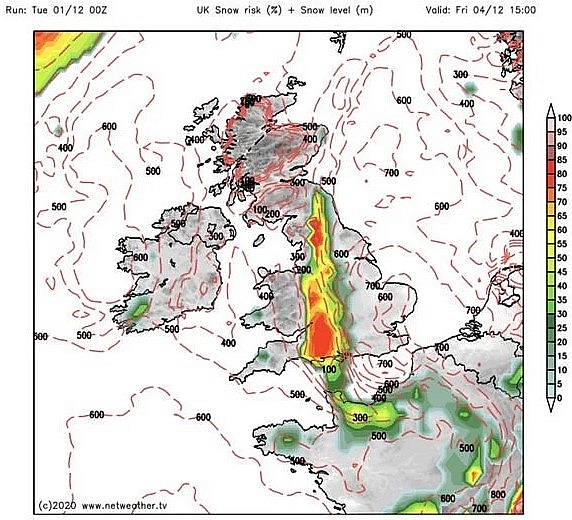 UK snow forecast: A column of snow is seen spreading across the west (Image: NETWEATHER)
On December 3
According to Weather Online, a cold day ahead for Thursday. An area of rain will affect southern Ireland, southern Wales and the south of England, passing eastwards through the day. Dry conditions across central and eastern areas although rather cloudy. Further rain and showers affect western Wales and Northwest England with these falling asleep and snow at a higher ground. Snow showers will also affect the west of Scotland and parts of western Ireland. Eastern Ireland should be dry and bright. Highs at 3 to 5C.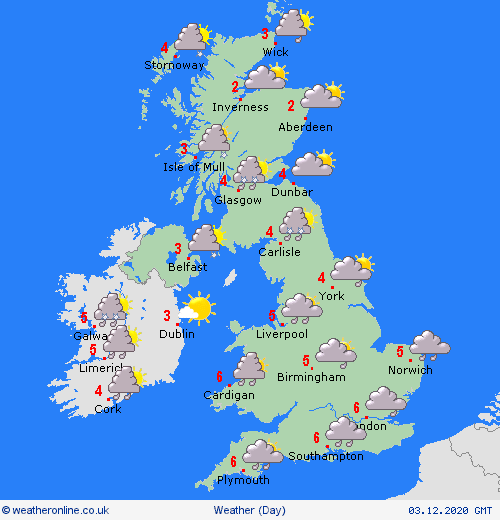 Photo: Weather Online
Europe's weather forecast
Fair Spain and Portugal. There will be plenty of sunshine and it will be feeling warm. Showers in the Balearics. Heavier rain, some of it thundery in Corsica and Sardinia as well as Italy. Greece will be fair in the east, but rain in the far west. Fair for Turkey with sunny spells, but some rain in the south.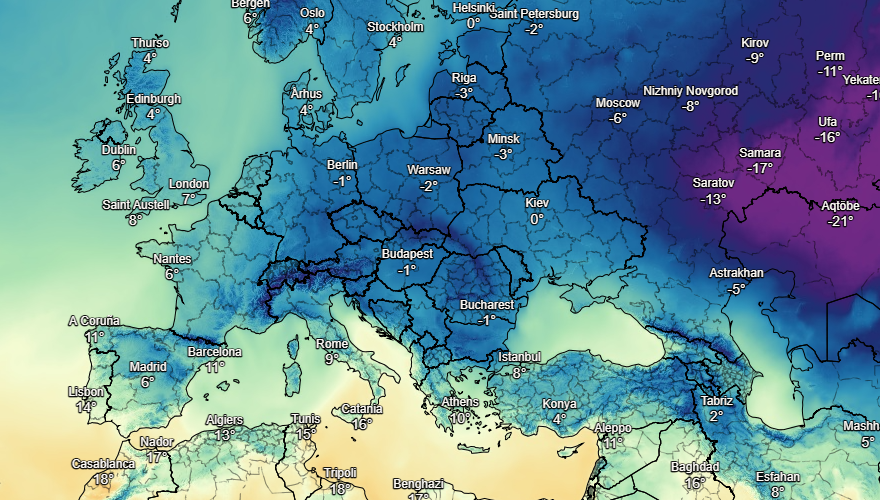 Photo: Stirimeteo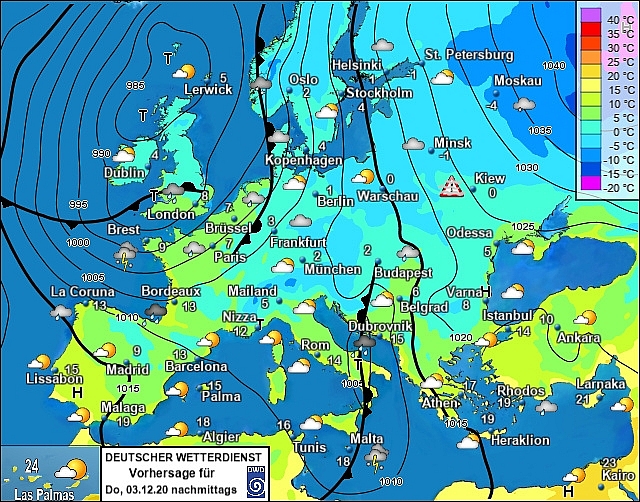 Photo: Stirimeteo
Scattered showers in France but some bright spells too. Scattered showers to for the Low Countries. Fair for Poland and Germany with sunny spells. Austria and Hungary will be dry with sunny spells. Remaining far for Switzerland as well.
Fine for Sweden and the Baltic States, mild too. Finland will be dry overall with sunny spells. Norway is likely to be cloudier with some showery bursts of rain, windy here as well.
On December 3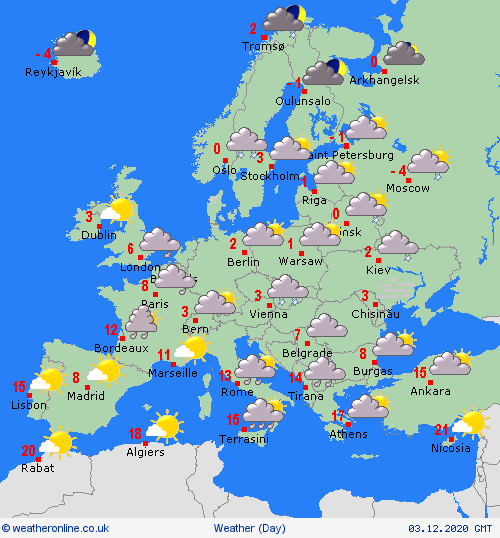 Photo: Weather Online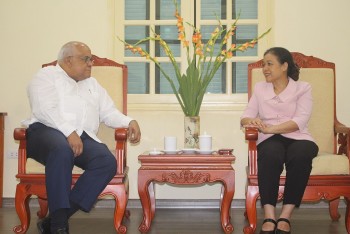 Friendship
Ambassador Nguyen Phuong Nga - President of the Vietnam Union of Friendship Organizations had a meeting and worked with Cuban Ambassador Extraordinary and Plenipotentiary to Vietnam Orlando Nicolas Hernandez Guillen. The two Ambassadors agreed to work closely in organizing solidarity and friendship activities.