UK and Europe weather forecast latest, January 15: Snow warnings issued as icy blast sweep the UK
The UK is forecasted to cope with heavy snow covering many parts and a rare amber alert was issued. Meanwhile, cold weather is expected in Mediterranean and eastern Europe, drier conditions set to cover the west.
UK's weather forecast
Met Office weather warnings for snow and snow and ice are in place across the UK over the coming days, with an area of rain heading northeastwards expected to turn to snow. The forecasters have issued a rare amber alert for snow into Thursday morning, with up to four inches likely in some areas.
Yet more wintry weather is due next week, with more snow and plunging temperatures this weekend. Forecasters have warned of a possible return of the Beast from the East next week. In March 2018 the so-called Beast from the East brought intense snowfall and winter blizzards to the UK.
Met Office forecaster Alex Burkill said there is "very much a possibility" of a Beast from the East number two in the "middle of next week".
Snow has been falling today across the UK, with pictures showing heavy snow across part of Scotland and the North of England.
Pictures show heavy snow across Scotland, following a weekend of ice and snowfall. Two warring air masses are to blame for the sudden winter weather, with rain turning to snow across the UK.
UK snow radar: Currently snow is falling across Scotland and parts of the north (Image: METEORADAR)
Met Office Chief Meteorologist, Paul Gundersen, said: "There is cold air from the north pushing down the east side of the UK and warm air moving in from the west. Where these two air masses meet a weather front is bringing some heavy rain which is turning to snow in places."
The Met Office tweeted today: "Heavy snow is falling across parts of Scotland and over the hills in northern England. There are also reports of freezing rain giving #icy conditions in the far northeast of England."
Mr Burkill said freezing rain is likely to turn to snow in parts of Scotland and north-east England overnight on Wednesday into Thursday morning.
He said: "Through Thursday itself there'll be further rain across the bulk of the UK and this could bring some fairly significant snow a bit further southwards through Thursday. By Thursday afternoon we could be looking at snow across many parts of northern England and into the Midlands and perhaps a little bit further east as well."
Live weather maps from meteoradar show snow across Scotland and the North of England at the time of writing.
Netweather snow forecast maps show heavy snow across much of the country on Thursday. One map, showing the weather at 6pm on Thursday, shows heavy snow across the east of England, Scotland and into Wales.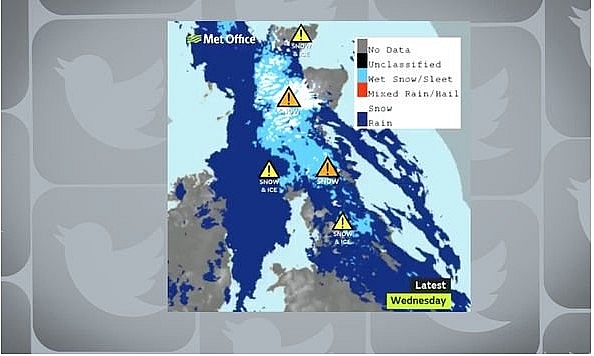 UK snow radar: Across Scotland and the north of England heavy snow has been recorded today (Image: MET OFFICE TWITTER)
WXCharts snow forecast maps also show great swathes of the UK under snow tomorrow.
Met Office warnings for snow are in place until 9pm on Thursday, with forecasters warning: "Heavier snowfall is more likely above 100 m in Scotland and above 200 m in England, where five to 10 cm (1.9 to 3.9 inches) of snow may accumulate, possibly 20cm (7.8 inches) on highest routes."
"At lower levels, two to five cm of snow may accumulate in places, but the situation remains finely balanced, with the possibility that most lower-lying areas in northern England see rain or sleet rather than snow."
This warning is for Central, Tayside and Fife, East Midlands, Grampian, Highlands and Eilean Siar, North East England, North West England, SW Scotland, Lothian Borders, Strathclyde and Yorkshire and Humber.
A further amber weather warning for snow is in place until 10am on Thursday, with the Met Office warning disruption is likely across the warning area.
This warning is for Central, Tayside and Fife, Grampian, Highlands and Eilean Siar, North East England, SW Scotland, Lothian Borders and Strathclyde.
UK snow forecast: Scotland is set for up to 20inches of snow at midnight on January 29 (Image: WXCharts )
On January 15
According to Weather Online, a quieter day for Friday as a reach of high pressure builds across the country. There may be some mist and fog patches at first especially through central and eastern areas. These should slowly lift and then maybe some bright or even sunny spells coming through here. Always tending to be more cloud in northern and western parts of the country although even here that could be one or two brighter spells. It should stay dry. Winds increasing in the west of Ireland later, bringing rain here through the afternoon. Highs at 4 to 7C.
A largely dry but chilly day for most, areas of low cloud and fog slow to clear, especially in some eastern parts. Slightly milder and breezier later in far west, Met Office reported.
Outlook for Saturday to Monday:
Rain and strong winds spreading east on Saturday, with risk of snow in the north and east, clearing to sunny/clear spells and coastal showers. Turning unsettled later Monday. Mainly cold.
Photo: Weather Online
Europe's weather forecast
Fair in Spain and Portugal on Thursday. The Balearics may have a passing shower. Showers in southern Italy. fair with some sunshine in Greece. Turkey will be wet with periods of rain, but snow in the north. Wet through Cyprus too.
Rain and stronger winds in northern France but fair to the south. Sunny spells and dry in the Low Countries, but rain here later. Germany will be cool and dry with sunny spells. Cold in Poland with bands of snow showers moving south. Staying cold with snow showers in Austria and Hungary. More persistent snow across Switzerland.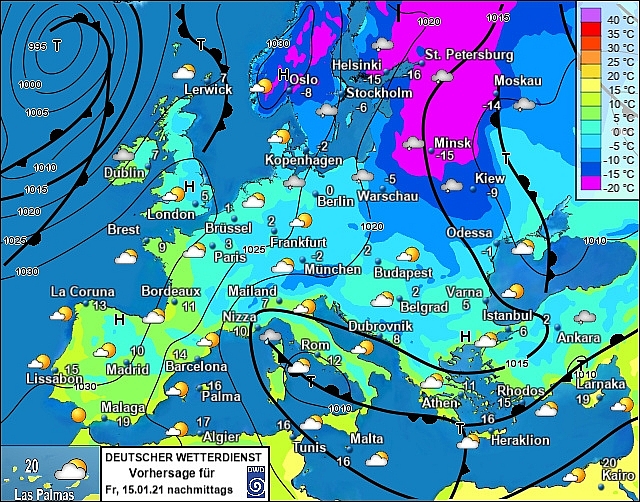 Photo: Stirimeteo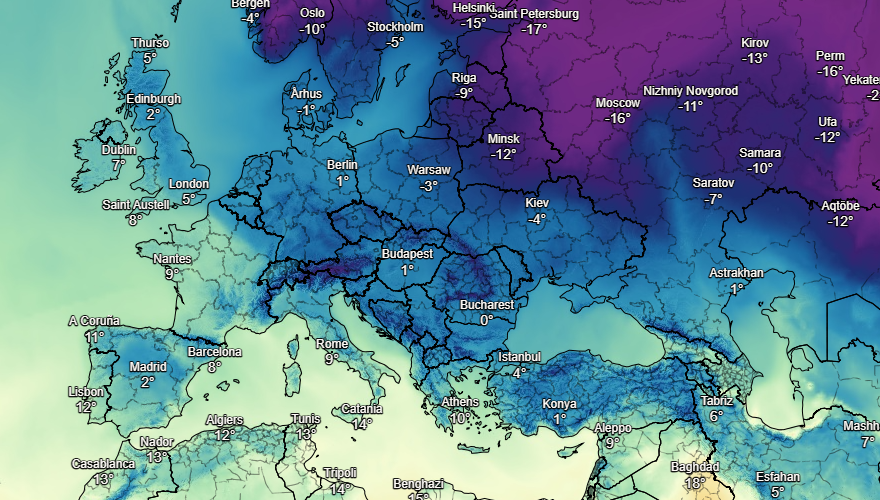 Photo: Stirimeteo
Cold for Denmark but dry with sunny spells. Snow flurries affeting eastern parts of Sweden. Breezy and cold over the Baltic States and southern Finland with some wintry flurries. Drier for Norway and the rest of Sweden with good spells of sunshine.
On January 15
According to Weather Online, showers in northeast Spain. Fair over much of the rest of Spain and Portugal with the best of any sunshine in the south. Scattered showers in the Balearics. Heavier showers or longer spells of rain across Sardinia and Corsica as well as the far south of Italy. Northern Italy should be drier and brighter. Greece will have sunny spells. Raion and sleet in western Turkey with snow in the north.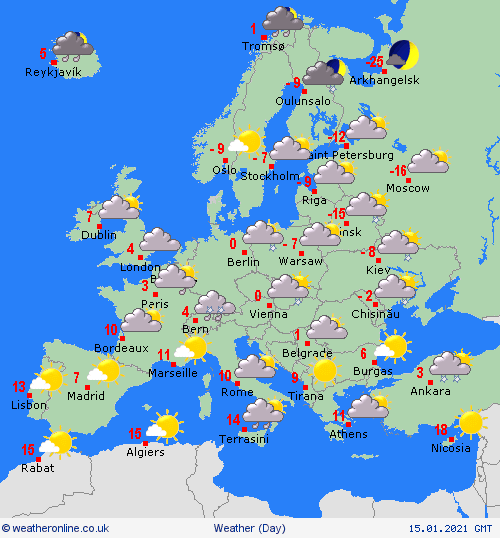 Photo: Weather Online
Misty in northern and western France, this clearing with bright or sunny spells. Rain and sleet in central and southern France, breezy too. Cloudy with some spots of drizzle in the Low Countries as wel as through northern and central parts of Germany. Cold with some sleet and snow in Poland. Austria and Hungary will be bright and cold, some snow showers in Switzerland.
Cold with a few wintry flurries in eastern Sweden, dry for the rest of the country. Cold for the Baltic States and Finland too, a few wintry showers here. Dry and misty in the west, fog on coasts with some drizzle here later. Drier in the north and east.