UK and Europe weather forecast latest, July 27: Outbreak of rain with locally heavy to smash Britain
Cloudy and rainy weather is forecasted to lash the UK while Europe experiences hot and dry weather to the south.
UK's weather forecast
The BBC meteorologist noted some areas could experience short periods of dry weather but insisted downpours are expected to hit most of the country.
Five flood alerts have been put in place for the west midlands by the Environment Agency.
Ms Keith-Lucas said: "There could be a few spells of sunshine out there today but it is an unsettled picture through today and tomorrow as well."
As we move into tonight you will see Britain becoming largely dry for a time apart from showers in north-west Scotland.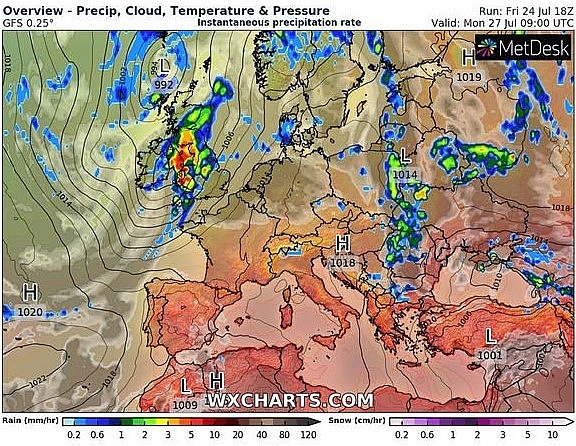 Monday Weather Overview (Image: GETTY IMAGE)
Buildings could also be damaged from lightening strikes. Car and bus journeys are likely to take longer and delays to train services are possible.Met Office also forecasted rain, some heavy, clearing gradually eastwards to leave some sunny intervals and a few showers. Becoming breezy with some strong winds around southern and western coasts on Monday.
She said: "Some of the rain particularly as we head through the afternoon could be quite heavy and possibly thundery at times too.BBC Weather meteorologist Sarah Keith-Lucas warned of a "fairly unsettled weekend".
"We're dragging in our air from the Atlantic.
"This cool, westerly air flow following behind this cold front which is bringing some outbreaks of rain to many parts through today.
"So low pressure driving our weather.
"There will be some sunny spells, showers rattling around that low pressure.
"And down towards the south east some of the rain this afternoon could be heavy, thundery, quite persistent as well.
"Moving our way northwards, some sunshine for north Wales into northern England.
"Northern Ireland likely to see the arrival of heavy showers and thunderstorms through the afternoon.
"And for Scotland it will be a mix of sunny spells and a few heavy and potentially thundery downpours especially towards the east."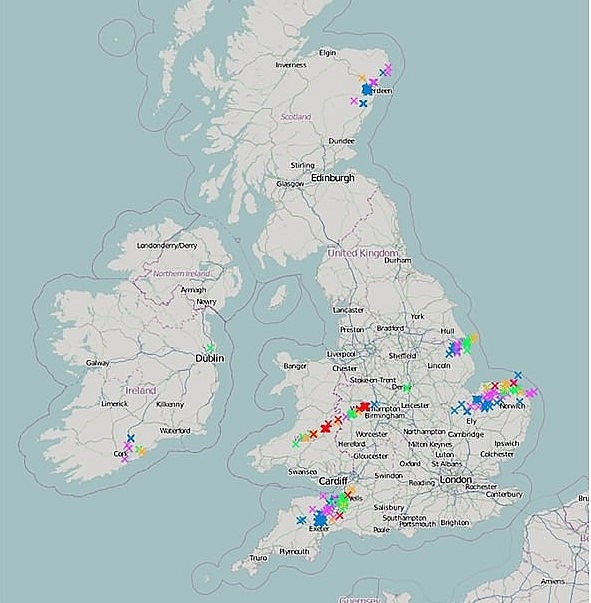 Lightning map tracker: Realtime data shows the latest storm reports (Image: NETWEATHER)
She added that temperatures will reach up to 21C for most of the country but there could be highs of 24C in the east.
Monday will be an unsettled and wet day for much of England and Wales with spells of rain, heavy at times.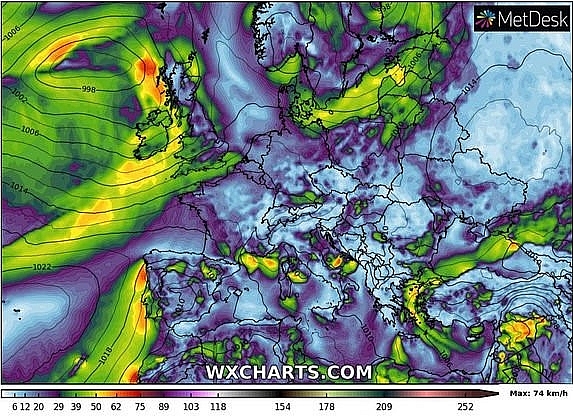 Windy Weather Chart (Image: GETTY IMAGE)
According to weather.online.co.uk, low pressure tracks across northern England through the day bringing fresh winds and outbreaks of rain, this locally heavy, to eastern Ireland, Wales, much of England and southern Scotland. Perhaps staying drier for far southeastern parts of England. Brighter conditions spread from the northwest across Scotland, Northern Ireland and Ireland through the day though isolated showers and patchy light rain affect northwestern coasts and hills. Highs at 16 to 22C.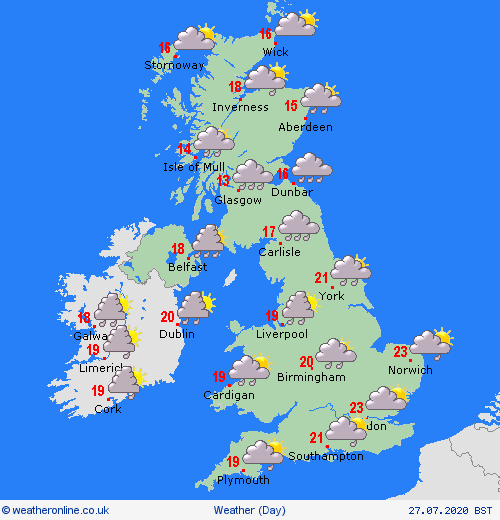 Photo: weather.online.co.uk
On July 28
Rain clears eastwards from the UK overnight, though some of it will still be heavy. A dry start for much of England but showers will affect northern and western parts of the UK and Ireland. It is likely to be turning brighter and drier in Ireland and western parts of the UK through the afternoon. A breezier day and feeling cooler in the northwesterly wind. Highs at 14 to 22C.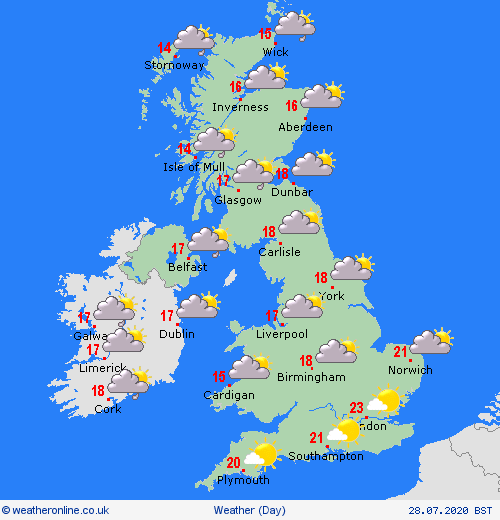 Photo: weather.online.co.uk
Outlook for Tuesday to Thursday
Sunshine and showers on Tuesday, some heavy with brisk winds in northeast Scotland. Mainly dry with sunny spells on Wednesday and Thursday, perhaps rain later in northwest. Becoming warmer later.
Photo: weather.online.co.uk
Europe's weather forecast
On July 27
It should be a dry, hot and sunny day across Spain and Portugal as well as for the Balearic Islands. Italy too looking mostly dry and sunny though there could be some outbreaks of rain over the Alps. More dry weather for Greece and Turkey too with plenty of sunshine here.
Cloudy with outbreaks of rain for France, the Low Countries and Germany. Rain clears from the east allowing brighter conditions to spread from the west. Rain over the Swiss and Austrian Alps also clears through the day. A band of rain, often heavy, spreads from west to east over Poland with drier, brighter conditions either side of this.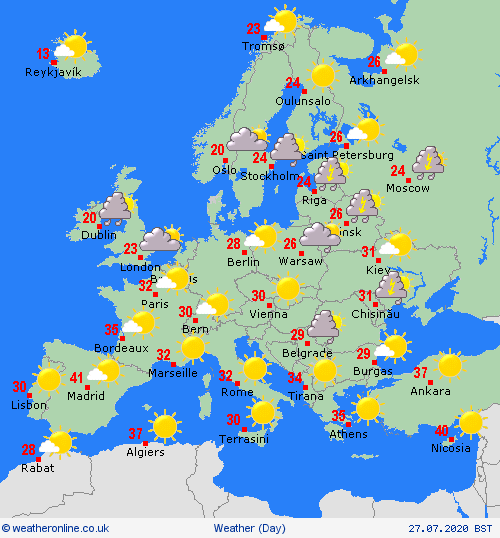 Photo: weather.online.co.uk
Heavy spells of rain will continue to affect southern parts of Norway and Sweden. Largely dry and fine further north. A day of sunny spells and showers for Finland. Mostly dry and fine for the Baltic States with rain arriving to the south much later.
On July 28
Dry, sunny and hot again for Portugal, Spain and the Balearic Islands. Dry and sunny too for Italy with just the slight chance of a shower developing over northern areas later. Sunny and hot too for the Balkans, Greece and Turkey.
Dry and warm for much of France, southern Germany, Switzerland and Austria. A slight chance of isolated showers developing over the Alps. Cloudier with scattered showers for the Low Countries, the Czech Republic and northern Germany. Some showers may be locally heavy and thundery. Early rain and cloud clears east from Poland, Slovakia and Hungary to leave a dry and fine day here.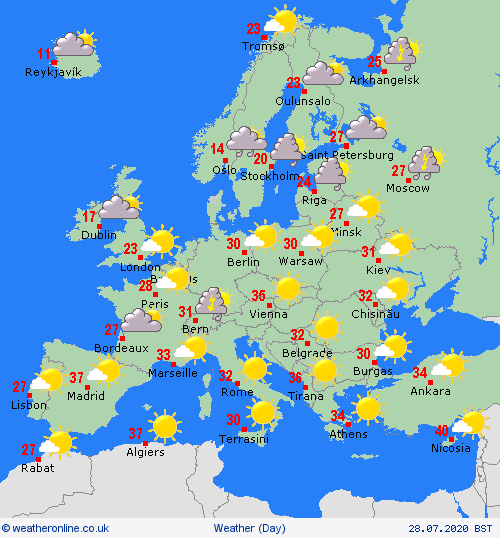 Photo: weather.online.co.uk
Rain spreads north from central Norway and Sweden becoming increasingly light and patchy while sunshine and isolated showers follow from the south. A cloudy day with isolated showers for Finland. Cloudy too for Denmark with more frequent showers here. A band of locally heavy and thundery rain spreads from the southwest across the Baltic States.
On July 29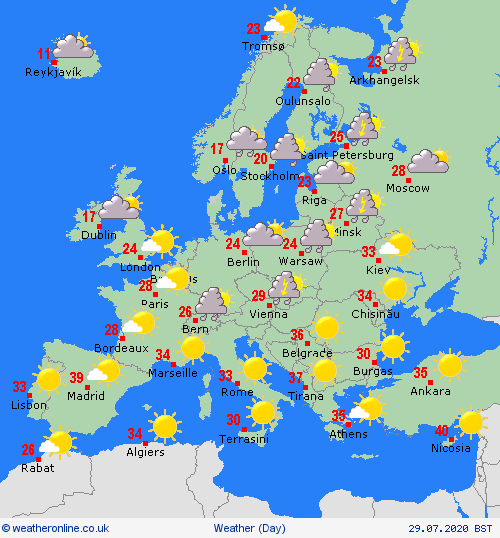 Photo: weather.online.co.uk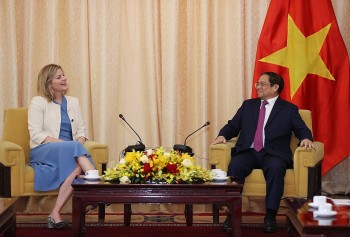 National
The Netherlands committed to cooperate with Vietnam, and together find innovative and sustainable solutions to accelerate green economy transformation.