UK's weather forecast
According to BBC weather forecast, a late burst of summer heat is on the way for the UK, with temperatures rising starting from today. Conditions this week could spike to 34C according to forecasters as hot air from Europe sweeps across Britain.
Conditions are heating up this week, making a change from the cooler, rainy weather much of the UK has seen recently.
And Britons should make the most of the hot weather, as unsettled conditions are on the way according to forecasters.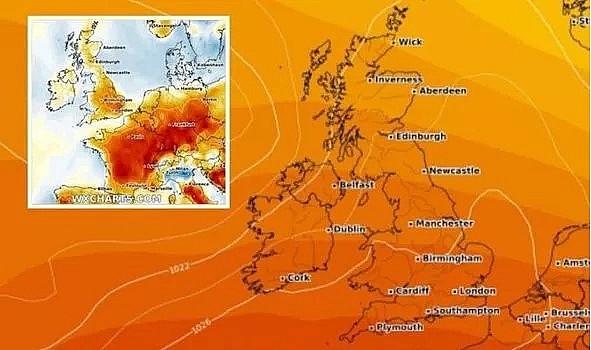 Hot weather latest: Hot weather is on the way for the UK (Image: WXCHARTS)
Met Office forecaster Aidan McGivern explained: "Further south we keep the sunshine and the warmth for one more day, before it turns more widely unsettled."
Sky's Nazaneen Ghaffar explained the impending hot weather is down to high pressure sitting the east of the UK, which is bringing a clockwise direction of air across the country.
She added: "Initially the warm weather will be across the majority of England and Wales where it'll be largely dry and sunny.
"Further north and west across Ireland, Northern Ireland, Scotland and perhaps the far northwest of Wales and England it'll be cooler and cloudier with spells of rain at times for the first few days of this week.
"By Thursday, the north and west of the UK and Ireland will also see warm sunny weather, but it won't be as warm as the southern parts."
Hot weather latest: Highs will start in the south of England before tracking up to the north (Image: WXCHARTS)
Weather maps from WXCharts show a blast of red heat across the south, heading up to the north of England and Scotland.
There could be some showers here and there, but overall a warm picture as we head to the weekend.
Met Office meteorologist Dan Suri said: "Temperatures will continue to climb through the week with a hot spell developing across much of England and Wales.
"From Wednesday temperatures will widely reach into the high twenties Celsius and it'll be hot across much of the UK, especially central and southern England where we could see highs of 30C (86F) to 34C (93.2F).
"This hot weather is expected to last until at least Friday and so heatwave conditions are likely to develop for some areas this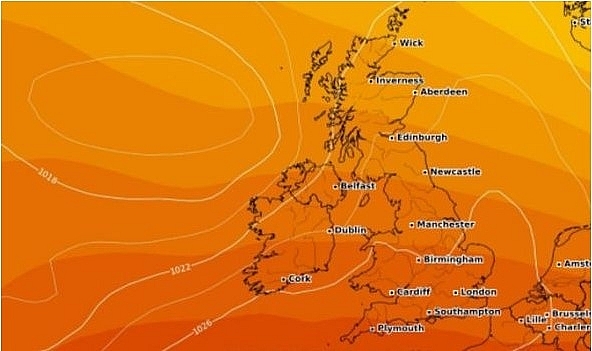 Hot weather latest: Highs will start in the south of England before tracking up to the north (Image: WXCHARTS)
Outlook for Friday to Sunday
Cloud and rain arriving in the west on Friday, before pushing northeast across the UK through Saturday with heavy showers and thunderstorms following behind. Largely fine once more on Sunday.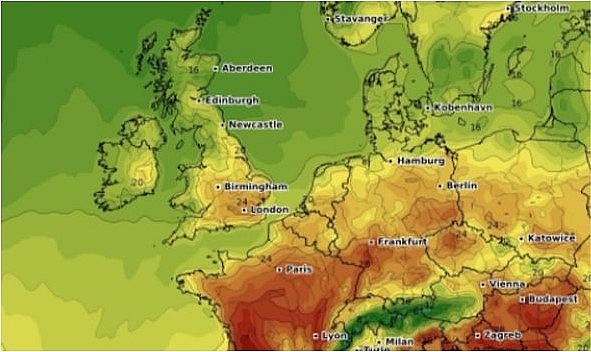 Hot weather latest: Up to 34C could be felt in the south of England (Image: WXCHARTS)
Temperatures will plummet due to an Atlantic jet stream, and winds as strong as 50mph are expected to hit on Monday, July 27. The Environment Agency has also warned there could be local floods in some parts of the country. Heavy rain and gusts of wind are predicted to arrive on Saturday, July 25, with heavy showers running into Sunday and the next week.
Met Office forecaster Tom Morgan said: "We are getting some changeable and unsettled periods for all parts of the UK over the weekend, and most places will see rain over the weekend.
"There will be some rain over the next few days, but most will not see much impact until this weekend.
"From Saturday onwards, we will see widespread heavy rain and thunderstorms, with around one inch of rain expected to fall in a short space of time.
"Currently, the rain will be focused around the Midlands, East Anglia, northern England, and Scotland.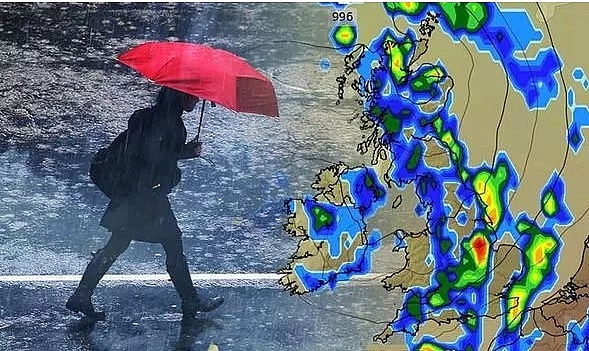 Met Office weather forecast: Rain and thunderstorms are expected to hit (Image: WXCHARTS/GETTY)
"Thunderstorms could focus fairly widely – but they are most likely to occur in eastern areas – England and eastern parts of Scotland."
Mr Morgan said the Met Office is considering putting out a weather warning but is still unsure of which parts will be hardest hit.
He also urged campers to take extra precaution when sleeping under the stars this weekend. Mr Morgan said: "People camping will need to take note of the conditions, especially in exposed areas.
"It is looking a lot drier on Sunday, with some showers scattered across the country."
Speaking about the weather heading into next week, Mr Morgan explained: "Next week it will remain unsettled and cool – a bit lower than we'd like to see them in late July.
"On Monday, it will be quite breezy across the country, with gusts of up to 50mph in some areas in Scotland."
Met Office forecaster Marco Petagna added: "It has been wise to make the most of fine weather as it turns more unsettled on Thursday.
Met Office weather forecast: Campers are urged to take extra precaution this weekend (Image: Met Office)
Warning issued to Tropical Storm Gonzalo
According to the Miami-based National Hurricane Centre (NHC), Tropical Depression Seven strengthened into Tropical Storm Gonzalo on Wednesday. This happened over the Atlantic Ocean. The storm was located around 1,250 miles east of the southern Windward Islands on Wednesday morning.
Winds of 45 mph were recorded and it was said to be moving to the west-northwest at 12 mph. By Thursday, the storm is set to become the season's first hurricane, the NHC has said.
Gonzalo could set a record for the earliest named seventh tropical storm of the Atlantic hurricane season.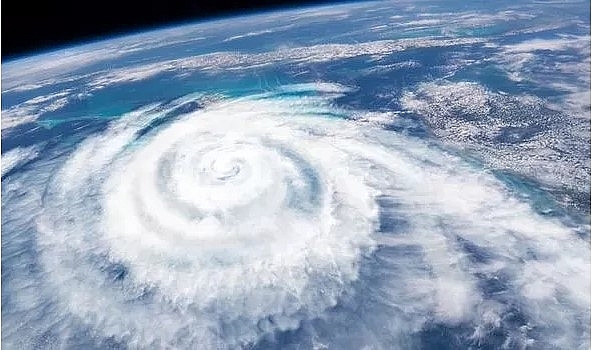 Hurricane warning: Tropical Storm Gonzalo could turn into a hurricane, experts have warned (Image: GETTY)
The current titleholder is Tropical Storm Gert which formed on July 24, 2005. So far this year four storms have set records for being the earliest named storms of their respective places in the alphabet. They include Cristobal, Danielle, Edouard and Fay.
Experts at the centre predict the storm will weaken slightly before moving over the Windward Islands.
While it may fizzle out after making its way across the group of islands in the West Indies, it may also intensify.
CNN meteorologist Taylor Ward said: "Given the increased organisation of the system and its small size, Gonzalo's likelihood of becoming a hurricane is rising.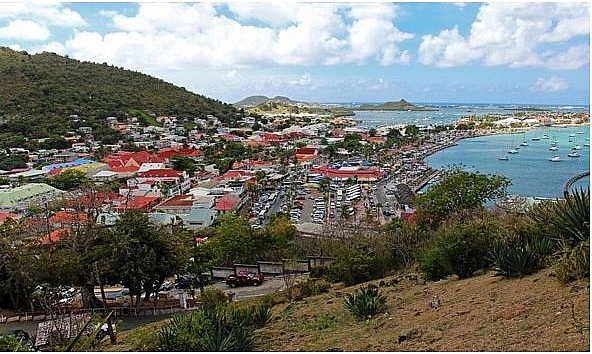 Gonzalo is set to hit the Windward Islands (Image: GETTY)
"Small storms are prone to more significant fluctuations in intensity, both up and down."
After strengthening into a hurricane, reports suggest Gonzalo may weaken into a tropical storm through early next week. At present, the NHC expects Gonzalo to pummel along with winds of 65 to 70mph.
But while Gonzalo's strongest winds may be found right at the hurricane's centre, heavy rains coming from it could affect a much wider area.
The forecast comes after a report by the NHC in May said climate change was driving more extreme rains. It also warned of rising sea levels which could mean that storms of all sizes pose a greater risk.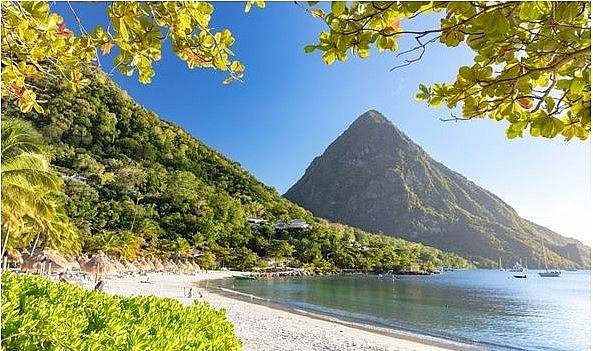 Gonzalo's winds of 45mph were recorded on Wednesday (Image: GETTY)
Europe's weather forecast
BBC weather forecaster Darren Bett warned that central Europe could see heavy rain and thunderstorms as we head into the weekend. Despite this, temperatures are still expected to remain high with Spain and parts of southeastern Europe seeing the warmest weather. Mr Bett said: "The Mediterranean still looks dry through the rest of the week, express.co.uk reported.
"Higher temperatures are in the west towards parts of Spain.
"Further north much more changeable weather comes across the UK into Scandinavia where it is still quite cool.
"Along that weather front all the way from the Pyrenees across the Alps into the Balkans we are going to see some heavy and thundery showers breaking out."
The BBC Weather forecaster noted that despite these showers and storms, the temperatures will remain relatively high.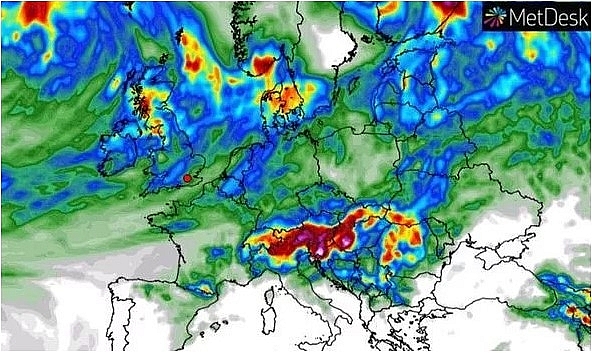 BBC Weather: Thunderstorms and stormy winds to strike Europe after temperature surge (Image: WXCHARTS)
Most of central Europe will see temperatures above 30C on Thursday going into the weekend.
Mr Bett continued: "Wetter weather leaves the UK by Friday and heads into Scandinavia and it will be picking up serious winds through the Baltics.
"We have still got these storms breaking out particularly across northern parts of Italy.
"As you head to the southeast of Europe it is dry and sunny and near-normal temperatures for the time of year."
Temperatures in this area will be similar to that of central Europe with many places seeing highs in the 30s.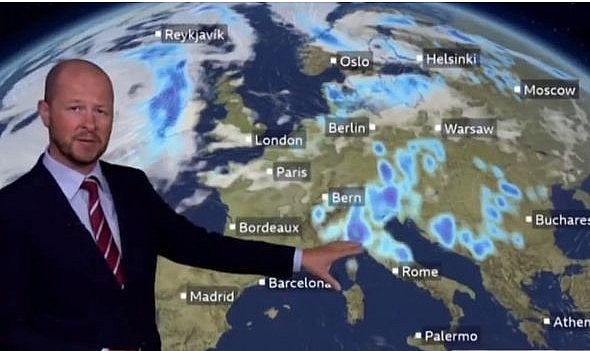 BBC Weather The BBC Weather forecaster noted that despite these showers and storms, the temperatures will remain relatively high. (Image: BBC)
Greece will see some of the hottest temperatures in this area and by Friday could reach 35C.
Mr Bett added: "Those showers will be heavy and thundery and accompanied by very gusty winds.
"High temperatures particularly in Spain and some of that heat will be pushing into France.
"Across Scandinavia into those Baltic states things are very unsettled and things will be rather cool."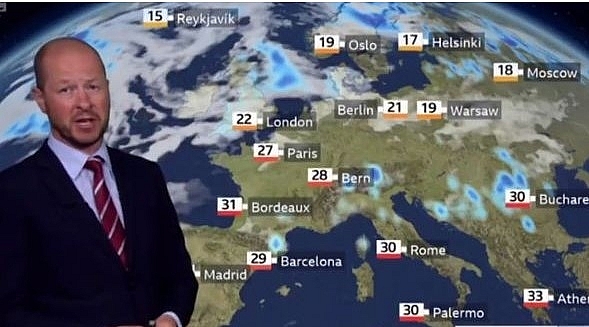 BBC Weather: Most of central Europe will see temperatures above 30C celsius on Thursday going into the weekend. (Image: BBC)
In London over the weekend, temperatures are expected to drop slightly and this trend is set to continue into the new week.
Paris will see a slight increase in temperature in the new week and could reach as high as 27C by the middle of next week.
Both Lisbon and Rome can expect sunshine over the next few days and temperatures around 30C.
BBC Weather: In London over the weekend temperatures are expected to drop slightly and this trend is set to continue into the new week. (Image: BBC)
Ruby Lee