UK and Europe weather forecast latest, July 28: Next summer heatwave is on the way to make the weather map turn RED
The weather map of UK will turn to red color with the next heatwave of summer expected to battle and the sweltering temperatures come as Europe, too.
UK's weather forecast
SWELTERING 86F (30C) heat will bake Britain next week as weather maps show more hot weather is on the way in just a few days, express.co.uk reported.
Heatwave conditions are about to make a return to our shores after a fairly soggy and thundery weekend all round. Weather maps from WXCharts, which takes its data from MetDesk, pinpoint the exact date hot weather will return to the UK. And it's not long to wait, the latest charts reveal.
August will kick off to a blinding start as next Friday will see temperatures rise to the mid to highs 20s.
By 6pm on Friday, July 31, much of the UK has turned red as the weather maps show a band of hot weather sweeping across the country.
About 22C to 25C will be felt by much of England, with 19C to 20C for Scotland and Northern Ireland.
London and the surrounding areas will see the brunt of the rising mercury, forecast to hit about 27C by Friday evening.
And the weather forecast just keeps getting better from there.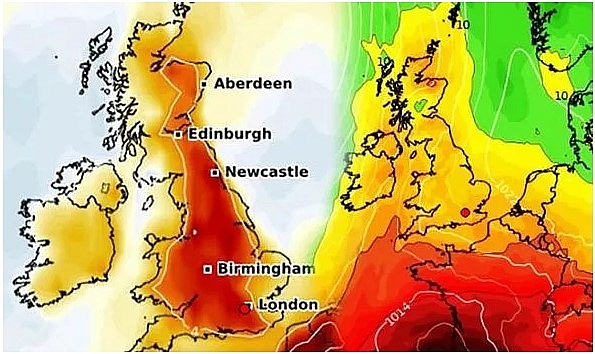 UK heatwave forecast: Hot weather maps reveal 30C heatwave in days (Image: WXCHARTS)
The 2-metre maximum temperature charts show that into Saturday, it's only going to get warmer.
Temperatures in the south east will rise to 27 to 28C, with a high of 30C (86F) in and around London.
The band of red has become smaller, but those expecting the hot weather will see balmy temperatures of about 22C to 26C.
Elsewhere in the UK, temperatures will remain steady at about 19 to 20C, dropping to between 12 and 17C in some parts of Scotland.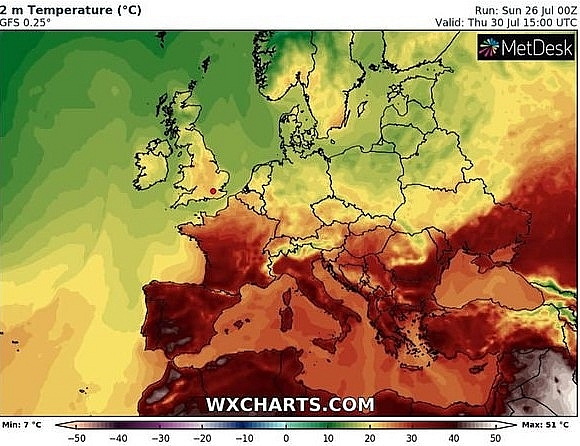 UK heatwave forecast: Map shows 2m temperature for Europe - where Spain could see 40C next week (Image: WXCHARTS)
Into Sunday, and the weather forecast looks much the same with heat continuing to swelter the south east.
Highs of 23 to 24C will be felt for London and the surrounding area, with maximum temperatures expected to stay around 19C and 20C for the rest of the country.
This will continue into Monday, August 3 and for much of the week, with Thursday's temperatures expected to be about 23C by 6pm.
Paul Michaelwaite said: "A new Atlantic system will start to show it's hand, with a spell of rain moving in from the southwest.
"That will spread northeast overnight and into Monday, with sunny spells and some sharp showers following behind the main band of rain.
"The low responsible for all of this will also cross the country during Monday, with some blustery winds circulating around it before it finally clears away into the North Sea on Tuesday."
He added the Atlantic system will the push through hot air by Wednesday.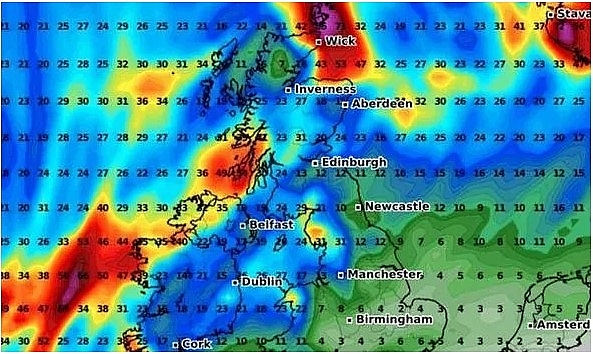 UK heatwave map: Charts show where highs of 30C will hit in July (Image: WX CHARTS)
He added: "Tuesday then brings a day of sunny spells and scattered showers, with many of those showers in the north and east of the country - the areas which are nearest to that low pressure.
"Then, midweek sees the change arrive with high pressure starting to build.
"There may be one or two showers leftover on Wednesday, for a time at least.
"But in the main, it'll be a dry day with sunny spells.
UK heatwave map: Friday will see scorching highs of 30C (Image: NETWEATHER)
"It won't be especially warm at this point though, with perhaps just the southeast corner seeing temperatures rise into the low-twenties."
Mr Michaelwaite went onto say that Friday could see the hottest temperatures of the month.
He said: "As the high slips further east on Thursday, it'll allow southerly winds to develop, bringing much warmer air north with them.
"That'll see maxes rising into the low-mid twenties widely, but with that high slipping east it will open up the door to the potential for some showery rain in the northwest.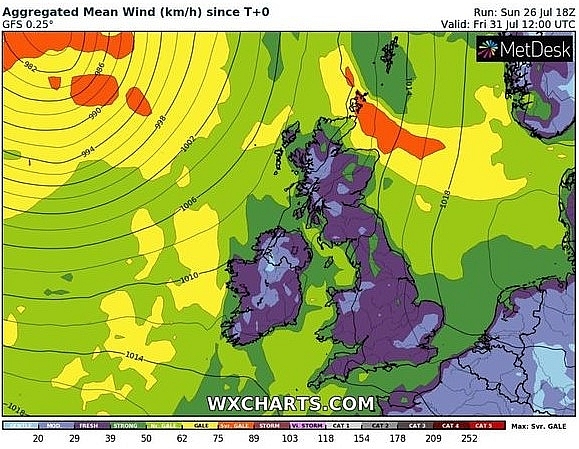 UK heatwave map: The final day of the month will see the hottest temperatures (Image: WXCHARTS)
"Friday is a way off but looks likely to be the peak of the heat with temperatures by this point reaching the high-twenties perhaps even low-thirties.
"If we do make 30c, it'll be for the first time in July 2020, on the final day of the month."
The Met Office also predicted the weather to turn brighter by the end of the week.
The latest forecast said: "Windy with rain, heavy at times, pushing across the UK, most persistent over Scotland where cool. Some brighter and warmer spells developing elsewhere later though scattered showers and thunderstorms developing along with hail and some gusty winds.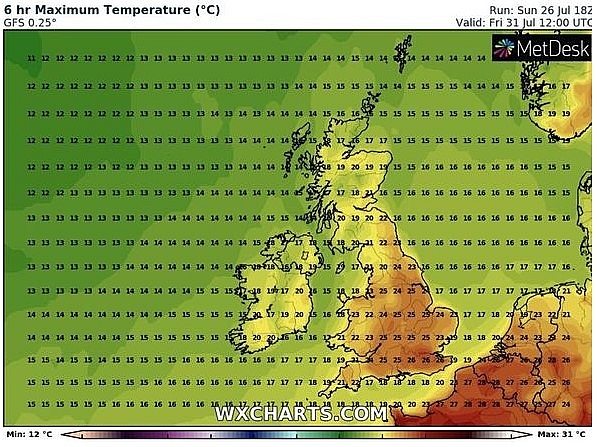 UK heatwave map: The Met Office predicted warmer skies by Friday (Image: WXCHARTS)
"Monday nights taying wet and becoming windier in north Scotland. Elsewhere rather cool and breezy with clear spells and scattered showers, mainly for W Scotland, Northern Ireland and northwest England.
"Tuesday: Cool and showery in northwestern parts of the UK but largely dry further southeast with only isolated showers. Persistent heavy rain and gales, locally severe, continuing for northern Scotland.
Outlook for Wednesday to Friday
"Outlook for Wednesday to Friday: Most places dry Wednesday with lighter winds. Bright for many Thursday but rain may reach northwestern areas. Friday, sunny and very warm, perhaps hot, though with thundery showers possible later."
Europe's weather forecast
According to weatheronline.co.uk, hot, dry and sunny conditions continue around the Mediterannean
Dry, sunny and hot for Portugal, Spain and the Balearic Islands. Dry and sunny too for Italy with just the slight chance of a shower developing over northern areas later. Sunny and hot too for the Balkans, Greece and Turkey.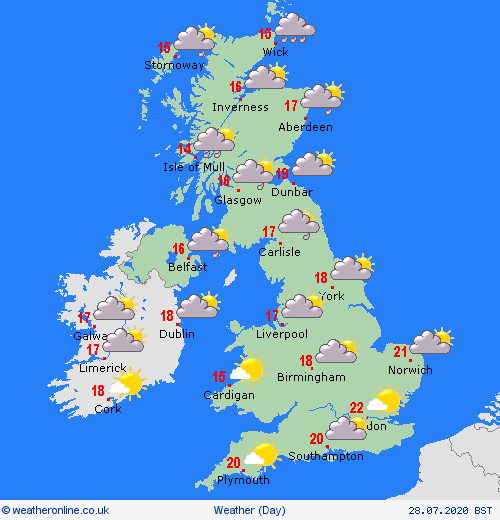 Photo: weather.online.co.uk
Dry and warm for much of France, southern Germany, Switzerland and Austria. A slight chance of isolated showers developing over the Alps. Cloudier with scattered showers for the far northwest of France, the Low Countries, the Czech Republic and northern Germany.
Some showers may be locally heavy and thundery. Early rain and cloud clears east from Poland, Slovakia and Hungary to leave a dry and fine day here.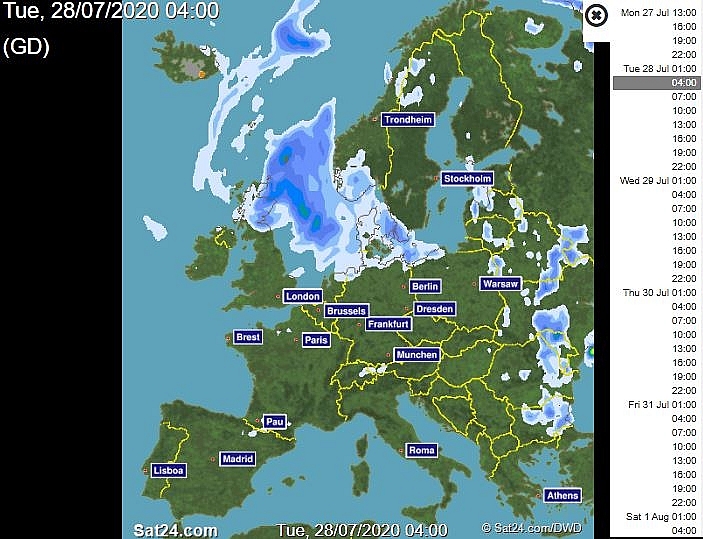 Areas whose rain expected in Europe. Photo: en.sat24.com
Scattered showers affect the northern coast of Spain but otherwise across Iberia and the Balearic Islands, dry, hot and sunny conditions continue. Dry, hot and sunny for Italy, the Balkans, Greece and much of Turkey.
Isolated showers may affect Black Sea coasts.Rain spreads north from central Norway and Sweden becoming increasingly light and patchy while sunshine and isolated showers follow from the south. A cloudy day with isolated showers for Finland. Cloudy too for Denmark with more frequent showers here. A band of locally heavy and thundery rain spreads from the southwest across the Baltic States.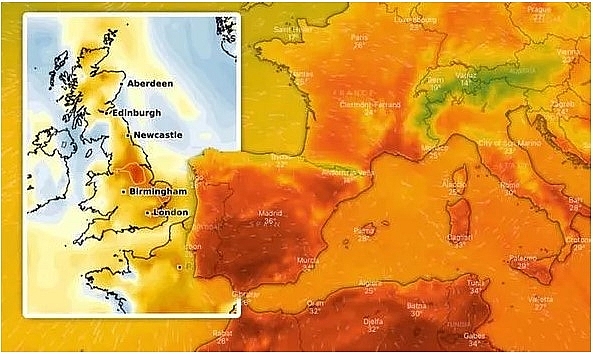 Map shows hot weather sweeping Europe (Image: WXCHARTS - WINDY)
Patchy cloud and scattered showers for northwestern France, the Low Countries, Germany and western Poland on Tuesday. Drier and brighter to the south of France.
Showers, these locally heavy and thundery, develop later over the Swiss and Austria Alps as well as for southeastern parts of the Czech Republic. Dry, warm and sunny for Hungary and Slovakia.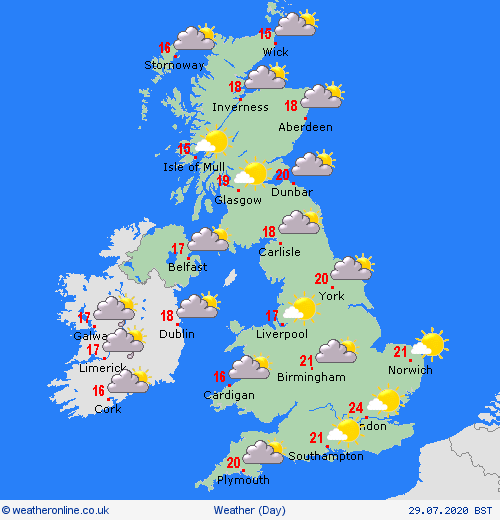 Photo: weather.online.co.uk
A mixed day for Denmark with sunny spells and scattered showers passing eastward. These locally heavy to the north. An area of heavy rain with localised thunderstorms embedded spreads over southern and central parts of Norway and Sweden.
A mixed day for Finland and the Baltic States with some spells of sunshine, variable amounts of cloud and scattered showers. A band of heavier rain arrives from the west over the Baltic States later.