UK and Europe weather forecast latest, October 27: Torrential downpours to sweep Britain this week
Britain is forecasted to cope with torrential rain this week while low pressure over western Europe brings unsettled conditions.
UK's weather forecast
The Met Office has issued new weather warnings as the remnants of an ex-hurricane continue to cause havoc for several regions across Britain.
The Met Office has published new weather warnings for rainfall for regions across Britain as the forecaster warns of torrential downpours which could lead to flooding and travel disruption. The forecaster has advised of deep or fast-flowing floodwaters to hit regions of the UK causing a danger to life. But where in the UK is likely to see this heavy and dangerous rainfall?
The Met Office has issued a weather warning for periods of heavy rain possibly leading to flooding and transport disruption.
The weather warnings are in effect on Thursday and Friday advising of a small chance that homes and businesses could be flooded, causing damage to some buildings.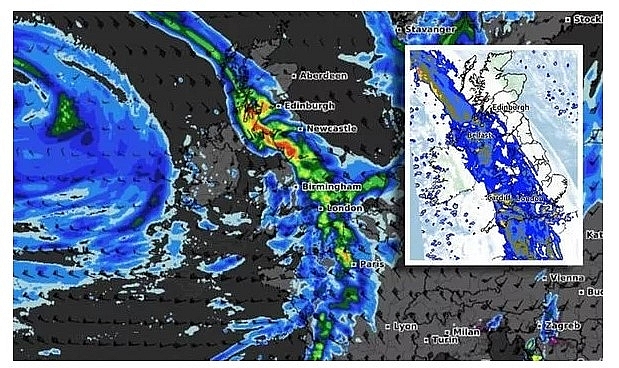 Met Office weather warning: The Met Office has issued rain warnings for areas across the UK (Image: WX CHARTS/MET OFFICE)
There is a small chance of fast flowing or deep floodwater causing danger to life and where flooding occurs, there is a slight chance of delays or cancellations to train and bus services. The Met Office has also warned of spray and flooding which could lead to difficult driving conditions and some road closures.
In addition there is a small chance that some communities become cut off by flooded roads and of power cuts and loss of other services to some homes and businesses.
The Met Office warning reads: "Periods of heavy rain are expected to develop across Wales and northwest England during Thursday and Friday."
"Accumulations of 30-40 mm can be expected widely, whilst areas of higher ground exposed to strong southwesterly winds are likely to see 50-80 mm."
"The heaviest rainfall, however, is expected to be across the hills and mountains of northwest Wales where 100-130 mm of rainfall is possible by the end of Friday."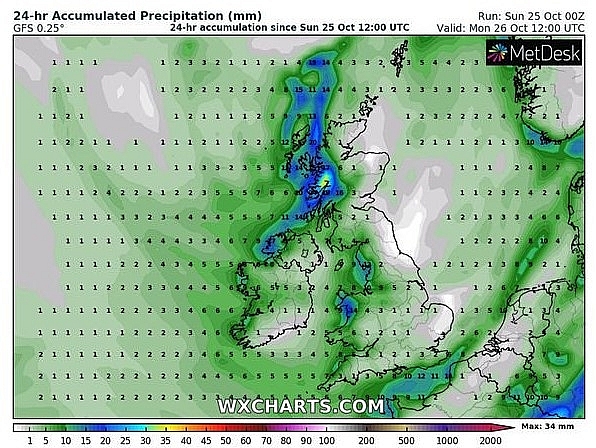 UK weather map: WXCHARTS rainfall for Monday 26/10/2020 (Image: WXCHARTS)
On October 27
According to Weather Online, a wet and windy start on Tuesday for western areas although dry across more central and eastern areas. Rain spreads from west to east across the country through the day. Rain looks to be heavy and persistent across parts of Scotland. Rain clears from Ireland through the morning and from much of England, Wales and Northern Ireland through the afternoon with brighter conditions following here though with frequent, blustery showers over western coasts and hills. Winds in the west of Ireland strengthening to gale force later on. High temperatures range from 8 to 14C.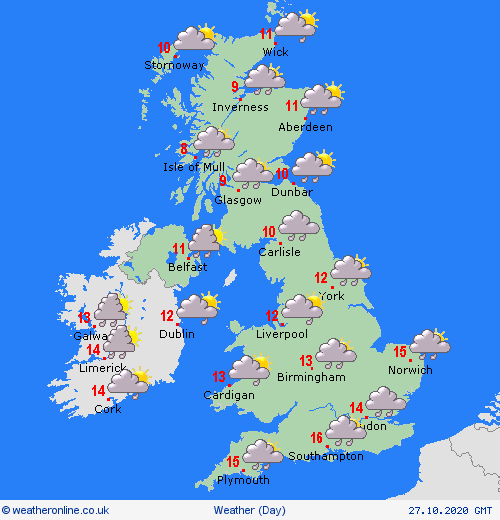 Photo: Weather Online
Europe's weather forecast
A mostly dry and fine day across Iberia though frequent showers affect the far north of Spain. Rain clears east from the Balearic Islands leaving a dry and fine afternoon here. After a dry start a band of locally heavy rain spreads across Corsica, Sardinia and the northern half of Italy. Staying dry and sunny for Sicily and southern Italy. Dry and bright conditions extend across the Balkans, Greece and Turkey.
A cloudy day with showers or longer spells of rain across much of France. Rain affecting the Belgian and Netherlands coasts. Drier further inland here though. A band of rain will pass from west to east across Germany. Heavy spells of rain will affect Switzerland and western parts of Austria with patchy rain affecting western parts of Poland and the Czech Republic. Largely dry and fine elsewhere across eastern Europe.
Photo: Stirimeteo
A cloudy and wet day for much of Denmark. Largely dry across Norway and Sweden but southern areas will see spells of rain. Wet with rain across northern and central Finland but drier towards the south. Largely dry and fine across the Baltic region although expect showers by evening.
On October 27
Dry and fine for much of Spain and Portugal again on Tuesday though cloud builds from the northwest and patchy outbreaks of rain develop here later, Weather Online reported. Early showers fade from the Balearic Islands leaving a dry and fine day here. Frequent showers, these locally quite heavy, affect Corsica, Sardinia, Sicily and central and southern parts of Italy. Drier and bright for northern Italy. Dry and fine for Greece and Turkey though cloud builds over Greece later and a band of heavy rain may affect the far west by evening.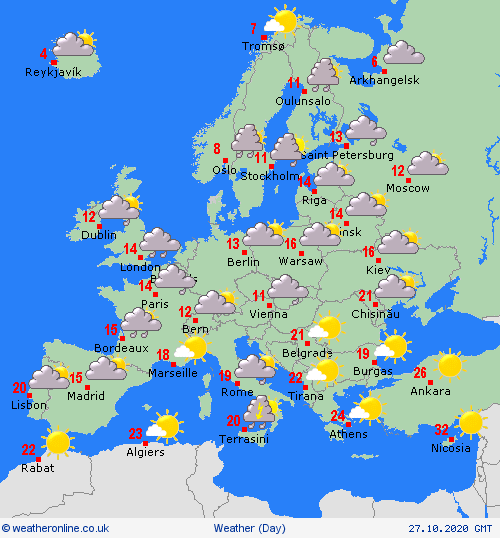 Photo: Weather Online
A band of patchy rain spreads across France affecting most areas with the exception of the far southeast. Rain also spreads across the Low Countries and into the far northwest of Germany. Otherwise a dry and fair day for Germany and Switzerland. Early rain (snow over the Alps) fades over Austria and the Czech Republic while Poland has a rather cloudy day with isolated showers over western areas. Dry and mostly fine for eastern Poland, Slovakia and Hungary.
Wet and increasingly windy for Denmark and southern parts of Norway and Sweden. Further north a band of heavy rain spreads northward over central and north Sweden and much of Finland, increasingly turning to snow as it approaches the Arctic Circle. Rather cloudy with scattered showers for the Baltic States with heavier, more persistent outbreaks of rain developing here later.