UK and Europe weather forecast latest, October 20: Surging temperatures bring a milder week for the UK
A milder week with rising temperatures is forecasted to feel across the UK. Meanwhile, particularly unsettled with heavy and prolonged rain across western Europe to start the week.
UK's weather forecast
Britons are bracing for a milder week of rising temperatures thanks to low pressure and a Spanish storm barrelling towards the country, BBC Weather forecaster Carol Kirkwood warned.
Carol Kirkwood told BBC Breakfast viewers temperatures are set to surge dramatically this week, reaching highs of 18C in some areas. The BBC Weather forecaster said the high temperatures will be courtesy of low pressure and a Spanish storm that will reach the UK on Wednesday. She said: "Tomorrow our weather front moves steadily eastwards eventually clearing, it will be windy particularly in the south-east quarter and particularly on the coast. But low pressure is not far way. In between we're pulling in this south-westerly wind, hence the higher temperatures."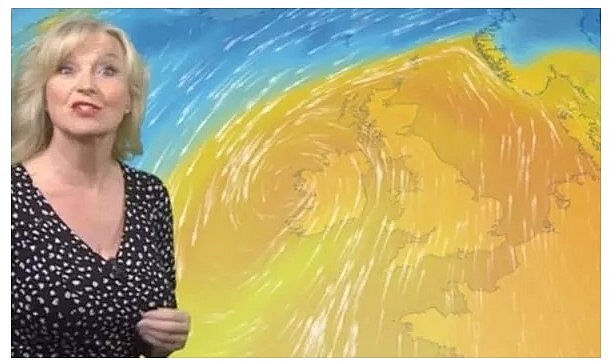 BBC Weather: Carol Kirkwood warns temperatures are set to surge this week (Image: BBC)
"It's going to feel milder tomorrow if you're out of that rain. So we start with rain in the central area, eventually moving to the North Sea. It could slow down in the early afternoon."
"We still have the rain in the north of Scotland with gusts to gale force across the northern isles and still some showers coming in to western areas."
"Some of those will merge to give heavier or persistent rain and also you can hear the odd tumble of thunder. But look at the temperatures, 10C in the north to 17C in parts of Manchester, London and Cardiff."
Later in the week, Ms Kirkwood claimed a Spanish weather storm will bring more heavy rain showers to the south of the country, keeping temperatures in the high teens.
But the warm weather will not last very long as freezing air from the Arctic will sweep over the UK in a northwesterly direction at the end of October, bringing wintery weather with it.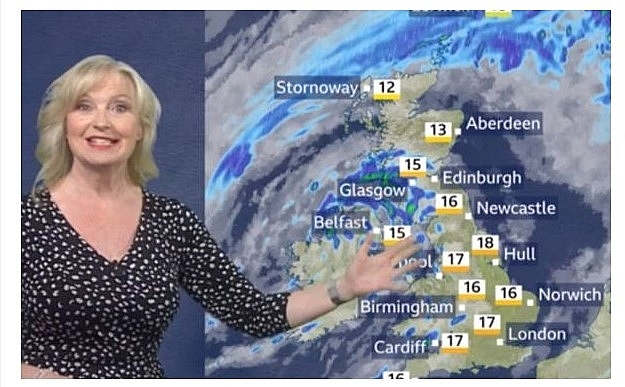 BBC Weather: Temperatures to reach up to 18C this week (Image: BBC)
According to WXCHARTS' latest snow depth charts. Parts of Scotland and Northern Ireland have been highlighted as the places likely to be hit by snow in the latest warning.
It comes after Met Office predicted wintry weather in its long-range forecast between Tuesday, October 27 and Tuesday, November 10. The forecast said: "Confidence becomes low towards the end of the month. However, the early part of the forecast period will likely see a gradual transition to a generally more unsettled pattern across the whole of the UK."
"Spells of rain and showers are likely, with these turning wintry over high ground in the north and northwest. There may also be the odd settled spell at times during this period, but they are likely to be short-lived. Temperatures likely to stay at or just below average throughout."
Meanwhile, as the UK approaches Christmas Met Office forecasters predicted there would be overnight fog and frost in the fortnight from November 1 to November 15.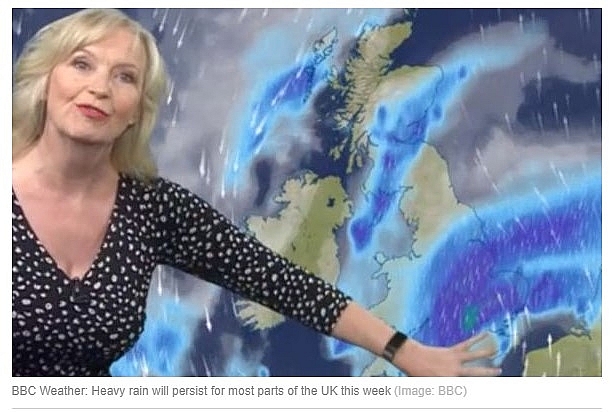 BBC Weather: Heavy rain will persist for most parts of the UK this week (Image: BBC)
It said: "Confidence is low for this period, but the generally unsettled wet and windy theme is expected to gradually transition to a more settled picture through early November, especially in the south of the UK."
"Elsewhere, showery and windier conditions may remain more prevalent in the north. Temperatures may dip slightly below normal in the more settled periods, allowing for an increasing likelihood of overnight frost and fog developing."
On October 20
According to Weather Online, cloud and outbreaks of rain in northern Scotland this morning, these lasting into the afternoon. Morning rain clears eastern England quickly to leave broken cloud, some sunny spells in central and southern areas. Rain and stronger winds in southern Ireland.
This area of rain and strong winds heads north and east bringing wet weather to much of Northern Ireland and southern Scotland this afternoon. Rain will also be affecting northwest England and northwest Wales in the afternoon. Elsewhere it should be mostly dry with broken cloud and a few sunny spells. Highs at 11C in northern Scotland, a mild 18C in southeast England.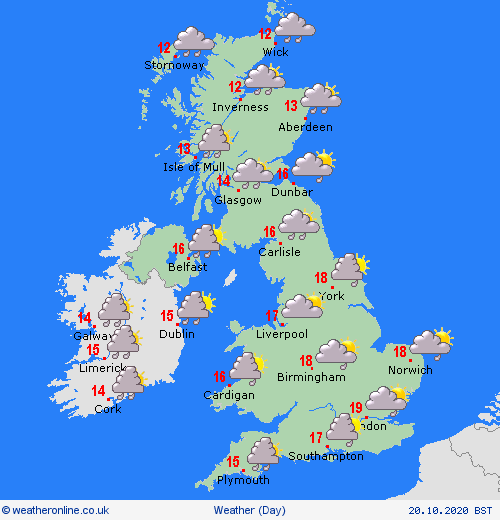 Photo: Weather Online
Staying wet over most of Scotland tonight, some heavy rain in central and northern areas. Rain should clear from northwest England for a time. A further band of rain slips through Ireland and then across Wales and southern England through the early hours. The southeastern quarter of England becoming wet. Lows near 7 to 10C.
Europe's weather forecast
Increasing cloudy over Portugal and western Spain on Monday with a band of heavy rain arriving here later. Staying dry and fine to the east of Spain and for the Balearic Islands. Mostly dry and fine for Italy though a few showers may develop to the south and over Sicily. Thundery showers flare up around the Aegeaen Sea affecting parts of Greece and Turkey, Weather Online reported.
Increasingly cloudy over France, Switzerland, the Low Countries and Germany as low pressure approaches. Winds pick up too with patchy rain arriving to the far west of France later. Staying dry elsewhere. Fair conditions over Austria, Hungary, the Czech Republic, Slovakia and southern Poland. Cloudier over northern Poland with scattered showers here.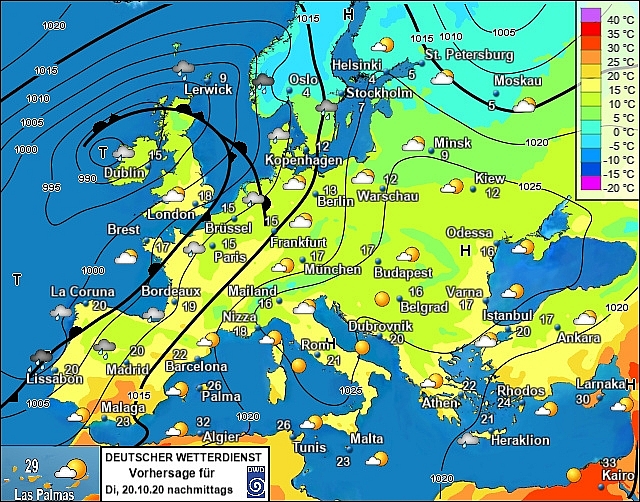 Photo: Stirimeteo
Rather cloudy and breezy for Denmark with rain arriving to the north later. Wintry showers affect northern parts of the Baltic States but with spells of sunshine in between. Wintry showers affect Finland and northern Sweden too as well as coastal regions of Norway. Rain arrives over southern parts of Norway and Sweden later.
On October 20
Particularly heavy and prolonged rainfall expected across Portugal as well as parts of western Spain. Rain will continue through the evening and spread eastwards across Spain overnight. Dry and fine over the Balearics with largely dry conditions across Italy although the odd isolated shower cannot be ruled out. Thundery showers still affecting parts of Greece and Turkey.
Rain affecting northern and western parts of France, turning heavier through the evening. This rain will also push across the Low Countries and into northern and central Germany. Breezy for these places too. Staying dry and fine across Austria, Hungary, Switzerland and the Czech Republic as well as the rest of eastern Europe.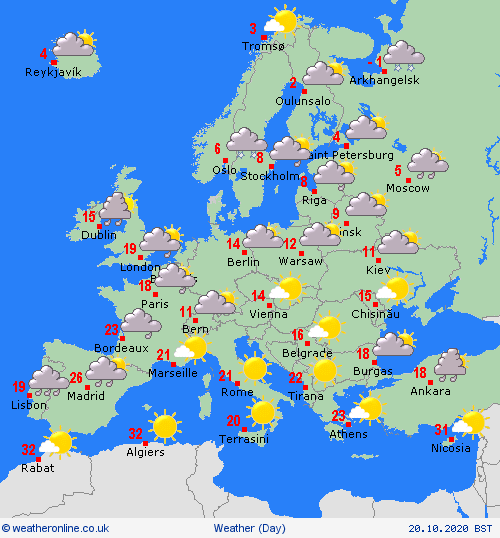 Photo: Weather Online
Rain affecting the far north of Denmark initially will gradually spread across the rest of the country through the day. Breezy here. Rain spreading across southern parts of Norway and Sweden through the day but staying dry and fine and feeling chillier further north. Dry, fine and chilly across Finland during the day before rain spreads into the southwest overnight here. Starting dry across the Baltic States but rain will spread in here later lifting the temperatures.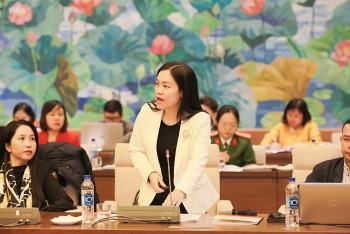 Friendship
Doan Thu Huyen, Vietnam Country Director for Campaign for Tobacco-Free Kids, made the statement at the "Child Downing Prevention" seminar.