UK, Indian variants found in Vietnam's latest Covid-19 hot spot
Coronavirus variants from the UK and India are behind cases at the National Hospital for Tropical Diseases in Hanoi
Samples taken for the new coronavirus testing in Hanoi, May 3, 2021. Photo VnExpress/Giang Huy.
Several coronavirus cases in Hanoi have been identified as UK and Indian variants. Pham Ngoc Thach, director of the National Hospital for Tropical Diseases, said the gene sequencing result showed the new variants found in patient samples were B.1.1.7 from the UK and B.1.617 from India, which are known as double-mutant variants and have been found in 17 countries so far.
The Indian strain was first found in Vietnam in late April, after testing on a group of Indian experts. They had been quarantined upon arrival at the Nhu Nguyet 2 hotel in the northern province of Yen Bai and transmitted the virus to a male receptionist working at the hotel. Such cases are not considered community transmissions, VnExpress reported.
On May 4, genomic sequencing test samples of three patients in Vinh Phuc showed they were infected with the B.1.617 variant discovered in India. This was the first time the variant was detected among the community in Vietnam.
The three patients were infected by Chinese experts who had visited their place of work, the Sunny Club.
Earlier, UK strain B.1.1.7 was found in samples taken in Ha Nam, Hung Yen and Ha Tinh provinces. All were locally-transmitted cases.
The B.1.617 strain contains two key mutations called E484Q and L452R, which have been found separately in other variants but not together in a single strain. These mutations have been found to make the virus more transmissible, and less susceptible to neutralizing antibodies.

The World Health Organization said the predominant lineage of B.1.617 was first identified in India last December, although an earlier version was spotted on October 2020.

The WHO has described it as a "variant of interest," suggesting it may have mutations that would make the virus more transmissible, cause more severe disease or evade vaccine immunity. Other strains with known risks, such as those first detected in the United Kingdom, Brazil and South Africa, have been categorized as "variants of concern," a higher threat level, Reuters reported.
As of May 6, the cluster at the National Hospital for Tropical Diseases, Vietnam's leading Covid-19 treatment center, recorded 52 community cases linked to people from 15 provinces and cities in the north, according to Hanoi Center for Disease Control.
The hospital was put under lockdown on May 6 after medical workers, patients and their relatives were tested positive.
The National Hospital for Tropical Diseases has been responsible for handling all Covid-19 cases in the north. Nearly 1,000 patients have been treated at the hospital since the pandemic broke out in Vietnam last year.
The National Steering Committee on Covid-19 Prevention and Control on Friday held a separate meeting with the National Hospital for Tropical Diseases and the National Cancer Hospital (K Hospital), currently the two biggest Covid-19 clusters in Hanoi, to discuss response plans.
"The hospital stands at a high risk of infection due to a large number of patients coming from other localities. Contracted patients did not show any symptoms, making the screening process difficult," Pham Ngoc Thach, director of the National Hospital for Tropical Diseases said.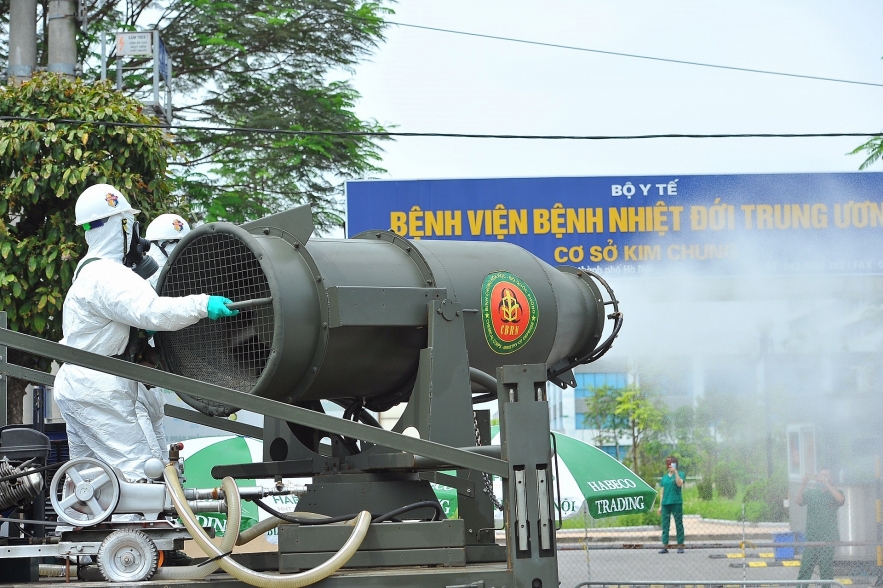 The National Hospital for Tropical Diseases in Hanoi's Dong Anh District is disinfected. Photo VNA
As there is a large number of Covid patients and medical workers at the National Hospital for Tropical Diseases, the health ministry agreed to transfer patients who tested negative twice, to the Bach Mai Hospital in northern Ha Nam Province to reduce the overload.
Deputy Prime Minister Vu Duc Dam ordered the National Hospital for Tropical Diseases to focus on treating Covid-19 patients and suspend treatment on patients contracting other diseases.
Minister of Health Nguyen Thanh Long asked local hospitals to treat Covid-19 patients locally, and not move patients to the National Hospital for Tropical Diseases.
He said the health ministry was determined to absolutely protect the frontline hospital from further Covid attacks.