More hospitals in lockdown as Covid-19 outbreak worsens
A string of hospitals in northern province are put under lockdown following the detection of new coronavirus cases.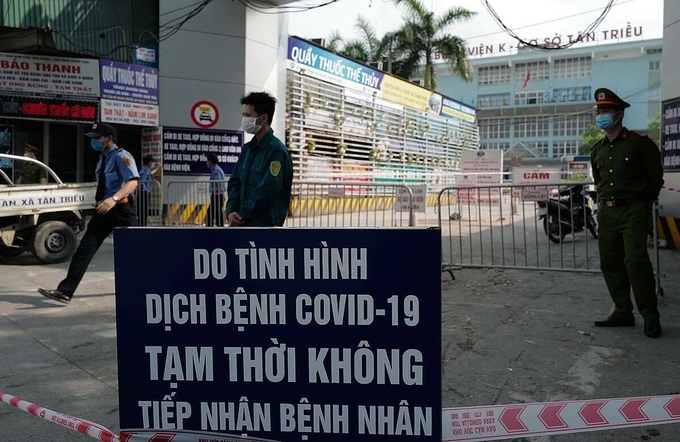 Tan Trieu - based K Hospital stops admitting patients and put under lockdown starting Friday morning (Photo: VNE)
Tan Trieu-based K Hospital (Vietnam National Cancer Hospital) is the latest medical facility to be blocked and stop admitting patients starting May 7 early morning. Screening test results of 123 individuals show 6 inpatients and 4 patients' family members positive for the novel virus, Hanoi Department of Health announced today.
One of the 10 patients used to be treated at the National Hospital for Tropical Diseases in Dong Anh District – the current Covid-19 hotspot in Vietnam whose infection source goes undetected and has spread to over 50 patients in 14 provinces and 4 Hanoi affiliated districts.
The Tropical Diseases hospital, a frontline health facility in the Covid-19 fight, was also locked down from May 5 afternoon. The police force, militia, and the hospital's security personnel were mobilized to prevent people from going in or out of the hospital.
Chairman of Hanoi People's Committee Chu Ngoc Anh and Deputy Health Minister Tran Van Thuan are present at the K Hospital to direct prompt response. Over 2,000 medical staff and hospital personnel at the facility will get tested for nCoV from May 6-8.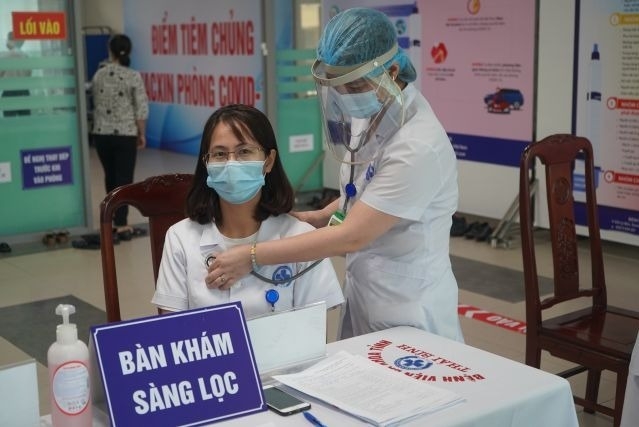 One medical staff at Thai Binh General Hospital having her health checked before getting Covid-vaccine shot (Photo: VNE)
Earlier on May 6, authorities formed a blockade around Thai Binh General Hospital, the biggest establishment in the province. The decision was made following the positive result of a 70-year-old inpatient who also related to the cluster in Tropical Diseases hospital. To date, Thai Binh recorded 5 new infections since the onset of Vietnam's "4th wave". Over 1,000 medical staff and 3,000 patients and relatives have been sampled. All inmates are served with meals and daily necessities during blockade stay.
In the meantime, the Military Hospital 105, based in Son Tay town, has also been placed under lockdown starting May 6 after one doctor contracted the novel coronavirus during a training course in Tropical Diseases hospital. Simultaneously, local authorities set up 3 checking points and circled barriers around the patient's neighborhood. Stringent anti-pandemic measures were comprehensively deployed. It is the first Covid-19 case confirmed in Son Tay town since the start of the pandemic.
Report from Hanoi Diseases Prevention and Control Center (CDC) Friday morning shows all 1,701 related individuals, including 21 F1 cases having direct contact with the 42-year-old doctor, have negative test results.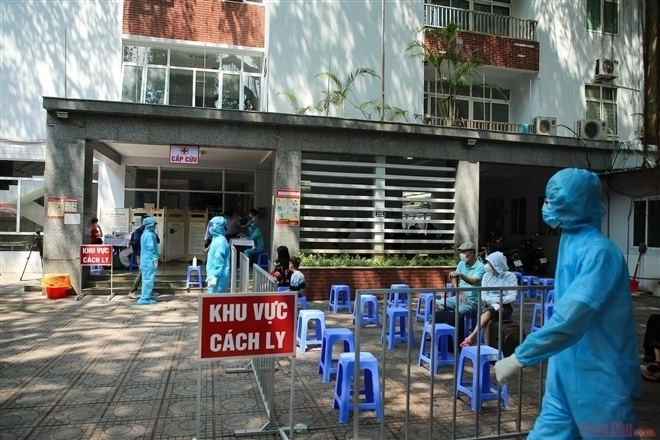 Military Hospital 105 reports one new Covid-19 patient Thursday morning (Photo: VTC News)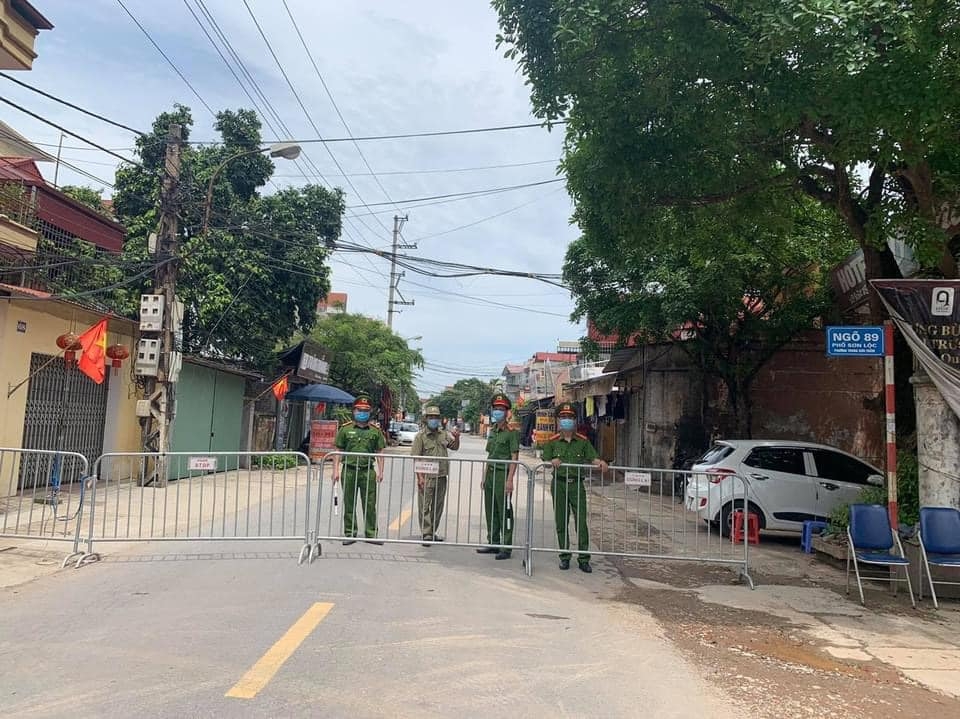 The neighborhood around the patent's house is also locked (Photo: Dien dan Thi xa Son Tay)
In addition, one general hospital in Vinh Phuc province and Lang Son Lung hospital have also deployed lockdown order.
Prime Minister Pham Minh Chinh on May 5 stated that Vietnam should change its anti-pandemic motto from defense to proactive fight. The change of approaching plans, perspectives and command is evaluated as necessary and would create basic guidelines for relevant agencies.
The PM also tasked Covid-19 Prevention and Control Steering Committee of all levels to both inherit and adapt anti-pandemic lessons Vietnam has gained in the past year. He cited that the virus is mutating to more contagious variants, on top of that, people are lowering their guard.
"All localities must stay alert, respond to unexpected situations in flexible and creative ways," Chinh said at the regular Government meeting.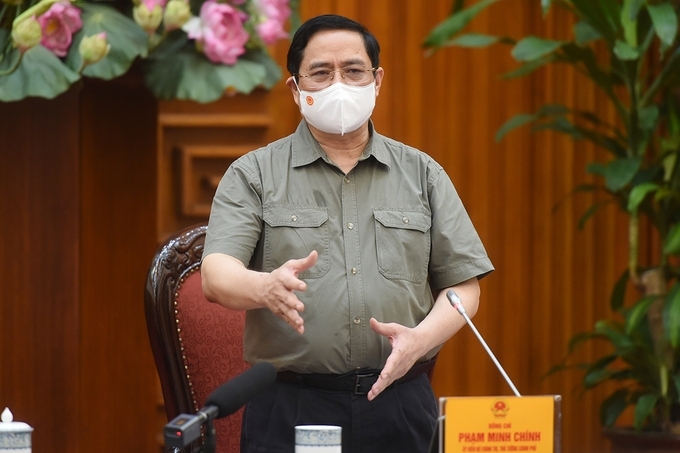 Prime Minister Pham Minh Chinh at the meeting (Photo: VNE)
The Government leader went on by asking to speed up vaccine import and mass inoculation, with frontline workers prioritized for the shots. Technological advances should be utilized.
The Health Ministry was tasked to build possible pandemic scenarios and corresponding solutions to both effectively contain the virus and promote socio-economic development. Units should proactively propose policies to support people affected by the pandemic, especially the lower classes in society.
Meanwhile, Vietnamese and overseas Vietnamese are requested to voluntarily observe preventive protocols, especially masks mandate and social distancing order.
Vietnam has reported 121 cases since April 29, when the latest wave began. To date, Hanoi reported 47 new cases, the highest among the 9 localities affected. Ha Nam and Vinh Phuc confirmed 25 and
Until April 29, Vietnam had gone for more than one month without recording any new locally-transmitted of Covid-19.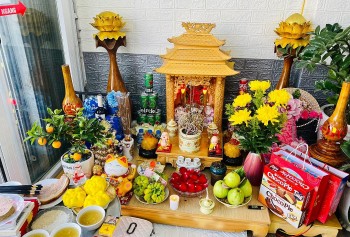 Handbook
Learn more about an ancient Vietnamese tradition that may bring you good fortune!