Unconditional Love: American Businessman Quits High-Paying Job To Be With His Vietnamese Girlfriend
Nguyen Tram, a 33 – year – old Vietnamese woman shared her love story with her husband. To have this happy marriage with three beautiful kids of their own, she and her husband have been through many hardships and difficulties to be together.
Nguyen Tram (born in 1989) never thought of marrying a foreigner, but then she met and fell in love with Jason, who is 9 years older than her.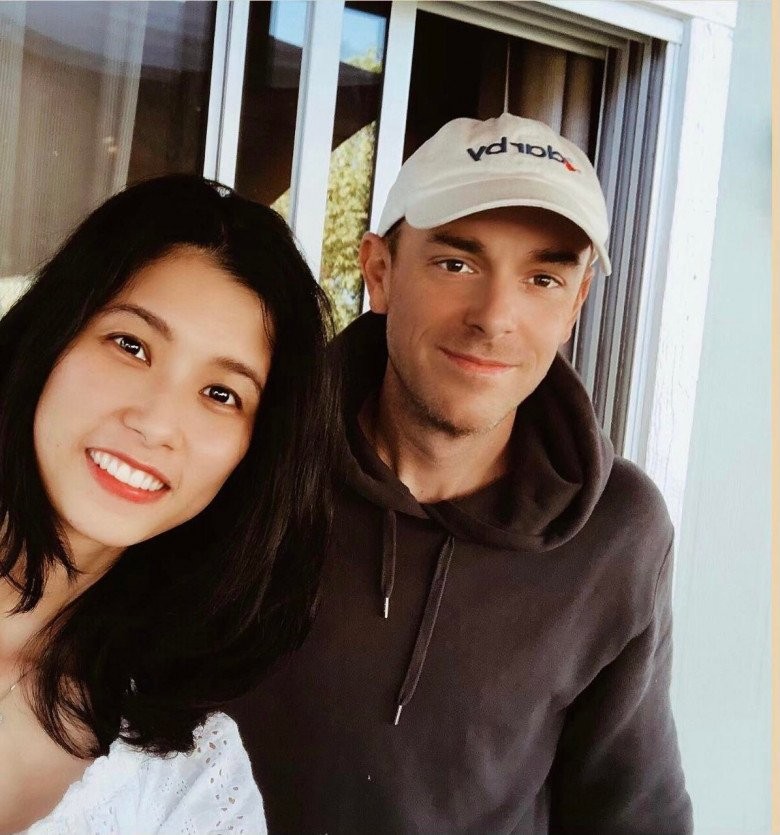 Tram and her husband, Jason. Photo: In the courtesy of the family
Before falling in love with Jason, Tram worked in an international bank, and he sold fine arts in the US, quite successfully. The two met for the first time at a school in Ho Chi Minh City.
All the emotions still felt fresh in her mind as if it just happened yesterday.
When Tram first saw Jason, she was immediately attracted by his good–looking and kind appearance. Jason was also drawn in by her character and had a feeling that she would be the one who he wished to spend his life with. They stirred up a conversation, got to know each other more, and started a close friendship.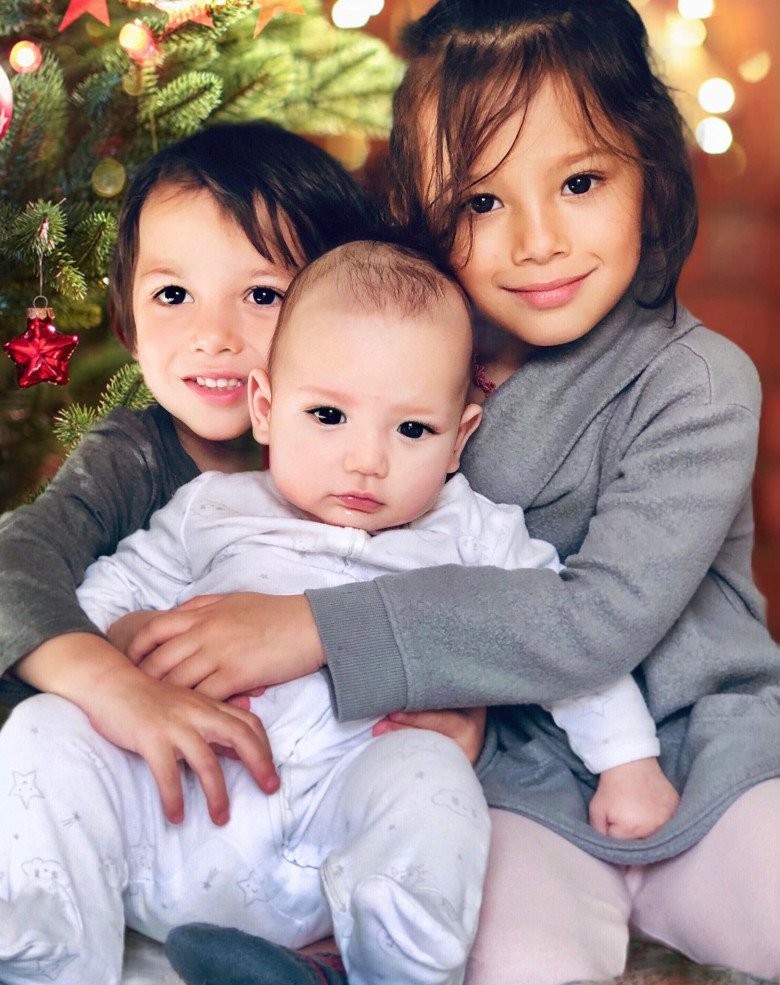 Their three little children. Photo: In the courtesy of the family
"When we first dated, Jason was very busy with his business in the United States, and he had to travel constantly between Vietnam and the US. I was also busy working at the bank and rarely used social media. We only talk by phone, and did not have time to arrange a date," recalls Tram.
"After a long time being friends, he told me he liked me. I was quite surprised and did not answer him since I was not prepared to have a relationship with a foreigner. Because of this, we stopped contacting each other for a while," she said.
Without talking to Tram, Jason began to miss her a lot. He realized his feelings for the young woman and decided to quit his job to move to Vietnam so that he could be close to her.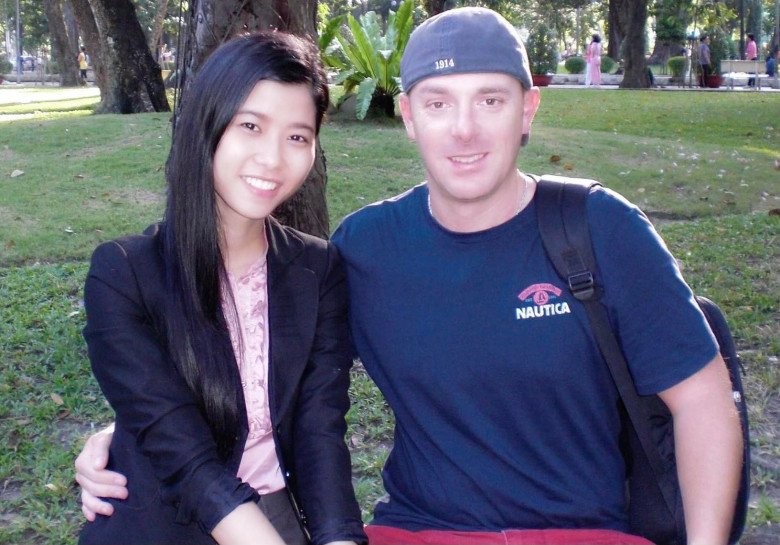 The couple met in Ho Chi Minh City. Photo: In the courtesy of the family
From a businessman, Jason became a teacher at an international school in 7 District, Ho Chi Minh City.
His decision took Tram by surprise, as his work back in the United States was very successful. Their feelings for each other deepened, and Tram was moved by his sincere affection and perseverance. After their reconciliation, she opened her heart and gave him a chance to know each other more.
With Jason teaching and living in 7 District, the two often went on dates together. He used to tell her that he wanted to travel with his loved ones around the world. Because of their busy schedule, they rarely hang out after 9 pm. Talking about this, Tram said she always follows tradition and did not allow herself to go out too late in the evening.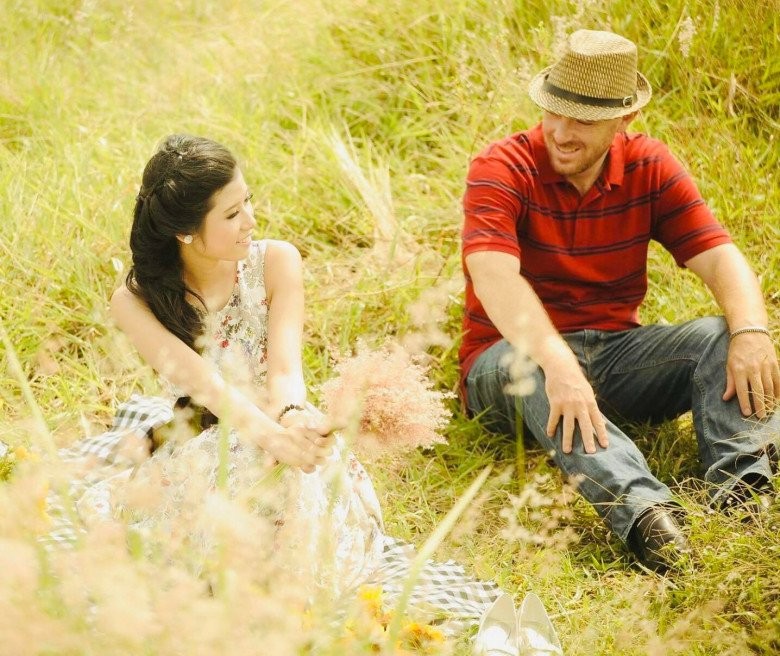 Photo: In the courtesy of the family
"Even though we were together for over 6 years, the number of times that we went on dates was not much. He has always dreamed of taking his loved one around the world so he decided to propose to me. Because only when we are husband and wife, he will be able to fulfill his dream," Tram said.
Deeply touched by his love and affection for her, Tram agreed to marry him. When her family heard of their daughter's news, they were upset and got worried about her future with a foreign husband. They feared that Tram did not know enough about Jason, and refused to accept the two's relationship.
After finally meeting Jason, they were convinced by his sincere love and honesty for their daughter and gave the couple their blessings.
In 2013, they got married in Vietnam, and their wedding followed Vietnamese traditions. Jason said he has a love for the country's culture, cuisine, and history.
Photo: In the courtesy of the family
Their married life has had a lot of ups and downs, but Tram is always proud to have a loving husband by her side, who gives his wife unconditional support and helps her in everything.
In 2017, the couple moved to live in the United States and settled down after having their first child. This was a difficult time for Tram, as she was far away from her hometown, parents, and friends, whom she has known for her whole life.
To her, Jason is a thoughtful, caring, and affectionate husband. He always spends his time helping his wife and taking care of the children on the weekend, so that she can have time to rest.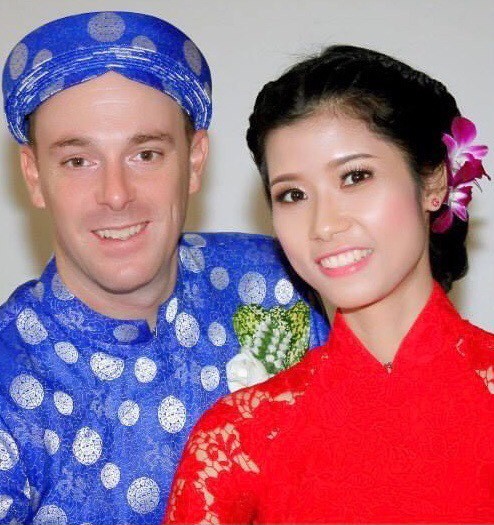 Tram and her husband in Vietnamese traditional clothes. Photo: In the courtesy of the family
Not only that, her husband's family deeply cares for and loves their daughter-in-law. They often visit her and their once every two months. "My mother and father–in–laws treat us very well and love their grandkids. Every Tet holiday, they will send the kids a lot of presents to make them happy. Knowing that I had a hard time getting used to life in the US, my husband's family introduced me to their relatives, and friends and helped me meet other Vietnamese living in the state, who later became my very best friends." Tram said.
It has been 5 years since they have been living together, and their family is very happy with three adorable little kids. Tram is satisfied with her marriage and happy for her new life abroad. Meanwhile, her loving husband is excited to take part in her Vietnamese culture. Together, the two are perfect examples that true love triumphs over borders.