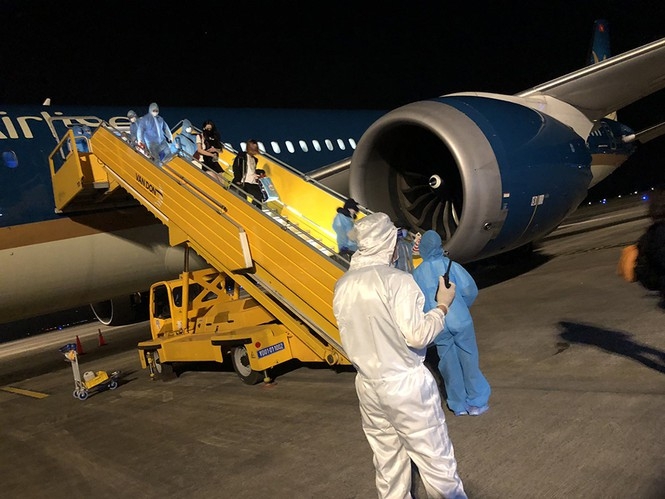 The flight to bring home 340 Vietnamese from the US landed at Van Don airport May 8.
The flight carrying one U.S. citizen had departed from Hanoi's Noi Bai Airport Thursday morning to San Francisco after Vietnam Airlines completed all procedures required by U.S. authorities, Vietnam's Foreign Ministry said in a statement Friday.
The return flight landed at the Van Don Airport in the northern province of Quang Ninh at 6:45 p.m. Friday. Passengers included overseas students under the age of 18, seniors and people in extremely difficult circumstances, business travelers and tourists whose visas had expired.
"Today is a historic day at SFO as we welcomed the very first Vietnam Airlines passenger flight to the United States. This repatriation is being operated on one of Vietnam Airlines new Boeing 787-10 aircraft. SFO is proud to welcome this special flight!", San Francisco International Airport on May 7 said on its Facebook.
The representative of Vietnam Airlines said that the carrier is not operating direct commercial route connecting Vietnam and the United State. To be licensed for this special flight, Vietnam Airlines had to complete various procedures at the request of the US.
The flight is operated on Vietnam Airlines' largest-body aircraft Boeing 787-10. Normally, a long-haul route needs a flight crew of 14-16 people. However, for this special flight, a crew of 28 people was mobilized (8 pilots, 16 flight attendants, 2 technical staff and 2 ground staff).
The flight captain has over 26 years of professional experience, being the first to fly Vietnam's Airlines' Boing 787-9 and Boing 787-10.
The whole round trip from Noi Bai international airport – San Francisco international airport – Van Don airport lasts more than 33 hours.
Crew members wore protective personal equipment. Passengers underwent medical check before boarding and wore face masks throughout the flight.
After landing at Van Don airport, all passengers were put into quarantine in accordance with Vietnam's COVID-19 regulations.
There are currently no direct flights from Vietnam to the US. All flights in this route must transit through a third country.
During the suspension of international routes due to the COVID-19, Vietnam has carried out dozens of flights to repatriate Vietnamese overseas.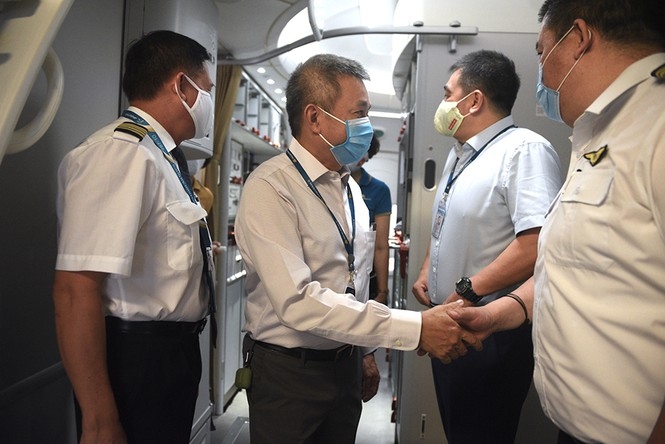 General Director of Vietnam Airlines Duong Tri Thanh (center) supervises the preparations before the flight departs from Vietnam to the United States.
A passenger on wheelchair on the repatriation flight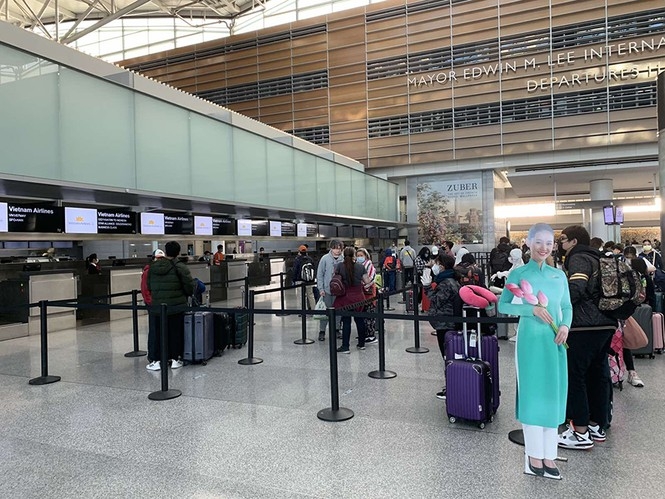 Vietnamese citizens check in at San Francisco International Airport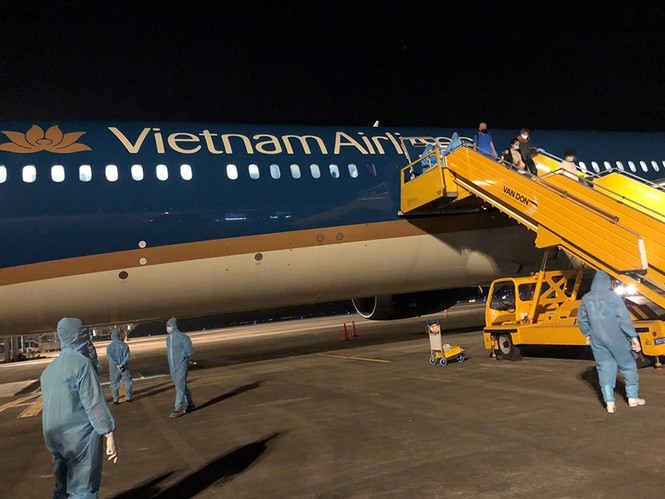 The flight landed at Van Don Airport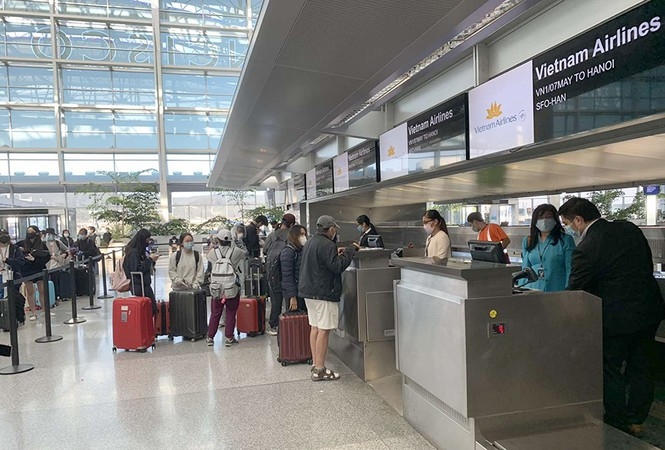 Immigration procedures at Van Don airport.
Normally, a long-haul route needs a flight crew of 14-16 people. However, for this special flight, a crew of 28 people was mobilized
Jennifer Tran