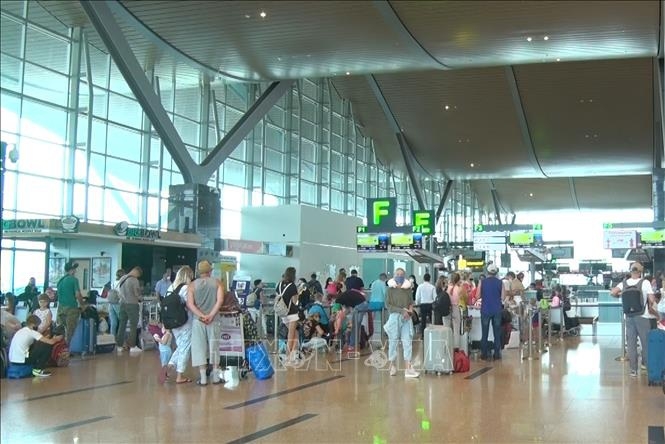 More than 180 Russian tourists stranded in Vietnam due to the COVID-19 repatriated on a special flight today. Photo: VNA
A Siberia Airlines flight took off from the Cam Ranh International Airport in Khanh Hoa Province at 9:08 a.m. to the Russian city of Novosibirsk, Vietnam Plus reported.
This is the second flight the Russian Government has arranged for its citizens stranded in Viet Nam.
It carried more than 180 Russian tourists who'd been traveling in the popular beach destinations of Nha Trang, Mui Ne and Phu Quoc when they were stranded by the suspension of flights due to the coronavirus pandemic, Vnexpress reported.
The Russian Consulate General in HCMC dispatched staff to take all stranded Russian citizens to the Cam Ranh Airport near Nha Trang in the central province of Khanh Hoa.
According to representatives of Siberia Airlines in Vietnam, on April 20 the carrier arranged a flight to take 149 Russian passengers from Cam Ranh to Novosibirsk. The carrier is planning another flight that will depart from Cam Ranh and land in Russia's Vladivostok City in early May.
Nearly 3,230 foreign tourists are stuck in Viet Nam due to the COVID-19 but only 11% of them wish to go home immediately, earlier reports have said.
Viet Nam decided to extend temporary residence permit for foreigners who are currently in the country and unable to leave because of travel restrictions or quarantine order related to COVID-19.
Foreign nationals entering Viet Nam visa-free or on tourist visas, including e-Visa, who had their duration of stay expired but unable to leave the country because of the pandemic can apply for an extension of temporary residence of up to 30 days. This policy is effective from March 30 to April 30. VGP reported.
Jennifer Tran