US Ambassador posts emotional goodbye video, praising Vietnam a "wonderful host"
In the video, US Ambassador Daniel J. Kritenbrink called Vietnam "wonderful host" and "trusted partner"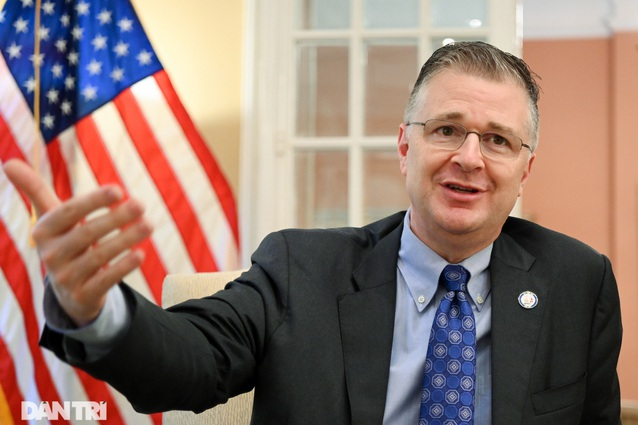 US Ambassador to Vietnam Daniel J. Kritenbrink. (Photo: Dan Tri)
On April 18, US Ambassador to Vietnam Daniel J. Kritenbrink posted a video to say goodbye to Vietnamese people as his term in Vietnam is about to end. "From the bottom of my heart, I want to thank you, Vietnam, for being such a wonderful host to me and my family for the past 3 and a half years," said HE. Ambassador, who referred to his term in Vietnam as "an immense privileged honor".
The video combines footages that the Ambassador called journeys "around your breathtakingly beautiful country" and experiences with "rich diversity of Vietnamese culture" and "fabulous cuisine". Though Vietnam and the US have a complex past, the Ambassador was proud to see what the two countries had together accomplished. He noted that he would never forget the special visits to Ham Rong Bridge (Thanh Hoa) last June or to the Truong Son Martyrs Cemetery and Hien Luong Bridge in Quang Tri.
During Ambassador Kritenbrink's term, Vietnam successfully organized two visits of the US President, two visits by an American aircraft carrier, and many other cabinet-level visits. During the fight against COVID, he noted that the US found they had "no better friend than Vietnam". He thanks Vietnam for the support of medical equipment that "helps save Americans' lives".
He ended the video with a Vietnamese sentence: "Hẹn gặp lại, Việt Nam" (See you again, Vietnam), after expressing his hope and affirmation for a bright future of US - Vietnam relations.
Daniel J. Kritenbrink, a career member of the Senior Foreign Service, Class of Minister-Counselor, has been U.S. Ambassador to Vietnam since 2017. He was previously the Senior Director for Asian Affairs at the National Security Council, and Deputy Chief of Mission at the U.S. Embassy in Beijing. In earlier tours in Beijing, he served as Political Minister-Counselor, and as a Political Officer. Kritenbrink was Director of the Office of Chinese and Mongolian Affairs at the Department of State. He also served as a Political-Military officer at the U.S. Embassy in Tokyo. Kritenbrink earned a Masters's Degree at the University of Virginia and a Bachelors's Degree at the University of Nebraska-Kearney.
On March 21, US President Joe Biden announced his intent to nominate Daniel J. Kritenbrink to serve as Assistant Secretary of State for East Asian and Pacific Affairs. The Assistant Secretary of State for East Asian and Pacific Affairs is the head of the Bureau of East Asian and Pacific Affairs within the United States Department of State, guiding operation of the U.S. diplomatic establishment in the countries of the Asia-Pacific region and advises the Secretary of State and the Under Secretary for Political Affairs on matters relating to the area.
President Joe Biden nominated Marc Evans Knapper, deputy assistant secretary for Japan and Korea in the Bureau of East Asian and Pacific Affairs, to be U.S. ambassador to Vietnam, according to a White House statement.