US national security advisor to visit Vietnam for security cooperation discussion
U.S. national security adviser Robert O'Brien left Thursday for Vietnam and the Philippines to discuss regional security cooperation, the White House National Security Council said.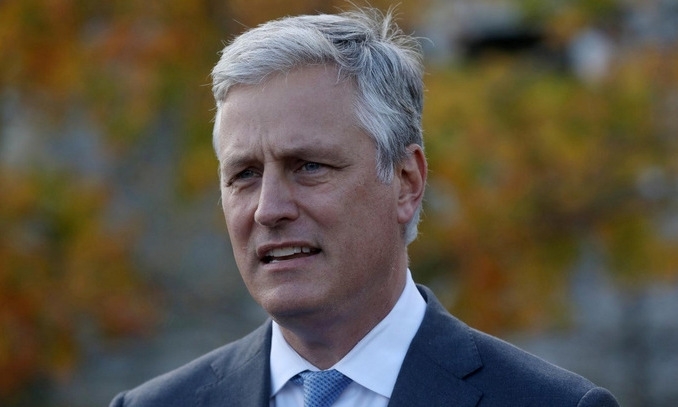 National security adviser Robert O'Brien speaks to the media outside the White House in Washington, U.S., November 17, 2020. (Photo: Reuters)
As reported by VNE, the advisor would meet leaders in both countries "to reaffirm the strength of our bilateral relationships".
Reuters quoted an unnamed American official as saying O'Brien would be in Vietnam from Friday to Sunday for high-level meetings. Two weeks ago U.S. Secretary of State Mike Pompeo visited Hanoi where he affirmed his nation's continued support for a strong, prosperous and independent Vietnam.
O'Brien participated in last week's virtual ASEAN - U.S. Summit organized by Vietnam, highly appreciating Vietnam's role as the chair of ASEAN this year, particularly in coordinating regional efforts at a time full of difficulties and challenges such as the Covid-19 outbreak.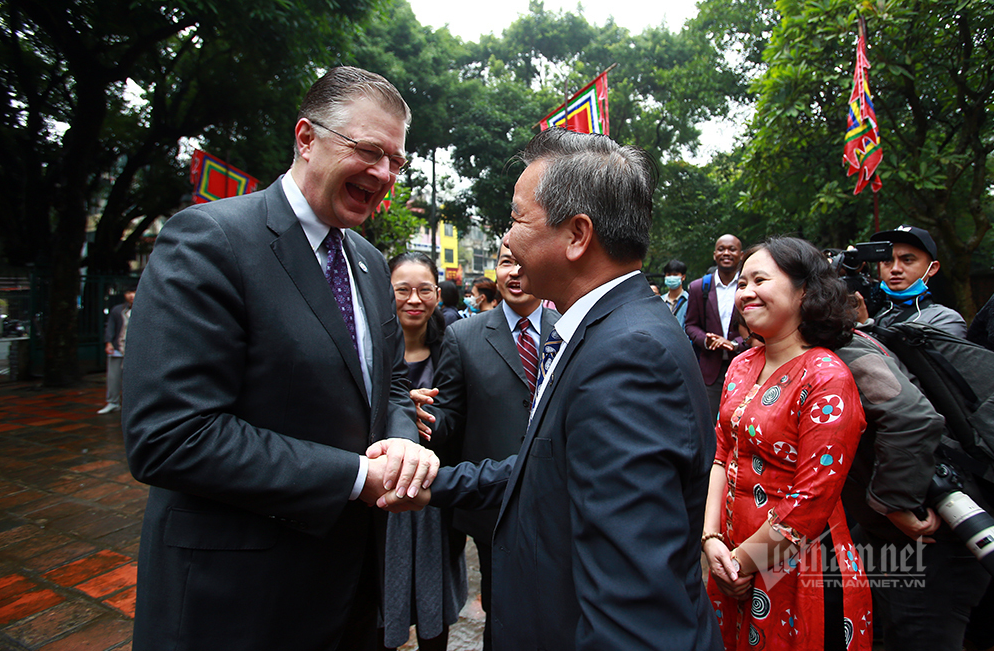 The visit to the historic site aims to show respect for Vietnamese culture, including the nation's traditional fondness for learning, while boosting mutual exchanges. (Photo: Vietnamnet)
Ambassador Kritenbrink receives a warm welcome from Vietnamese students at the Temple of Literature. (Photo: Vietnamnet)
On the occasion of Vietnamese Teachers' Day November 20, the US Ambassador to Vietnam Daniel J. Kritenbrink visited the Temple of Literature (Quoc Tu Giam) to pay respect to Vietnam's outstanding teachers.
Ambassador Daniel J. Kritenbrink said: "The Temple of Literature is one of my absolute favorite places in Hanoi. I love it because it is so beautiful and peaceful. The architecture is stunning and historically and culturally meaningful as well. I learned a lot about Chu Van An here today and I learned that he is one of 4 people in Vietnam recognized by UNESCO. I feel particularly inspired today by Vietnam's teachers, Vietnam's students, Vietnam's long and rich history and tradition. I wish all of Vietnam's teachers a happy Teacher's Day!"
Accompanying the US Ambassador were Prof. Dr. Pham Quang Minh - Former Principal of the University of Social Sciences and Humanities and the university's students.
Vietnam and the U.S. have been marking the 25th anniversary of the normalization of ties in 1995, 20 years after the end of the Vietnam War.
They are comprehensive partners today, with bilateral trade increasing from $450 million in 1994 to $77 billion last year.
Earlier on October 18, Japanese Prime Minister Suga Yoshihide also paid an official trip to Vietnam. Japanese Prime Minister Suga Yoshidide and spouse started their first overseas trip after a month in the office and he leaves for Vietnam, which has a deep and wide strategic partnership with Japan.
Vietnam has been highly appreciated by the international community for its effective response to the Covid-19 pandemic. The country has also been among a few regional countries being able to retain a positive economy and have good prospects in post-pandemic.
Before the visit, the Japanese Prime Minister held a phone talk with Vietnamese counterpart Nguyen Xuan Phuc and had a meeting with the Vietnamese Ambassador to Japan while all relevant ministries and agencies in the two countries have worked relentlessly to prepare for the visit, which is considered an imprint and significant landmark in the relation between Vietnam and Japan in the new situation.
World
Here are seven that stand out in a world tipping towards recession and higher inflation: Vietnam, Indonesia, India, Greece, Portugal, Saudi Arabia and Japan