US News today: Trump renews threat of "a complete decoupling from China"
Trump renews threat of "a complete decoupling from China", Secretary of State Mike Pompeo calls Bolton "a traitor", Facebook takes down Trump election campaign's ads and the US B-52 crossing the Pacific to Japan for practicing long range escort and aircraft interception are remarkable news today.
Secretary of State Mike Pompeo calls Bolton "a traitor"
Secretary of State Pompeo said the forthcoming memoirs of former national security adviser Bolton were fabricated and called him "a traitor", The Washington Post reported.
"I've not read the book, but from the excerpts I've seen published, John Bolton is spreading a number of lies, fully-spun half-truths, and outright falsehoods," Pompeo said in a statement. "It is both sad and dangerous that John Bolton's final public role is that of a traitor who damaged America by violating his sacred trust with its people."
"To our friends around the world: you know that President Trump's America is a force for good in the world," he continued.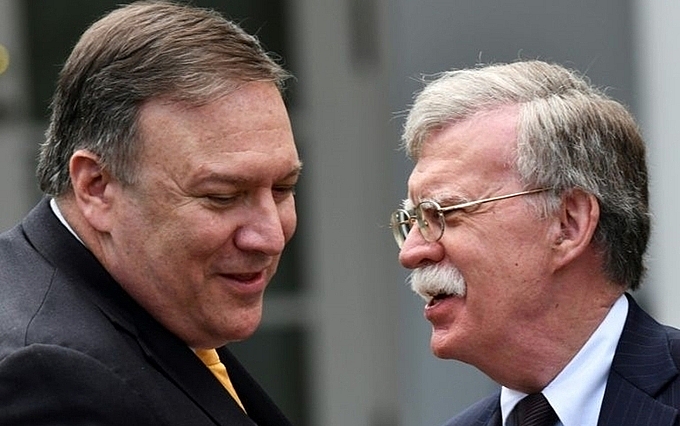 Mike Pompeo (left) and John Bolton (right) on June 2018. Photo: Reuters
Mike Pompeo said he has not read Bolton's book named "The Room Where It Happened" that Trump's administration is trying to prevent from publishing. However, according to excerpts leaked by major newspapers, Bolton wrote that Pompeo, who rarely publicly clashes with Trump, "spoke ill of the back" about the President.
According to New York Times, Bolton wrote in his memoirs that he received a letter from Pompeo during the first historic meeting of President Trump and North Korean leader Kim Jong-un in Singapore in June 2018. In this letter, the US Secretary of State wrote that what Trump said was "all bullshit".
Pompeo traveled to North Korea four times in 2018 to implement Trump's foreign policy, with whom he always praised the Nobel Peace Prize. However, Bolton wrote that Pompeo in July 2018 said Trump's North Korea policy was "unlikely to succeed".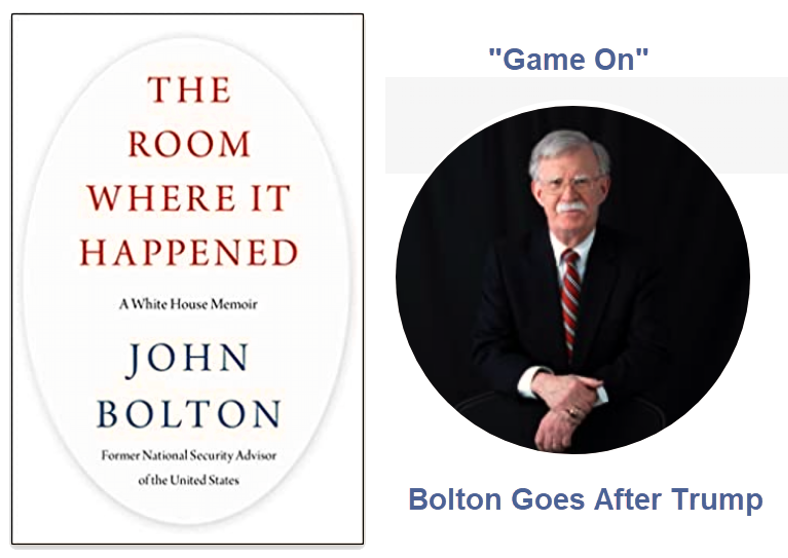 "The Room Where It Happened: A White House Memoir" written by John Bolton. Photo: thestreet.com
The Trump administration on June 16 filed a lawsuit against Bolton, after the White House National Security Council (NSC) determined the current draft memoir contained some confidential information about national security, which is likely to cause "possibly causing serious or particularly serious damage to US security". Earlier on the same day, Trump said Bolton could be prosecuted for revealing confidential information in his memoirs to the White House.
Bolton is famous for his "hawkish" view of North Korea and was sacked in September 2019, shortly after the US President and Secretary of State Pompeo once again met President Kim Jong-un in the Korean Demilitarized Zone. The US president said he was "deeply disagreeing with much advice" from Bolton.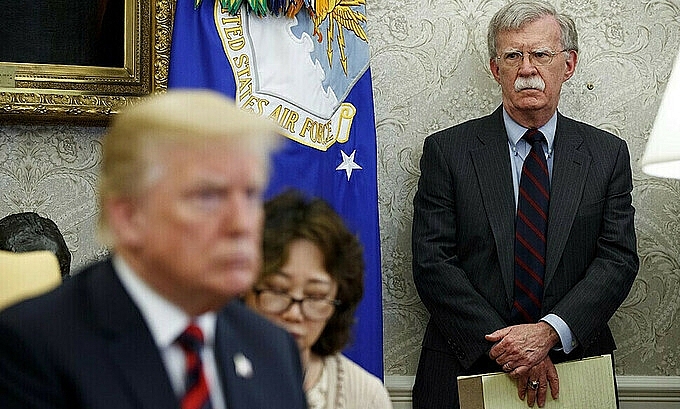 Former security adviser John Bolton and President Donald Trump. Photo: AP
Facebook takes down Trump election campaign's ads
Facebook on June 18 deleted 88 posts on US President Donald Trump's account, the White House campaign campaign page and Vice President Mike Pence's personal page for "policy violations of Facebook".
All 88 ads featured the same contents and were accompanied by a picture with an upside down red triangle symbol that Nazis used during The World War II.
These posts have caught the attention of some Twitter users, and they have pointed out the true meaning of this symbol, NBC News reported.
Particularly, the Nazis used the image of upside down red triangles to classify political prisoners in concentration camps and to attack their opponents in battles.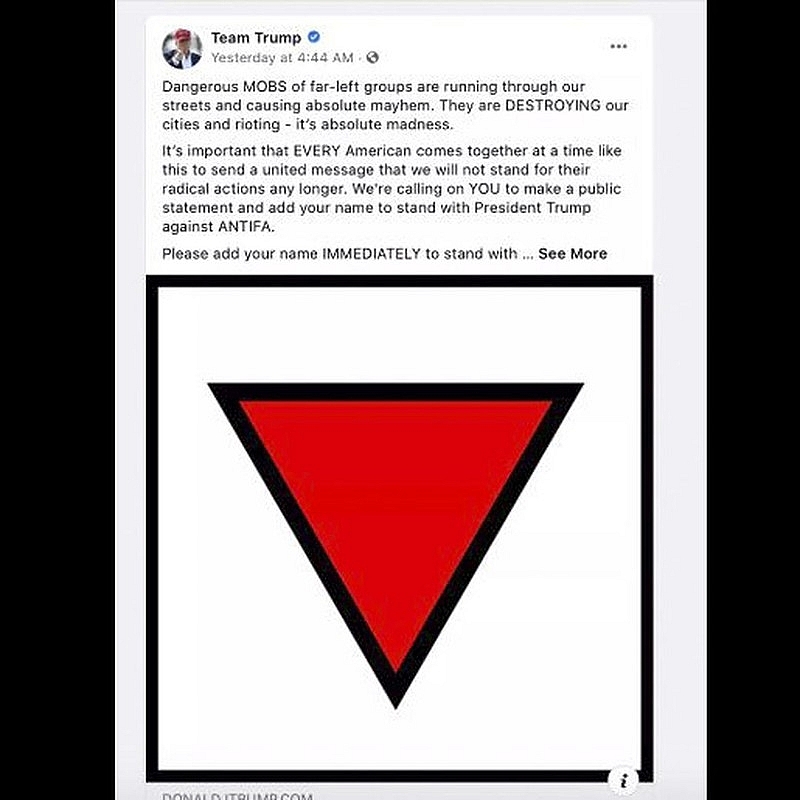 The advertisements featured the upside down red triangle symbol that the Nazis used during World War II. Photo: FACEBOOK
A Facebook spokesperson wrote in an emailed statement that the posts violated their company's policy."Facebook strictly prohibits the use of symbols of hateful groups related to political issues without a clear background or reason to use them," the Facebook spokeswoman said.
These posts were posted on three accounts including the official Facebook page of President Trump and Vice President Pence and the official US Presidential Campaign page at around 1am (local time) on June 18.
Mr. Tim Murtaugh, communications director for Trump's campaign, said that Facebook also has this symbol in their applications."We found that Facebook also uses the same upside down red triangle emoticons, which is surprising that they are only targeting our posts," Murtaugh responded to the statement from Facebook.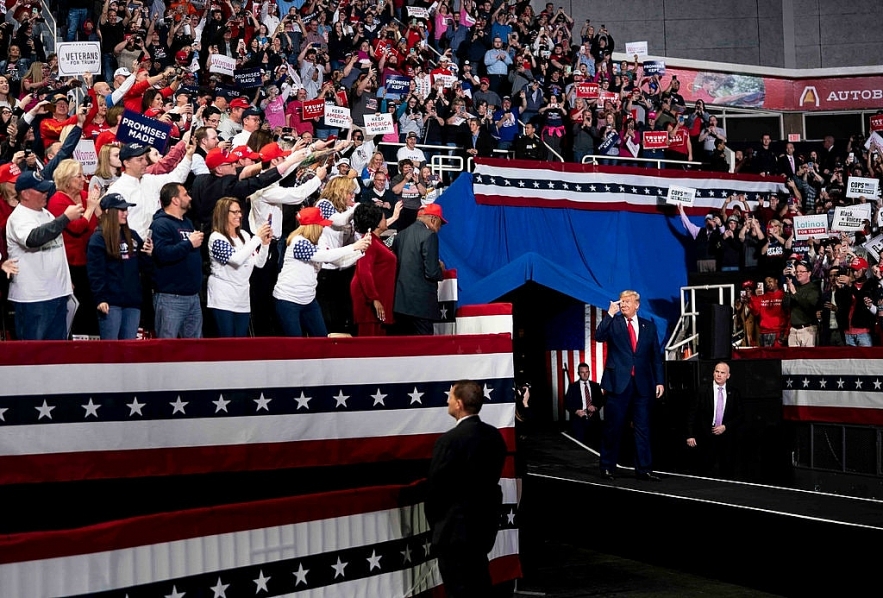 Photo: New York Times
According to NBC News, these ads are intended to attract people's contact information on President Trump's official website. Jonathan Greenblatt, head of the U.S. Anti-Defamation League (ADL, an organization that monitors extremist groups, advises Trump's campaign manager to be more cautious in understanding and using icons.
"Whether or not they know the historical context and the meaning of symbols, the use of images related to the Nazis is sure to create more trouble," said Greenblatt.
Trump renews threat of "a complete decoupling from China"
Trump said the United States had the right to choose to completely separate from the Chinese economy after an official said the US - China had close trade relations, Aljazeera reported.
"The US certainly does maintain a policy option, under various conditions, of a complete decoupling from China," he wrote on Twitter.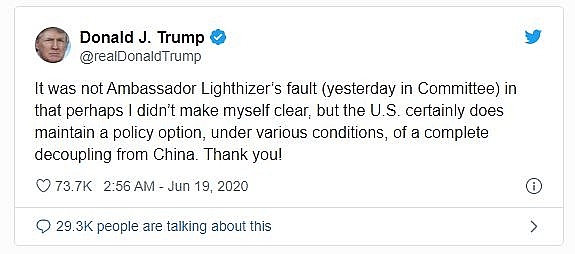 President Trump wrote on Twitter. Photo: Screenshot
This post was also a response to the previous comment by US Trade Representative Robert Lighthizer, who has always been at the forefront of trade war negotiations with Beijing.
Speaking to a House committee on June 17, Lighthizer said that China has so far met the terms of the "phase one" trade deal that helps reduce disputes, and the separation of the two powers was impossible. The world's leading economy is currently impossible.
"Do I think that you can sit down and decouple the United States economy from the Chinese economy?" he said. "No, I think that was a policy option years ago. I don't think it's a ... reasonable policy option at this point."
Lighthizer describes himself as a tough guy in China policy and outlines the Trump administration's plan to "re-establish" the World Trade Organization (WTO), primarily to better restrain policies of Beijing, which he says is violating free trade rules.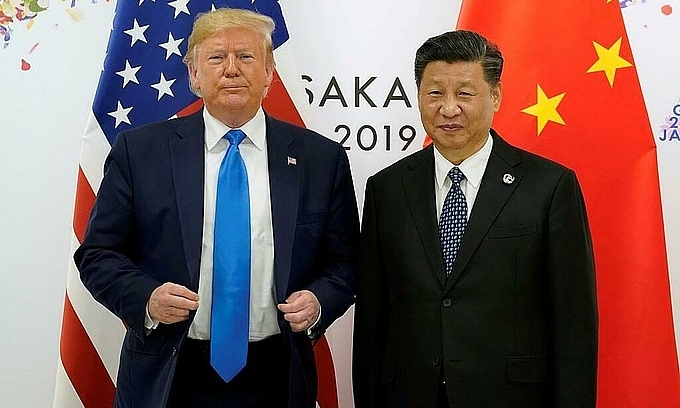 President Donald Trump and Chinese President Xi Jinping. Photo: Reuters
However, Lighthizer acknowledges that the world's two largest economies are closely linked, despite Trump's fierce campaign to push American companies to relocate their factories to the United States.
"It was not Lighthizer's fault to speak at the committee, the problem was that I probably did not say clearly," Trump emphasized.
Trump in January signed a "first-phase" trade agreement with China to end the trade war, in which he threatened to tax billions of dollars of products imported from China.
Secretary of State Mike Pompeo on June 18 met with Chinese State Councilor Yang Jiechi in Hawaii to discuss recent bilateral tensions. Pompeo said that Chinese officials pledged that Beijing would still implement a first-phase deal, including stepping up purchases of American products.US diplomat David Stilwell, who accompanied Pompeo, said the US wanted to strengthen "reciprocal" relations, but declined to elaborate.
US-China relations have deteriorated in recent months due to the Covid-19 pandemic and the Hong Kong security measure. Trump has said that he is not interested in talking to Chinese President Xi Jinping, maybe even terminate ties with the world's second largest economy.
The US B-52 crossing the Pacific to Japan for practicing long range escort and aircraft interception
Two Air Force B-52H Stratofortress bombers and several Navy E/A-18G Growlers practiced long-range escort and aircraft interception with the Japan Air Self-Defense Force on June 18 over the Sea of Japan, stripes.com reported.
Senior Airman Jar'quayla Doss of the 96th Aircraft Maintenance Unit marshalls a B-52H Stratofortress at Eielson Air Force Base, Alaska, Wednesday, June 17, 2020. Photo: LILLIAN MILLER/U.S. AIR FORCE
According to an Air Force statement on June 18, the two bombers left Eielson Air Force Base in Alaska for the mission, which involved four F-2 and 12 F-15 JASDF fighter jets "to enhance the readiness and security of the region".
"These strategic bomber missions provide our Airmen with the realistic long-duration sorties that they require to remain highly proficient and ready to act when called upon to support the collective defense of the United States," said 96th Bomb Squadron commander Lt. Col. Christopher Duff in the statement.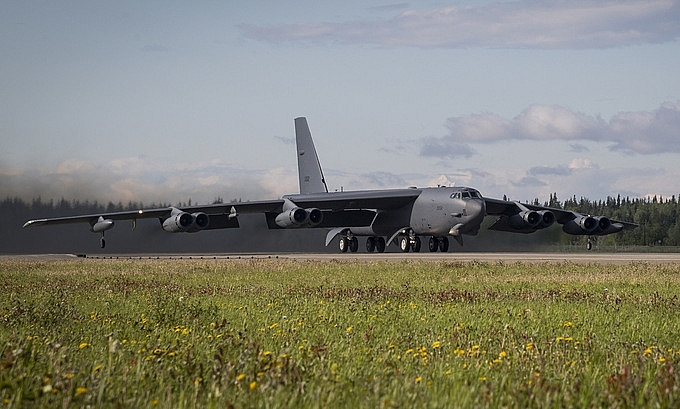 B-52H took off from Alaska on June 17. Photo: USAF
"The B-52Hs are supporting the mission of the Bombing Task Force (BTF), demonstrating America's steadfast commitment to security and stability in the Indo-Pacific region. The strategy also helps soldiers familiarize themselves with long-range flights, requiring them to maintain their skills and readiness to fight when ordered," said the No.2 Airborne spokesman.
The Pacific Fleet in early May also announced the launch of a fleet of seven submarines simultaneously to operate in the western Pacific. Observers say this is a strong message the United States delivered to China, after Washington accused Beijing of using Covid-19 to increase "reckless" and "bullying neighbors" activities.