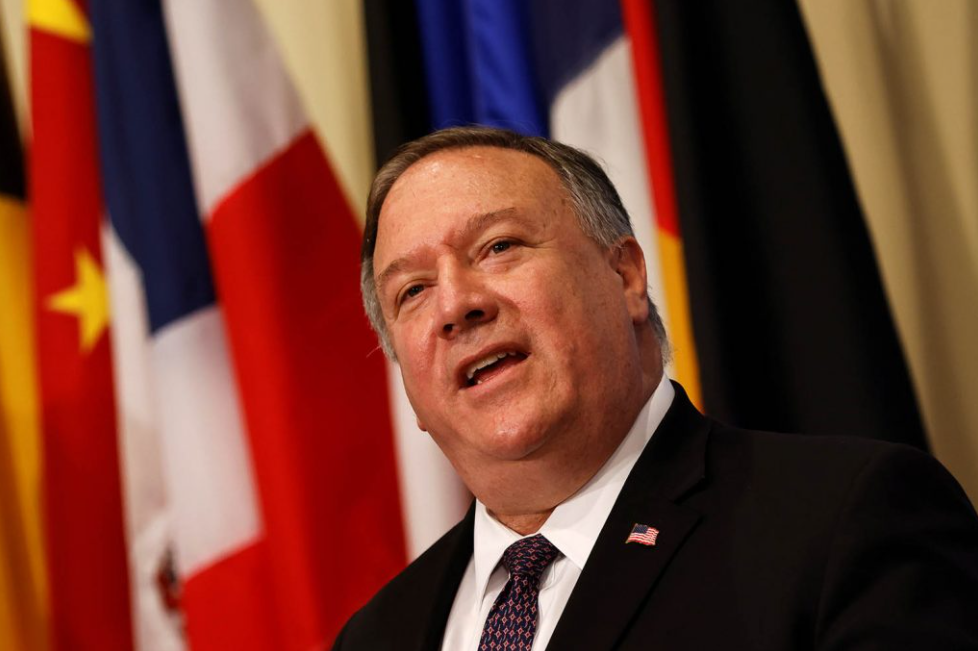 US Secretary of State Mike Pompeo speaks to reporters following a meeting with members of the U.N. Security Council about Iran's alleged non-compliance with a nuclear deal and calling for the restoration of sanctions against Iran at U.N. headquarters in New York, U.S., August 20, 2020. (Photo: Reuters)
In recent months, as relations between the two superpowers have imploded, US Secretary of State Mike Pompeo has stepped up his verbal salvoes at Beijing's governance.
Pompeo, who spoke at an Atlantic Council interview on September 15, has criticized China's "use of lucrative investment deals and advanced technology to gain leverage over other countries and backdoors into critical national-security and intellectual-property information".
"The world has wakened" to China's threat
"The world has wakened and my view is that the tide has turned," Pompeo told the Atlantic Council, an international affairs think tank in Washington. "I think these are powerful shifts in the world view of the threat from the Chinese Communist Party."
According to Atlantic Council, although China remains the largest trading partner for many of the United States' most important allies around the world, Pompeo said that many allies are beginning to rethink their reliance on Beijing. Over the last few years, Pompeo and other US officials have been lobbying US allies to take the threat posed by China seriously. Pompeo maintained that the United States has been advising these partners "not coercively, not threateningly, just [with] data. Just facts about what the Chinese Communist Party is doing to their people and to their country."
Global suspicion toward China has increased as Beijing has ramped up territorial disputes with India and Japan, drilled for oil in contested Southeast Asian waters, and tightened its grip over Xinjiang, Hong Kong, Tibet, and Inner Mongolia.
Pompeo pointed out deepening concern among US allies about the use of Chinese technology, which US officials have long feared would allow Beijing to gain access to national security information and trade secrets. A growing number of US allies, including Britain, Germany, Australia, Japan, and India, have taken steps to limit Huawei Technologies equipment in their 5G networks, wary of data theft that the company denies, South China Morning Post cited.
Chinese Foreign Minister Wang Yi and US Secretary of State Mike Pompeo at a recent meeting in Beijing. (Photo: Reuters)
US is ready to meet the China challenge
Pompeo explained that the United States' goal in pushing back against China is "to ensure that the rules-based system that has benefitted not only the United States of America but freedom-loving peoples all around the world is the dominant force for the next century."
Pompeo also rejected the idea that the future will bring a "conflict between the United States and the Chinese Communist Party because the United States is a declining nation," arguing that this notion "misunderstands American tradition; it misunderstands who we are as Americans." Rather than confronting China out of weakness, Pompeo argued, the United States is operating from a position of strength: "We are not a declining nation."
Concerns of a misstep as the two powers confrontation gets hotter
As the US and China flex their economic and political muscles, some see a growing risk of a misstep as communication between the giants falters, suspicion grows and the US prepares for a presidential election that's seen both major political parties criticize China.
"It's the risk of a military clash, particularly between the US and China in the South China Sea, that might start with a conflict or contingency with the Philippines or Vietnam," Greta Nabbs-Keller, a research fellow at Australia's University of Queensland said Monday at the Centre for Strategic and International Studies. Even a relatively minor clash could have severe reverberations across the Asian region, she added.
Increasingly tense US-China relations and more warships and military aircraft leave less margin of error in potential flashpoints, said Amanda Hsiao, Beijing-based project manager with the Switzerland-based Centre for Humanitarian Dialogue.
"There is just a greater chance for an accidental collision or an incident that might accelerate to a point that neither side wants to see," Hsiao said, an "unintended incident that then escalates into something much greater", South China Morning Post quoted.
Valerie Mai