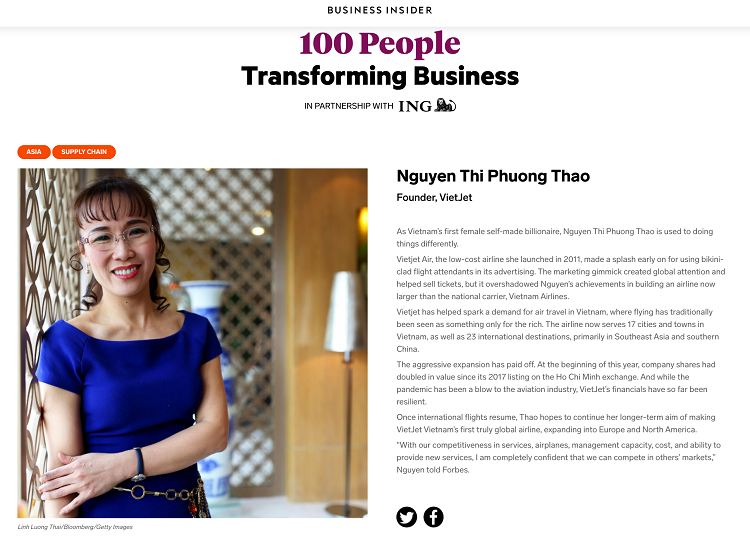 Vietjet Air CEO Nguyen Thi Phuong Thao has been the only Vietnamese to be included in the list of 100 People Transforming Business in Asia in 2020 by Business Insider. Photo: Vietnam Investment Review
Accordingly, the Vietnamese female billionaire came second among ten individuals listed in the Category of Supply Chain in Asia. Founder and COO of Grab Tan Hooi Ling and Changi Airport CEO Lee Seow Hiang also presented on the list alongside Thao.
"As Vietnam's first female self-made billionaire, Nguyen Thi Phuong Thao is used to doing things differently", said Business Insider.
She launched the low-cost carrier Vietjet Air in 2011 and has built up step by step the airline as a leading carrier in the region.
"Vietjet has helped spark a demand for air travel in Vietnam, where flying has traditionally been seen as something only for the rich. The airline now serves 17 cities and towns in Vietnam, as well as 23 international destinations, primarily in Southeast Asia and southern China".
At the beginning of this year, company shares had doubled in value since its 2017 listing on the Ho Chi Minh exchange. And while the pandemic has been a blow to the aviation industry, VietJet's financials have so far been resilient", Business Insider added.
The airline, in fact, last month posted a profit of 47 billion VND (approx. 2 million USD) for the first half of 2020.
In a previous interview with Forbes, Thao said that her long-term goal was to turn Vietjet into Vietnam's first truly global airline, expanding beyond Asia to Europe and North America.
The Business Insider 100 People Transforming Business series showcases leaders from three regions – North America, Asia, and Europe. The list of 100 in Asia features many familiar faces from leading enterprises in the region such as Tencent Vice President Edward Cheng, Bytedance (Tiktok) CEO Kelly Zhang as well as Han Seong-sook, CEO at South Korea's no 1 search engine Naver and Shopee COO Terence Pang.
As one of a few female leaders in the global aviation industry, Thao has been honored with numerous awards and accolades since the airline's first flight took off in 2011, Vietnam Investment Review reported.
In November 2019, she was named the APAC CEO of the Year at the 2019 Aviation 100 Awards held in Hong Kong which recognizes the year's most outstanding performers in the world's aerospace industry.
In September 2019, one of the world's most renowned magazines, Forbes announced her to be one of Asia's Most Powerful Businesswomen. She was also ranked 44th on the list of 'World's 100 Most Powerful Women' list by Forbes in 2018, up 11 notches from the year before.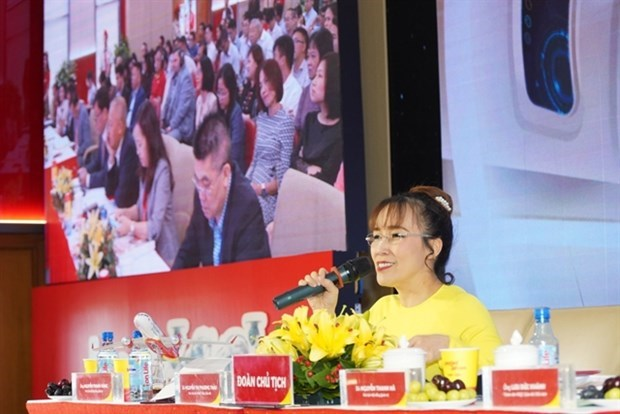 Vietjet Air CEO Nguyen Thi Phuong Thao delivers her speech at the AGM Photo courtesy of Vietjet
Vietjet's CEO was also honored as the leading female entrepreneur of the ASEAN and leading female entrepreneur of Vietnam at the ASEAN Business Awards 2018. She was included in the 2018 Bloomberg 50 list, which honors 50 icons and innovators who had been changing the global business landscape each year. Thao was also Vietnam's representative in a Harvard Business School case study.
Ms. Nguyen Thi Phuong Thao was born in 1970 in Hanoi. She used to have time to study and live in Eastern Europe. She is best known for being the President and CEO of Vietjet Air. She also chairs a multi-sector Sovico Group, HDBank, and many real estate businesses.
Malie Nguyen