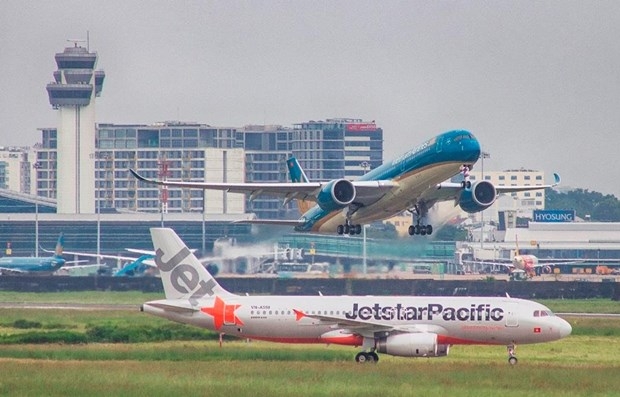 Illustrative image (Photo: VNA)
Vietnam Airlines will operate two flights a day on the route, while maintaining one flight daily on the routes between Da Nang and Hanoi/HCM City.
Jetstar Pacific will also increase the frequency of its flights between the two biggest cities to one daily instead of four a week. The flights will be conducted in the form of code sharing with Vietnam Airlines.
Meanwhile, Vietjet Air plans to operate two daily flights between Hanoi and HCM City, one flight daily between Hanoi/HCM City and Da Nang.
Passengers will also be required to wear face masks throughout the duration of the flight.
The airlines pledge to strictly adhere to hygienic and disinfection regulations for the flights, including health checks and health declaration of passengers, leaving space between seats according to requirements, and spraying disinfectants after each flight and at the end of the day.
Hanoi and HCM City, Vietnam's two largest cities, are classified among a group of localities at a high risk of COVID-19 community infection, and therefore they are subject to a social distancing extension to another week, Prime Minister Nguyen Xuan Phuc said at a meeting with permanent Cabinet members on April 15.
The extension will also apply to 10 other provinces and cities of the high-risk group, namely Lao Cai, Quang Ninh, Bac Ninh, Ninh Binh Da Nang, Quang Nam, Binh Thuan, Khanh Hoa, Tay Ninh, and Ha Tinh.
The government is to meet next week to examine the situation and decide on whether or not social distancing measures will be extended again in these localities till April 30.
The PM has issued the social distancing order lasting from April 1-15, in an attempt to prevent the novel coronavirus epidemic spreading to the wider community. Drastic measures introduced have proved to be effective as it helped keep the rate of infection rather low.
As of 06.00pm April 15, Vietnam has recorded 267 coronavirus cases with no fatalities. Of the total, 171 patients have fully recovered, and dozens of the remaining patients have tested negative for the deadly virus./.
Hannah Nguyen