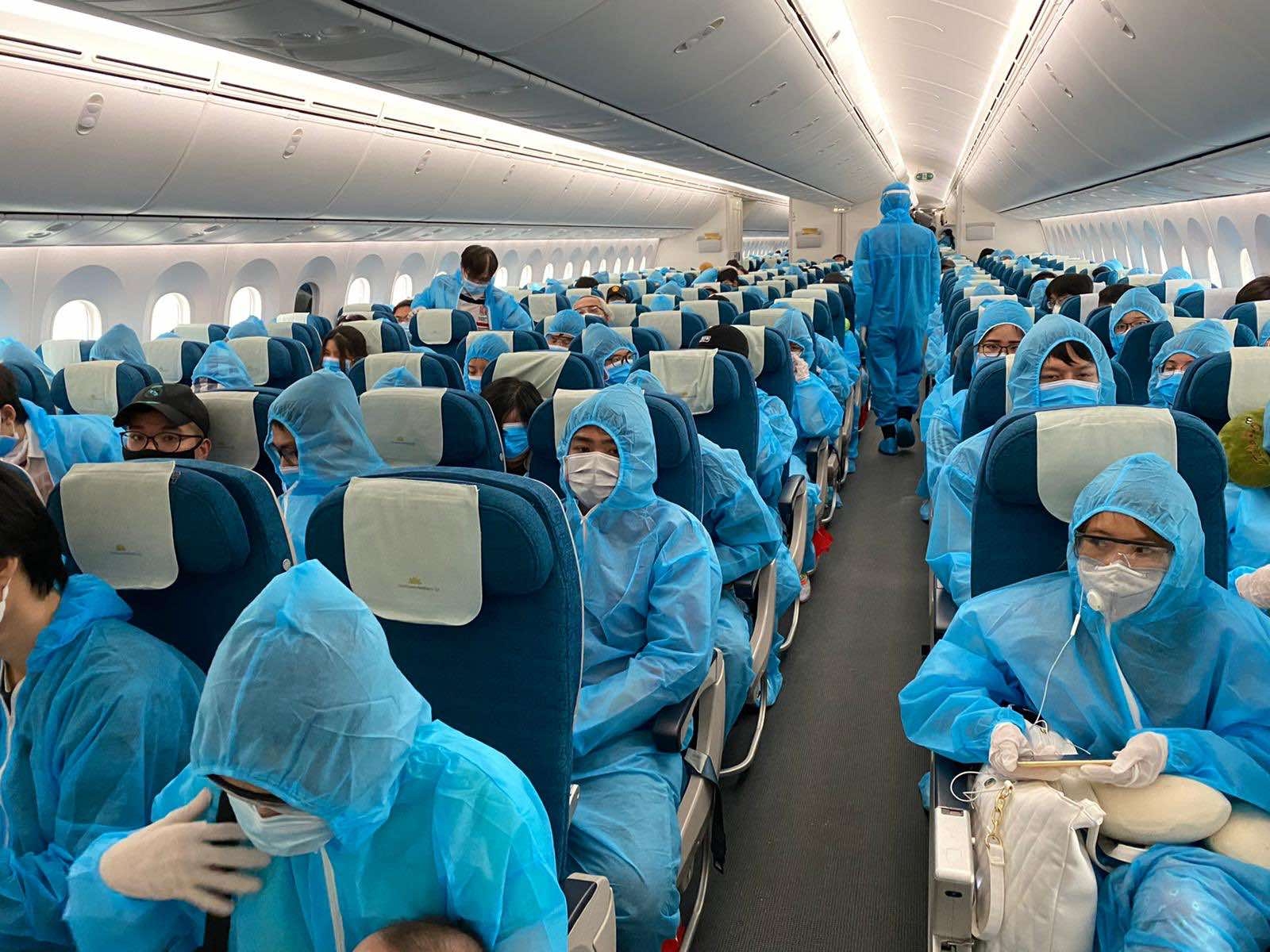 Passengers were required to wear face masks for the entirety of the flight. Photos: VNA
The passengers consisted of mostly children under 18, the elderly, people with medical conditions, guest workers whose labor contracts had expired, students without accommodation due to dormitory closure, and those who were on business or holiday with expired visas.
The arrangement of this flight required thorough coordination and enormous efforts among the Vietnamese state agencies, local authorities and Vietnam Airlines.
Vietnamese officials and Ambassador also came to the airports to assist the citizens with necessary procedures before they boarded the plane.
Previously, the flight from Hanoi carried foreign citizens to Germany as well as a 200kg shipment of medical masks British Embassy in Vietnam to its Government and people in the prevention and control of COVID-19.
The total flight lasted more than 27 hours throughout its departure from Noi Bai Airport to Frankfurt, flying through London and returned to Ho Chi Minh city.
To date, the UK is one of the countries heavily affected by the COVID-19 epidemic with a high number of infections and deaths.
Therefore, onround and in-flight service delivery strictly complied with regulations on pandemic prevention and flight safety. The flight crew was equipped with complete medical protective gear, and their communication was restricted during the service delivery.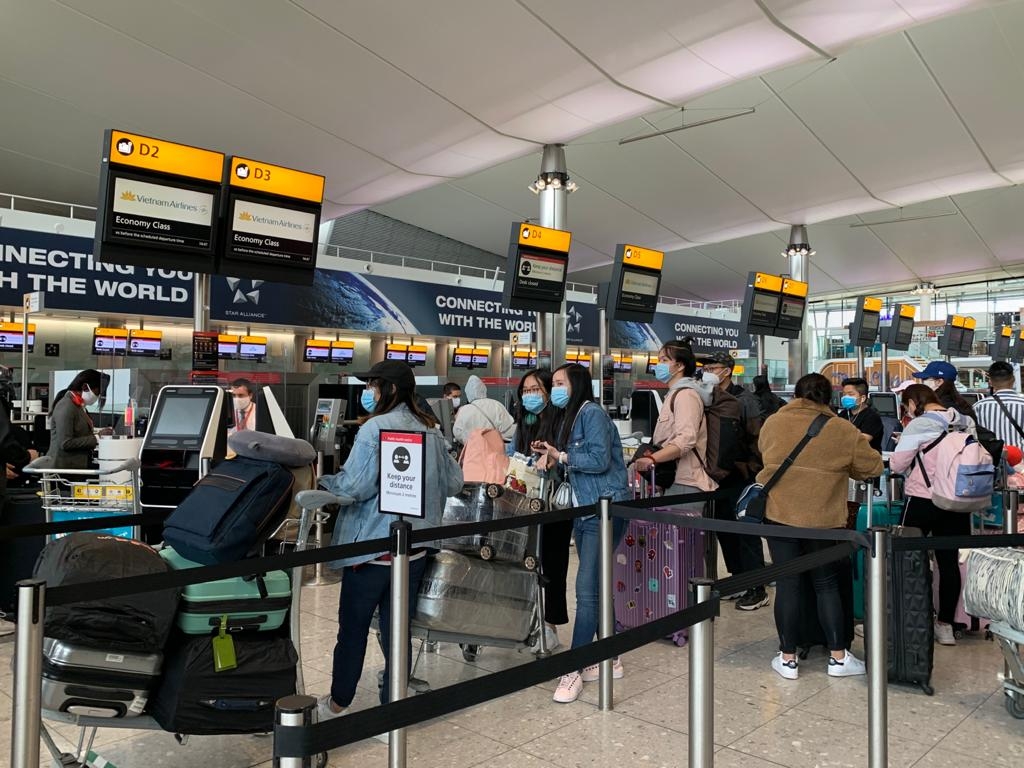 Vietnamese citizens carry out procedures to return home at Heathrow Airport. Photo: VNA
Passengers went through pre-boarding temperature screening and were required to wear face masks for the entirety of the flight. After landing in Tan Son Nhat International Airport, the passengers were taken to centralized quarantine areas per the regulations while the entire aircraft was cleaned and disinfected.
In April, relevant Vietnamese agencies, the Vietnamese Embassy in the UK and Vietnam National Airline cooperated to repatriate a number of Vietnamese citizens in the UK, including students under 18 years old, elderly people and people with extremely difficult circumstances.
At the same time, the flight also carried transported approximately 100 British citizens stranded in Vietnam and Cambodia to their home country.
Among those boarding the aircraft on April 13 were several British citizens who had fully recovered from the deadly virus following their treatment in Vietnam.
Vietnam Airlines also transported face masks as gifts of the Government and people of Vietnam to the Government and people of the United Kingdom.
In line with the Prime Minister's instructions, Vietnam's authorities, overseas representative agencies, and domestic airlines have organized repatriation flights for Vietnamese citizens with special circumstances in France, UAE, Canada, Italy, Japan, the US, Australia and New Zealand, etc.
More such flights will be conducted in the next time based on people's wishes, the quarantine capabilities of cities and provinces, and the pandemic's development for continuity of lights bringing Vietnamese nationals back home./.
Hannah Nguyen