Vietnam Covid-19 Updates (April 16): More Than 20,000 New Cases
As of April 14, the country had injected more than 209 million Covid-19 vaccine doses.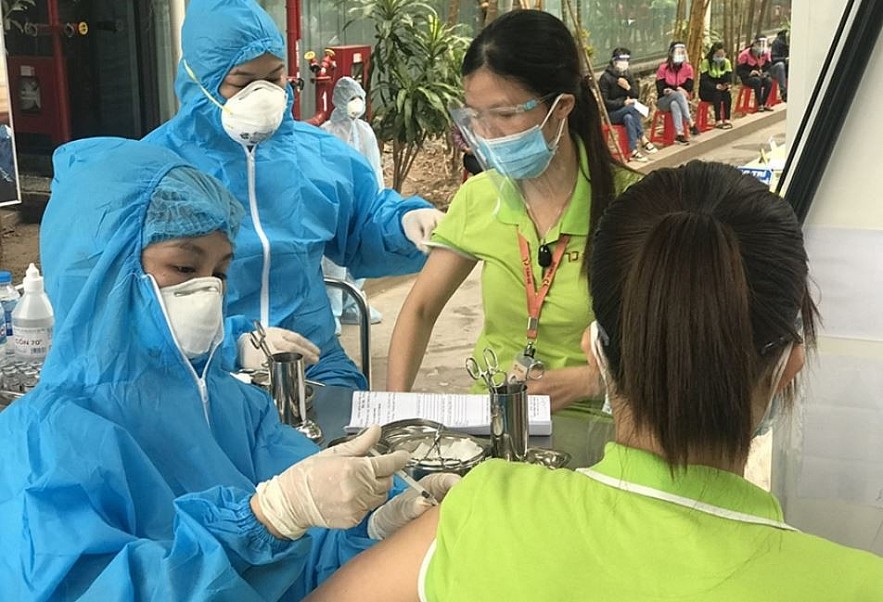 Photo: QDND
More than 20,000 new Covid-19 cases were confirmed over a 24-hour period
A total of 20,076 new Covid-19 infections were recorded on April 15 across 61 cities and provinces nationwide, marking a fall of 2,936 from the previous day, the Ministry of Health reported. The majority of the new cases were detected in Hanoi at 1,425, trailed by Phu Tho province with 1,094 cases, and Bac Giang province with 935 cases.
The past 24 hours have seen 23 deaths relating to Covid-19, thereby pushing up the country's total death toll to more than 42,924, or 0.4 % of all infections since the pandemic initially broke out last year. Following the fourth wave of infections that hit the country in late April, more than 2.18 million cases have since been detected, whilst over 1.92 million people have now recovered from the pandemic.
The same day also saw the Ministry of Health announce the full recovery of a further 6,417 Covid-19 patients after they were declared to be free from the virus, duly elevating the total number of recoveries up to 8,863,044.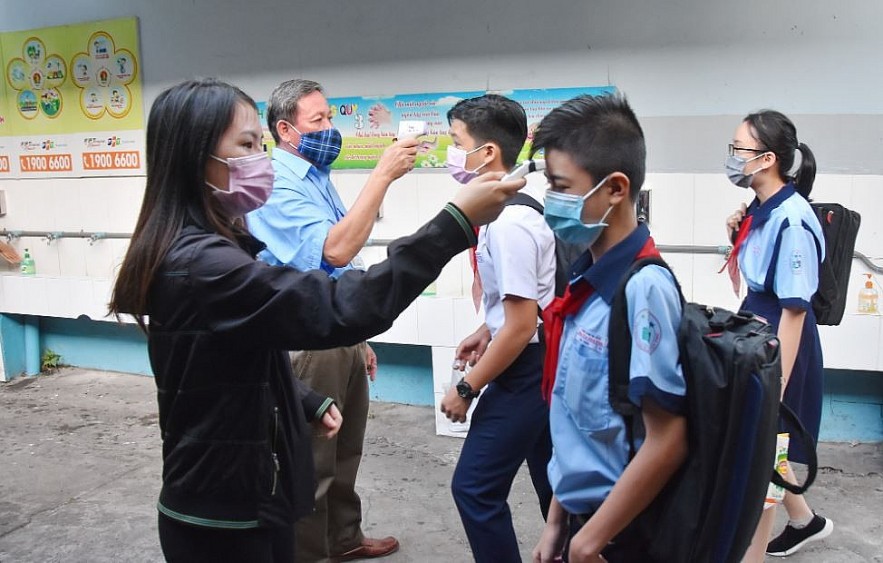 Photo: NLD
Vietnam begins to issue vaccine passports on April 15
The Health Ministry begins to issue vaccine passports on April 15 in line with the schedule. Vietnam's vaccine passport follows standards issued by WHO and the EU which are being applied by 62 nations. The passport will be available on PC Covid-19 or Digital Health apps. If people don't have the apps, they can get their passports by accessing the health ministry's portal and filling in the necessary information. They will then receive the passports by email.
The passport template was revealed by the Health Ministry in December last year, which has 11 fields of information: name, date of birth, nationality, the targeted disease, doses of vaccines received, date of vaccination, lot number of the vaccine batch, type of vaccine, vaccine product received, the vaccine manufacturer, and a code for the certification.
The name and date of birth will be integrated with other personal identification documents (passports or citizen identification cards). The information is encoded into a QR code, which will expire after 12 months. Following their expiry, people will be notified and a new QR code will be created instead.
So far Vietnam has reached mutual recognition of vaccine passports with 19 countries, namely Japan, the US, the UK, Australia, India, Belarus, Cambodia, the Philippines, Palestine, Maldives, New Zealand, Sri Lanka, Egypt, Turkey, Singapore, Saint Lucia, the Republic of Korea, Iran and Malaysia.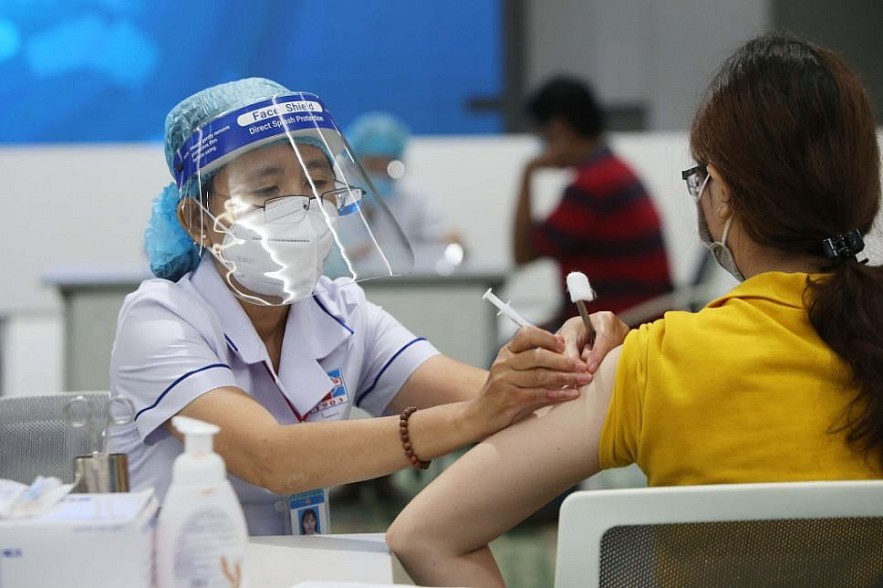 Photo: TN&MT
HCM City to vaccinate children aged 5-12 against Covid-19 from April 16
Ho Chi Minh City will begin vaccinations against Covid-19 for 6th graders in all 23 districts and Thu Duc city and 5th graders in four primary schools on April 16. The information was unveiled by Ho Tan Minh, Chief of the Office of the municipal Department of Education and Training at a press conference on the city's Covid-19 prevention and control, and economic recovery on April 14.
After drawing lessons and experience from the first round of inoculation, the city will vaccinate children aged 5-12 as scheduled, Minh said, adding that parents must approve the vaccination for their children by a written document and be present throughout the process of injection.
Nguyen Hong Tam, Deputy Director of the city's Centre for Disease Control (HCDC), said HCM City was due to receive 87,500 doses of COVID-19 vaccines on April 14 night, making up one-tenth of the needed total. Under a plan adopted by the municipal People's Committee earlier this month, HCM City is to inoculate 898,537 children, including 885,730 students and 12,807 kids brought up at social support centers and those who have not gone to school yet. The inoculation is expected to be finished by September this year.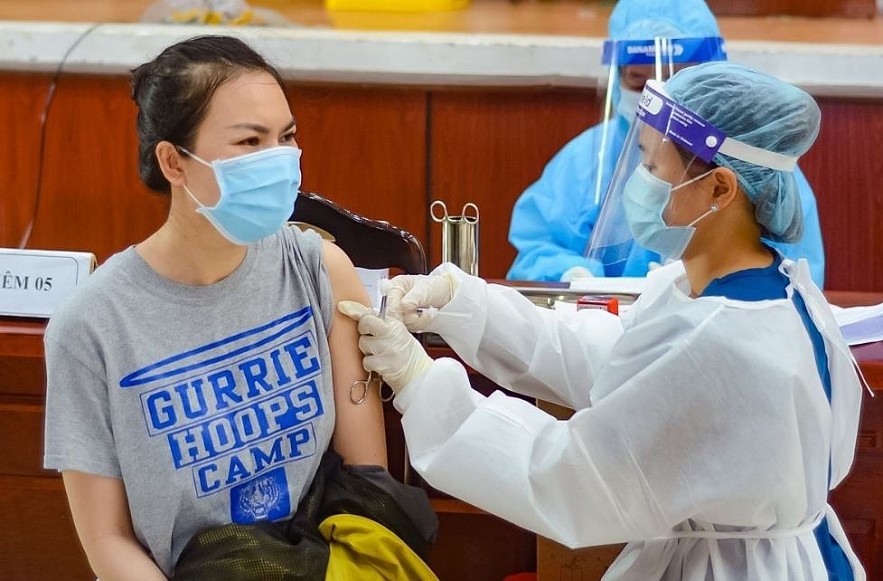 Photo: TN&MT
Government agrees to receive Covid-19 vaccines donated from foreign governments
The government has agreed with the Ministry of Health (MoH) on the receipt of Covid-19 vaccines donated by foreign governments and supplied by international organizations for children aged from 5 to under 12 years old. In case the commercial purchase of vaccines for children is necessary, the MoH should proactively decide and bear the responsibility for the volume, time, and vaccine types to be bought in accordance with vaccination progress, and report to the Prime Minister, the resolution said.
According to the resolution, the government has also agreed to let the Prime Minister allow the selection of bidders in special cases as prescribed in Article 26 of the Bidding Law, with similar conditions stated in the Government's resolutions on purchasing Covid-19 vaccines for adults.
The MoH will also bear the responsibility to receive donated vaccines, buy vaccines, and organize Covid-19 vaccination activities for children aging from 5 to under 12 in a reasonable, safe, scientific, and effective manner while ensuring progress. The resolution takes effect from April 14.
As of April 14, the country had injected more than 209 million Covid-19 vaccine doses.
Meanwhile, the National Institute of Hygiene and Epidemiology has decided to allocate 921,600 doses of the Covid-19 Moderna vaccine donated by the Australian Government to vaccinate children from five to under 12 years old across the country.
In line with the vaccine allocation decision issued by the Central Institute of Hygiene and Epidemiology, Hanoi will receive 72,700 doses to immunize children in this age group, with vaccinations set to begin on April 17. Elsewhere, Ho Chi Minh City started its Covid-19 vaccination campaign for children aged five to under 12 on April 15, with the inoculation process expected to be finalized by September this year.