Vietnam Covid-19 Updates (August 12): Additional 4,642 Cases Recorded
To date, Vietnam has administered 12,098,821doses of Covid-19 vaccines. A total of 1,092,700 people have received two full shots.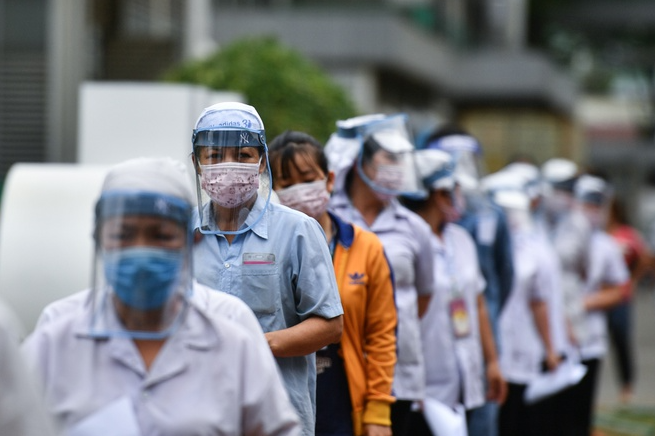 Photo: Zing
Additional 4,642 cases recorded on August 12 morning
Vietnam documented 4,642 new Covid-19 infections, including three imported cases, from 6:30 pm on August 11 to 6 am on August 12, raising the national count to 241,543. As many as 1,256 cases were detected in the community.
Ho Chi Minh City, the country's largest coronavirus hotspot, led all cities and provinces in infection numbers, logging 2,318 cases. It was followed by Binh Duong 911, Dong Nai 425, Long An 354, Tien Giang 212, and Tay Ninh 79, all in the south. In the central region, the past 12 hours saw 130 new cases detected in Khanh Hoa, 20 each in Thua Thien – Hue and Binh Dinh, 15 each in Dak Lak and Phu Yen, and 14 in Nghe An.
In the central region, the past 12 hours saw 130 new cases detected in Khanh Hoa, 20 each in Thua Thien – Hue and Binh Dinh, 15 each in Dak Lak and Phu Yen, and 14 in Nghe An. Like previous days, the northern region registered the fewest number of infections, with Hanoi recording only two new cases and Hung Yen one new case.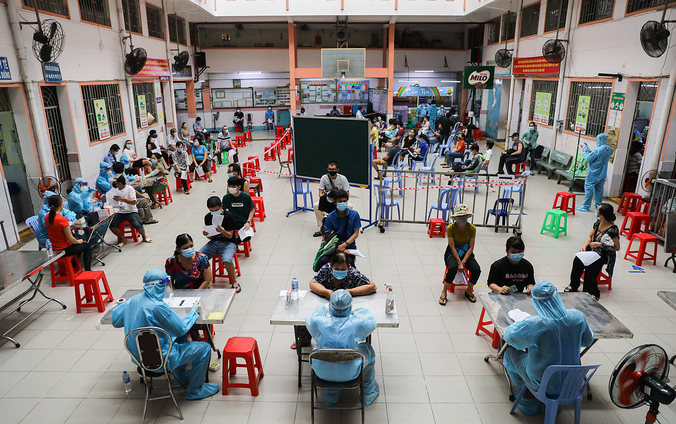 Photo: VN Express
Another shipment of Pfizer vaccine to arrive in Vietnam this week
Nearly 218,000 doses of the Pfizer Covid-19 vaccine are expected to be delivered to Vietnam in a couple of days, according to the Ministry of Health. The vaccine will be transferred directly to the cold storage facility of the National Institute of Hygiene and Epidemiology upon arriving at Noi Bai International Airport in Hanoi.
The shipment will raise the total number of Pfizer vaccine doses Vietnam has received from the manufacturer to nearly 1,270,000. Minister of Health Nguyen Thanh Long said in early August that Vietnam is set to receive between 47-50 million doses of the Pfizer doses in the fourth quarter of this year.
Vietnam has so far received nearly 19 million doses of Covid-19 vaccines from different sources. It has ramped up the national vaccination campaign nationwide, with nearly 400,000 shots given daily. More than 12 million doses of the Covid-19 vaccines have been administered, and close to 1.1 million people have received the second shot. Vietnam aims to vaccinate 70% of the population or 75 million people by early 2022 to achieve herd immunity.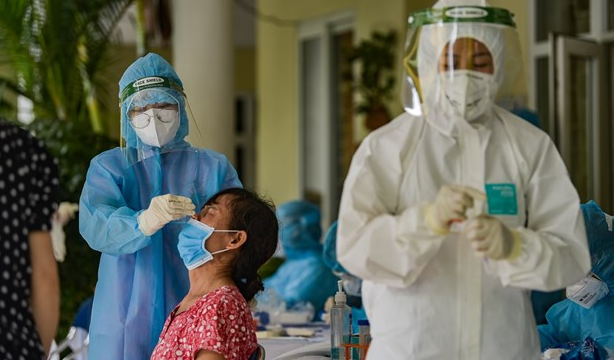 Photo: VNA
Hanoi to conduct PCR test on 1.3 million people for Covid-19
The capital city of Hanoi is racing against time to conduct mass Covid-19 testing for high-risk people in an effort to soon stamp out the ongoing Covid-19 outbreak and return to the "new normal." The city aims to collect about 1.3 million samples for RT-PCR testing from August 9 – 17, according to a plan by the municipal People's Committee.
The targeted population will be classified into three groups based on risk levels, with red representing those with the highest level of risk of infection, followed by orange as those at-risk, and green as low-risk people.
Hanoi will test all people of the "red group", those with suspected symptoms of Covid-19 and a selected number of "orange" group people who work in highly exposed sectors, such as medical workers, patients, Covid-19 control forces, food supply chain workers, traders in wet markets, shippers, drivers and security guards. The city also plans to carry out 2 million rapid tests for screening purposes.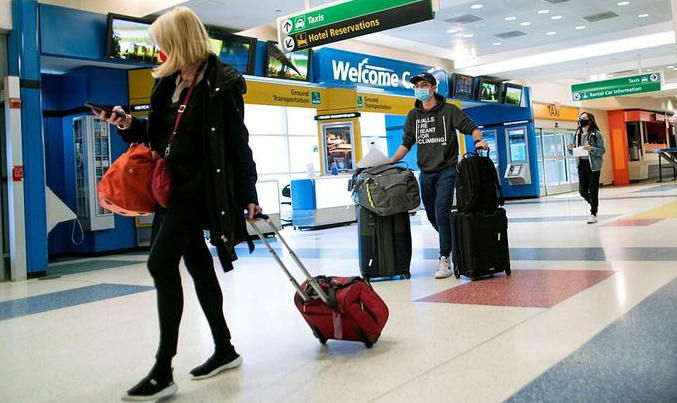 Photo: VN Express
US names Vietnam among high-risk Delta variant countries
The U.S. Centers for Disease Control and Prevention updated its travel warnings Tuesday to include Vietnam in the group of high-risk countries due to rising infection numbers. Sixty-five countries and territories, including Vietnam, India, Japan, Cambodia, and the Philippines have been listed as level 3, or those posing high Covid-19 risks in the agency's latest travel advisory.
The agency has warned unvaccinated travelers to limit non-essential travel to Vietnam. Due to the current pandemic situation in the country, all travelers may be at risk of contracting or spreading Covid variants, it said.
If American citizens must travel to Vietnam for essential purposes, they are advised to get fully vaccinated before arrival and follow local recommendations and requirements like wearing a mask and staying two meters away from others. U.S. citizens returning from Vietnam are required to obtain a negative Covid test result no more than three days before travel or documentation proving recovery from Covid issued in the past three months before boarding a flight to the States. They should undergo a viral test three to five days after returning from Vietnam and self-monitor for Covid symptoms.
The number of infections since the fourth wave of outbreaks hit Vietnam on April 27 reached 237,589, with 82,380 patients given the all-clear. The total number of recoveries reached 85,154. Among patients under treatment, 489 are being cared for in ICU, while 21 are treated with the support of ECMO.
To date, Vietnam has administered 12,098,821 doses of Covid-19 vaccines. A total of 1,092,700 people have received two full shots.