Vietnam Covid-19 Updates (Dec. 18): 15,236 Cases Over Past 24 Hours
As of 6 pm on December 17, Vietnam has detected 1,508,473 Covid-19 cases since the start of the first outbreak in January 2020, ranking 32nd out of 223 countries and territories worldwide.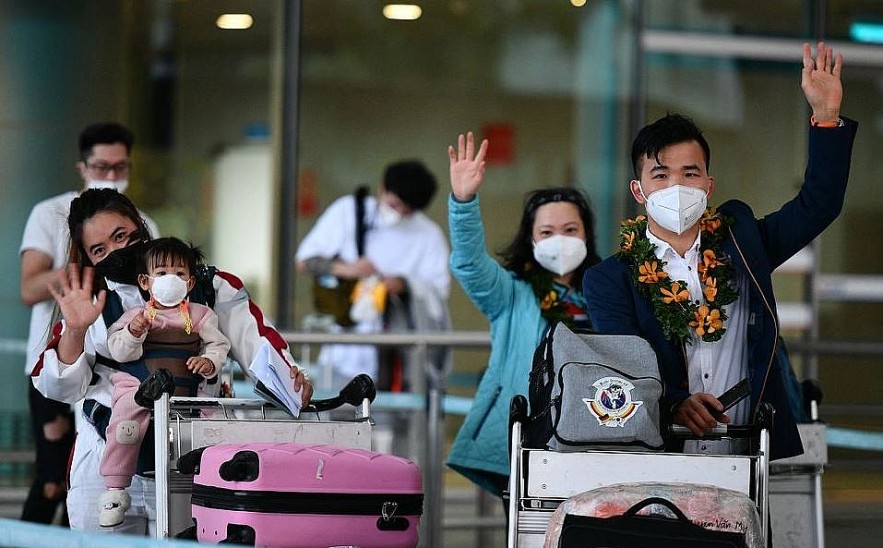 Photo: Zing News
Vietnam posts 15,236 cases of Covid-19 over past 24 hours
Vietnam recorded 15,236 Covid-19 infections, including 21 imported cases, during 24 hours from 4 pm December 16 to 4 pm December 17, according to the Ministry of Health. There were 15,215 locally transmitted cases, a drop of 52 cases compared to the previous day.
The capital city of Hanoi still topped northern localities, registering 535 new cases, followed by Bac Ninh with 255 cases. Dozens of new cases were also reported in Lang Son, Nam Dinh, Hai Duong, Hung Yen, Thai Binh, Vinh Phuc, Thai Nguyen, Ha Giang, and Son La.
The majority of the newly detected cases were in the south, with Ben Tre recording the highest number, at 1,246, followed by Ca Mau 1,071, and Ho Chi Minh City 1,040. Other southern localities seeing hundreds of new cases documented were Tay Ninh, Binh Phuoc, Dong Thap, Can Tho, Vinh Long, Khanh Hoa, Bac Lieu, Soc Trang, Tra Vinh, Dong Nai, Tien Giang, and An Giang.
Photo: Zing News
HCM City commends religious dignitaries, followers joining in Covid-19 fight
A ceremony was held in Ho Chi Minh City on December 16 to honor religious dignitaries and followers who made contributions to the city's Covid-19 fight. To Thi Bich Chau, Chairwoman of the Vietnam Fatherland Front Committee of HCM City highly valued the efforts of religious followers who volunteered to offer support and take care of Covid-19 patients at local hospitals.
She believed that with the solidarity and the spirit of 'the haves helping the have-nots', HCM City will surmount difficulties and resume all activities in the time to come.
From July 22 to October 21, in response to a call of local authorities, 679 religious dignitaries and followers voluntarily worked at nine Covid-19 treatment hospitals in HCM City.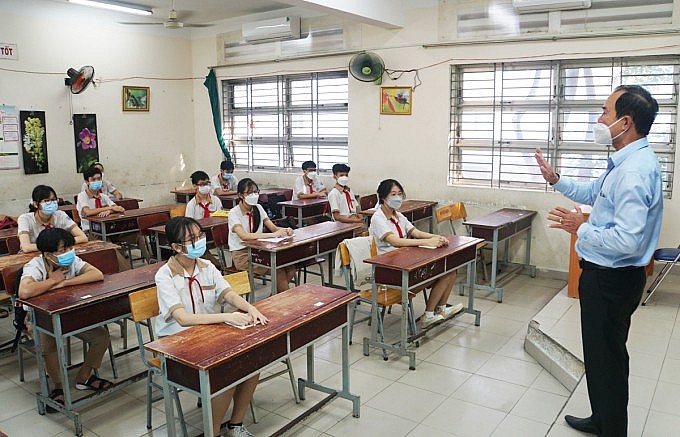 Photo: VN Express
Vietnam, India eye resumption of direct flights
Vietnam and India have agreed to work toward recognizing each other's vaccine passports and soon resume direct flights to facilitate travel demand. During a meeting in New Delhi on Thursday, Vietnam's National Assembly Chairman Vuong Dinh Hue and Speaker of the Lok Sabha (House of Representatives) of India Om Birla agreed both countries should soon reopen direct flights and recognize each other's vaccine passports in order to enhance exchanges and meet travel demand. Hue is on a five-day official visit to India starting Wednesday.
Australia, Belarus, Japan, the U.K., and the U.S. have officially accepted Vietnam's vaccine passport while India and Canada have agreed in principle, according to the Foreign Affairs Ministry. In 2019, Indian carrier IndiGo launched direct flights from the eastern Indian city of Kolkata to Ho Chi Minh City and Hanoi, the first-ever direct flight between the two countries.
The number of Indian visitors to Vietnam has grown steadily over the past years from 19.9 percent year-on-year in 2015 to 30 percent in 2018, and 28 percent in 2019, according to the Vietnam National Administration of Tourism (VNAT). Many Indian investors have been eyeing the Vietnamese market in recent years. Vietnam grounded all international flights in March last year, allowing only Vietnamese citizens, foreign experts, investors, and highly-skilled workers to enter on special flights.
Photo: VN Express
Vietnam to resume nine regular international air routes
Regular international flights from/to Vietnam will be resumed in two phases, with air travel with nine foreign destinations to be available again in the first phase and fifteen in the second phase, according to the latest scenario developed by the Civil Aviation Authority of Vietnam (CAAV). It is the third scenario developed by the CAAV for the resumption of international flights from/to Vietnam, CAAV Deputy Director Vo Huy Cuong said on December 16.
Under the new plan, Vietnam will restore regular international air routes with Beijing/Guangxi (China), Tokyo (Japan), Seoul (the Republic of Korea), Taipei (Taiwan, China), Bangkok (Thailand), Singapore, Vientiane (Laos), Phnom Penh (Cambodia), and San Francisco/Los Angeles (the US). The reopening of regular international flights is expected to fuel travel demand from these destinations to Vietnam, Cuong said, adding that people will be able to travel normally to Vietnam without having to transit through other destinations.
During the second phase, flights will be likely to reconnect Vietnam with six more other foreign destinations, including Kuala Lumpur (Malaysia), Hong Kong (China), Paris (France), Frankfurt (Germany), Sydney (Australia) and Moscow (Russia).
Concerned authorities will evaluate the implementation of the plan before allowing regular international flights to resume to the pre-pandemic level, he stressed.
As of 6 pm on December 17, Vietnam has detected 1,508,473 Covid-19 cases since the start of the first outbreak in January 2020, ranking 32nd out of 223 countries and territories worldwide. Of the infected patients, 1,095,518 have been discharged from the hospital after making a full recovery from the disease.
As many as 29,103 patients have died of the virus, making up 2% of the total number of infections. Nearly 137 million vaccine doses have been administered nationwide, with more than 60 million people getting their second shot and 1.23 million people receiving their booster jab.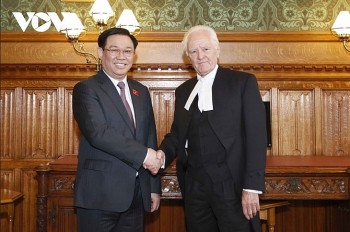 Friendship
Vietnam is willing to create all favourable conditions for investors of the UK to operate in the Southeast Asian country, National Assembly (NA) Chairman Vuong Dinh Hue told UK Secretary of State for International Trade Anne-Marie Trevelyan during their meeting on June 29 (UK time).