Vietnam Covid-19 Updates (Dec. 3): More Than 13,000 New Cases Added to National Tally
Over 125.1 million people have now been inoculated against the virus, with more than 52.7 million people now having received two doses of the Covid-19 vaccine.
Photo: Zing News
Vietnam records 13,698 new Covid-19 cases
Vietnam logged 13,698 new Covid-19 cases in the past 24 hours to 4 pm on December 2, according to the Ministry of Health. Of the daily total, 7,538 cases were detected among the local community.
The three localities recording the highest number of new infections were Ho Chi Minh City with 1,738 cases, Can Tho with 985, and Dong Thap with 606. Hanoi capital recorded a total of 409 cases, with the majority being detected among the community.
Health authorities also confirmed that 13,258 recoveries over the past 24 hours.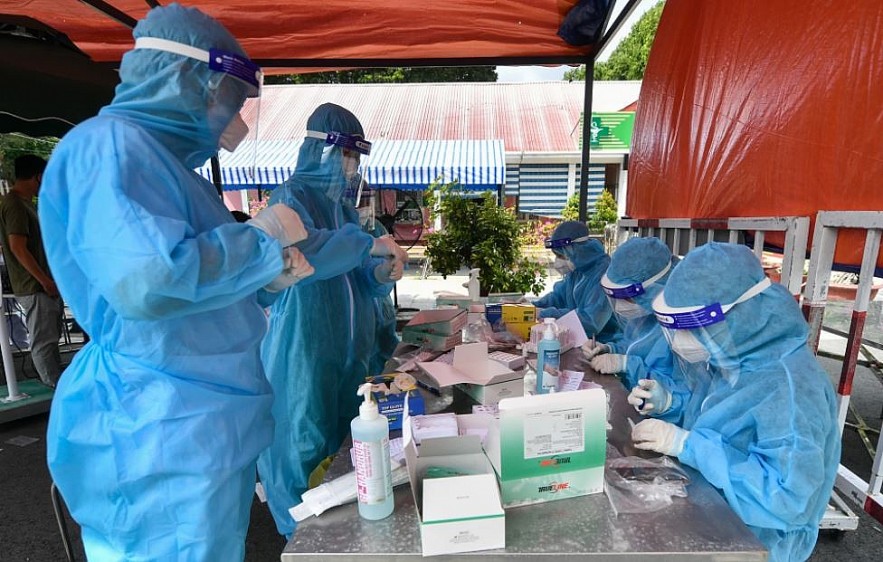 Photo: Zing News
8 tourist facilities in Da Nang allowed serving foreign tourists
Authorities in Da Nang City have announced a list of five accommodation facilities and three tourist sites that can admit foreign tourists under a vaccine passport trial program. They are Vinpearl Condotel Riverfront Danang, Vinpearl Resort and Spa, Vinpearl Luxury Resort, Risemount Resort Danang, and Muong Thanh Luxury Da Nang Hotel. The tourist attractions are Sun World Ba Na Hills, Marble Mountains, and Cham Sculpture Museum.
Da Nang is one of five localities that fully vaccinated foreign tourists are allowed to visit under the trial program, the others being Khanh Hoa, Kien Giang, Quang Nam, and Quang Ninh provinces. The city hopes to receive over 11,000 visitors this month. All of them need to furnish certificates showing they are fully vaccinated or have recovered from Covid, and tested negative within 72 hours before departure.
They are also required to book a package tour with a designated travel agency, have medical or travel insurance including coverage for Covid-19 treatment worth at least US$50,000, and install the IGOVN and PC-Covid health declaration applications on their phones while in Vietnam.
In less than three weeks since reopening to international tourism in mid-November, Vietnam has seen 978 foreign tourists visit Quang Nam, Khanh Hoa, and Kien Giang. The country closed its doors to foreign tourists and grounded international flights in March 2020, and has since allowed entry only to Vietnamese repatriates and foreign experts, investors and highly-skilled workers.
Photo: Zing News
Health Ministry receives 500,000 AstraZeneca vaccine doses donated by Argentina
The Ministry of Health received 500,000 doses of Astra Zeneca Covid-19 vaccine, worth over USD 2 million presented by the Government of Argentina, at a ceremony held in Hanoi on December 2. Speaking at the handover ceremony, Deputy Minister of Health Tran Van Thuan said the cooperation between Argentina and Vietnam is developing well since the two countries established diplomatic relations in 1973. The seventh meeting of the Argentina-Vietnam Intergovernmental Committee on Economic, Trade and Science and Technology Cooperation was held virtually in October this year.
Regarding the health sector, the two sides will strengthen cooperation on food safety and the use of Argentinean pharmaceutical products in Vietnam. In particular, the two sides agreed to strengthen collaboration to improve medical service quality, health infrastructure, and the fight against the pandemic.
Argentinean Ambassador to Vietnam Luis Pablo Maria Beltramino said this is the first time that the Argentinean Government has donated vaccine to another country and Vietnam is the country that has received the most vaccine support from Argentina, adding that his country will always remember that Vietnam has supported Argentina with 20,000 masks for the prevention of Covid-19 last year.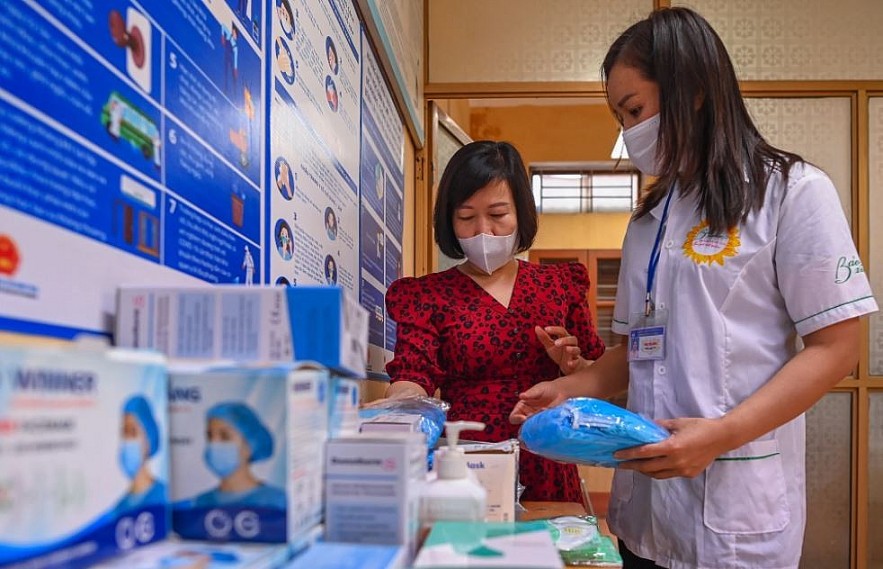 Photo: Zing News
HCM City to pilot in-person classes in December
The authorities of Ho Chi Minh City have issued a plan on organizing pilot in-person classes starting December 13. The pilot program, targeting students in the 1st, 9th, and 12th grades, will last for two weeks until December 25, with five-year-old kids attending their kindergartens from the beginning of the second week. In the district of Can Gio alone, the Thanh An kindergarten, primary school, and secondary-high school will apply the face-to-face method for all classes during the two-week.
Based on the outcomes of the pilot and advice from the municipal departments of Health and Education and Training, the local People's Committee will decide whether to gradually expand the subjects of the program or to reopen schools across the city on January 3 next year. Schools are required to conduct meetings with parents for coordination measures, organize training for teachers and other staff on Covid-19 prevention and control in the new context, and offer guidance for students on pandemic safety.
Earlier, from October 20, the city has piloted face-to-face teaching at a number of classes in the Thanh An primary and secondary high schools in the Can Gio district.
The new infections raised the total number in the country since the start of the pandemic to 1,266,288. The Covid-19 death toll nationwide also rose to 25,658. The average daily number of new cases in the country over the past seven days now stands at 13,568, while the death rate has been at a daily average of 179.
Over 125.1 million people have now been inoculated against the virus, with more than 52.7 million people now having received two doses of the vaccine.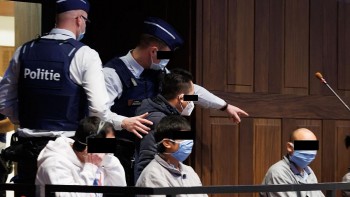 Overseas Vietnamese
Belgian court sentenced smuggler organization over 39 Vietnamese victims found dead in sealed lorry container in Essex.