Vietnam COVID-19 Updates (Feb 6): Second morning of no new cases
According to the 6 am news of the National Steering Committee for COVID-19 Prevention and Control, on the morning of February 6, Vietnam did not record new cases of COVID-19.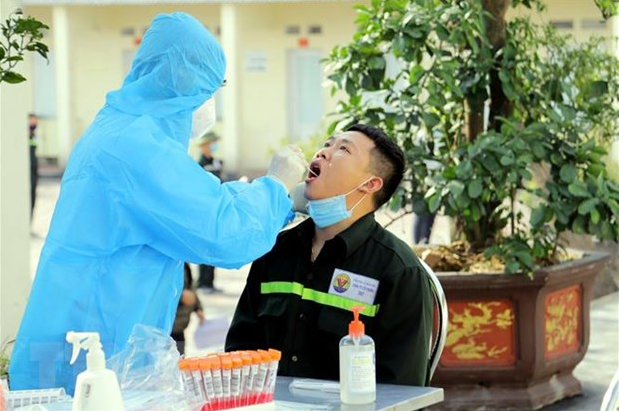 The second morning of no new cases (Photo: VNA)
The second morning of no new cases
Vietnam detected 19 cases of COVID-19 in the community over the past 12 hours to 18:00 on February 5, bringing the national count to 1,976, according to the National Steering Committee for COVID-19 Prevention and Control. Of the tally, 1,087 are locally transmitted. Among the latest patients, one is in Hanoi, 12 in Hai Duong province, two in Quang Ninh province, three in Dien Bien province, and one in Ha Giang province.
Meanwhile, on the morning of February 6, no new cases were recorded.
As many as 1,465 COVID-19 patients in Vietnam have been given the all-clear. The fatalities stand at 35. Of the active patients, 10 have tested negative for the coronavirus SARS-CoV-2 once, three twice, and two thrice. More than 80,110 people who had close contact with COVID-19 patients or came from pandemic-hit areas are under health monitoring nationwide.
The Ministry of Health on February 5 sent experts to the northern mountainous province of Dien Bien to help the locality in the pandemic combat.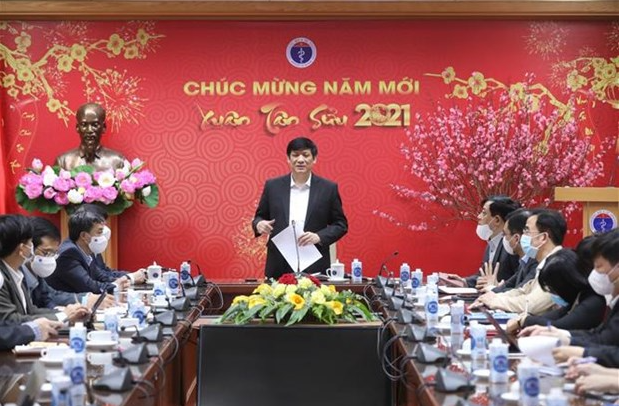 Health sector makes three changes to anti-COVID-19 strategy. (Photo: VNA)
Health sector makes three changes to anti-COVID-19 strategy
The health sector has identified three changes in the strategy for COVID-19 prevention and control, relating to the combination of samples for testing, home quarantine for children under five years of age, and the transportation of goods stuck in pandemic-hit areas.
At a teleconference on February 5, Minister of Health Nguyen Thanh Long told the localities with community transmission of COVID-19 that due to the demand for widespread testing in northern Quang Ninh and Hai Duong provinces, where the latest outbreak began, the Ministry of Health now permits the combination of 10 - 15 samples collected from the same families in one test, instead of five samples like what has been done so far.
The minister also holds that children under five can be quarantined at home, under certain conditions, and local authorities must be responsible for strictly monitoring them, he noted. Citing Prime Minister Nguyen Xuan Phuc's order for not hampering economic activities in the COVID-19 fight, Long said the provinces and cities with sufficient testing capacity can transport goods to other localities, but anti-COVID-19 measures must be applied for both goods and drivers.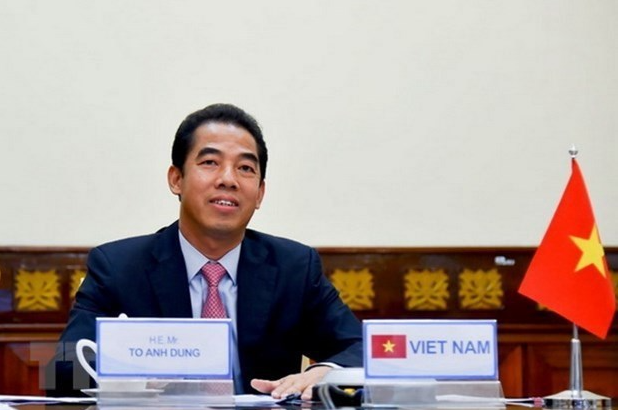 Deputy Minister To Anh Dung. (Photo: VNA)
Citizen protection work bolstered amid COVID-19: Deputy FM
The Ministry of Foreign Affairs (MOFA) and relevant ministries and localities arranged over 300 flights in 2020 to bring nearly 85,000 citizens home from 59 countries and territories, according to Deputy Minister To Anh Dung. With the spirit of "Leaving no one behind" as stated by Prime Minister Nguyen Xuan Phuc, Vietnamese authorities and representative offices abroad have closely joined hands with domestic and foreign airlines to organize safe repatriation flights, in keeping with the country's quarantine capacity, he said.
The repatriation of stranded citizens will continue in the coming time, in an effort to best meet the citizens' rightful wishes, based on the developments of the pandemic at home and abroad and in tandem with preventive measures, as well as domestic quarantine capacity. For those who remain abroad, the Foreign Ministry and representative offices abroad have maintained close cooperation with local agencies to ensure the best conditions for their daily activities, health care, learning, and jobs.
The number of overseas Vietnamese has been on the rise in the recent past. Statistics of the Consular Department at the MOFA showed that the number of protected citizens rose to 21,384 last year from just 8,024 in 2017.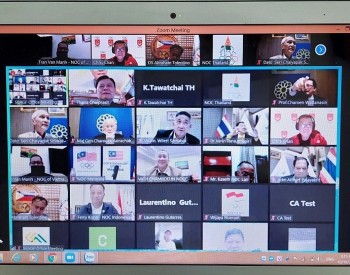 National
Vietnam News Today (October 19): Vietnam records 3,159 new local Covid cases; Vietnam ratifies ASEAN Trade in Services Agreement; SEA Games 31 likely to be held in Vietnam in May 2022; Goethe-Institut's science film festival goes virtual from October 18.
Friendship
PeaceTrees continued UXO-clearing efforts in the central province of Quang Tri in spite of severe storm warnings.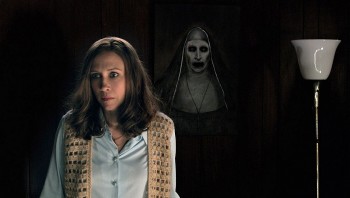 Handbook
Halloween is coming, and nothing is better than some good and spooky horror films. Here is a list of carefully selected 20 horror movies on Netflix that you can stream right now.