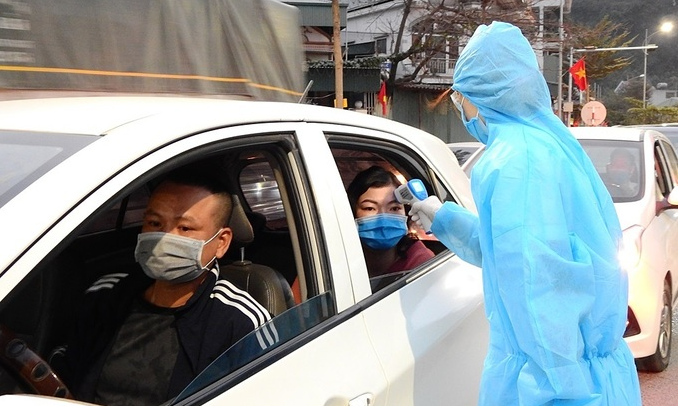 A medical worker takes body temperatures of people at a checkpoint in Quang Ninh Province, January 28, 2021. (Photo: VnExpress)
48 new cases
Vietnam found 45 new cases of COVID-19 in the community over the past 12 hours to 6 pm on February 8, pushing the national count to 2,050, including 1,160 locally-transmitted cases, according to the National Steering Committee for COVID-19 Prevention and Control. Of the new cases, three are in the northern province of Quang Ninh, three in Hanoi, two in the Central Highlands province of Gia Lai, 25 in Ho Chi Minh City, and 12 in the northern province of Hai Duong.
Northern Quang Ninh Province has recorded three more domestic infections via mass testing at the ongoing cluster this morning. They include a 34-year-old woman working at Poyun Vietnam Electronics Co. Ltd in Hai Duong Province that neighbors Quang Ninh. The other two patients are a married couple, aged 61 and 60. All three are residents in Quang Ninh's Dong Trieu Town.
With three more patients added, Vietnam has registered 470 domestic infections since January 28 and cases have spread to 12 cities and provinces. Vietnam has recorded 2,053 Covid-19 patients, including 543 active cases. Among patients undergoing treatment at medical establishments, 106 tested negative for the coronavirus SARS-CoV-2 once, seven twice, and five thrice. The number of deaths related to the disease remained at 35. As many as 89,782 people who had close contact with COVID-19 patients or entered Vietnam from pandemic-hit regions are being quarantined.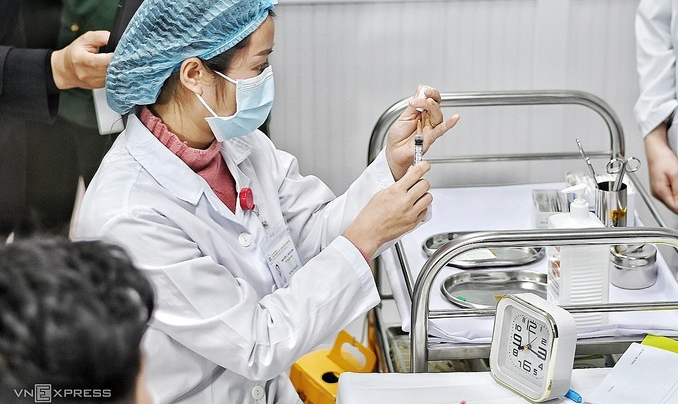 Vietnam completes first phase of Nano Covax human trials. (Photo: VN Express)
Vietnam completes first phase of Nano Covax human trials
Vietnam has completed the first phase of the human trials of Nano Covax, a homegrown COVID-19 vaccine, with the participation of 60 volunteers, the Vietnam Military Medical University said on February 8. The last 22 volunteers received the second shots, with two receiving the 50mgc dose, and 20 getting the 75mgc dose.
Experts said Nano Covax has proven safe and effective against the coronavirus SARS-CoV-2, even its new variant. Most of the volunteers are in stable conditions after vaccination. Only a few had light injection site pain and fever that disappeared after one to two days. The objective of the first phase is to evaluate the safety of the vaccine, developed and manufactured by HCM City-based Nanogen Pharmaceutical Biotechnology JSC.
Nearly 400 people have registered for the second phase that is expected to last for six months, during which 560 volunteers will be injected. The third phase will see the engagement of more than 10,000 volunteers, beginning from August. If the result is good, Vietnam would administer the vaccine to the public in early 2022.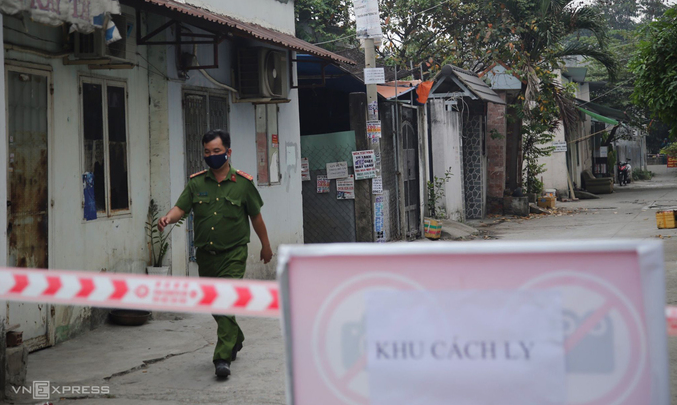 A police officer walks in a ward under Covid-19 lockdown in District 12, HCMC, February 8, 2021. (Photo: VnExpress)
PM calls for strong local COVID-19 response
Hanoi, Ho Chi Minh City, Hai Phong, and other major cities where COVID-19 cases have been confirmed should take strong measures to effectively prevent the spread of the pandemic within the community, Prime Minister Nguyen Xuan Phuc said on February 8. Such measures include social distancing in line with the PM's Directives No 15 and 16 in case of a worsening situation, the PM said at an online meeting of permanent Cabinet members.
The Ministry of Health (MoH) pointed out the high risk of the pandemic spreading as there remain sources of infections yet to be detected in major cities, especially in baggage and cargo handling services at HCM City's Tan Son Nhat International Airport. Phuc asked HCM City and the ministry to play a more active role in the fight and encourage people to follow COVID-19 prevention and control measures, including wearing facemasks and avoiding mass gatherings.
Travel during the Tet (Lunar New Year) holiday should be limited, he said, urging localities to prepare resources, including medical supplies, food, and COVID-19 hospitals in case the situation worsens. Hai Duong, Quang Ninh, Gia Lai, and Hai Phong will continue with proposed plans, while Hanoi and HCM City need to identify their own way forward in this regard, according to the leader. Social distancing should be imposed when necessary, he said, ordering stronger alertness among medical and political systems and the public, as well as an active role from the media in the fight.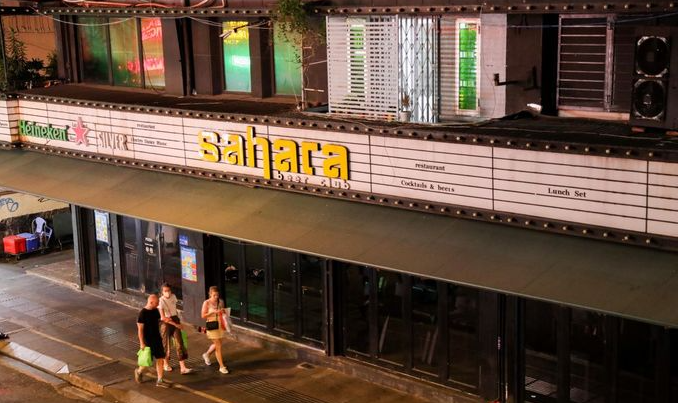 Bars and karaoke parlors in HCMC's Bui Vien walking street are closed under the city's order due to Covid 19, March 15, 2020. (Photo: VnExpress)
HCMC closes 'non-essential' businesses after Covid-19 surge
The HCMC administration has shut down bars, karaoke parlors, cinemas and discotheques, and banned religious events starting Tuesday. Chairman Nguyen Thanh Phong made the announcement Monday afternoon after the city's Covid-19 community transmission cases rose to 31 in eight districts since the country's latest outbreak began on Jan. 28. Twenty-five of these were confirmed Monday evening. Phong said all cultural, sports and entertainment activities, beauty salons, massage parlors, internet cafes, wedding centers, theaters, gyms, and pool table services will also be suspended from Tuesday until further notice.
Religious events with gatherings of more than 20 people are prohibited. Gas stations, shops selling "essential" goods like pharmacies and medical facilities will operate normally, complying with preventive measures. The Nguyen Hue flower street will not have its scheduled opening ceremony, and will only open from 8 a.m. to 5 p.m. People who do not wear masks will be strictly fined.
Health Minister Nguyen Thanh Long proposed Ho Chi Minh City apply social distancing in some areas following surging infections linked to Tan Son Nhat International Airport. These high-risk areas should be governed by the government's Directive 16 that bans public gatherings of more than two people and asks people to stay home, stepping out only for emergencies, Long said.
Valerie Mai