Vietnam Covid-19 Updates (Feb. 2): Daily Tally Drops By Over 1,600
According to the Minister of Health, the treatment of Covid-19 patients in the country is showing positive signs, with the mortality rate witnessing a decline.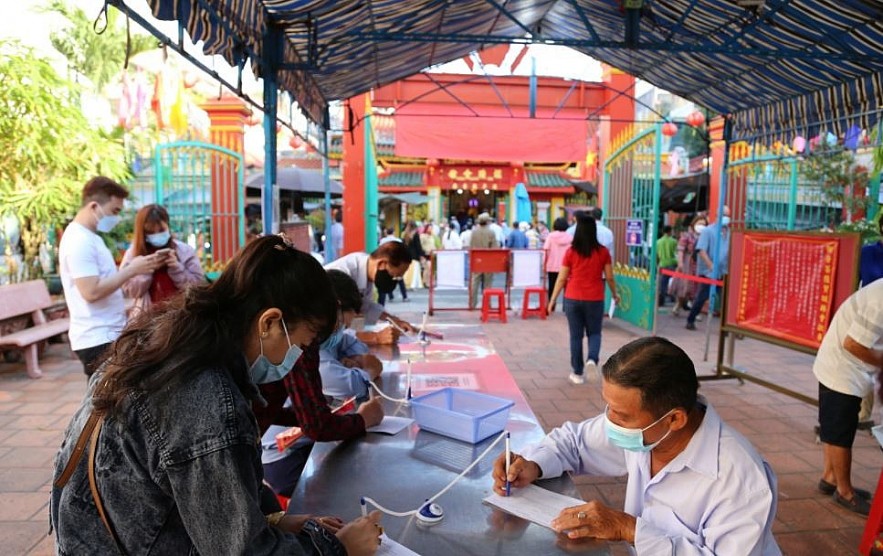 Photo: VNE
Covid-19: New cases on February 1 total 11,023
A further 11,023 new cases of Covid-19 were confirmed by the Ministry of Health on February 1, the first day of the Lunar New Year (Tet) festival, marking a sharp fall of 1,626 from the previous day. Of the latest cases, 7,303 were found within the local community and 12 were imported, according to VOV.
Hanoi tops the daily case list with 2,705 new cases, followed by Da Nang city with 783, and Hai Phong with 496. Furthermore, a total of 39,608 Covid-19 patients were announced to have recovered on the same day, bringing the total number of recovered cases to 2,062,058.
There are 3,315 patients in critical conditions, including 390 requiring invasive ventilation and 14 on ECMO support.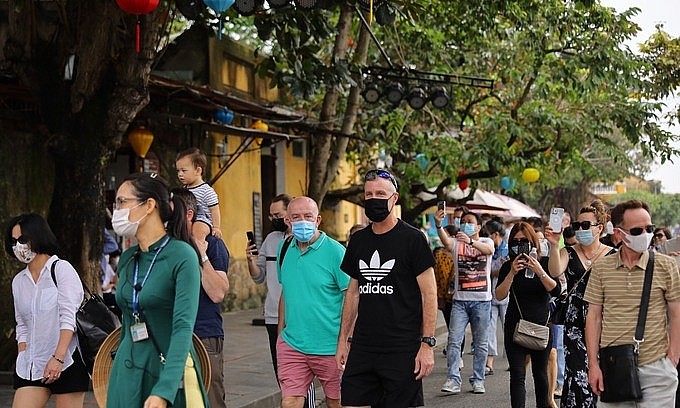 Photo: VNE
Khanh Hoa welcomes the first visitors in the Year of the Tiger
The south-central coastal province of Khanh Hoa on February 1, the first day of the Year of the Tiger, welcomed the first visitors in the lunar new year who arrived in the locality aboard a Vietnam Airlines flight departing from Hanoi. The 138 visitors were presented with flowers, New Year gifts and lucky money in accordance with the traditional custom of first footing, VNA cited.
Director of the provincial Department of Tourism Nguyen Thi Le Thanh said that with events to celebrate first tourists in the New Year and diverse activities planned for the whole year, the province's tourism sector hopes for a good year in 2022. She said that this year, Khanh Hoa aims to receive over 1.2 million visitors, doubling that in 2021, including 40,000 foreigners, and revenue of 4 trillion VND (176.6 million USD), up 80 percent over the previous year.
Defining the domestic market as the main market of Khanh Hoa tourism in 2022, the province will conduct numerous activities to lure visitors, including tourism roadshows in domestic localities such as Hanoi, Hai Phong, Ho Chi Minh City, and Can Tho, as well as foreign countries including Russia, the Republic of Korea and China. Khanh Hoa, home to famous beach towns Nha Trang and Cam Ranh, on November 25, 2021, welcomed the first international tourists with vaccine passports after a long hiatus due to the Covid-19 pandemic. It is among the localities selected to roll out the pilot "vaccine passport" program, which is divided into three phases, starting last November.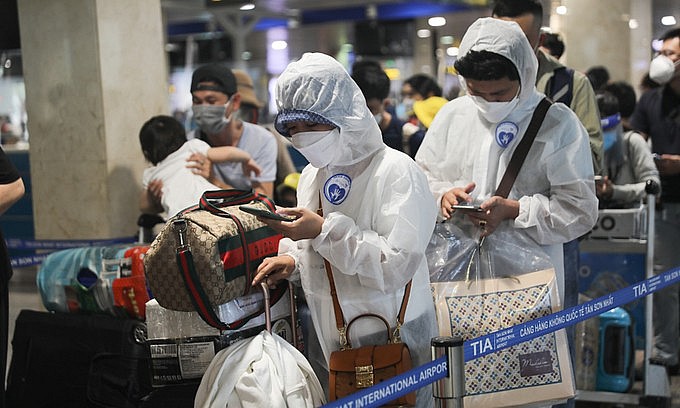 Photo: VNE
Vietnam to open up further after Tet
Vietnam, which has been resuming aviation, tourism, and education activities after nearly two years of restrictions due to Covid-19, is set to lift more restrictions after Tet. The Civil Aviation Authority of Vietnam has restarted flights to and from nine cities: Tokyo, Seoul, Taipei, Bangkok, Singapore, Vientiane, Phnom Penh, San Francisco, and Los Angeles. Chinese authorities have yet to approve requests for flights to Beijing and Guangzhou.
In recent weeks Vietnam airlines have also been organizing flightsto Australia, the U.K., France, and Germany. Next week Bamboo Airways will start flying to Germany, the U.K. and Australia. Foreign visitors to Vietnam are required to furnish negative PCR Covid-19 test results, and rapid tests are no longer required on arrival. People who are fully vaccinated or have recovered from Covid-19 have to self-isolate at home for three days. A seven-day isolation period is applicable for those who have not got two shots.
The Ministry of Culture, Sports, and Tourism is gradually resuming inbound tourism. Localities that have given their people a third shot or are identified as "green" zones can allow in foreign travelers, according to VN Express.
On March 31, Vietnam plans to fully reopen to tourists, with the tourism ministry considering the timing appropriate since by then the entire adult population would have received three doses. The government gingerly reopened to international tourism last November when 29 travelers arrived in Hoi An Town. Since then the country has received 8,500 tourists, mostly from Russia, South Korea, Singapore, the U.K., and the U.S.
More than 181.43 million doses of the Covid-19 vaccine have now been administered so far, including over 79.07 million as part of the first dose, more than 74.16 million for the second jab, and over 28.1 million as part of the third inoculation.
The country has so far detected 185 Covid-19 infections related to the Omicron variant of SARS-CoV-2, mostly in Ho Chi Minh City with 92 cases.
Discussing the rapid vaccination campaign over the Lunar New Year festival which is taking place nationwide, Minister of Health Nguyen Thanh Long affirmed that vaccines remain key to bringing life back to normal.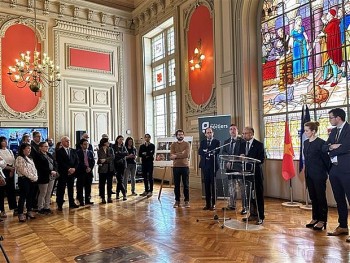 National
Vietnam News Today (Mar. 26): Vietnam and Thailand promote labour cooperation; Vietnamese, French localities look to step up cooperation; Attractive incentives on offer at Hanoi Tourism Festival 2023; E-commerce accounts for 60% of Vietnamese digital economy.