Vietnam Covid-19 Updates (Dec. 30): Health Professionals Okay Homegrown Vaccine
As of 6 pm on December 29, Vietnam has detected 1,694,874 Covid-19 cases since the start of the first outbreak in January 2020, ranking 31st out of 223 countries and territories worldwide.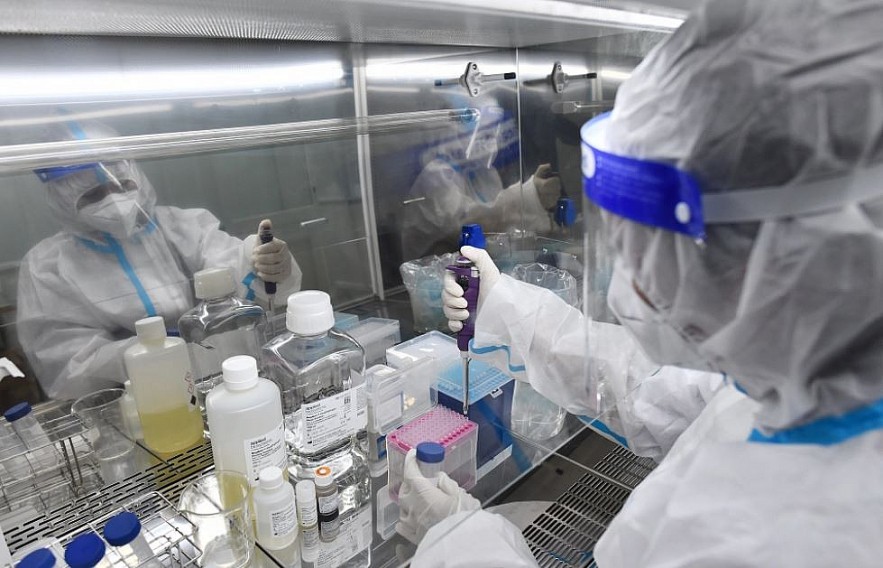 Photo: Zing
Nearly 14,000 Covid-19 infections, 245 deaths recorded on single day
The Ministry of Health (MoH) has confirmed 13,889 new coronavirus cases in 60 cities and provinces across the country during the past 24 hours, a fall of 548 cases compared to the previous day. About 8,853 cases were detected in the community, or two-thirds of the total said the MoH in its coronavirus update on December 29.
Its official data also show that 38,260 patients were discharged from the hospital and 245 patients died of the virus. Most of the new infections were documented in the south, with Tay Ninh topping localities at 938 cases. But Hanoi capital in the north recorded the highest number of cases nationwide at 1,766.
The Covid-19 outbreak remains complicated in the central and northern regions. Notably, Khanh Hoa, Phu Yen, and Binh Dinh saw new infection numbers rise considerably, registering 793, 686, and 432 cases, respectively.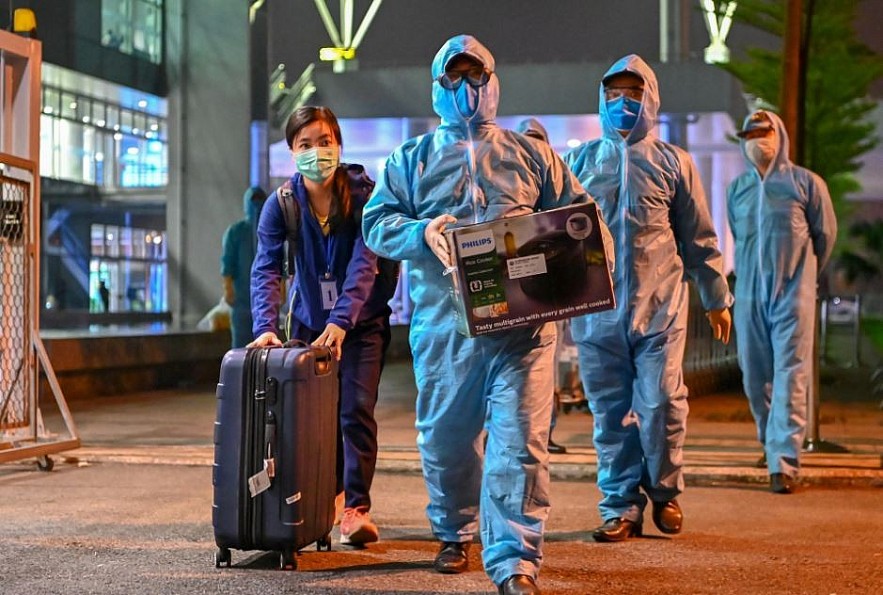 Photo: Zing
Vietnamese carriers open ticket sales for international flights
Vietnam Airlines and Bamboo Airways have opened ticket sales to several locations including the U.S., Japan, and Taiwan, signaling the resumption of international travel on New Year's Day. National flag carrier Vietnam Airlines is offering tickets between HCMC and Phnom Penh in Cambodia, with one-way prices starting at VND2.5 million ($109.54). From Hanoi to Tokyo, the starting fare is VND11.7 million; and from HCMC to San Francisco, VND21.2 million. All flights are scheduled for January 1, 5, and 9, respectively.
Vietnam Airlines is not offering tickets to Singapore and Taipei yet, even though it has received permission from the Civil Aviation Authority of Vietnam (CAAV) to reopen flights on these routes. Meanwhile, private airline Bamboo Airways is offering tickets from Hanoi to Taipei at VND4.5 million one-way once a week starting January 5. Round-trip tickets are not being offered at this point.
Vietnam requires arriving passengers to test Covid-19 negative and have certificates of vaccination or Covid-19 recovery. They will also need to isolate themselves at a location of their choice for three days after arrival. Those who are not fully vaccinated will need to guarantee that they will isolate themselves for at least seven days at home or at a location approved by local authorities. The CAAV has approved the resumption of international flight routes to Japan, Taiwan, Singapore, Cambodia, and the U.S, with each domestic airline allowed to operate four flights a week on each route.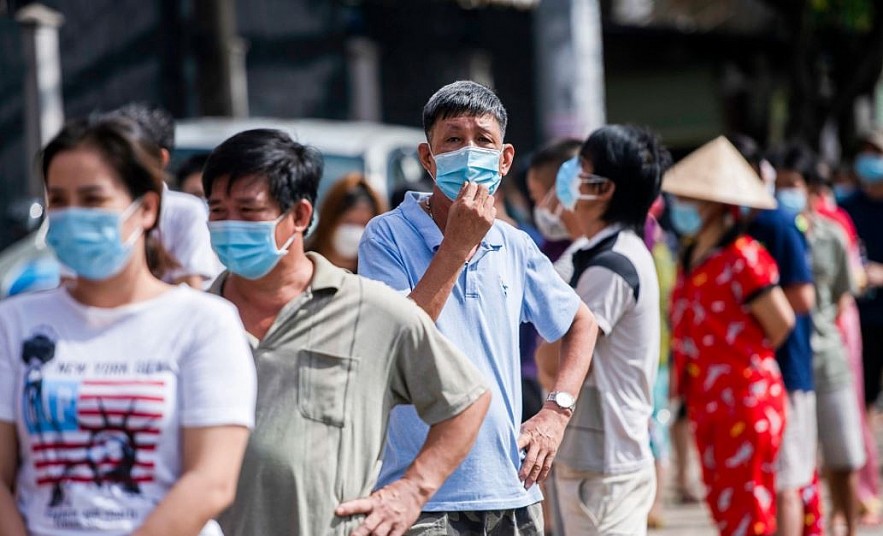 Photo: Zing
Vietnamese, Israeli firms sign cooperation agreement on oral Covid-19 vaccine
Vietnam's Tan Thanh Holdings and 10 Pharma JSC will be distributors of COVID-19 vaccine Oravax throughout Southeast Asian nations, comprising Vietnam, Brunei, Cambodia, Indonesia, Laos, Malaysia, Myanmar, the Philippines, Singapore and Thailand. Oravax Medical of Israel's Oramed Pharmaceuticals and the Vietnamese firms signed the cooperation agreement of oral vaccine Oravax at a ceremony held online on December 29.
Nadav Kidron, Chief Executive of Oramed and Oravax Chairman, said the deal, worth hundreds of millions of US dollars for Oravax, includes pre-order of oral vaccine. He viewed Tan Thanh Holdings as an ideal partner for his business to bring the oral vaccine to Vietnam and other ASEAN member countries that have a combined population of over 660 million.
Addressing the signing ceremony, the Vietnamese Ambassador to Israel Do Minh Hung stressed the significance of the cooperation, saying this is the first time Vietnam and Israel have cooperated in high-tech health care, both in terms of trade and technology transfer. The cooperation contents match guidelines of the Vietnamese Government and meet domestic demand for vaccine access, he said.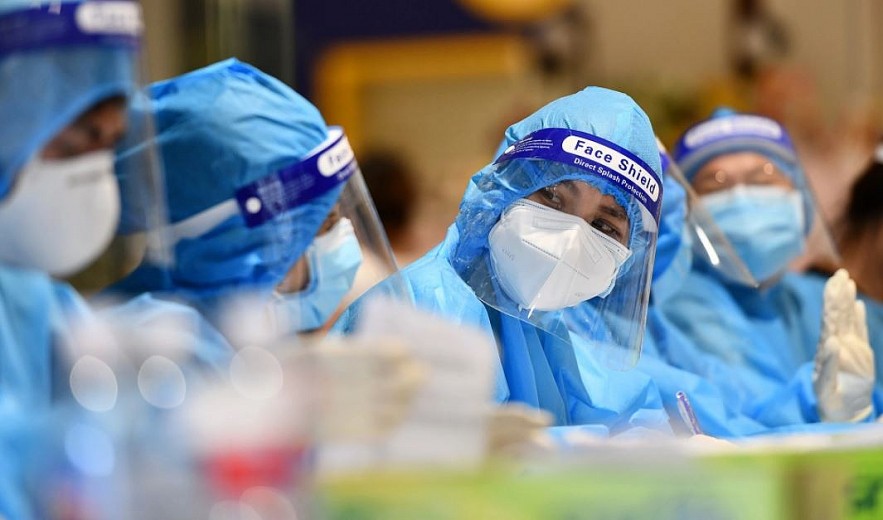 Photo: Zing
Vietnam outperforms regional countries in Covid-19 vaccination race
Vietnam became the 53rd country in the world achieving the goal of covering basic doses of vaccine for 70 percent of its population, according to covidvax.live, a website that updates the vaccination speed worldwide every day. The website reported that only 63 out of more than 220 countries and territories that have provided data on pandemic prevention and control across the world have achieved this goal.
In Asia, Vietnam's vaccination speed and quantity are higher than that of Thailand, Laos, the Philippines, India, and Indonesia. Outside of Asia, Vietnam has been lower than the US's vaccine coverage by only two grades, but 40 grades higher than Russia.
According to statistics from the Vietnamese Ministry of Health, over 146 million doses of vaccines against Covid-19 had been administered to people as of December 27, including over 77 million first shots and nearly 66.5 million second jabs. Vietnam has counted 2.8 million people getting the third dose so far. The vaccine diplomacy, an unprecedented diplomatic strategy in Vietnam's history, has been drastically deployed in all activities, helping Vietnam safely adapt to and effectively control the pandemic, the news agency said.
Not only successful in ensuring the supply of vaccines, Vietnam's vaccine diplomacy strategy also facilitated the transfer of vaccine production technologies of other countries to Vietnam, including Sputnik-V of Russia, Abdala of Cuba, and Covaxin of India, it added.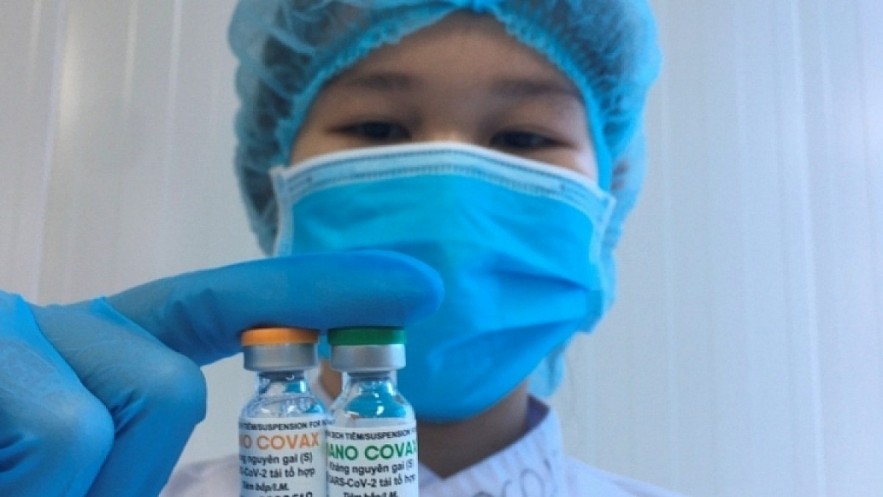 Photo: VOV
Health professionals okay homegrown vaccine Nano Covax
The National Committee for Ethics in Biomedical Research under the Ministry of Health (MoH) on December 29 voted in favor of the results of the third human clinical trial of locally produced vaccine Nano Covax against the SARS-CoV-2 virus. Sources from the meeting said health professionals highly appreciated the efficacy of vaccine protection, meeting the marketing authorization standards of the World Health Organization (WHO) and the US Food and Drug Administration (FDA).
Nano Covax, a recombinant spike protein vaccine, developed by Nanogen Pharmaceutical Biotechnology JSC, is Vietnam's first Covid-19 vaccine in clinical trials, starting from December 17, 2020. More than 14,000 volunteers had participated in clinical trials of this vaccine through three phases conducted by the Hanoi-based Military Medical Academy and Ho Chi Minh City Pasteur Institute. The vaccine was said to be 90% effective against the SARS-CoV-2 virus. And like other vaccines in use globally, the protection efficacy of Nano Covax will also decrease over time to 86.7% after 42-90 days of injection, 78.50% after 120 days, and 51.6% after 180 days.
Notably, the efficacy of vaccine protection against severe cases and death is 92% and 100% respectively. Besides Nano Covax, Covivac, another locally produced vaccine developed by the Institute of Vaccines and Biologic Medical, is entering the second phase of its trials. Vietnam is also testing the ARCT-154 vaccine using Arcturus' STARR mRNA technology transferred by the United States.
As of 6 pm on December 29, Vietnam has detected 1,694,874 Covid-19 cases since the start of the first outbreak in January 2020, ranking 31st out of 223 countries and territories worldwide.
Of the infected patients, 1,302,542 have recovered from the disease, and 31,877 patients have died of the disease.
More than 148 million vaccine doses have been administered nationwide, with 67 million people getting their second shot and nearly 3.5 million people receiving their booster jab.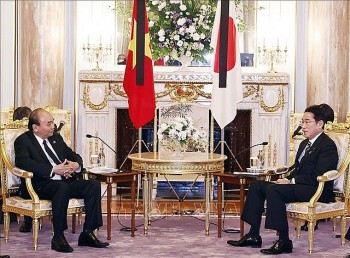 Friendship
Vietnam always treasures the extensive strategic partnership with Japan and views Japan as an important and long-term strategic partner, President Nguyen Xuan Phuc told Japanese Prime Minister Kishida Fumio in Tokyo on September 26.