Vietnam Covid-19 Updates (Jan. 29): Close To 15,000 New Cases Over 24 Hours
Total cases since the start of the pandemic now stand at 2,218,137, of which 2,211,243 are the result of the fourth wave that started in late April 2021.
Photo: Zing
Vietnam records 14,929 new Covid-19 cases on January 28
A further 14,929 fresh Covid-19 infections were confirmed by the Ministry of Health on January 28 across 62 cities and provinces nationwide, marking a decline of 790 from the previous day. In line with the total, Hanoi continued to record the highest number of infections with 2,885, followed by Bac Ninh at 1,013, and Da Nang at 886.
The past 24 hours have seen the deaths of 141 Covid-19 patients, thereby pushing the nation's death toll up to more than 37,430, or 1.7% of all infections since the pandemic initially broke out last year.
Following the fourth wave of infections that hit the country back in late April, more than 2.2 million cases have since been detected, whilst over 1.49 million people have now fully recovered. The same day witnessed the Ministry of Health announce the discharge of a further 4,633 Covid-19 patients after they fully recovered from the virus, thereby raising the total number of recoveries up to 1,950,244.
Photo: VOV
Foreign arrivals not be required to undergo rapid testing
Passengers arriving in Vietnam on international flights will not be required to conduct rapid tests before boarding and getting off the plane and will only need a medical certificate to show a negative PCR test result. The move comes following Deputy Prime Minister Pham Binh Minh's agreement to increase the frequency of regular commercial flights carrying passengers between the nation and Japan, the Republic of Korea, and Taiwan (China).
Furthermore, it also aims to expand regular ​​international flights to Europe and Australia on a pilot basis in order to meet the growing demand among overseas Vietnamese for the upcoming Lunar New Year festival, known locally as Tet, according to VOV.
The Ministry of Foreign Affairs has therefore directed Vietnamese representative missions abroad to urge partners to swiftly respond to requests to resume regular international commercial flights. According to the plan, Vietnamese people are not required to be subject to a quarantine period when visiting countries such as Singapore, Japan, or the Republic of Korea.
Earlier on January 4, the Civil Aviation Authority of Vietnam (CAAV) had suggested that passengers from countries with the Omicron strain of Covid-19 arriving in the country must only have to undergo PCR testing, without the need of conducting rapid testing before boarding and getting off their flights. Foreign flight crews entering the nation only need to be tested once while waiting for the next flight to return home.
Photo: VOV
Cinemas to resume operations nationwide on January 31
The Ministry of Culture, Sports and Tourism have voiced its support for localities' proposal to reopen their cinemas to serve local residents' entertainment demand after a Covid-19 hiatus. Cinemas will be open to the public starting from January 31 or two days ahead of the lunar New Year holiday, the ministry said in its recently issued dispatch.
The document requires cinemas to have Covid-19 response plans on hand and to coordinate with local health authorities to handle cases if there is an outbreak. Moviegoers are required to have received full doses of the vaccine and strictly observe Covid-19 guidelines outlined by the Ministry of Health, including donning face masks, washing hands with sanitizer, maintaining a safe distance, and avoiding large gatherings.
Cinemas have closed the door for almost two years since the start of the coronavirus outbreak. The reopening of cinemas is to meet the people's demand for cultural enjoyment and support film distributors said the ministry.
Photo: Zing
Vietnam to reopen all international air routes soon
There are favorable conditions for reopening all international air routes ahead of the April 30 schedule, according to an official of the Vietnamese Ministry of Transport. Deputy Minister of Transport Nguyen Ngoc Dong said at a press briefing on January 28 that Vietnam has so far resumed 10 international air routes to mostly receive back Vietnamese expatriates for the coming lunar New Year holiday.
"The Ministry of Transport earlier proposed resuming all international air routes by the end of April or the beginning of May 2022. However, the plan is likely to be carried out earlier than scheduled due to the progress of Covid-19 vaccination, including the launch of the spring vaccination campaign," revealed Dong.
He said that the health sector must have general guidelines which are consistent with those of countries with air connections. He went on to say the Ministry of Transport will review the conditions for reopening international routes and submit a report to the Government. Transport options will also be discussed with the aviation authorities of other countries.
The Civil Aviation Authority of Vietnam has licensed major airlines such as Vietnam Airlines, Bamboo Airways, Vietjet Air, and Pacific Airlines to conduct regular international flights from Vietnam to Tokyo (Japan), Seoul (the Republic of Korea), Taipei (Taiwan-China), Beijing/Guangzhou (China), San Francisco/Los Angeles (USA), Bangkok (Thailand), Singapore, Vientiane (Laos), Phnom Penh (Cambodia), London (UK), and Frankfurt (Germany).
Passengers who have received full doses of vaccines are required to have a certificate of negative test results for SARS-CoV-2 at least 72 hours before departure. They must present either their vaccine passports or a certificate of Covid-19 recovery in line with guidelines outlined by the Ministry of Health. They are required to undergo a three-day quarantine at their place of residence upon arrival.
As of January 27, the country had injected over 180 million vaccine doses, with more than 79 million people now fully inoculated, while over 27 million booster shots and third shots of the Abdala vaccine have now been administered.
Total cases since the start of the pandemic now stand at 2,218,137, of which 2,211,243 are the result of the fourth wave that started in late April 2021.
There are 4,147 Covid-19 patients nationwide in serious condition, with 533 requiring invasive ventilation and 18 on life support, according to VNA.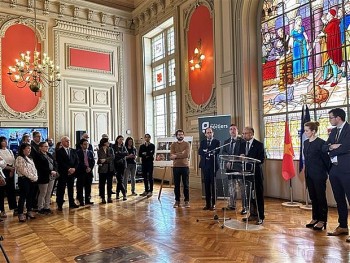 National
Vietnam News Today (Mar. 26): Vietnam and Thailand promote labour cooperation; Vietnamese, French localities look to step up cooperation; Attractive incentives on offer at Hanoi Tourism Festival 2023; E-commerce accounts for 60% of Vietnamese digital economy.