Vietnam Covid-19 Updates (Jan. 6): Daily Caseload Surpasses 17,000 Mark
As of 6 pm on January 5, Vietnam has detected 1,817,721 Covid-19 cases since the start of the first outbreak in January 2020, ranking 30th out of 223 countries and territories worldwide.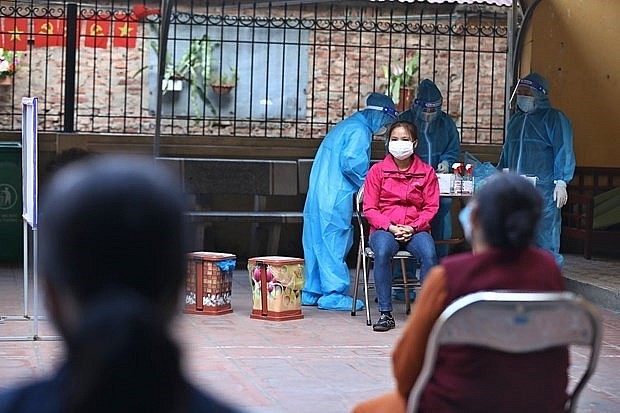 Photo: VNA
Covid-19: New cases on January 5 total 17,017
After having gradually fallen to more than 14,000 cases over the past few days, the daily number of new infections surprisingly hit the 17,000 mark again on January 5, rising to 17,017, the Ministry of Health said in its coronavirus update. Official data from the Ministry of Health also show that as many as 22,662 Covid-19 patients were discharged from the hospital and 230 patients died of Covid-19 and other underlying illnesses.
Of the new infections, more than two-thirds (12,299) were detected in the community and 20 cases tested positive upon returning to Vietnam from overseas. The remaining cases were diagnosed in quarantine and lockdown areas.
The capital city of Hanoi registered most cases compared to other localities, at 2,505. The city is deploying a plan to treat 100,000 cases at healthcare facilities and at home by mobilizing State and private hospitals to engage in COVID-19 treatment. Besides Hanoi, other northern provinces also recorded high numbers of new infections during the day, including Hai Phong (792), Bac Ninh (365), Hung Yen (345), Quang Ninh (337), Thai Nguyen (239), Hai Duong (229) and Ha Giang (227). Though most of the cases were recorded in the south, the outbreak is showing signs of waning in localities, with Tay Ninh confirming 862, Ca Mau 687, Binh Phuoc 682, Vinh Long 657, Tra Vinh 576, Ben Tre 499, and Ho Chi Minh City 448.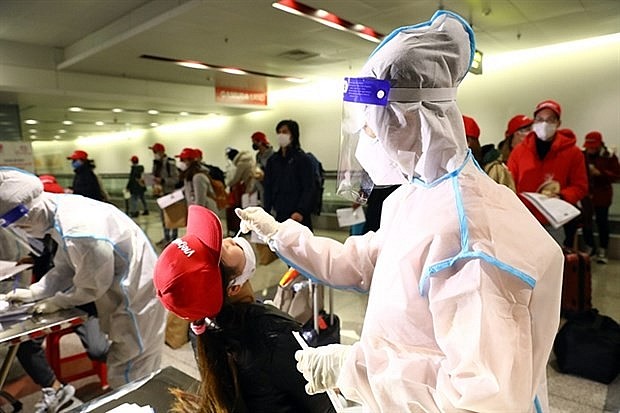 Photo: VNA
Aviation authority proposes to scrap rapid testing in favor of RT-PCR
The Civil Aviation Authority of Vietnam (CAAV) wants arriving passengers tested for SARS-CoV-2 following the RT-PCR method prior to their flight, removing the additional need for rapid testing as well. The suggestion was presented in the CAAV's report to the Ministry of Transport on the initial resumption of regular international flights in Vietnam, which started from January 1, according to VNA.
CAAV Deputy Director Dinh Viet Son said that the authority has been receiving feedback from Vietnamese and international airlines on rapid testing requirements before and after boarding the plane, testing fee collection, and health declarations. In particular, the procedure says that airlines collect rapid testing fees along with the airfares, then send the payment to testing units. Air carriers suggest that based on the flight schedule, airports should work with testing units to ensure a sufficient number of testing points and medical workers to avoid congestion when there are more flights coming in.
On this basis, the CAAV proposed to only require RT-PCR test results. This practice has long been adopted by other countries, even during the emergence of the Delta variant. In the case where rapid testing is still required, the CAAV suggested that fees should be collected on the spot at the testing points, and international aircrews are tested only once upon arrival while waiting for their returning flight (at the airport or at quarantine accommodation).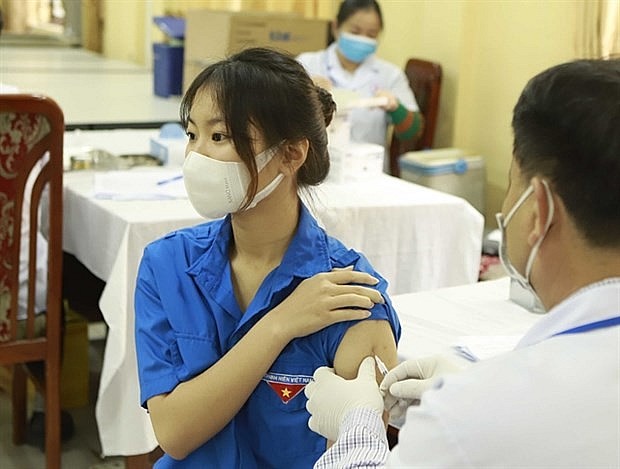 Photo: VNA
Health ministry plans for vaccinating children aged 5-11
With over 90 percent of the adult population having received two doses of Covid-19 vaccines and the ongoing campaign for children aged 12-17 years, the Ministry of Health is planning to buy shots for children aged 5-11. Once the Government gives the nod, it would immediately work with suppliers to secure a sufficient amount at the earliest time to get the vaccination process started, Tuyen said during a recent discussion hosted by the Vietnam Government Portal, without elaborating further about the types of vaccines to be used or the logistics involved.
Seventy-four percent of the Vietnamese population has received at least one dose of vaccine (99 percent of adults have had at least one dose), and 70 percent have been fully vaccinated, basically meeting the WHO's recommendations six months ahead of schedule.
In 2022, Deputy Minister of Health Do Xuan Tuyen said the health ministry will focus on offering third shots for high-risk groups like patients with HIV, kidney failure, hepatitis B, cirrhosis, etc. in addition to pushing coverage of vaccines for children, now that the country has enough doses needed for the adult population. The official noted that in the inoculation efforts for children, the role of parents is important in bringing their children to get the shots in line with the health ministry's guidelines.
Tuyen said the current vaccination progress along with plans for additional/booster shots will help to ensure the success of the Government's safe, flexible adaptation to and effective control of the pandemic – meant to be a mindset shift from the previous so-called Zero Covid strategy – to achieve both pandemic prevention and control and socio-economic development.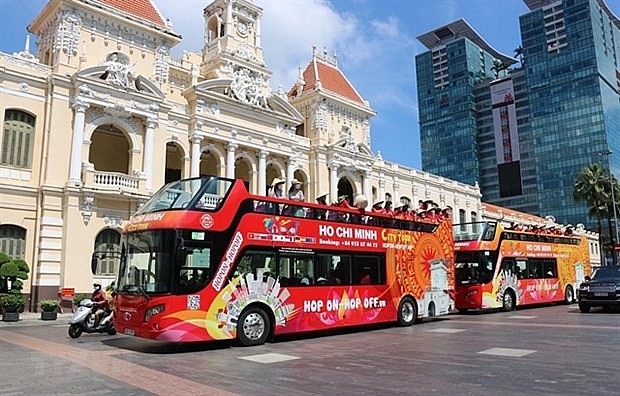 Photo: VNA
Ho Chi Minh City, Binh Dinh reopen to foreign visitors
Ho Chi Minh City and the central province of Binh Dinh have received approval from the Government to reopen to foreign visitors this month, the sixth and seven localities to do so. Da Nang city and Kien Giang, Khanh Hoa, Quang Nam, and Quang Ninh provinces have been allowing in international tourists since late last year under a Covid-19 vaccine passport scheme.
Deputy Prime Minister Pham Binh Minh has ordered ministries and authorities in the seven localities to implement the pilot program in a safe and effective manner. Approved travel agencies will bring visitors under closed tour programs, and the latter can visit the city and certain destinations that have been reopened to foreign nationals.
HCM City's tourism market is expected to be fully open to international tourists by April. In November, the municipal People's Committee submitted to the Government a proposal to allow in fully vaccinated foreign tourists from December. Binh Dinh had sought approval to allow in tourists fully vaccinated against Covid-19 from some major markets such as Northeast Asia, Russia, the US, and European countries.
As of 6 pm on January 5, Vietnam has detected 1,817,721 Covid-19 cases since the start of the first outbreak in January 2020, ranking 30th out of 223 countries and territories worldwide. On average, 16,133 cases have been documented daily during the past seven days, and more than 20 Omicron cases have been confirmed.
Of the infected patients, 1,436,046 have recovered from the disease, and 33,475 patients have died of the disease. More than 155 million vaccine doses have been administered nationwide, with 69.8 million people getting their second shot and 7.4 million people receiving their booster jab.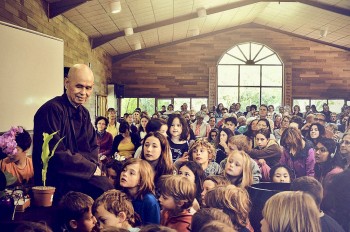 Viet's Home
The master of meditation "passed away peacefully" at the Tu Hieu Temple in Hue – where his spiritual journey began and Vietnam's Buddhist heartland, the Plum Village Community of Engaged Buddhism said.