Vietnam Covid-19 Updates (Nov. 22): Nearly 9,890 New Cases Reported
As many as 23,761 patients have died of the virus, making up 2.2% of the total number of infections. Nearly 108 million Covid vaccine doses have been administered nationwide, with 41 million people getting their second shot.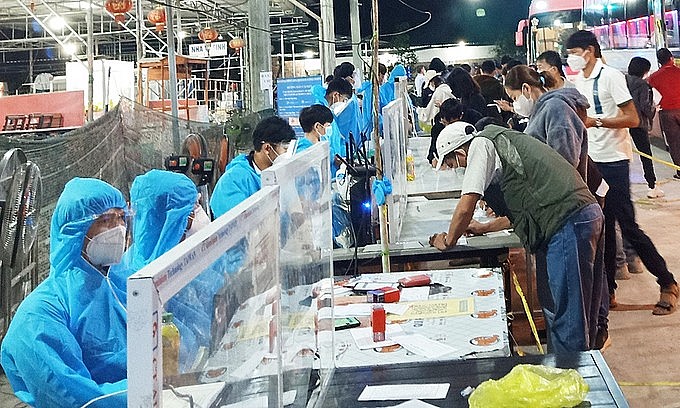 Photo: VN Express
Daily count rises close to 10,000, deaths fall considerably
After plummeting to about 9,500 cases on November 20, Vietnam's Covid-19 daily count rose to nearly 10,000 on November 21, while the number of deaths fell considerably. As many as 9,889 people tested positive for Covid-19 in 57 cities and provinces nationwide during the past 24 hours, the Ministry of Health (MoH) said in its coronavirus update.
Of the newly-detected infections, 5,361 cases were diagnosed in the community through random testing or test screening. Seven returnees from overseas tested positive, and the remaining 4,521 cases were documented in quarantine or lockdown areas.
More than three-fourths of the new cases were logged in the south, with Ho Chi Minh City recording the highest number at 1,265, followed by Binh Duong, Dong Nai, and ba Ria – Vung Tau. Hanoi capital remains the largest coronavirus hotspot in the north with 216 new cases. Other northern localities registering high numbers of infections during the day were Ha Giang 121, Bac Ninh 116, Vinh Phuc 101, Nam Dinh 68, and Bac Giang 68.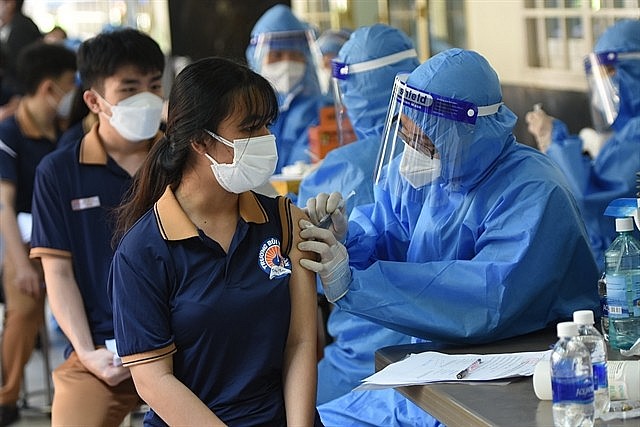 Photo: Vietnam News
HCM City school classes 9 to 12 to resume next month
The Ho Chi Minh City Department of Education and Training has recommended that schools should be reopened for fully vaccinated students from grades nine to 12 in Covid-19 low- and medium-risk areas on December 10. Younger children could follow later based on the risk levels, with schools remaining closed in extremely high-risk areas, it said.
Speaking at a meeting on November 19, the Chairman of the municipal People's Committee Phan Van Mai said the reopening should be carefully planned with safety measures fully in place. Grades nine to 12 are likely to resume on a trial basis in mid-December if safety criteria are strictly complied with, he said. He said the department should study the reopening of schools in Can Gio district's Thanh An commune last month to finalize its plans.
However, detailed guidelines and safety requirements need to be published before students return to school, he said. Coordinated efforts and unified responses by the health and education sectors are vital to make in-person learning safe and sustainable, he added.
Nguyen Van Hieu, director of the department, said the reopening plans would be finalized in the next few days. His department would provide training in Covid-19 prevention and control and tackling infections in classes to teachers and school staff, and hold discussions with parents, he said. The number of students in classes would be based on the safety criteria issued by the Ministry of Health, he said.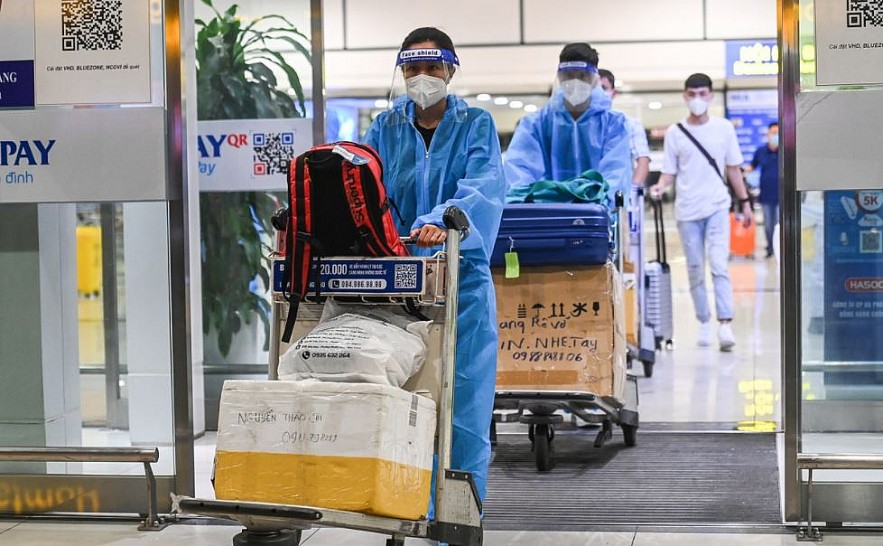 Photo: VN Express
Southern Vietnam ramps up restrictions as Covid-19 resurges
Southern localities are tightening up Covid-19 restrictions again as they witness a resurgence of new cases. Starting Monday, Tay Ninh is suspending bars, dance clubs, Internet cafes, karaoke, and massage parlors. Food and beverage establishments cannot host more than 20 people at the same time, alcohol sale is not allowed and people have to keep a distance of 1.5 meters from each other. Other activities like sports, exercises, weddings, funerals, and religious activities can also only host up to 20 people. Events that require more people must be approved by local authorities.
Meanwhile, starting Sunday, the Lam Dong People's Committee also requires people returning from areas with outbreaks to test negative for the coronavirus within the last 72 hours. Its officials and workers must also be tested every three days, among other measures. The number of cases has been rising in the Central Highlands province as well, mostly due to people returning from Covid hit regions. Between Nov. 14-21, Lam Dong has recorded 518 new cases, taking its total to around 2,000.
Binh Thuan has gone a step further, suspending non-essential services and requesting people not to go out between 7 p.m. and 5 a.m. People cannot travel to or from areas with very high coronavirus risks, and only takeaway food is allowed. People can only go to the market with approval papers from authorities.
Bac Lieu recorded over 9,300 in total. The province has also suspended activities and events with more than 10 people at a time either indoors or outdoors, except for offices, medical facilities, and locations for Covid-19 testing. Residents are also banned from going out between 8 p.m. and 4 a.m. Government employees are not allowed to leave the province without approval, and cannot attend social events and parties except for weddings and funerals confined within the family.
Restaurants can only allow takeaways and operate between 4 a.m. and 7 p.m. Local authorities plan to provide food stamps or use other methods to enable residents to go shopping. Non-essential services providing establishments like bars, dance clubs, karaoke, and beauty parlors are also suspended. Covid-19 checkpoints have been erected in areas with "complicated" coronavirus situations.
In Vinh Long, too, restaurants can only provide takeaways, and entertainment activities are suspended. The province has recorded around 300 new cases each day for the past 10 days, mostly in hospitals.
As of 6 pm on November 21 Vietnam has recorded 1,094,514 Covid-19 cases since the start of the first outbreak in January 2020, ranking 37th out of 223 countries and territories worldwide. Of the total, 905,500 patients have been discharged from the hospital after making a full recovery from the disease.
As many as 23,761 patients have died of the virus, making up 2.2% of the total number of infections. Nearly 108 million vaccine doses have been administered nationwide, with 41 million people getting their second shot.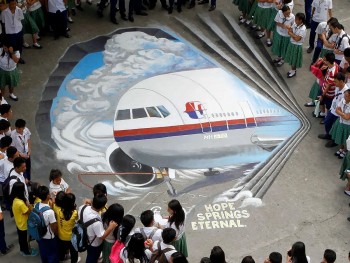 World
The world might never know what really happend when these planes went off the radar. Let's take a look at some of the unsolved mysteries of aircraft disappearances.