Vietnam Covid-19 Updates (October 15): Daily Caseload Falls to 3,092, Down By 469 cases
By October 13, the country had injected over 57.45 million doses of vaccines to date, with more than 16.8 million people now fully inoculated against Covid.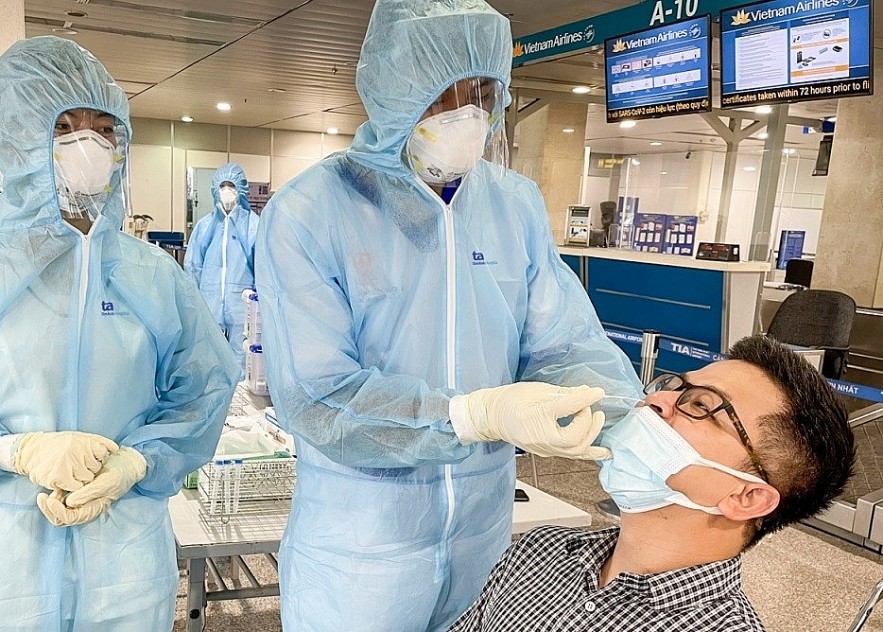 Photo: VOV
Covid daily caseload falls to 3,092, down by 469 cases
Vietnam recorded 3,092 cases of Covid-19 on October 14, including 4 imported, a drop of 370 cases compared to the previous day, according to the Ministry of Health.
Ho Chi Minh City still recorded the highest number of infections with 909, followed by neighboring Dong Nai province with 647 and Binh Duong province with 483. In addition, the southern province of Soc Trang reported 1,059 more cases which were detected earlier but yet to be added to the national tally, bringing the tally to 853,842.
According to the Ministry of Health's report, 4,427 patients nationwide are in serious conditions, with 588 requiring invasive ventilation and 21 on life support (ECMO). On the day, the country saw 81 deaths from the disease.
Photo: Zing News
2,000 cameras installed at Noi Bai airport for contract tracing
Noi Bai International Airport in Hanoi has established a monitoring center with 2,000 surveillance cameras to serve Covid-19 contact tracing. Leaders of the Ministry of Transport, the Hanoi People's Committee, and the Civil Aviation Authority of Vietnam have inspected the observance of regulations at Noi Bai airport as domestic flights have been resumed.
To Tu Ha, Director of Noi Bai International Airport affirmed that aviation businesses have set up a "green corridor", minimized social interactions, and followed regulations on pandemic prevention and control.
Up to 98.9 percent of the airport's staff have been fully vaccinated. The airport has also built a database on vaccination for all of its 15,800 employees while utilizing QR codes in contact tracing. The airport is equipped with an automatic system measuring passengers' body temperatures, and singling out those who cross the gates with their masks off or pulled down under their noses.
Hanoi has allowed airlines to resume routes between Hanoi and Ho Chi Minh City and Da Nang from October 10 to 20, with one return flight on each route per day, carrying only 50 percent of their passenger capacity.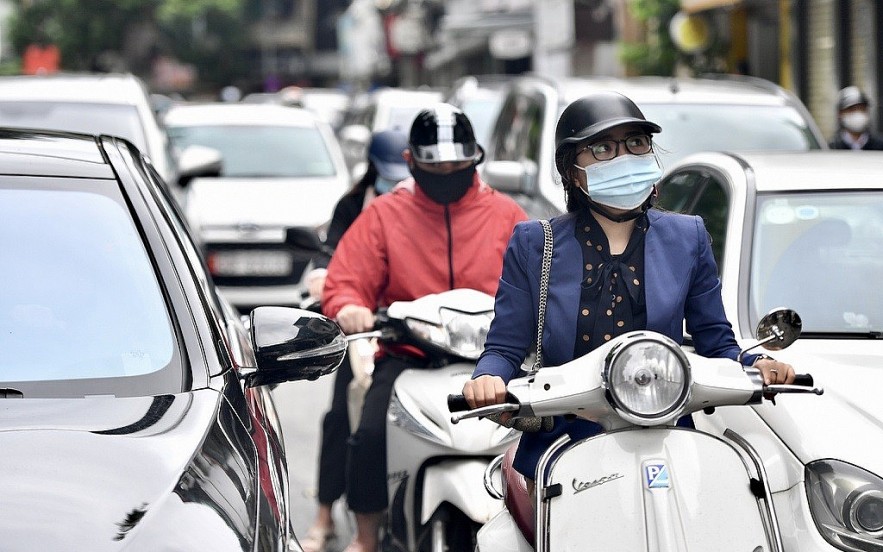 Photo: Zing News
Grab resumes GrabCar service in Hanoi
Ride-hailing company Grab Vietnam has announced the resumption of its Grabcar service in Hanoi starting from October 14. The technology transport and delivery service supplier said that it has met all pandemic safety requirements given by authorized agencies with all drivers receiving at least one vaccine shot and having certificates of being tested negative to SARS-CoV-2.
A representative from the firm said that all partners of Grab are requested to strictly implement the Ministry of Health's 5K message and prepare hand sanitizers on their vehicles. They will also receive Covid-19 test every week. Meanwhile, passengers are also asked to abide by pandemic prevention and control measures during their trips with Grab, including following the 5K message and making health declarations. They are advised to pay via bank cards or Moca e-wallet to reduce direct contact with drivers.
Earlier, the Department of Transport of Hanoi issued a document allowing the resumption of public passenger transport using under nine-seat cars. However, service suppliers are requested to keep the number of operating vehicles equal to 50 percent of their total fleet.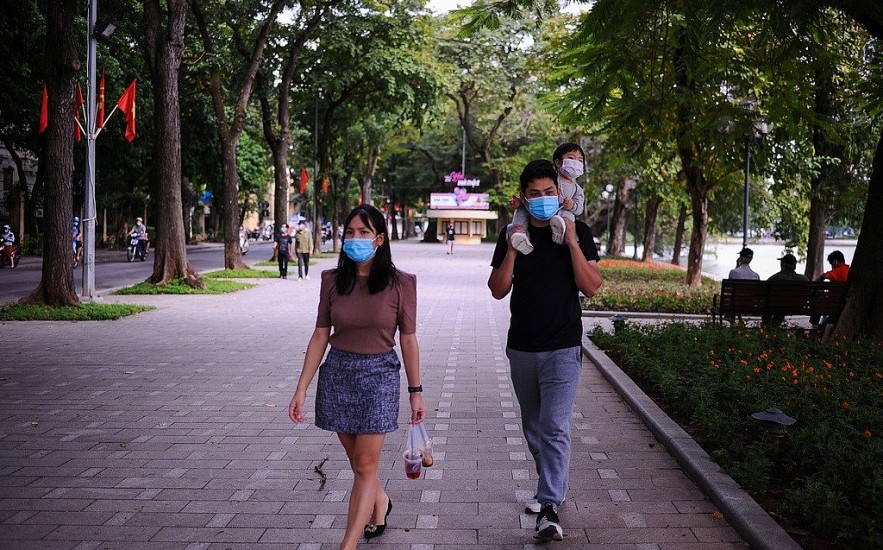 Photo: Zing News
Hanoi, Quang Ninh qualify as Covid-19 safe zones
Earlier this week, the government issued a resolution on Covid-19 adaptation which will be applied nationwide. Under this, different areas would be categorized into four levels based on their coronavirus risk. Level 1 areas carry the lowest risks and Level 4 the highest. Hanoi and Quang Ninh are among localities classified as having low novel coronavirus risks under new guidelines, potentially allowing the resumption of several activities.
While Hanoi theoretically qualifies to be a Level 1 area, it will not be truly impervious to the coronavirus as there are still Covid-19 infectees in the community. So far, Hanoi has vaccinated 5.9 million people with at least one Covid-19 vaccine shot, and 2.9 million people have been fully vaccinated.
The northern province of Quang Ninh also qualifies to become a Level 1 area, said Nguyen Trong Dien, director of the provincial Department of Health. The province has gone over 100 days without a community transmission case. Localities like Bac Giang Province in the north and Da Nang City in the central region are yet to fulfill Level 1 qualifications. They would have to settle for Level 2, for now.
By October 13, the country had injected over 57.45 million doses of vaccines to date, with more than 16.8 million people now fully inoculated.
Infection tally nationwide:
- Infections: 853,842
- Recoveries: 788,005
- Deaths: 20,950
Friendship
On March 25, the 92nd anniversary of the founding of the Ho Chi Minh Communist Youth Union took place at the Russian Presidential Academy of National Economy and Public Administration (RANEPA) in Moscow.