Vietnam Covid-19 Updates (September 10): Single-day Infection Tally Reaches 12,420
Following the latest additions, Vietnam is ranked 50th out of 222 countries and regions in terms of total infections and 158th in terms of infections per one million people.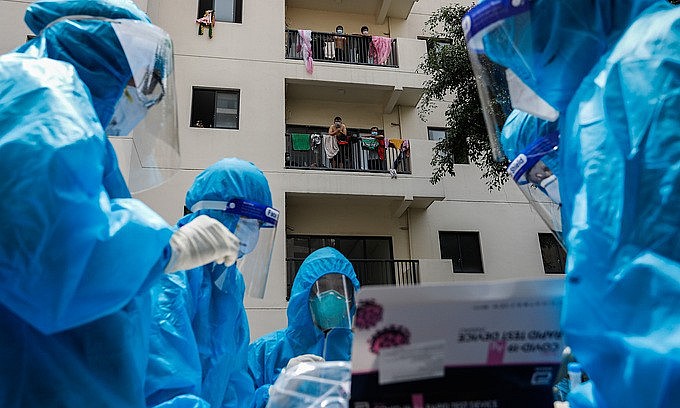 Doctors and nurses at a Covid-19 field hospital in HCMC's Thu Duc City, July 2021. (Photo: VnExpress)
Single-day infection tally reaches 12,420 across 36 localities
The Ministry of Health reported on September 9 the detection of an additional 12,420 positive Covid-19 cases, thereby raising the overall number of infections since the start of the pandemic early last year to more than 576,000.
Ho Chi Minh City and its neighbor Binh Duong province remain the hardest hit localities, with 5,549 and 4,531 local cases being recorded, respectively. Hanoi registered 35 new cases, thereby taking the capital's infection tally during the latest pandemic wave to nearly 3,700.
An additional 12,523 patients have been released from hospitals over the past 24 hours to bring the total number of recoveries to 338,170. The nation also recorded 272 fatalities on September 9.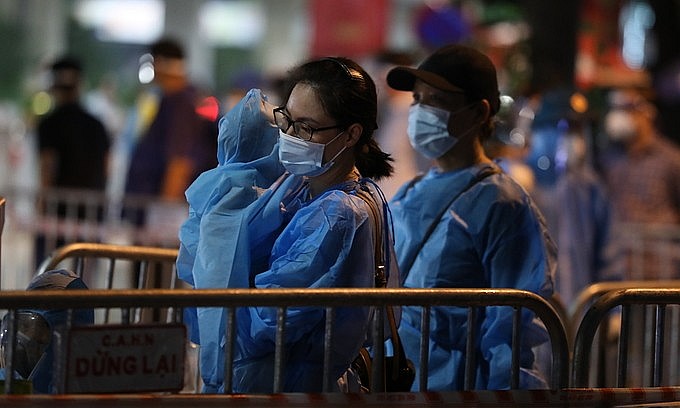 People in Hanoi's Thanh Xuan District are evacuated from coronavirus hotspots, September 1, 2021. (Photo: VnExpress)
Vietnam accelerates vaccine passport scheme for foreign citizens
Vietnamese competent agencies are in the process of speeding up the deployment of vaccine passports, whilst adjusting immigration regulations and creating favorable conditions for experts, foreign workers, and investors to enter the country. The Ministry of Health issued guidance on August 4 relating to the medical isolation for people entering Vietnam who has received two full doses of the vaccine or who have previously recovered from the virus.
The country is considering implementing a pilot scheme of closed tourism for international travelers who have been fully vaccinated against Covid-19, the official said.
This comes after flight VN5311 landed at Van Don International Airport in the northern province of Quang Ninh on September 4, carrying onboard 297 Vietnamese citizens from Japan. The flight was part of the "7-day medical isolation" scheme being run by the Ministry of Health for citizens who have received a full dose of the vaccine.
After entering Van Don International Airport, passengers were required to undergo a seven-day concentrated medical isolation, a period which was shortened to seven days from 14 compared to the normal process. However, the length of isolation will be dependent on the strain of the Covid-19 variant where passengers departed from.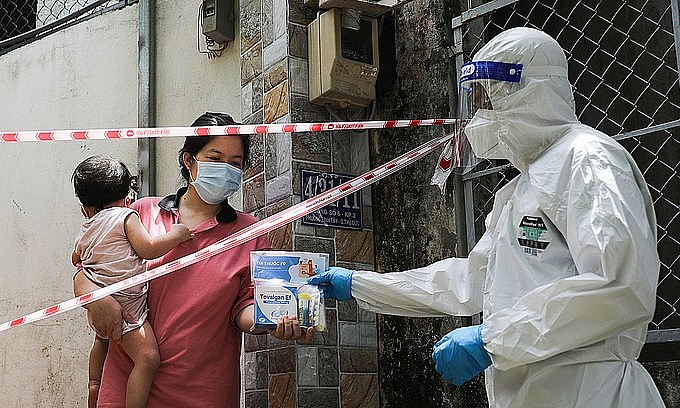 A health worker delivers a bag containing Covid-19 drugs to a woman in HCMC's Thu Duc City, September 3, 2021. (Photo: VnExpress)
Belgian Foreign Ministry hands over 100,000 doses of vaccine to Vietnam
Representatives from the Belgian Foreign Ministry handed over 100,000 doses of the AstraZeneca vaccine to Vietnam to support its fight against Covid-19. The ceremony, co-hosted by the Vietnamese Embassy in Belgium and the Ministry of Planning and Investment in Brussels, was witnessed by National Assembly Chairman Vuong Dinh Hue.
Several Vietnamese organizations, businesses, and intellectuals in Europe also presented medical supplies worth millions of USD to Vietnam. To step up economic ties between Vietnam and Belgium, a number of deals to purchase medical equipment were also signed on the occasion.
Other memoranda of understanding related to offshore wind power development, solar energy study, and wind-derived desalination technology. If 100,000 doses of vaccine funded by the Belgium Government are added, the MoUs are worth over VND 84.4 trillion (USD 3.7 billion) in total.
Vietnam is ranked 50th out of 222 countries and regions in terms of total infections and 158th in terms of infections per one million people.
More than 24.7 million vaccine doses have now been administered across the nation, in which around 4.1 million people have received full two doses. Both Hanoi and Ho Chi Minh City are in the process of redoubling efforts to fast-track testing and vaccinations against Covid-19 in a bid to contain the pandemic as soon as possible. Around 10 million doses of the vaccines have been administered in Hanoi and HCM City so far.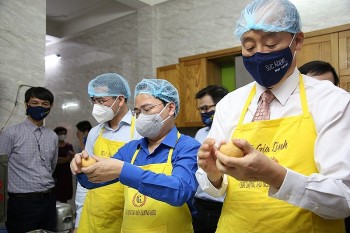 Viet's Home
Messages of hope and encouragement are being sent to medical workers through mooncakes, a seasonal delicacy of the Mid-Autumn Festival.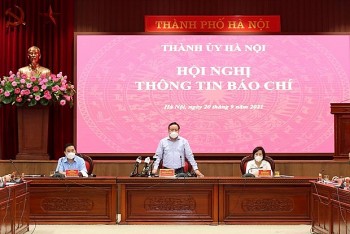 National
Vietnam News Today (September 21): Vietnam records lowest number of daily Covid-19 infections in a month; Hanoi removes zoning, travel permits from September 21; HCMC supermarkets welcome customers in low risk areas; Localities resume tourism services after Covid-19 hiatus.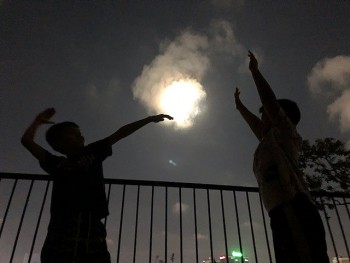 Expats in Vietnam
Vietnamese people have been worshiping the moon during the Mid-Autumn Festival for generations. In anticipation for the holiday, freshly vaccinated locals and expats have taken multiple photos of a stunning harvest moon in Hanoi's night sky.