Vietnam Covid-19 Updates (September 13): Vietnam To Purchase Spain's HIPRA Vaccine
As of 6 pm on September 12, Vietnam has recorded 613,375 coronavirus cases since the start of the outbreak in January 2020, and 608,997 locally acquired infections following the resurgence of the virus four and a half months ago.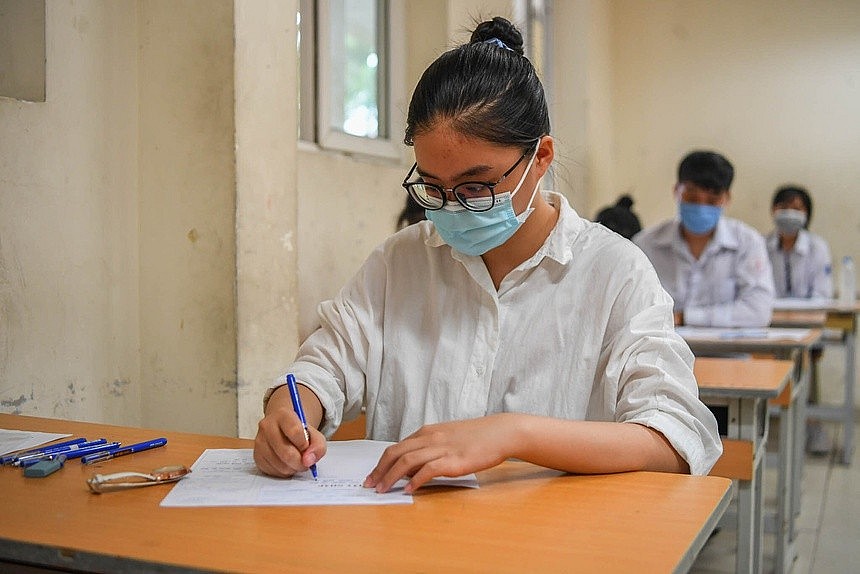 Photo: Zing News
Vietnam reports 11,478 Covid-19 cases on September 12
Vietnam has confirmed 11,478 coronavirus cases during the past 24 hours, down by nearly 500 and 1,843 cases respectively compared to the previous two days, the Ministry of Health said in its 6 pm coronavirus update on September 12. Of the new infections, 6,650 cases were detected in the community through test screening or random testing, nine tested positive upon returning to Vietnam from overseas, and the rest were documented in quarantine or lockdown areas.
September 12 is the second consecutive day that has seen infection numbers fall in Vietnam. The ministry earlier announced 11,932 new cases on September 11 and 13,321 new cases on September 10.
The ministry has also confirmed 261 Covid-19 deaths during the past 24 hours, with HCM City and Binh Duong reporting 200 and 39 fatalities respectively.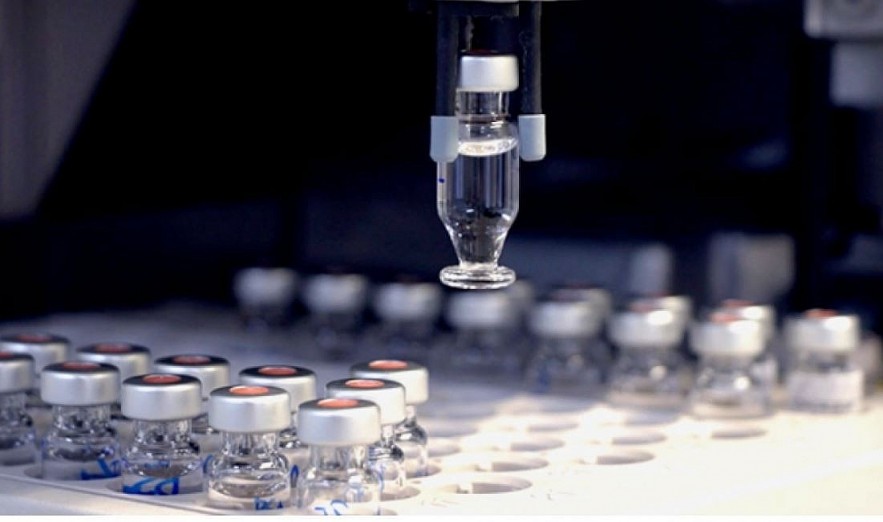 Photo: Vietnamnet
Vietnam to purchase Spain's HIPRA vaccine
T&T PHARMA, a Vietnamese pharmaceutical joint-stock company, has inked a contract to purchase 50 million doses of HIPRA, a Covid vaccine produced by Spain's HYPRA Human Health S.L.U. The EUR 375 million contract was signed on September 11 during Vietnam National Assembly Chairman Vuong Dinh Hue's visit to Finland.
HIPRA is a recombinant protein vaccine designed to optimize safety and induce a powerful immune response that neutralizes the virus that causes Covid-19, according to the vaccine manufacturer. Unlike other vaccines, HIPRA will be kept between +2 and + 8ºC, which will facilitate its logistics and distribution.
The Spanish pharmaceutical company began its clinical trial phases in August and expected to complete the process in October. The company hopes to start production in October as soon as clinical trials are complete and deliver the first batch of 75 million doses by the end of the year. HYPRA is expected to produce 600-900 million doses in 2022 and 1.2 billion doses by 2023. President & CEO David Nogareda said that he expects that the vaccine will be licensed for circulation early next year.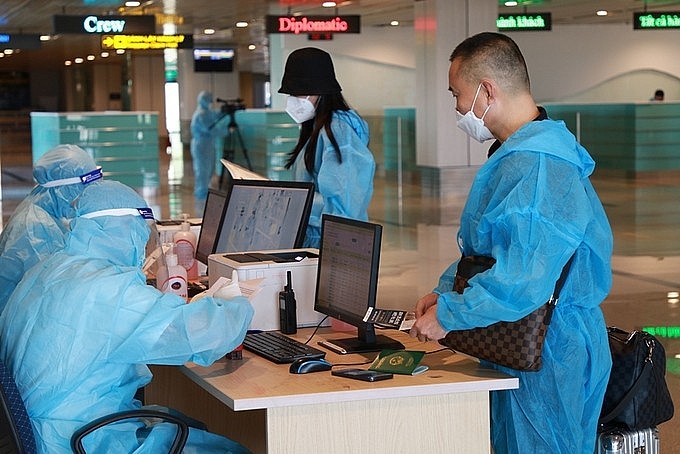 Photo: Vn Express
Vietnam welcomes two flights from US under vaccine passport policy
345 Vietnamese citizens fully vaccinated in the U.S. arrived at the Van Don Airport in the northern province of Quang Ninh in two flights Sunday. The first flight landed at 11:18 a.m., carrying 161 passengers, the other one arrived about one hour later, with 184 passengers on board.
All passengers on the flights had already been fully vaccinated and had negative RT-PCR test results for Covid-19 validated by authorities in the host country 72 hours before departure, therefore meeting the Health Ministry criteria outlined in the vaccine passport program. The passengers will be quarantined at the Vinpearl Resort and Spa Ha Long Hotel for seven instead of the usual 14 days.
All of them, deemed at low risks for Covid-19 infections, had to undergo procedures similar to normal repatriation flights like body temperature checks, submission of health declarations, wearing masks, and keeping a safe distance at all times. They were also divided into groups of old people, the disabled, pregnant women, children under 12, and other classifications to speed up customs procedures at the airport.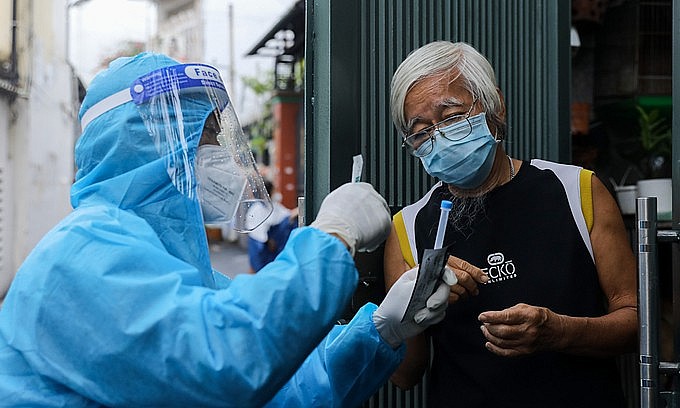 Photo: Vn Express
EU vaccine, equipment donations arrive in Hanoi
Two batches of 200,000 Covid-19 vaccine doses gifted by Slovakia and Belgium were among EU medical donations that arrived in Hanoi Sunday. These AstraZeneca doses and medical equipment were pledged during a European trip by National Assembly (NA) Chairman Vuong Dinh Hue. The vaccine doses were handed over to Health Minister Pham Thanh Long, together with medical equipment donated by various organizations and the overseas Vietnamese community in Europe.
During Hue's trip, several deals related to Covid-19 test kits and vaccine production were signed, said Vu Hai Ha, Chairman of the National Assembly's Committee for External Relations. One of these was between a Vietnamese firm and a Spanish partner to conduct clinical trials, produce and purchase 50 million doses of the Covid-19 vaccine. Another firm inked a deal with French biotech company Xenothera SAS to conduct clinical trials for a Covid-19 treatment method.
Hue led a high-ranking Vietnamese delegation on a week-long (September 5-11) EU visit to attend the fifth World Conference of Speakers of Parliament (WCSP5) in Austria, work with the European Parliament (EP), and pay official visits to Belgium and Finland.
As of 6 pm on September 12, Vietnam has recorded 613,375 coronavirus cases since the start of the outbreak in January 2020, and 608,997 locally acquired infections following the resurgence of the virus four and a half months ago.
The September 12 figure has raised the total number of fatalities in Vietnam to 15,279, making up 2.5% of the total number of infections and 0.4% higher than the average death rate globally.
More than 18.1 million doses of vaccines have been administered nationwide, with over 5 million people getting their second shot.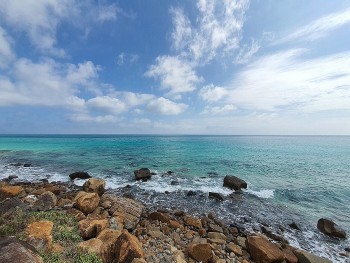 Viet's Home
Con Dao, a historical and famous island situating in the southern province of Ba Ria - Vung Tau, has been named among the top 16 best island vacations in the world, as compiled by tourism magazine Condé Nast Traveler (CNTraveler) of the United States.