Vietnam Covid-19 Updates (September 25): Vietnam Successfully Produces Sputnik V Vaccine
As of 6 pm on September 24, Vietnam has recorded 736,972 Covid cases since the start of the outbreak in January 2020, and 732,492 locally acquired infections following the resurgence of the virus nearly five months ago.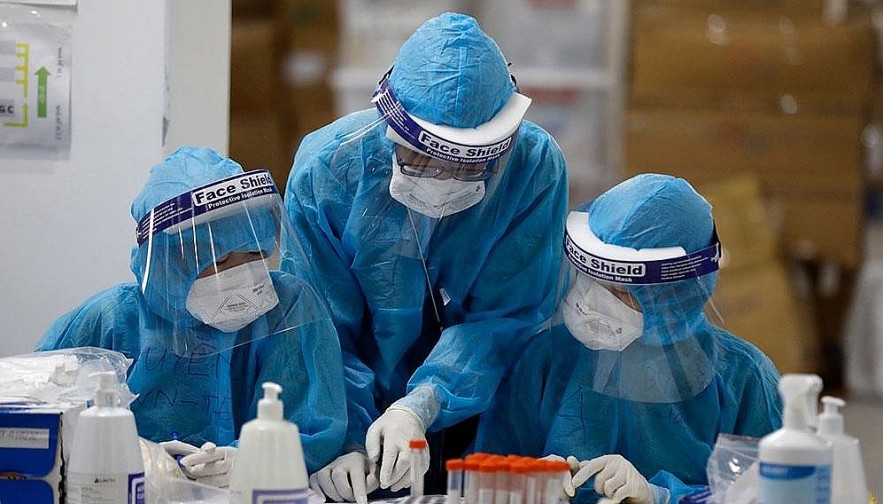 Photo: Nhan Dan Online
8,537 new Covid cases added to the national tally
Vietnam recorded an additional 8,537 infections, including seven imported cases, from 5 pm on September 23 to 5 pm on September 24, according to the Ministry of Health.
Ho Chi Minh City, which is the country's current largest pandemic hotspot, continued to report the highest number of infections with 3,786 cases, down 1,266 cases from the previous day. It was followed by neighboring Binh Duong province (2,978, up 214 cases), Dong Nai (803, up 43 cases), and Kien Giang (230). The capital city of Hanoi logged five cases during the day.
A total of 12,371 patients were given the all-clear on September 24. 203 deaths were announced on the same day.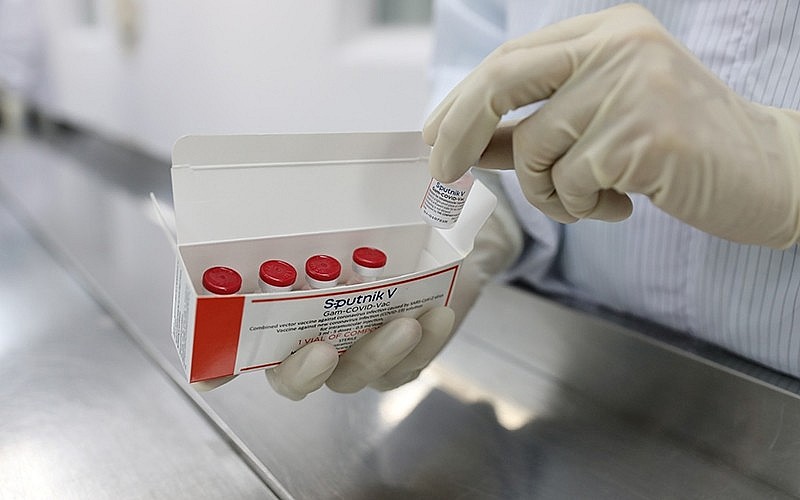 Photo: People's Army Newspaper
Vietnam successfully produces Sputnik V vaccine
VABIOTECH, one of Vietnam's leading pharmaceutical companies, has successfully produced its first batch of the Russian Sputnik V vaccine against Covid-19, VABIOTECH announced. VABIOTECH has partnered with the Russian Direct Investment Fund (RDIF) to produce the Sputnik V vaccine in Vietnam. The initial test batch came out in July and samples were sent back to Gamaleya for quality control. "The production of these doses will help Vietnamese people gain easier access to quality vaccine source, contributing to the Covid-19 fight," said Dr. Do Tuan Dat, VABIOTECH director.
As scheduled, the Sputnik V will be used as part of the country's National Expanded Programme for Immunisation, an important factor as it is dealing with a severe fourth wave of infections while vaccines are in short supply. Sputnik V, known as VGam-COVID-Vac, is one of the vaccines with a publicly available price of less than US$10 per jab. It also can be stored at standard refrigerator temperatures of between 2-8 degrees Celsius.
The vaccine is based on a proven and well-studied platform of human adenoviral vectors and makes use of two different vectors for both shots in a course of vaccination, thereby providing immunity with a longer duration than vaccines that use the same delivery mechanism for two jabs. Russia says the efficacy of the vaccine is 97.6%.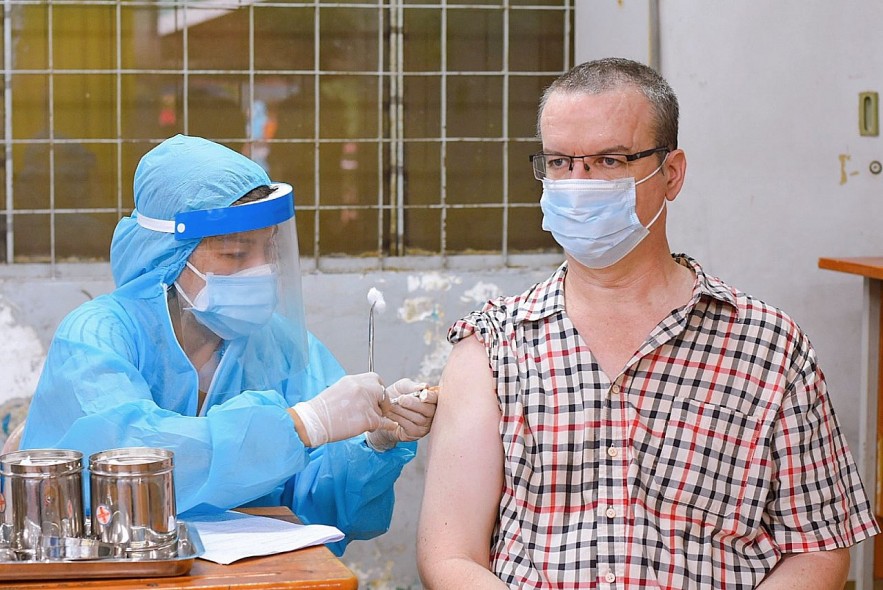 Photo: VN Express
Da Nang mulls reopening tourist destinations, resorts from early October
Da Nang, a popular tourism hotspot, plans to relax social distancing measures from October 1 to allow tourist destinations, resorts, and accommodation facilities to resume operation. This is part of the city's efforts to resume socio-economic activities after several months of suspension as the pandemic situation in Da Nang has been brought under control.
From October 1 to 15, the city plans to allow meetings, along with indoor and outdoor events with less than 30 people. Those having received two doses of a Covid vaccine would be permitted to attend indoor activities with less than 100 people and outdoor events with no more than 200. Non-essential services except bars, karaoke parlors, spas, and massage parlors could resume operation while hotels, resorts, and accommodation facilities are allowed to reopen their doors to tourists. The city would also allow religious sites and tourist destinations to reopen but ensure no large crowds of more than 30 people at a time.
Da Nang had ordered everyone to stay home from Aug. 16. Before that, it had imposed Directive 16, which contains the country's most stringent social distancing rules and prohibits people from leaving home except for buying food or medicines and working. Over 665,000 residents have been vaccinated so far, including over 80,000 who got two doses.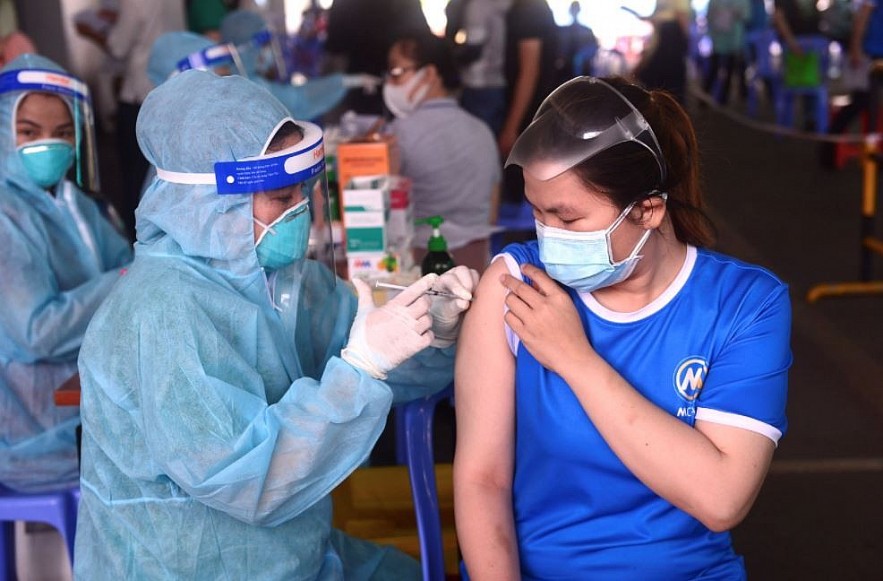 Photo: Nhan Dan
Ho Chi Minh City shortens the interval between AstraZeneca shots to six weeks
HCMC would shorten the minimum time period between twoAstraZenecaCovid-19 vaccine shots to six from eight weeks. The decision, issued by the deputy chairman of the municipal People's Committee Duong Anh Duc, is in agreement with a previous proposal by the Ho Chi Minh City Department of Health. The decision means people in Ho Chi Minh City who have received their first Covid-19 vaccine shot from AstraZeneca may get their second shots from either AstraZeneca or Pfizer at least six weeks after.
An AstraZeneca Covid-19 vaccine shot should have an efficacy of 69.2 percent 22 days after the first shot and 80 percent 12 weeks after the second shot, according to the Ministry of Health. The ministry has also approved the use of the Pfizer Covid-19 vaccine as the second shot following an AstraZeneca shot in case of shortage, and if the receiver consents.
Ho Chi Minh City is rushing to vaccinate its population against the coronavirus. The southern metropolis, which has recorded 362,493 local Covid-19 cases since the fourth coronavirus wave hit Vietnam in late April, has vaccinated around 6.8 million people with at least one Covid-19 vaccine shot. Around 2.2 million people in the city have been fully vaccinated.
As of 6 pm on September 24, Vietnam has recorded 736,972 coronavirus cases since the start of the outbreak in January 2020, and 732,492 locally acquired infections following the resurgence of the virus nearly five months ago.
Of the total, 500,680 patients have been discharged from the hospital after making a full recovery from the disease. The September 24 figure has raised the Covid death toll in Vietnam to 18,220, making up 2.5% of the total number of infections and 0.4% higher than the average death rate globally.
Nearly 37 million vaccine doses have been administered nationwide, with 7.25 million people getting full jabs.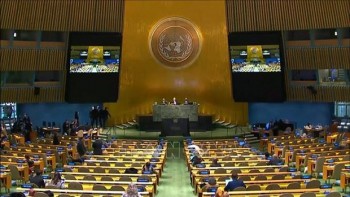 National
Vietnamese Ambassador Dang Hoang Giang underlined the historic significance of the 1982 United Nations Convention on the Law of the Sea (UNCLOS) to all humankind, while representing more than 40 member states of the UNCLOS Group of Friends at a meeting in New York on December 8.