Vietnam Covid-19 Updates (September 30): 8,758 New Infections, Over 23,500 Recoveries
To date, the country has documented a total of 779,398 cases since the pandemic initially hit late last year. The national death rate over the past week has stood at an average of 188 a day.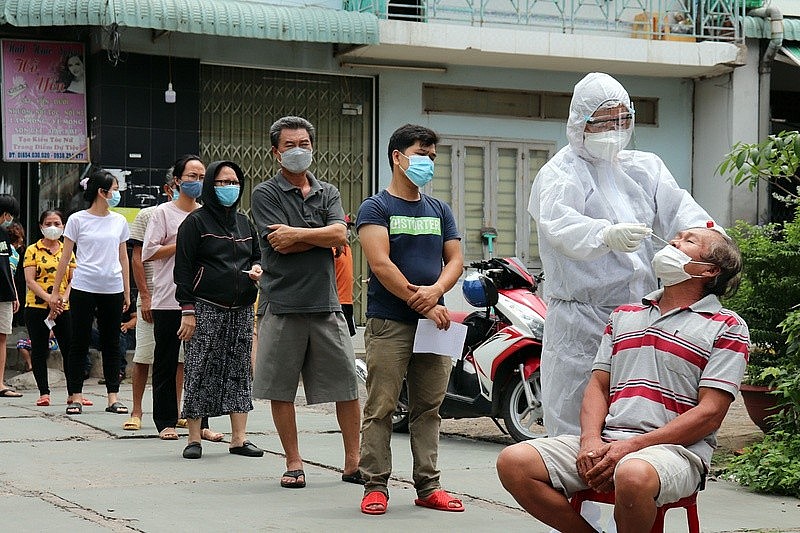 Photo: Dong Nai CDC
8,758 new Covid-19 infections, over 23,500 recoveries
The Health Ministry announced a total of 8,758 new Covid-19 cases across 33 localities nationwide on September 29, an increase of 4,161 cases from the previous day, thereby raising the infection tally during the current fourth wave to 776,546.
Ho Chi Minh City, currently the country's largest pandemic hotspot, reported the highest number of infections with 4,699 cases, followed by neighboring Binh Duong province with 2,389, Dong Nai with 899, and Long An with 131. Elsewhere, Hanoi reported four positive cases in areas under lockdown. The localities that saw the highest drop in case numbers compared to the previous day include Binh Duong, which fell by 186, An Giang by 130, and Tay Ninh by 32.
HCM City, Dong Nai, and Soc Trang registered the highest number of infections compared to the previous day with 4,322, 112, and 112, respectively.
On September 28, a total of 1,097,044 doses of Covid-19 vaccines were injected to elevate the total number of inoculations to over 41.1 million.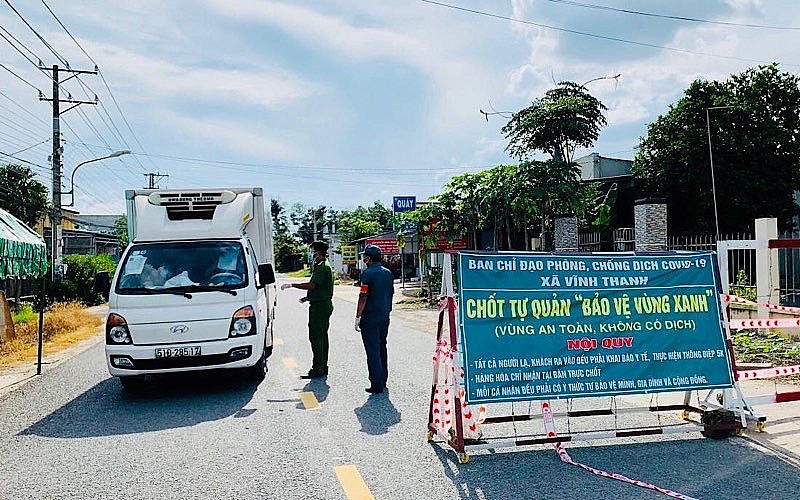 Photo: Zing News
Da Nang to relax some restrictions from September 30
Markets, hotels, outdoor sports, and public transport will resume in the central city from September 30 morning, though other restrictions will remain in place for now. The municipal People's Committee said it decided to ease social distancing regulations as the situation was now more under control, after nearly two months of lockdown, according to VNA.
Da Nang residents can return to traditional markets once every three days using a QR code system, although only 50 percent of stalls will operate at a time. This system is also in place at other public destinations, shops, and offices. All sellers and service providers must either have received at least one vaccine shot, or have a certificate proving they have had Covid-19 and are now fully recovered. Training courses and seminars, with the participation of under 20 people at a time, can also resume. Religious services can resume providing less than 30 are present.
Non-contact outdoor sports activities involving less than 20 players, such as tennis, golf, volleyball, and table tennis, have also been given the green light to go ahead. Beachgoers will now be able to swim in the sea between 4.30-6.30am, providing they remain a safe distance from others and observe pandemic preventive measures. Hotels and resorts can operate at 30 percent room capacity or 50 percent for full-vaccinated tourists. Vaccinated logistics services and ride-hailing drivers can provide their service as before, but safe distancing and protective measures are strictly required.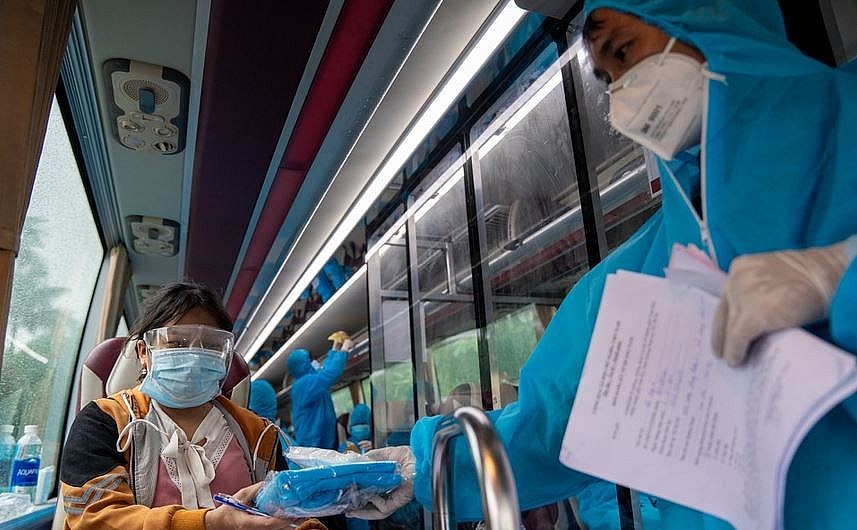 Photo: Zing News
Army continues assisting southern localities' fight against Covid-19 after September 30
Deputy Prime Minister Vu Duc Dam has requested the army to continue supporting Ho Chi Minh City and other southern localities in fighting the Covid-19 pandemic after September 30 when they begin loosening social distancing measures. Dam, who is deputy head of the National Steering Committee for Covid-19 Prevention and Control, made the statement at his meeting with representatives from the Defence Ministry's Steering Committee for Covid-19 Prevention and Control in HCM City and southern localities on September 29.
According to him, before the localities achieve herd immunity, it needs to take steps to adjust support forces appropriately. He hailed efforts by military and military medicine forces to treat patients and join hands with locals to combat the pandemic.
Senior Lieutenant General Vo Minh Luong, head of the Government's special working group on Covid-19 prevention and control in HCM City and southern localities, said after September 30 when HCM City and southern localities start loosening social distancing measures, the army will have adjustments suitable for each locality. Luong proposed the Vietnam People's Army (VPA)'s General Department of Politics assign relevant agencies to coordinate with units and localities to extend dissemination to raise public awareness of pandemic prevention and control. The VPA General Staff and the General Department of Logistics should adjust their forces to suit the new situation, he added.
Photo: Zing News
Vietnam starts clinical trial of ARCT-154 vaccine, phases 2,3
Vietnam is starting phases 2 and 3 of its human clinical trial of the ARCT-154 vaccine against Covid-19 following the encouraging results of the first phase. About 100 volunteers in Hanoi took part in the first phase of the trial which was carried out in mid-August. More than 20,000 volunteers have registered to join phases 2 and 3 of the trial in Bac Ninh and Hung Yen provinces in the north and Vinh Long, Tien Giang, and Dong Thap provinces in the south.
As soon as the results of phase 3 are available, the Ministry of Health will make the final assessment of the effectiveness and protection rate of this vaccine, said Dr. Nguyen Ngo Quang, deputy director of the Sci-Tech and Training Department, under the Ministry of Health. It is expected that the research team will evaluate and report the test results on December 30 after phase 3a ends in late November. If the vaccine proves effective, researchers will then submit a request for emergency use of the vaccine in Vietnam.
The self-amplifying mRNA vaccine is developed by the US-based Arcturus Therapeutics who partners with VinGroup's VinBioCare for support in clinical trials and manufacturing at a facility in Hanoi. The technology allows a lower dose of vaccine, while the immune stimulation lasts longer, for quick and simple prevention of the Covid-19, and is capable of fighting mutated variants of coronavirus such as Alpha, Beta, Delta, and Gamma.
To date, the country has documented a total of 779,398 cases since the pandemic initially hit late last year. The national death rate over the past week has stood at an average of 188 a day.
After four months of social distancing at various levels, Ho Chi Minh City plans a gradual easing of restrictions starting from October 1, with this set to occur gradually and being dependent on the pandemic situation. In the ongoing outbreak, the southern metropolis has recorded over 384,000 infections, accounting for almost half of the national tally, whilst also spending more than three months enforcing various levels of social distancing regulations.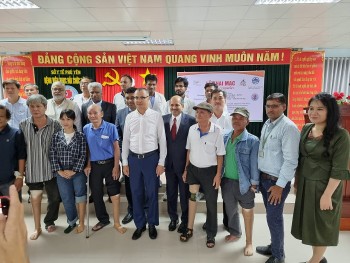 Friendship
This is the 5th time the Jaipur Foot Artificial Limb Fitment Camp has been held in Vietnam since 2018 by the Indian Ministry of Foreign Affairs, Indian agencies and organizations.