Vietnam – Germany, 45 years of cooperation for mutual development
September 23, 2020 marks an important milestone in Vietnam-Germany relations, as the two countries celebrate the 45th anniversary of bilateral diplomatic ties in the context of their strategic partnership having constantly grown in a positive, extensive, effective and comprehensive manner.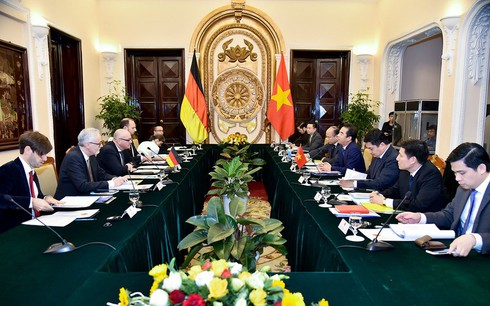 The fifth meeting of the Vietnam-Germany Strategic Management Group in Hanoi in 2019.
In October 2011, Vietnam and Germany officially upgraded their relationship to a strategic partnership, creating a new impulse to promote substantive cooperation between the two sides. German Ambassador to Vietnam Guido Hildner affirmed that Vietnam is an important strategic partner of Germany. Mutual trust and understanding have been enhanced through the maintenance of high-level delegation exchanges and cooperation mechanisms, which is a solid foundation for the two countries to successfully implement many important areas of cooperation.
Vietnam-Germany economic relations have achieved many impressive results in recent years. Germany is Vietnam's largest trading partner in Europe, representing nearly 20% of Vietnam's exports to the European Union (EU), and is also an important transit gateway for Vietnamese goods to the market. Two-way trade turnover reached more than US$10.24 billion in 2019, with Vietnam enjoying a trade surplus. Germany is a big market, consuming many Vietnamese products, including telephones, computer parts, footwear, coffee and farm produce. For Germany, Vietnam is a potentially fast growing market in Asia. As of May 2020, Germany has 361 valid projects in the country with a total registered capital of US$2.06 billion, ranking fourth among EU countries and 18th out of the 132 countries and territories investing in Vietnam, according to the nhandan.
Germany is one of Vietnam's most important partners in vocational training. The country has assisted the Vietnamese Ministry of Labour, Invalids and Social Affairs in developing a national vocational training strategy, drafting the Law on Vocational Training, as well as opening vocational training schools according to Germany's parallel vocational training model. In terms of development cooperation, Germany has provided more than US$2 billion for ODA projects in Vietnam since 1990 through technical and financial cooperation, with technical cooperation projects implemented in the form of nonrefundable aid.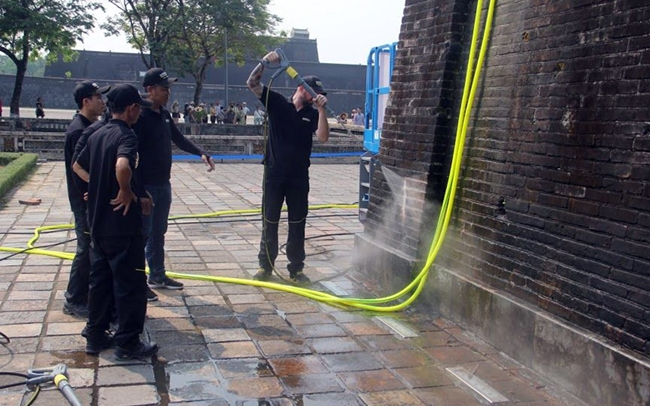 German experts support the implementation of the project to clean the wall of Ngo Mon (Noon Gate) of the Hue Imperial Citadel. Photo: nhandan
In addition, bilateral collaboration in culture and education-training has been growing consistently. Over recent years, cultural and artistic exchanges between the two countries have taken place in a vibrant fashion. Germany has supported Vietnam in implementing a number of projects on conservation and restoration of cultural heritages in the ancient capital of Hue, as well as in archaeological research. With regards to education-training, there are about 300 Vietnamese postgraduates receiving research scholarships in Germany, and more than 7,000 Vietnamese students are studying at German universities. Moreover, since 1993, through the German World University Service (WUS), the Hessian State Ministry for Science and the Arts has granted 150 scholarships annually to students with excellent academic results at some colleges and universities in Vietnam.
2020 marks a crucial milestone for both Vietnam and Germany as they hold important positions at multilateral forums. Ambassador Guido Hildner emphasised that the two countries serving as non-permanent members of the United Nations Security Council for the 2020-2021 term, Vietnam holding the ASEAN Chairmanship 2020 and Germany assuming the rotating EU presidency in the latter half of the year have created favorable conditions for the two countries to expand and deepen bilateral cooperation.
They shared the view that 2020 will be an important year for Vietnam – Germany ties when they will celebrate the 45th anniversary of bilateral diplomatic ties and will be non-permanent members of the United Nations Security Council.
Vietnam will perform the role of ASEAN Chair 2020 and Germany will hold the European Union presidency in the second half of 2020.
The diplomat affirmed that Germany and Vietnam have become cohesive on the basis of their long-standing friendship and close partnership. The 45-year journey is a clear testament to that sound relationship. Based on the established foundations and with the determination and relentless efforts of the two countries' leaders and peoples, Vietnam-Germany friendly relations and cooperation promise to grow further and attain greater achievements in the near future.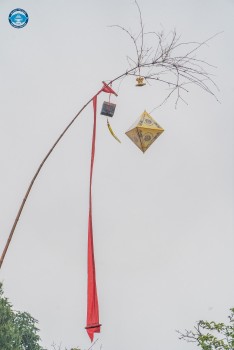 Viet's Home
In the past, the Neu pole (a tall bamboo pole with red garment strips used to ward off evil spirits during the lunar New Year) lowering ceremony at the royal palace of the Nguyen Dynasty was performed to mark the end of the New Year holiday and prepare to enter a new working year.