Vietnam has no forced in-jail labor
Organizing for inmates to work in prisons demonstrating the humanistic traits in the policies of the Party and the State of Vietnam in order to re-educate the criminals to help them grow better and beneficial for the society as well as promote them to acknowledge fully the values of working thereby respecting the labor.
Simultaneous, teaching occupation in the detention camp would help inmates orient their occupation and seek a proper job after the release, therefore, they could better immerse themselves in the normal social life and have their living more stable. There are completely not what is called "forced labor" in jails in Vietnam.
International Law on forced labor
Forced Labour Convention, 1930 (No. 29) ratified by the International Labour Organisation (ILO) on June 28 in 1930 has been approved by as many as 175 countries so far. On January 29 in 2007, Vietnam joined the Convention, which officially mentioned the conception of forced or compulsory labor. According to paragraph 1 of Article 2 of the Convention, the phrase forced or compulsory labor is: "all work or service which is exacted from any person under the threat of a penalty and for which the person has not offered himself or herself voluntarily."
According to the definition, anybody would be the object of forced labor when they perform a certain job or service, regardless of whether they are male or female, or young or old; they can be persons with or without expertise for that work or service ... Under Convention 29, forced labor can be understood as work that is performed involuntarily and under the menace of any penalty. It refers to situations in which persons are coerced to work through the use of violence or intimidation, or by more subtle means such as manipulated debt.
However, there are five kinds of work or service are exempted from this definition including Compulsory military service—any work or service exacted in virtue of compulsory military service laws for work of a purely military character; Normal civic obligations—any work or service which forms part of the normal civic obligations of the citizens of a fully self-governing country; Prison labor under governmental supervision and control—any work or service exacted from any person as a consequence of a conviction in a court of law, provided that the said work or service is carried out under the supervision and control of a public authority and that the said person is not hired to or placed at the disposal of private individuals, companies, or associations; work in cases of emergencies—any work or service exacted in cases of emergency and minor communal work—minor communal services of a kind which, being performed by the members of the community in the direct interest of the said community.
Besides, another platform adopted by ILO on June 25 in 1957 was Convention 105, with 173 countries approving. The National Assembly has voted for the ratification of ILO Convention 105 on the Abolition of Forced Labour on June 8 in 2020. The Convention features requirements showing strong commitment to demolishing forced or compulsory labor namely Each Member of the International Labour Organisation which ratifies this Convention undertakes to suppress and not to make use of any form of forced or compulsory labor. This represents a stronger and more decisive action by the international community towards the abolition of forced labor.
Clause 4, Clause 6, Article 4 of the 2019 Law on Execution of Criminal Judgments regulates two of the principles of criminal judgment execution: "Combining punishment and education in the execution of judgments"; "Encouraging judgment executors to repent, actively study, engage in re-education".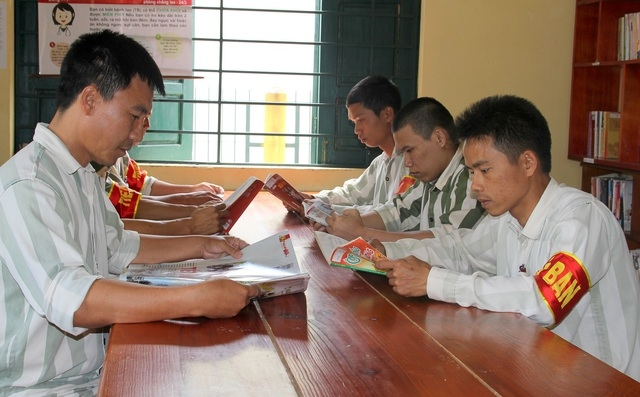 Inmates read books at the Dak P'lao Prison Library (General Department VIII, Ministry of Public Security). Photo: Dan Tri
Rights and obligations of prisoners
Constitution adopted in 2013 stipulates: "In the Socialist Republic of Vietnam, human rights and citizens' rights in the political, civil, economic, cultural and social fields shall be recognized, respected, protected and guaranteed in accordance with the Constitution and law"; "Citizens' rights are inseparable from citizens' obligations"; "Citizens shall perform their obligations toward the State and society" (Article 14,15). It is also regulated that: "Citizens have the right to work and to choose their occupations, employment, and workplaces"; "The State shall encourage and create the conditions for organizations and individuals to create jobs." (Article 35, 57).
The Criminal Code 2015 (amended and supplemented in 2017) stipulates: "For persons sentenced to imprisonment, they must be compelled to serve their sentences in detention camps, to labor and study so as to become persons useful to society"(Article 3).
The 2019 Law on Execution of Criminal Judgments mentioned rights and obligations of prisoners, including the right to work, study, apprenticeship, and obligations: Execution of the judgment, the decision of the Court which have become legally effective, the decisions of criminal judgment execution management agencies and decisions of other competent agencies; Execute the regulation of the detention facilities and standards of the judgment execution emulation; Comply with requests, orders, and instructions of detention camps; Work, study and engage in vocational training according to regulations.
Clauses 30 and 32 of the law also regulate particularly the labor of inmates. For details, the prisoners are divided into teams to work, study, and live; inmates are organized to work depending on their age, health and meet the requirements of management, education, and community integration. Labor offenders must be under the supervision and management of prisons and detention camps. Prisoners' working time must not exceed 08 hours per day and 05 days a week, and are entitled to rest on Sundays, public holidays, New Year holidays according to the provisions of law…; Female prisoners are assigned for suitable jobs in accordance with gender; not be arranged to do jobs without using female workers according to the provisions of the labor law ; Inmates who are sick or have physical or mental defects, depending on the severity and nature of the disease and on the basis of medical indications of the prisons or detention camps, the working time is exempted or reduced; Inmates are entitled to work leave in the following cases: a) The offender is ill, is not healthy enough to work and is certified by the prison health; b) The offender is being treated at a medical facility; c) The offender has a child under 36 months old who is living with his mother in a prison and is sick with certification of the prison health; d) Pregnant female inmates are entitled to work leave before and after giving birth according to the provisions of the labor law.
With the aforementioned provisions, any inmates including Vietnamese citizens or foreigners, no matter how their condition and legal status required to serve in detention facilities must work and study, do an apprenticeship to become a useful citizen in the society ... In other words, labor is both the right and the obligation of the offender in the course of serving the Court's judgment in detention facilities.
No forced labor
Labor of inmates in Vietnam is conducted under the Law on Execution of Criminal Judgments, deriving from the Court's rulings (an offender is a person who is declared guilty by the Court, subject to a penalty and must execute the judgment execution decision of the Court), placed under the supervision and administration of the prison, and at the same time they are not transferred or placed under the use of private individuals, corporations or private associations. .. Hence, offender's labor can be asserted among the five "exceptional" cases which are not considered forced labor under ILO's Conventions 29 and 105.
Labor of inmates in Viet Nam is also one of the "exceptions" provided by the International Covenant on Civil and Political Rights (OHCHR), which was passed by the United Nations General Assembly on December 16, 1966, and took effect as of March 23 in1976. Article 8 Part III of the Convention states: The term "forced or compulsory labor" does not include any work or service that would normally require a person to be detained under legal rulings of the Court the Tribunal or a person who is conditionally released must work ... (in countries where imprisonment with labor penalty applies).
The guidelines and policies of the Party and the State of Vietnam regard inmates' labor in prisons not to be activities for business purposes but as labor, vocational guidance, and vocational training activities. The motto of suppression combining with leniency, punishment combining with re-education, labor, career guidance, and vocational training transform inmates with thinking of parasite, lazy working, not respectful labor products, into those who know how to value genuine, organized, disciplined, technically skilled labor.
At the same time, the organizations of labor, career guidance and vocational training in prisons also provide inmates better health, orient career, improve skills and working habits that help them to seek for suitable jobs and soonly immerse themselves in society after leaving the camp.
Article 34 of the Law on Execution of Criminal Judgments in 2019 also mentioned the exploitation of offender's labor results after subtracting reasonable expenses that are used for food supplement for prisoners; to set up a Community Integration Fund to support inmates after completing their imprisonment sentence service; add to the prison welfare and reward fund; to provide support for investment back in prisons in service of organizing labor, education and vocational training for prisoners, improving skills for inmates to prepare for their imprisonment sentence; pay part of the labor force to inmates directly involved in the production, support for prisoners with occupational accidents, among others.
Statistics from the Police Department of Management of Prison, Compulsory Re-education Center and Reformatory under the Ministry of Public Security, in the past 10 years (from 2010 to 2019), the detention camps have joined with many organizations and units to hold series of course for labor arrangement and vocational training for inmates (successfully organized 6,757 training classes for 368,183 prisoners; issued vocational certificates for 31,044 prisoners). Also in the past 10 years, the prisons have extracted from the results of inmates' labor and apprenticeship: VND 436,380,000,000 (US$ 18.9 million) for rewards and supplement food for prisoners; VND 109,914,000,000 (US$ 4.8 million) to support prisoners to reintegrate into the community; VND 138,141,000,000 (US$ 6 million) spent on organizing training, vocational training, fostering and skill improvement for prisoners, among others.
The organization of labor for inmates derived from the humanitarian policy of the Party and the State for the sake of prisoners, aiming to help them re-educate and improve their lives. At the same time, labor is also a way to motivate prisoners to exercise health and acquire an occupation in order to boast a proactive position in reintegrating into the community, help them grow better and beneficial for the society. From both a legal and practical perspective, it should be clear that there is no forced labor in prisons in Vietnam.
According to ILO experts in Vietnam, offenders are those who have the judgment execution decisions of the court; prisoners' labor in prisons is carried out in accordance with the Law on Execution of Criminal Judgments and placed under the supervision and management of the detention camps, and at the same time, they are not transferred or placed under the exploitation of private sector. Labor of the offender is an exception and is not regarded as forced labor under Point c, Clause 2, Article 2 of Convention No. 29.
Author: Nguyen Van Dieu (Deputy Head of Office, The Police Department of Management of Prison, Compulsory Re-education Center, and Reformatory under the Ministry of Public Security).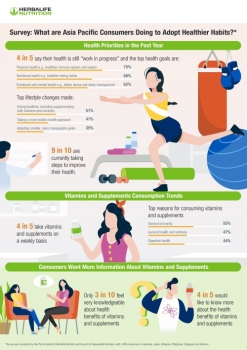 Economy
HONG KONG SAR - Media OutReach - 28 October 2021 - A new survey examining the awareness and usage of nutritional supplements in the Asia Pacific region revealed that four out of five consumers in believe their health is a "work in progress," and 86% have been taking steps to improve their health in the past year.