Vietnam commits to abolition of forced labor after consideration
With 94.82% of votes, the National Assembly adopted a resolution to ratify Viet Nam's membership of the International Labor Organization (ILO)'s Abolition of Forced Labor Convention (Convention 105).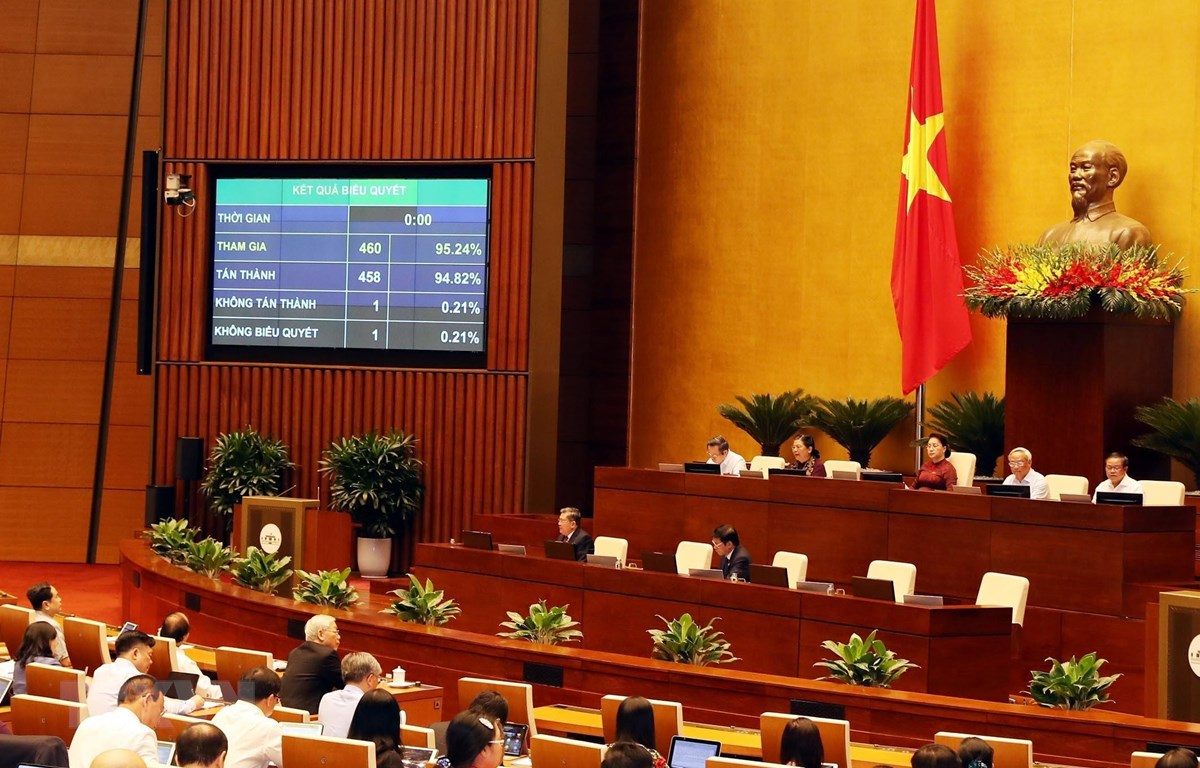 NA deputies vote for resolution to ratify Viet Nam's membership of the International Labor Organization (ILO)'s Abolition of Forced Labor Convention (Convention 105) - Photo: VNA
Ms. Corrine Vargha, Director of the ILO's International Labor Standards Department said that the adoption represents Viet Nam's strong commitments to the fight against forced labor in any forms.
Via the adoption, Viet Nam has approached the fulfillment of the 2030 United Nations Sustainable Development Goals (SDGs) especially the seventh and eighth ones.
The Abolition of Forced Labour Convention (Convention 105) was adopted by the ILO in Geneva, Switzerland on June 25, 1957. It is one of the two ILO conventions against forced labor, along with Convention 29 which Vietnam joined in 2007.
Convention 105 comprises ten articles. The content of the Convention focuses on Article 1 and Article 2; Articles 3 to 10 are procedural rules.
The ILO estimated of 24.9 million trapped in forced labor, 16 million people are exploited in the private sector such as domestic work, construction or agriculture; 4.8 million persons in forced sexual exploitation, and 4 million persons in forced labor imposed by state authorities.
In the private sector, forced labor generated an annually illegal benefit of US$ 150 million, informed the VGP.
Vietnam's participation in Convention 105 contributing to the implementation of Vietnam's foreign policy of international integration.
"It is now high time for Vietnam to join Convention 105 (C105) on the abolition of forced labor, one of the core conventions of the International Labor Organization (ILO)", Minister of Labor, Invalids and Social Affairs Dao Ngoc Dung said at a National Assembly meeting on May 20.
Speaking at the NA meeting in Hanoi on that day, Minister of Labor, Invalids and Social Affairs Dao Ngoc Dung said C105 regulations were globally considered basic labor standards, demonstrating the progressive value of humanity, as forced labor deprives humans of both liberty and dignity.
Dung stressed the necessity to join the convention as it has implications on all political, socio-economic and legal aspects of Vietnam. The country's adherence to C105 will not change Vietnam's international obligations as the country has already been member of the ILO's Convention No.29 on Forced Labor since 2007.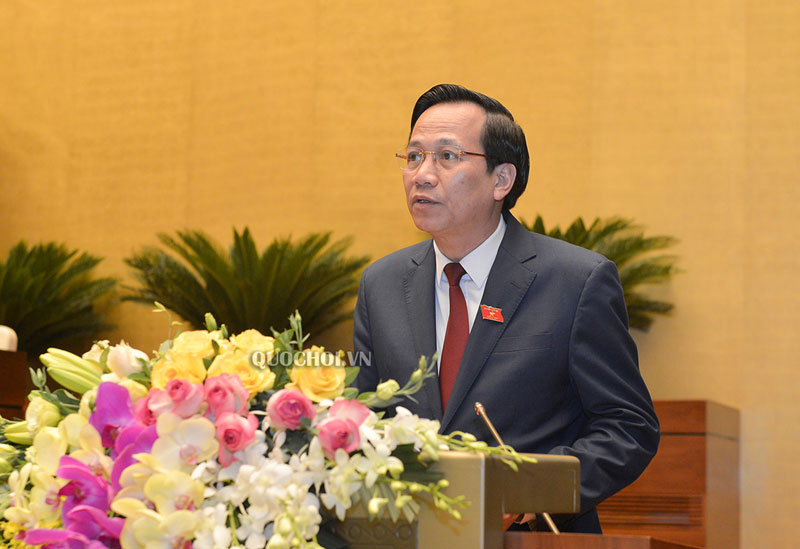 Minister Dao Ngoc Dung made a presentation report on acceding to Convention 105. Photo: Quochoi.vn
Dung noted that the country's participation in C105 will contribute to the implementation of Vietnam's foreign policy of international integration.
Joining C105 will fulfill the obligations of an ILO member. According to the 1998 ILO Declaration, ILO member countries, whether they have acceded to the eight fundamental ILO Conventions or not, including C105, are obliged to comply with the labor standards provided for in these conventions, the minister stressed.
However, there is confusion over terms and conditions once Vietnam joins one of the core International Labor Organization (ILO) conventions.
Nguyen Van Giau, Chairman of the NA's Committee on Foreign Affairs, said he agreed with the necessity to join C105 but that some members had suggested reviewing whether to have inmates work in prison, as per the 2019 Law on Execution of Criminal Judgments.
According to the law, a prison would consider the health, ages and skills of inmates to decide which jobs they are suited to. Working hours are regulated at no more than eight hours per day, with inmates afforded breaks on the weekend and other holidays.
The law states working inmates would be "rewarded" for good performance and that once they finished serving time, they would receive help finding jobs.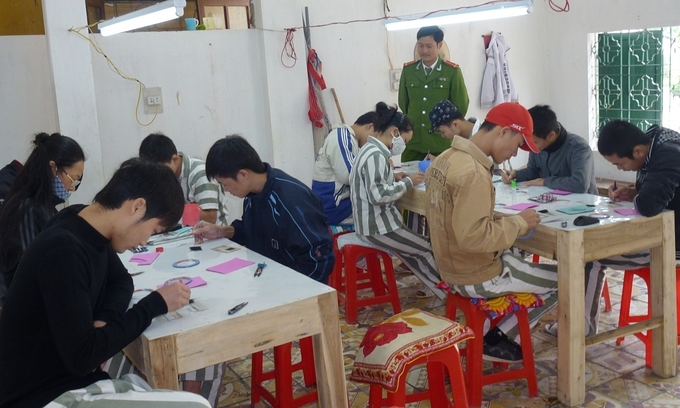 Inmates work at a prison in the northern province of Bac Giang. Photo courtesy of Bac Giang Prosecutors Office
NA delegate Luu Binh Nhuong also questioned whether it was correct to make prisoners work when their sentences did not stipulate this necessity.
"Once we ratify C105, and ILO sees we make prisoners work, what will happen? I totally agree that we assist inmates reintegrate into their communities, but not for commercial purposes," he held.
Minister Dung said working inmates are not regulated by ILO Convention 105 but Convention 29.
He added that C105's standards have been incorporated into Vietnam's commitments under the EU-Vietnam Free Trade Agreement (EVFTA) and Comprehensive and Progressive Agreement for Trans-Pacific Partnership (CPTPP). Vietnam's accession to C105 would send a strong message to the international community and trading partners showing that Vietnam is a serious and responsible member with its international commitments.
On asking for the parliament's approval on joining C105, Vice State President Dang Thi Ngoc Thinh said that in the context that Vietnam was strengthening economic and international integration, the accession to C105 was of great significance to all political, socio-economic and legal aspects.
Joining the convention would contribute to affirming and implementing the Vietnamese Party's and State's foreign policies and international integration, as well as Vietnam's strong political commitment as a member state of the ILO, the vice president emphasized, said the Hanoitimes.
Signed in 1957, Abolition of Forced Labor (No. 105) has also formed part of the eight ILO fundamentals. It cancels certain forms of forced labor still allowed under Convention 29, such as punishment for strikes and as a punishment for holding certain political views, reported the vnexpress.
As regulated by Convention 29, working inmates are treated as exceptions and are not considered forced labor.
The work of prisoners shall comply with the provisions of Law on Execution of Criminal Judgments and placed under supervision and management of the prison, non-transferable or imposed for private use.
"In consultation with ILO, most countries operate their own working inmate laws. If prisoners work for commercial purposes, they must have an employment contract and receive payment," Dung said.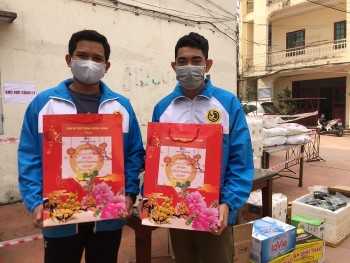 Expats in Vietnam
Vietnam is sending affection to Lao and Cambodian students who stay back in the country for Tet, the traditional New Year holiday which is an occasion for family reunion.