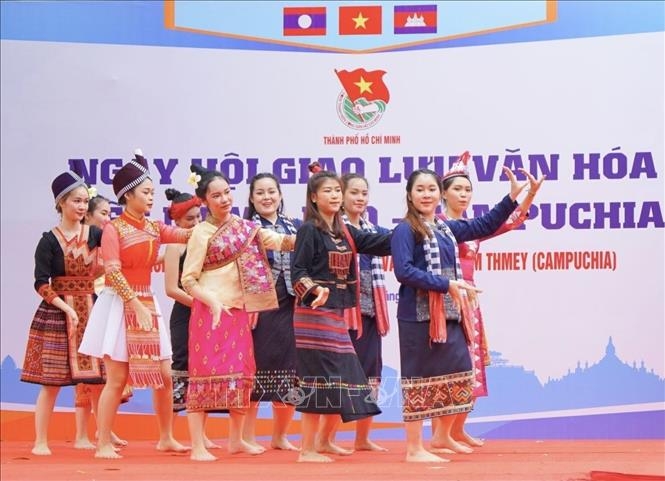 Cambodian students dance to their traditional music (Photo: VNA)
At the festival, Vietnamese, Lao and Cambodian students took part in a number of cultural exchange activities, including singing and dancing to traditional music, performing traditional fashion, engaging in folk games and sampling iconic foods from three countries. The festival also features sports competitions with traditional games such as soccer, relay race, tug of war, etc.
One of the highlights at the festival was the Baci ceremony – a specific ceremony in Laos that has been practiced for hundreds of years. The ceremony involves the tying of white cotton strings around a person's wrists and the prayer saying or well-wishing for the person that the ceremony is intended for.
Lao people believe that a human being is a union of thirty-two organs, each has a spirit or Khuan (Lao word for spirit) to protect them. These spirits often wander outside the body causing unbalance of the soul which might lead to an illness. The tying of the white string represents tying of the 32 spirits to the body putting them back in harmony as well as bringing good luck and prosperity, according to Laos Guides.
Besides, all students also had an opportunity to partake in Laos' Water Splashing Festival, which is celebrated annually to wish for a new year of longevity and wellness.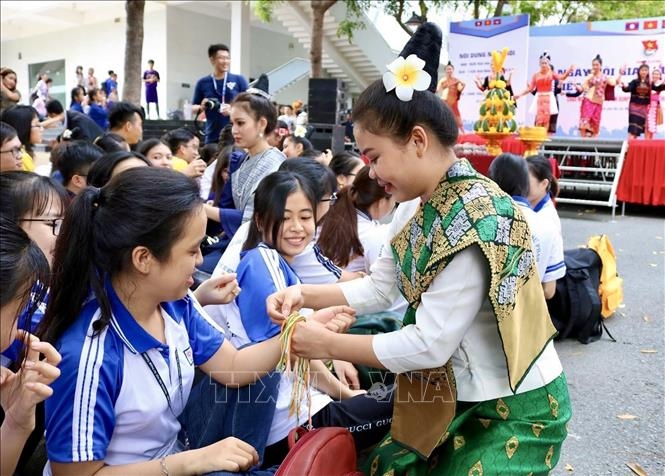 Baci ceremony of Laos was one of the highlights of the festival (Photo: VNA)
According to Ms. Ong Thi Ngoc Linh, Permanent Vice Chairman of the Vietnam Student Association in Ho Chi Minh City, Director of the Lao Student Dormitory in Ho Chi Minh City, there are over 800 overseas Laos and Cambodian students currently living and studying at Vietnam's universities. They are all given the best conditions to integrate into a new living and learning environment. However, due to the impact of the COVID-19 epidemic, they couldn't visit their families for a long time. Some have been welcoming New Years in Vietnam for two consecutive years.
The Vietnam – Laos – Cambodia Cultural Exchange Festival 2021 is held as one of the encouragements towards the students, hoping to bring a warm, welcoming atmosphere of their traditional New Year and other holidays in general. This is also an opportunity for the students to learn about the history and culture of one another's country. Thereby, fostering and tightening the traditional solidarity and special friendship relationship between the youths of the three neighboring countries.
Earlier on April 24, the Vietnam – Japan Friendship Music Program was warmly held at the Vietnam National Symphony Orchestra, Hanoi.
Attending the ceremony were Mr. Yamada Takio - Ambassador of Japan to Vietnam, Representative of Vietnam - Japan Friendship Association, Representative of Ministry of Foreign Affairs, etc.
Mr. Nguyen Phu Binh, Vice-chairman of the Vietnam – Japan Friendship Association, said the special music program was an opportunity to promote the bilateral relationship.
"Vietnam – Japan relation is growing closer. Political relations are trustworthy, economic relations are effective and people-to-people exchanges are very close", Binh was quoted by Thoi Dai as saying.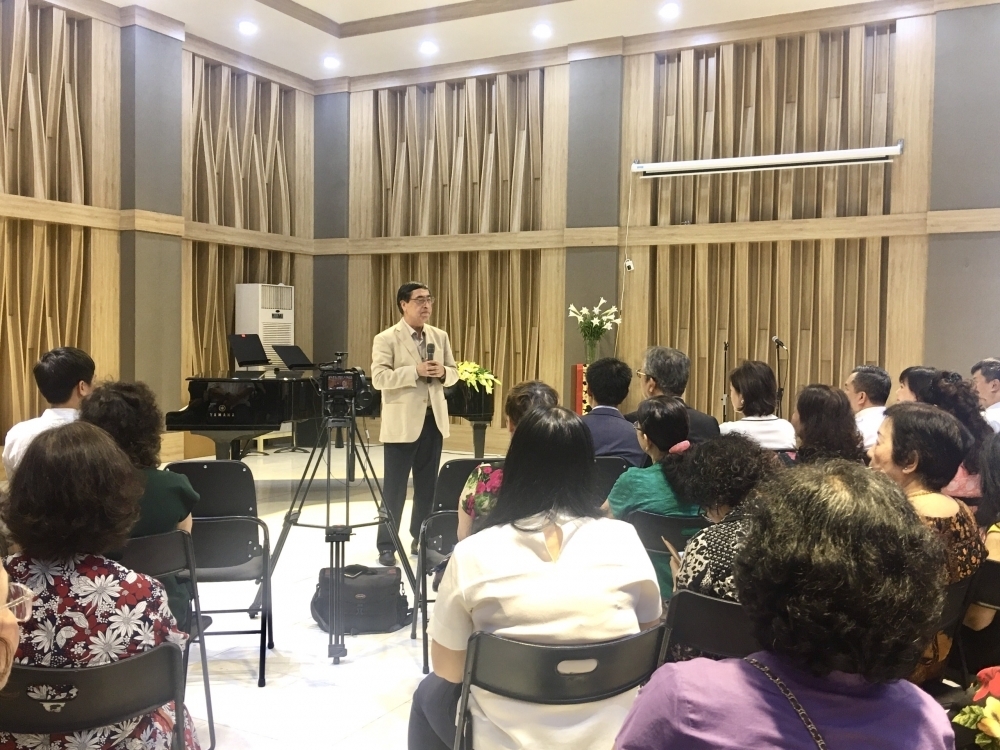 Mr. Nguyen Phu Binh, Vice-chairman of the Vietnam – Japan Friendship Association speaking at the event (Photo: Thoi Dai)
He also expressed his wish to further promote cultural activities and people-to-people exchanges, thereby strengthen Vietnam – Japan relations in the future and towards the 50th anniversary of bilateral diplomatic relations.
For his part, Mr. Yamada Takio, Ambassador of Japan to Vietnam said the Vietnam – Japan Friendship Music Program represented the cultural exchange between the two nations as Vietnam's traditional songs and dances are performed by Japanese artists and vice versa.
According to the Ambassador, along with economic and political fields, promoting people-to-people exchanges between Vietnamese and Japanese residents was necessary and significant in the bilateral relationship.
The music program features performances of different Vietnamese and Japanese music genres and choreographies. Notably, singer Shinoda Mariko from Japan sang Vietnamese songs in Vietnamese, which was reported as very impressive and received a standing ovation from attendants.
The music program has left special impressions on the warm atmosphere of friendship and promoted the beauties in the culture of Vietnam and Japan.
Jasmine Le