Vietnam runs high risk of getting Covid-19 from Cambodia
Vietnam is facing an imminent threat of getting imported Covid-19 cases from Cambodia unless anti-pandemic and trespassing regulations at the long shared borders are tightly controlled.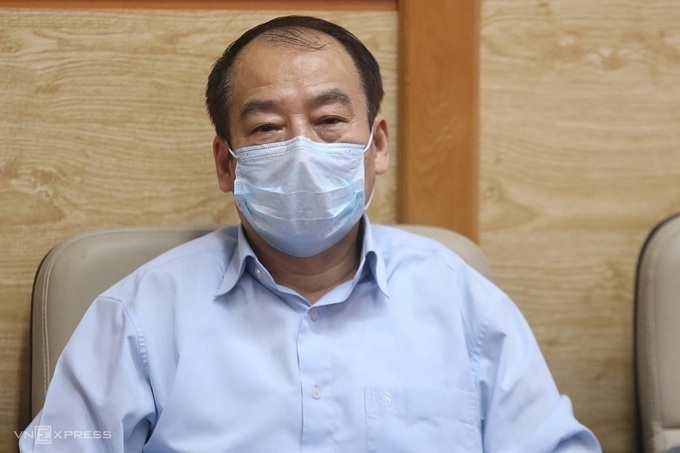 Epidemiologist Tran Dac Phu, senior advisor to Vietnam Public Health Event Emergency Response Center (Photo: VNE)
"Vietnam shares a long land border with Cambodia. Besides, there are also air routes and sea routes. Controlling trespassing through sea routes is especially challenging", epidemiologist Tran Dac Phu, senior advisor to Vietnam Public Health Event Emergency Response Center, told VNE on April 13.
The epidemiologist stressed that there are a lot of Vietnamese people who live in Cambodia, or do trade, travel to and from Cambodia. The number of entrants, either legal or illegal, is also high. In particular, two new Covid-19 patients recently reported in Ho Chi Minh city and Hai Phong both illegally entered Vietnam on a fishing boat from Cambodia.
"The infection rate is high. It's necessary that authorities strictly control border gates, trails, and rigorously implement quarantine orders. We must make sure leaving no trespassing undetected, or else the outbreak would recur", Phu emphasized. He also urged people to report all suspected or those trespassing to local authorities immediately upon detection.
The recommendation was made while the Covid-19 situation in Cambodia is growing more complicated. Cambodian authorities are urgently implementing vaccination campaing and deploying tough measures to prevent the spread of the novel virus.
Its tally has reached 4,874 cases as of April 14, with 35 deaths reported. Roughly 1,000 new cases are confirmed in the last 2 days, mostly are garment workers and retailers.
The World Health Organization warned Cambodia was on the verge of a "national tragedy" because of Covid-19.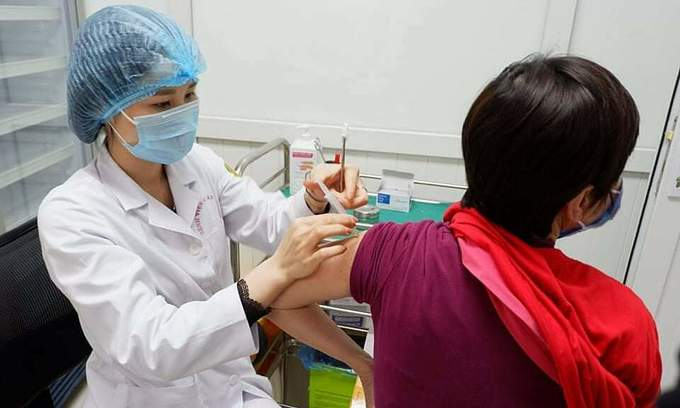 A woman gets a shot of Nanocovax as part of the second phase of its human trials in Hanoi at the Vietnam Military Medical University, March 25, 2021. (Photo: VNE)
Vietnam recorded no community infections in the last 30 days, even though imported cases, including returnees from Cambodia, still add to the national tally every day. The so-called third Covid-19 wave in the country has been basically contained. The country is also urgently deploying the national vaccination campaign. To date, over 60,000 people across 19 provinces and cities have been given the imported AstraZeneca vaccine.
Among the first vaccinated people are healthcare workers, and members of anti-coronavirus community groups, and the steering committees on COVID-19 prevention and control in 19 cities and provinces, VOV reported.
The Ministry of Health has received more than 800,000 doses of the AstraZeneca vaccine sponsored by the COVAX Facility after purchasing 117,600 doses of the same vaccine in February 2021.
In the latest Covid-19 distribution plan of the Ministry of Health, Ho Chi Minh City and Hanoi are allocated the largest number of Covax's AstraZeneca vaccine.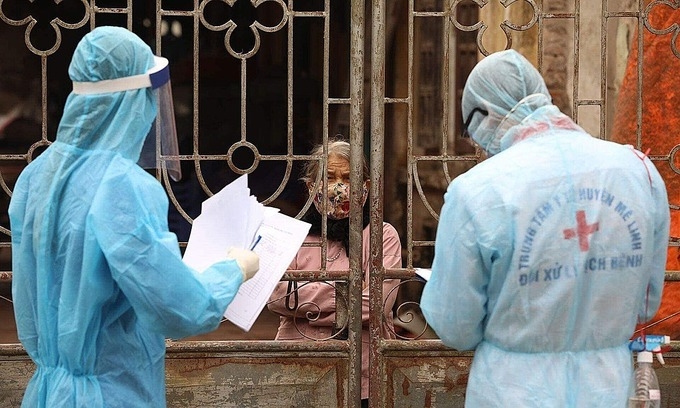 Two medic collect information on health declaration from local residents in Hanoi. Photo by VnExpress/Khoi Nguyen.
Of the 811,200 doses of AstraZeneca vaccine that arrived in Vietnam on April 1 via the global Covax program, Ho Chi Minh City will get over 56,000 jabs while Hanoi will get 53,000 jabs, according to the Ministry of Health.
Meanwhile, other pandemic-hit localities lately will also get the allocation. Hai Duong – the biggest epicenter in the so-called "third wave" in Vietnam is set to receive 43,000 doses, populous provinces like Thanh Hoa, Nghe An receives 18,000 – 20,000 doses each. Provinces bordering Cambodia are granted a larger proportion than the remaining localities in the prioritized list.
This marks the second Covid-19 vaccine distribution in Vietnam. The country kicked off its nationwide vaccination program on March 8, prioritizing frontline forces, border guards, high-achieving athletes, etc. To date, over 54,000 people have been vaccinated, no serious reactions post-injection are reported.
The list of prioritized groups in the second vaccination scheme will be expanded to essential workforces, including teachers, aviation staff, administrative staff, etc.
The country is also eyeing mass production of its homegrown Covid-19 vaccine Nanocovax in August if the three-phase human trial is completed in May.
Three months from then, which is August, Vietnam could start the mass production of this vaccine to inoculate its citizens, Major General Nguyen Xuan Kien, head of the ministry's Military Medical Department said a press conference on Friday.
A total of 560 people were involved in the second phase of the Nanocovax human trials that started in February, following the end of the first phase, which commenced last December with 60 volunteers.
The third phase, slated for May, will inject a pool of 10,000-15,000 volunteers, according to Vnexpress.
Handbook
Yoga has recently become one of the best exercise methods that bring many health benefits to people, but it also requires a lot of technique and training to avoid injuries. There are several ways to practice it home, and will still help you achieve your goals.