Solider of the Chemistry Army and Military Medicine Department spray disinfectant to sterilize Truc Bach street of Hanoi. Photo: Son Bach/Vietnam+
Vietnamese Foreign Ministry spokeswoman Le Thi Thu Hang recently has informed the French, Italian and British embassies in Hanoi the 17th case of nCoV infection in Vietnam, who had traveled to Europe before tested positive for nCoV on March 6.
Vietnamese Embassies in Paris, London and Rome are also required to exchange information with relevant authorities of the host countries about the patient's travel history and temporary residence address in the UK, in an attempt to prevent the spread of the virus in the community.
"Vietnam will regularly share information and coordinate with other countries, international organizations and related partners to prevent and control the Covid-19 outbreak", said Hang.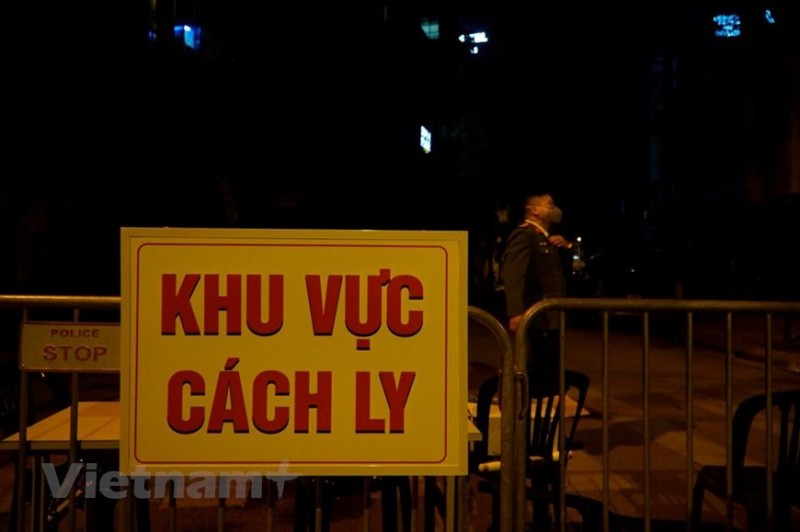 The female patient, residing on Hanoi's Truc Bach street, was tested positive for nCoV on March 6. Photo: Son Bach/Vietnam+
Nguyen Hong Nhung, 26, is the 17th case of nCov infection in Vietnam and is the first case in Hanoi. In mid-February, she travelled to Milan (Italy), London (the UK) and Paris (France), then returning to Hanoi on March 2. At that time, the patient did not have fever and did not declare her health status, so she was allowed to enter Vietnam without being quarantined.
On March 5, Nhung had a constant fever, cough and tiredness. She went to Hong Ngoc Hospital in Yen Ninh street, Ba Dinh district, Hanoi for check-up and was transferred to the Central Hospital for Tropical Diseases. On the evening of March 6, she was confirmed positive for nCoV. The patient's aunt, driver and one passenger on her same flight from London to Hanoi were also positive for the virus.
Nhung is currently being treated at the negative pressure room of the Central Hospital for Tropical Diseases, no longer has a fever and is in stable health.
VNF