Vietnam to conduct COVID-19 vaccine trial on willing volunteers
Vietnam is currently recruiting willing volunteers for phase 1 COVID-19 vaccine clinical trial, with the injection is slated to be conducted starting December 17.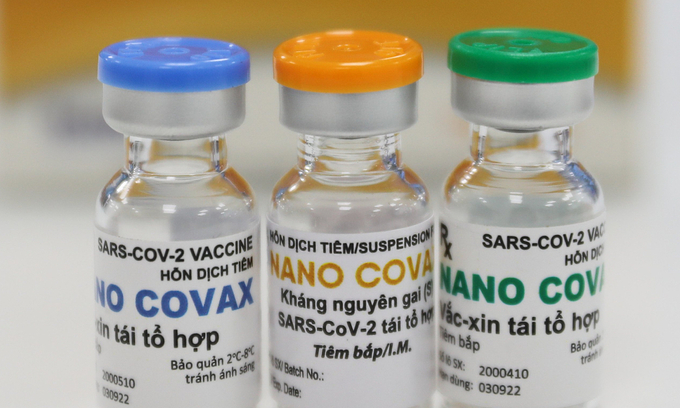 Bottles containing Covid-19 vaccine produced by Nanogen. Photo: VnExpress/Quynh Tran.
Among the COVID-19 vaccines being studied in Vietnam, the Nanocovac vaccine by Ho Chi Minh City-based Nanogen Pharmaceutical Biotechnology JSC has begun conducting the phase 1 clinical trial, Baotintuc reported.
Regarding the recruitment of volunteers for the vaccine trial, Deputy Head of the Ministry of Health's Department of Technology Science and Training said "Phase 1 of the COVID-19 vaccine human trial is to seek willing volunteers. These are people who will be given information about the research according to their wanting, and with no pressure regarding health. Volunteers must understand profoundly the trial before injection. Besides, they need to sign a document adopted by the professional council".
Most importantly, volunteers must ensure medical criteria such as not contracting acute or chronic illnesses as well as having normal indicators of hematology and biochemistry.
All citizens, regardless of ethnicity or geographical conditions are welcomed to partake in the trial, except sensitive ones like pregnant women.
Quang added that this is the experimental stage to evaluate the safety of the vaccine, not yet to assess the immunogenicity. When entering phases 2 and 3, it is needed to recruit people already infectious with the virus.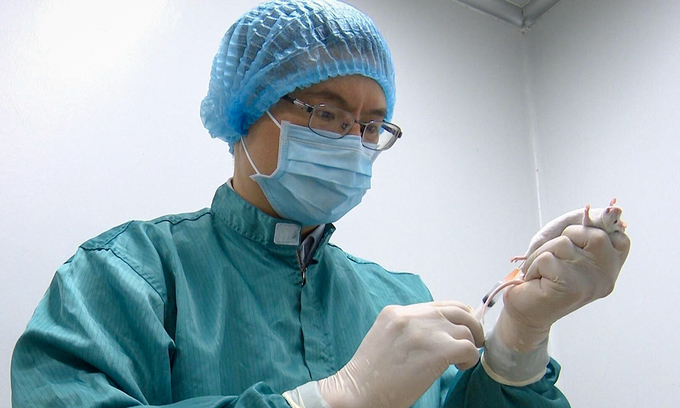 A researcher takes a blood sample from a mouse to test for Covid-19 antibody response.
Photo courtesy of Vabiotech.
According to the Ministry of Health, the domestic COVID-19 vaccine manufacturers are accelerating their work in order to soon carry out the pre-clinical testing. IVAC, VABIOTECH, and NANOGEN completed the production process in the laboratory and is currently assessing the safety and immunogenicity of vaccines on animals. In particular, NANOGEN is ready to carry out the phase 1 clinical trial.
Minister of Health Nguyen Thanh Long requested that one week after recruiting adequate volunteers for the phase 1 trial, the units will inject the first dose of vaccine. He also said that it is necessary for manufacturers and relevant agencies to have readiness for phase 2 of clinical trials.
The Ministry of Health also pledged to create favorable conditions for vaccine researchers such as minimizing administrative procedures and facilitating product registration and licensing.
The Ministry of Health will work with competent agencies to help producers get access to capital for vaccine development and production, he added.
About 200 vaccine manufacturers around the world have been involved in the development of the COVID-19 vaccine, of which the UK, Germany, and the US have all promised to prepare their vaccines for the domestic market.
Vietnam's current Covid-19 tally stands at 1,381, including four imported cases confirmed on Wednesday night, raising total active cases to 118. The country has gone nine days without recording a new community transmission.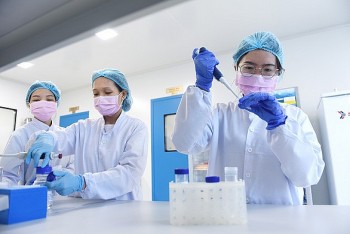 National
Vietnam News Today (October 17): Vietnam records 3,211 new local Covid cases; Vietnam's border guards take tougher actions against IUU fishing; National program for development of domestic vaccines adopted; HCMC to reopen inter-provincial tourism from next month.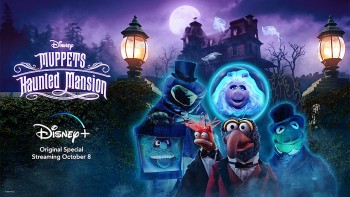 Handbook
Halloween is coming, and what is better than bing watching a good cartoon with your kids. This 10 new Halloween specials, special episodes, and series are kid-friendly spooky alternatives, and fresh-as-a-newly killed corpse in the post below.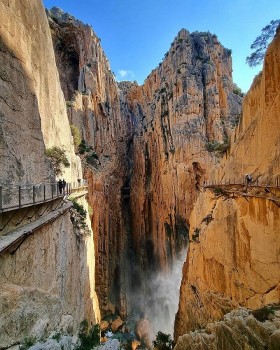 Travel
For people who are thrill seekers and love challenging themselves, this narrow, small walkway which was pinned along the steep walls of a narrow gorge in El Chorro in Spain, will give the visitors the best and most dangerous experience of a lifetime.